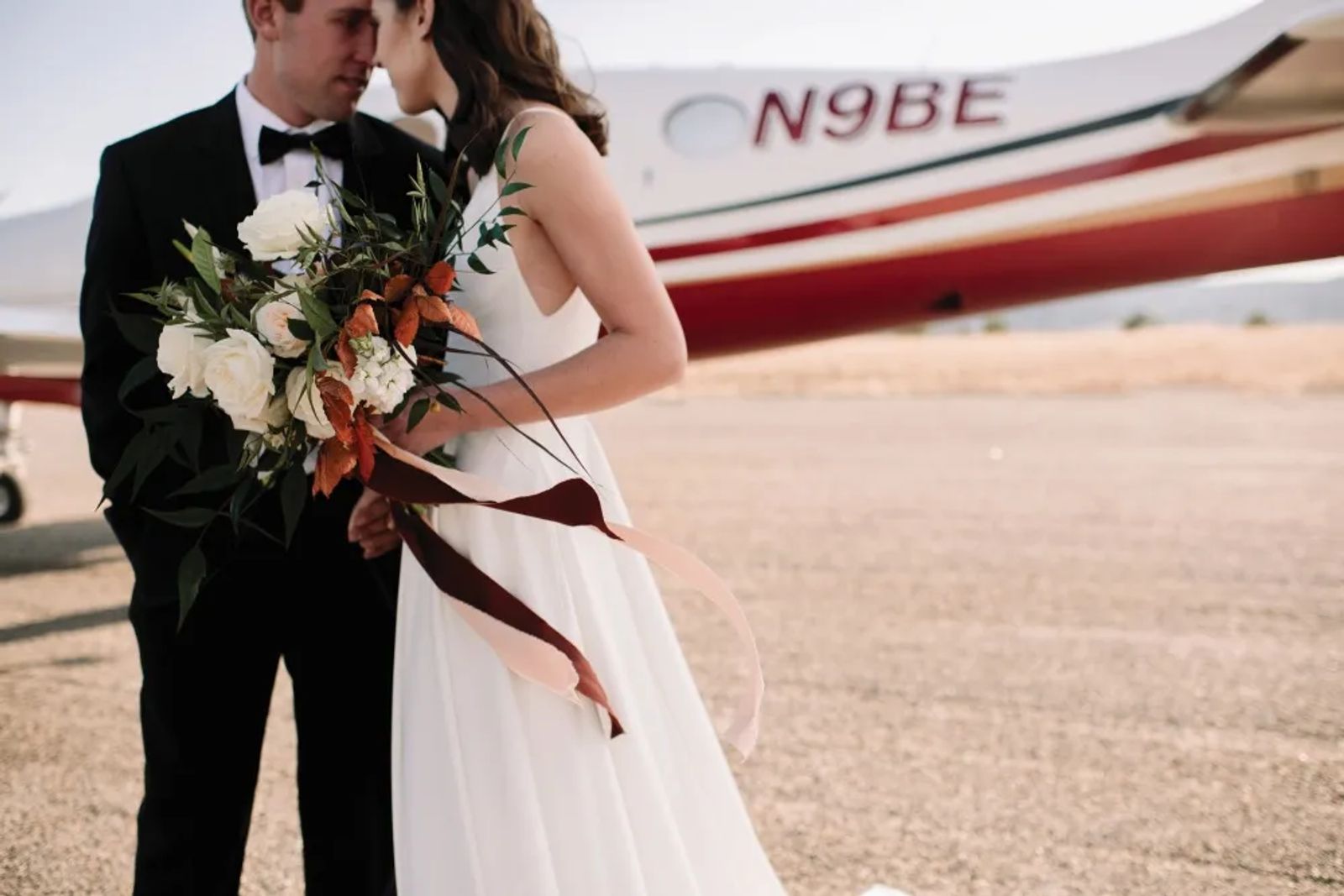 Let Your Dreams Take Flight
March 1, 2021
by anna rogers | photos by Kristin Jean Photographer
Hensley Creek Hangar: A new fly-in wedding venue with Big Sky views and wide-open spaces.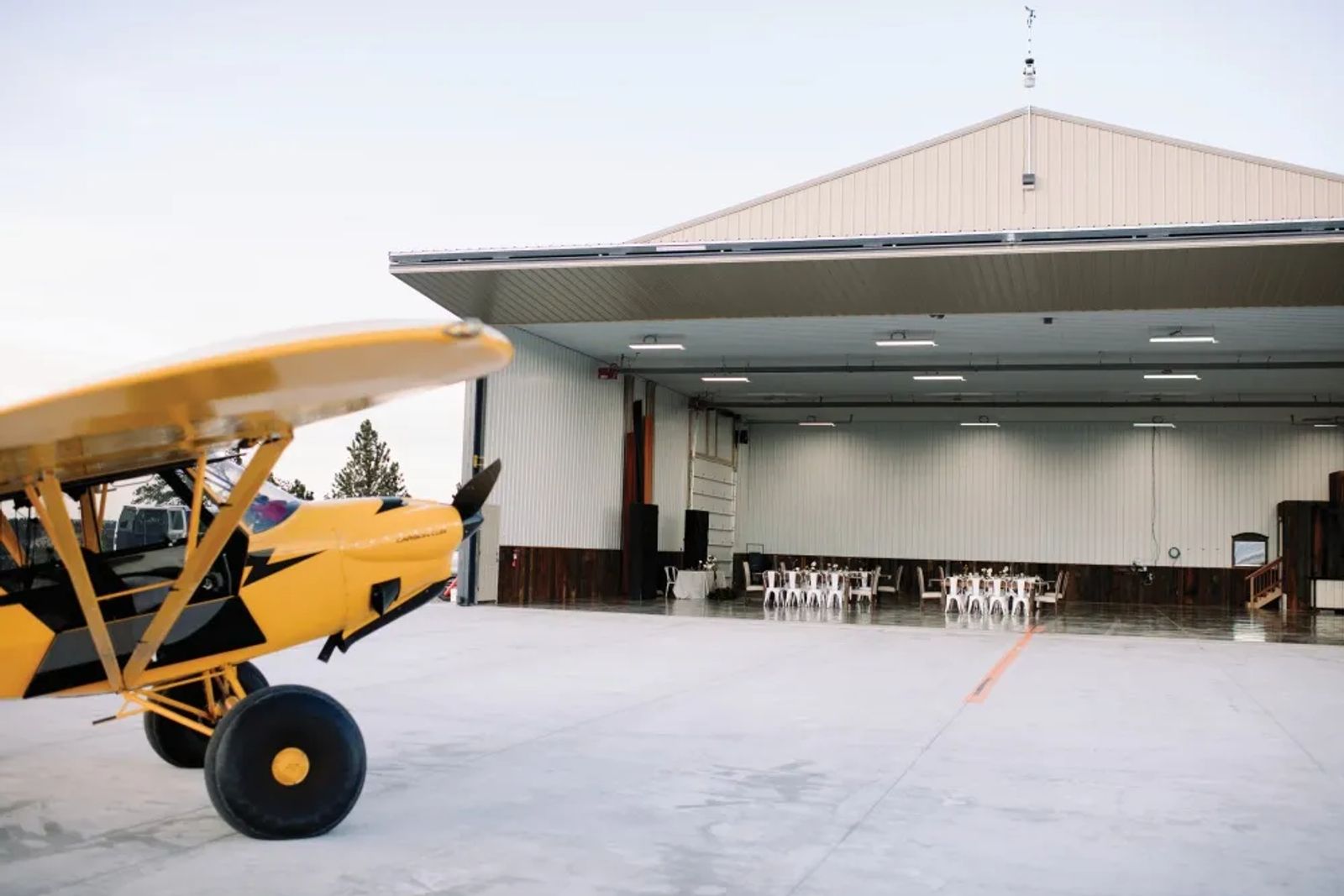 It's like a fairy tale, reinvented (and with a western flare). Prince Charming is there, but maybe in aviators or a cowboy hat, waiting at the altar for his bride-to-be in the middle of thousands of wide-open acres. The views are breathtaking, and the Big Sky is showing off – what could be better? How about your very own chariot, with wings instead of wheels, to fly you in for a weekend of Montana magic and rural romance?
If you're dreaming, wake up! These magical scenes aren't found in a far-away land, but right down the road in Columbus, Montana, at Hensley Creek Hangar. This new wedding venue offers a runway for private plane landings, a brand-new hangar to host receptions, open acres of working cattle ranch, and a farmhouse and lodge to host guests, all surrounded by spectacular views of the Beartooth, Big Horn, and Crazy Mountain ranges.
The Venue
When Sue Nelson was planning her daughter's 2019 wedding, she fell in love with the process. "We were looking for places to have a wedding, and the whole wedding planning experience was really wonderful," Sue says. "The wedding was truly beautiful. After that, everything became 'wouldn't that be a beautiful site for a wedding?'"
When the Nelsons purchased a cattle ranch, Sue would look dreamily at the property and think – "We should have a wedding venue here." While she dreamed of hosting couples and their families, her husband, a pilot, worked on building one of his dreams – a hangar. The hangar stands atop a hill with 360-degree views of some of the world's most beautiful mountain ranges.
"So, you get your hangar, but I don't get my wedding venue?" Sue asked her husband in jest.
"Make the hangar the venue," he said.
And so, Hensley Creek Private Hangar – the wedding venue – was born. Located on 2500 acres of working cattle ranch, Hensley Creek will have you reimagining your idea of a dream wedding. The hangar sits at the end of a 6000-foot runway, nestled among pine trees and open fields. The set-up enables guests to skip the hassle of commercial air travel and fly in to their own peaceful, private hangar.
The hangar itself is brand new and can entertain up to 300 guests, with countless options for a creative set-up inside its large and open floor plan. Rental of this spacious hangar shields wedding guests from the unpredictable Montana weather and includes the use of tables, chairs, and even a bar made out of barnwood. "The white metal walls are accentuated by a rustic barnwood wainscoting giving guests the feel of a true Montana experience," Sue says.
Guests also get access to the ranch, complete with a rustic barn, roaming livestock, open fields, and incredible views. Rentals of Hensley Creek include access to hike or bike throughout the ranch, including 500 feet of Yellowstone River frontage.
Rental options include packages to rent the farmhouse and lodge to host the wedding party and guests overnight, accommodating up to 17 people. The original farmhouse tells the story of the past, but with an updated, cozy interior, complete with a hardwood screened porch and the original wooden staircase. The 5-bedroom lodge was constructed in 2015 and features an outdoor patio with a firepit – an area that's great for small gatherings. The carport in front overlooks the orchard and pond, making it another beautiful gathering spot.
The Vibe
The hangar at Hensley Creek is not just a venue for aviation lovers. It is quintessential, authentic Montana – rugged and romantic and full of a sense of adventure. It is the wildness of a cowboy and the elegance of a Big Sky sunset, the complexity of flight, and the familiarity of a dirt road; all rolled into one flawless space.
Hensley Creek Hangar rentals offer exclusive access to the versatile property with the freedom to roam and explore. Take in the breathtaking mountain views and soak in the moment fully. Choose a ceremony spot that suits you and invite guests to bask in the beauty of your union and the surroundings. Breathe easy and celebrate all together.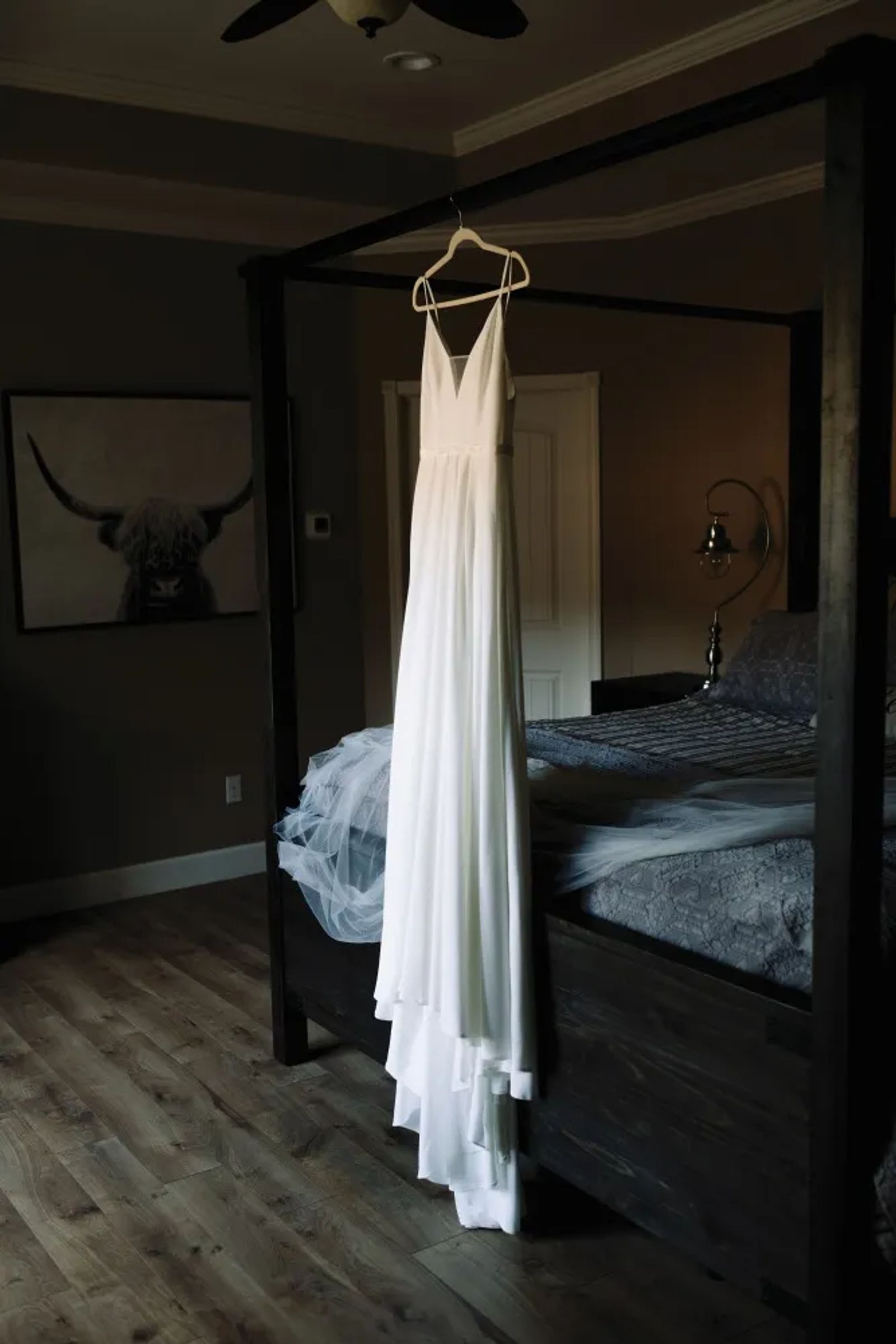 "I envisioned BBQs and rehearsal dinners at the lodge, family staying at the ranch homes rather than hotels, and the leisure and fun of setting up for events without time constraints," Sue says. "My hope for future guests is that they leave Hensley Creek with nothing but great memories and the wish to return."
The Value
One of the many striking features of this new venue is its ease and inclusivity of time and services.
"There were a lot of time constraints with my daughter's venue and other venues on the market – in at a certain time, out by a certain time. Family is spread all over the place, and time together is really fragmented," Sue says. "My vision for this place is that family can be at the same location, together. I didn't want to put time constraints."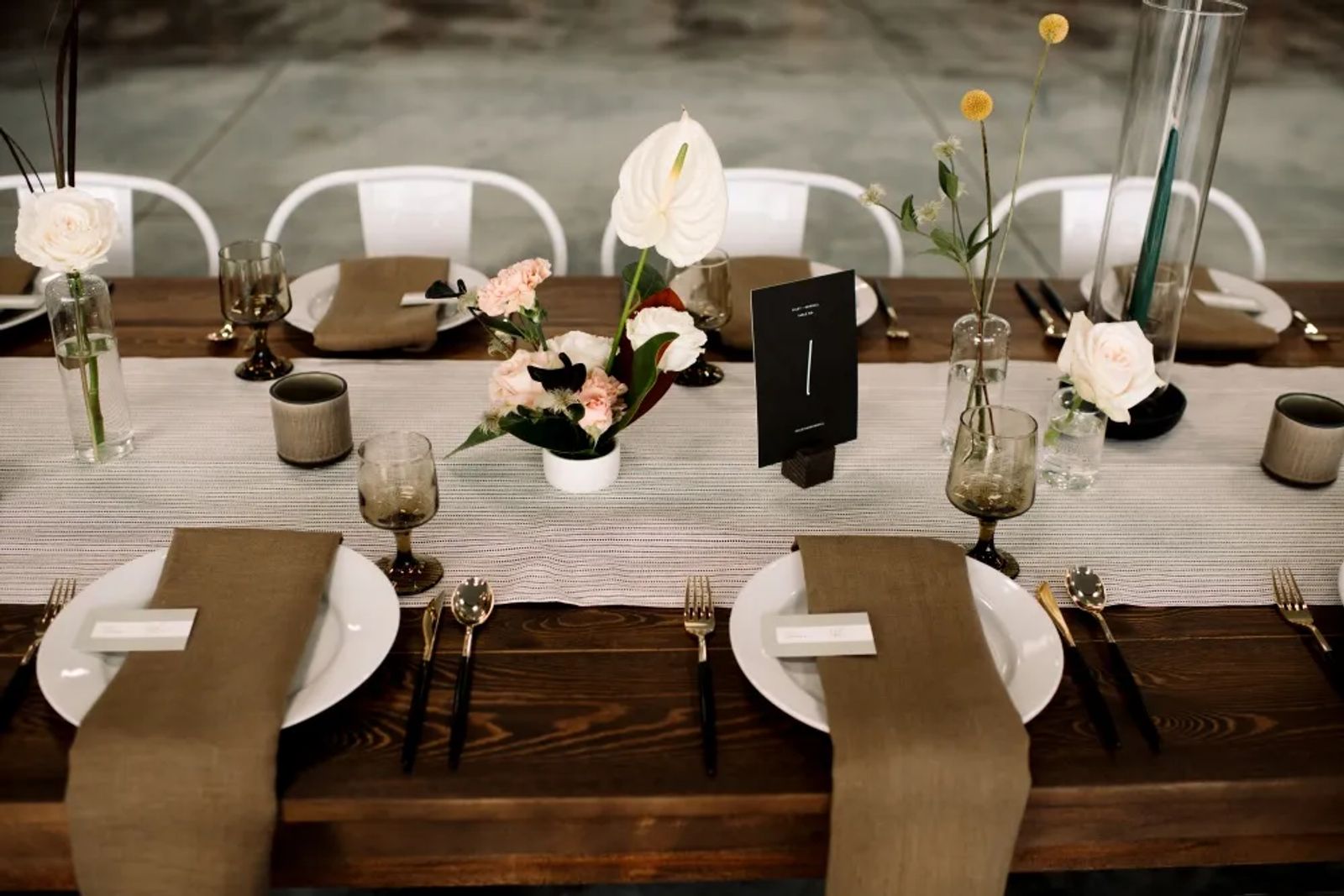 Sue has set Hensley Creek up to be easy on families planning a wedding and to be a day of celebration that guests can fully enjoy. Brides and grooms can snag this space for 12-hour, 24-hour, or entire weekend rentals.
The rental is also inclusive of many of the big things you need to pull off a wedding – space for the ceremony, covered area for the reception, tables and chairs, places to stay, and jaw-dropping decorations supplied by nature herself. Hensley Creek Hangar also partners with local vendors for food, flowers, photography, and so much more to ensure you get hitched without a hitch!
Hensley Creek is founded on the idea of a no-rush, no-stress day to yourselves to celebrate two souls coming together. It is how a wedding celebration should be. A wedding at Hensley Creek gives more than just a gorgeous backdrop for your photos – it provides the gift of time spent together.
"Together is a wonderful place to be."
Originally printed in the March 2021 issue of Simply Local Magazine
Never miss an issue, check out SLM's digital editions here!