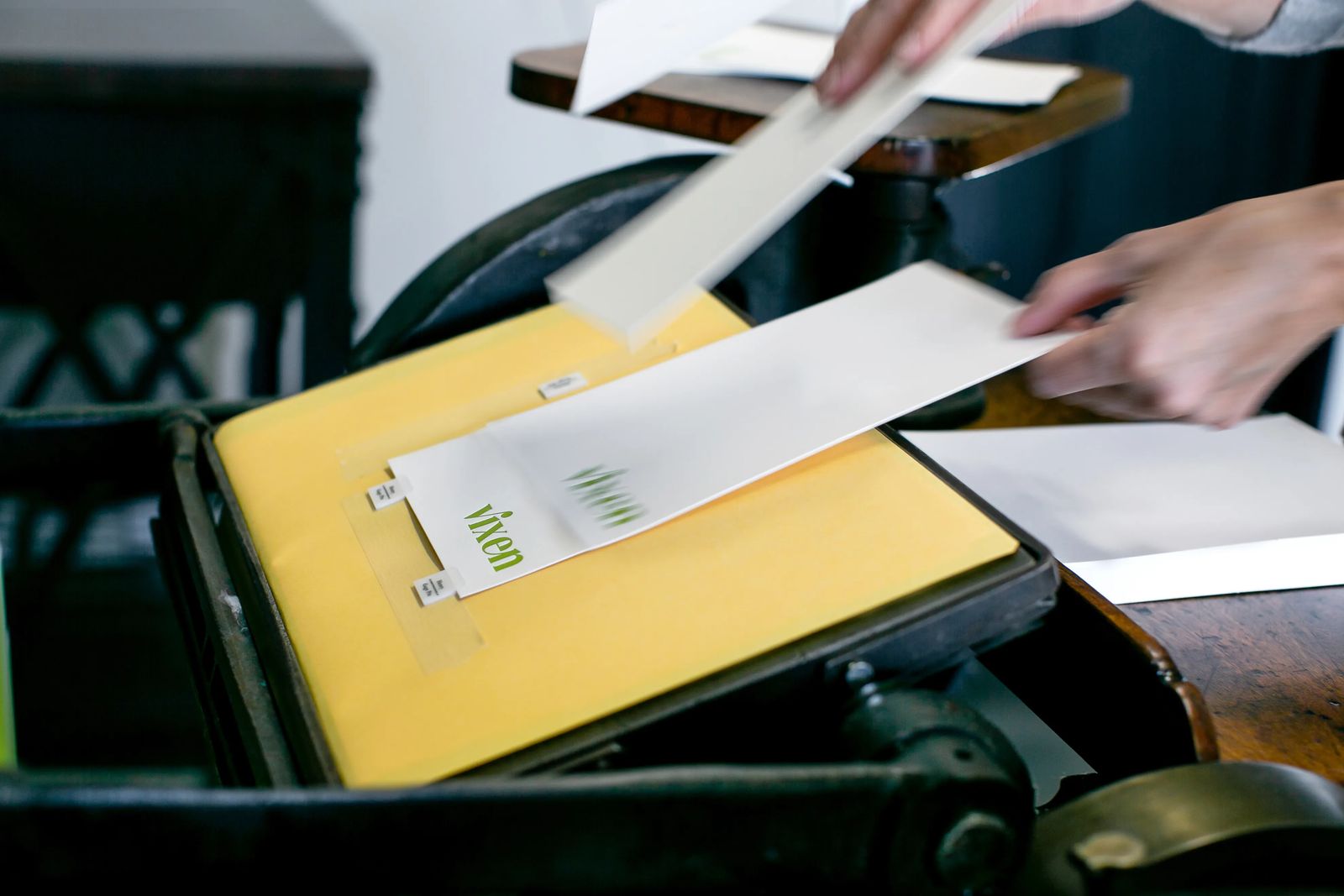 Hot Off the Press with Holly Kincaid
September 1, 2020 | by brooke wagner | photos by lovely hitchcock | product photos courtesy of Holly Kincaid
"Only on paper has humanity yet achieved glory, beauty, truth, knowledge, virtue, and abiding love."
The great playwright George Bernard Shaw may have been on to something when he penned this quote. Paper provides a place to dream - to celebrate - to make a statement without saying a word. Holly Kincaid of Kincaid Creative knows this well. Paper is her passion, not only paper but the art of letterpress and design. Kincaid says that most people don't often fully understand what she's talking about when she mentions "letterpress." In our age of digital media and web-based products, paper and ink can seem like a nearly lost art.
By definition, letterpress is a process of relief printing where text or an image is transferred from a raised surface (similar to a rubber stamp) to a high-quality, and often, specialty paper. Different colored ink is applied directly to the raised surface and is used to transfer the design. Although no one is certain of the exact origins of letterpress printing, the concept is credited to German native Johannes Gutenberg in the 15th century. His adjustable-type mold printing revolutionized the production of books, most notably the Bible. Letterpress printing remained the gold standard for printing for the next 500 years. Modern letterpress has combined new technology with this bygone art form. While many letterpress shops still use original wood and metal type, the use of modern photopolymer printing plates allows for that now-coveted deep tactile impression "punch" without ruining the printing plates.
At the beginning of her career, Kincaid did not start with the intention of resurrecting this time-tested technique of printing. Growing up in the Pacific Northwest, she was surrounded by a thriving arts community and was drawn towards graphic design. So far-reaching was her passion that she studied for a year in Paris, France, at the Parsons Paris School of Design. She found that she had a particular knack for helping clients brand their business, combining elements such as logo, website, business cards, and stationery to create a memorable impression of a company or individual. After college, she worked with several agencies, building her experience and knowledge in design, marketing, and business. She then moved into her current role as a full-time freelance graphic designer. She says, "I love helping clients make the face of their company reflect the quality of their product or service."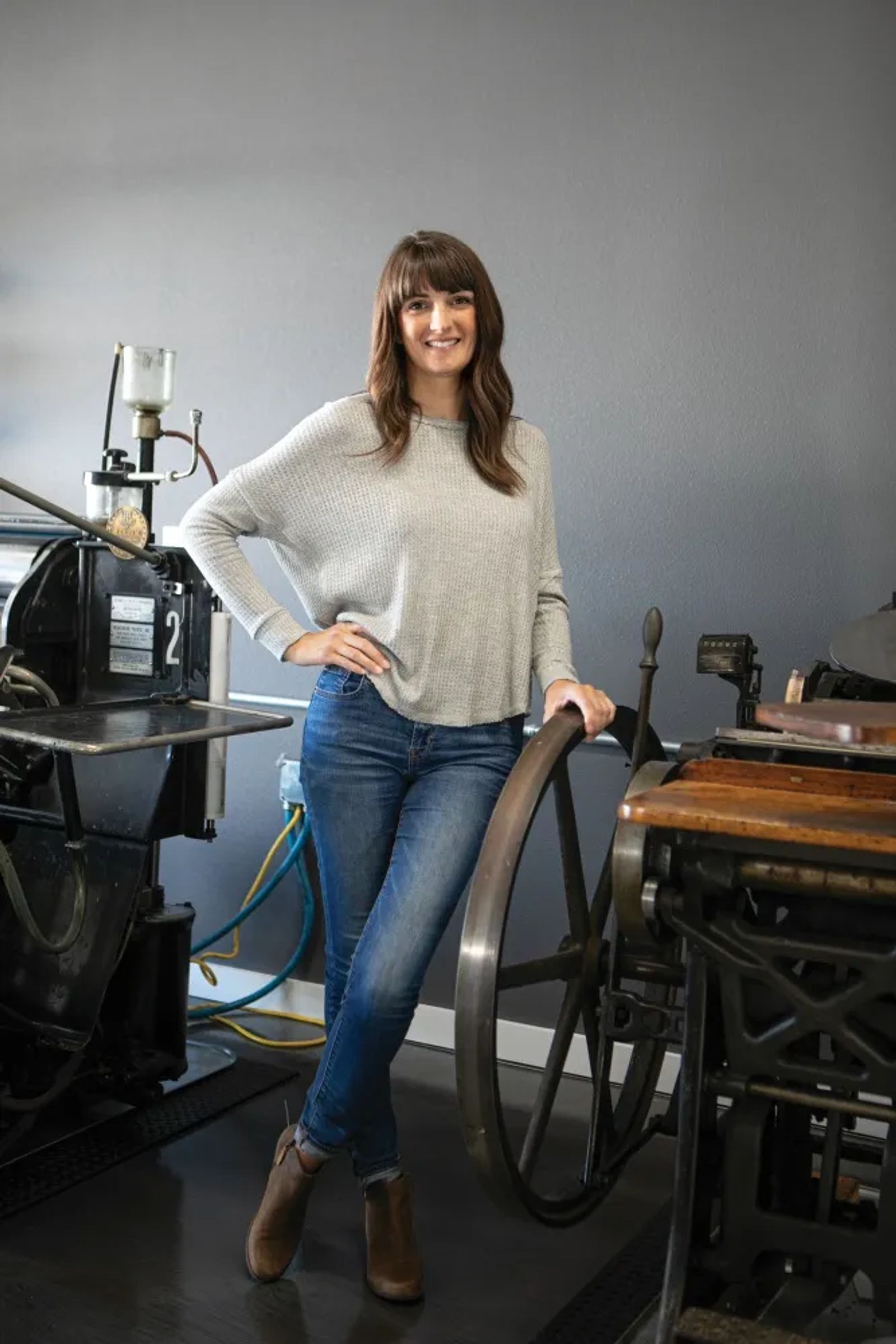 Although her work was mainly computer-based, Kincaid enjoyed following others on social media who used letterpress machines to make their product even more personal. She was intrigued by the creative freedom letterpress gives, and notes, "I wanted to get back to my roots. Being creative can sometimes mean getting your hands dirty! I believe true innovation starts with a pencil and paper, not on the computer, so I took the plunge. I purchased a couple of letterpress machines, a Chandler & Price hand-fed letterpress from 1914, and a Heidelberg Windmill."
These machines, delivered to Kincaid's home from a letterpress shop in California, ooze nostalgia for a simpler day and age. The Chandler & Price machine is entirely manual, powered by a foot pedal and good old-fashioned elbow grease. Kincaid can't help but wonder what has been printed in decades past every time she turns the handle. The Heidelberg Windmill machine harkens back to the 1960s and still runs on its original motor. These machines bring a sense of beauty and quality to the items they print, which our modern-day, fast-paced production processes can sometimes leave behind.
In an age of photocopiers and same-day printing, letterpress puts the focus back on creating a product that you want to treasure and admire, even if it's a simple business card or coaster. This uniqueness is what Kincaid loves bringing to her clients - it's that extra "edge" that makes them stand out from the rest. Each design is unique and personal - from the actual art itself to the colors Kincaid mixes for just the right look. Kincaid says she learns something new from every project she works on and finds inspiration from other print materials she comes across on her travels and adventures.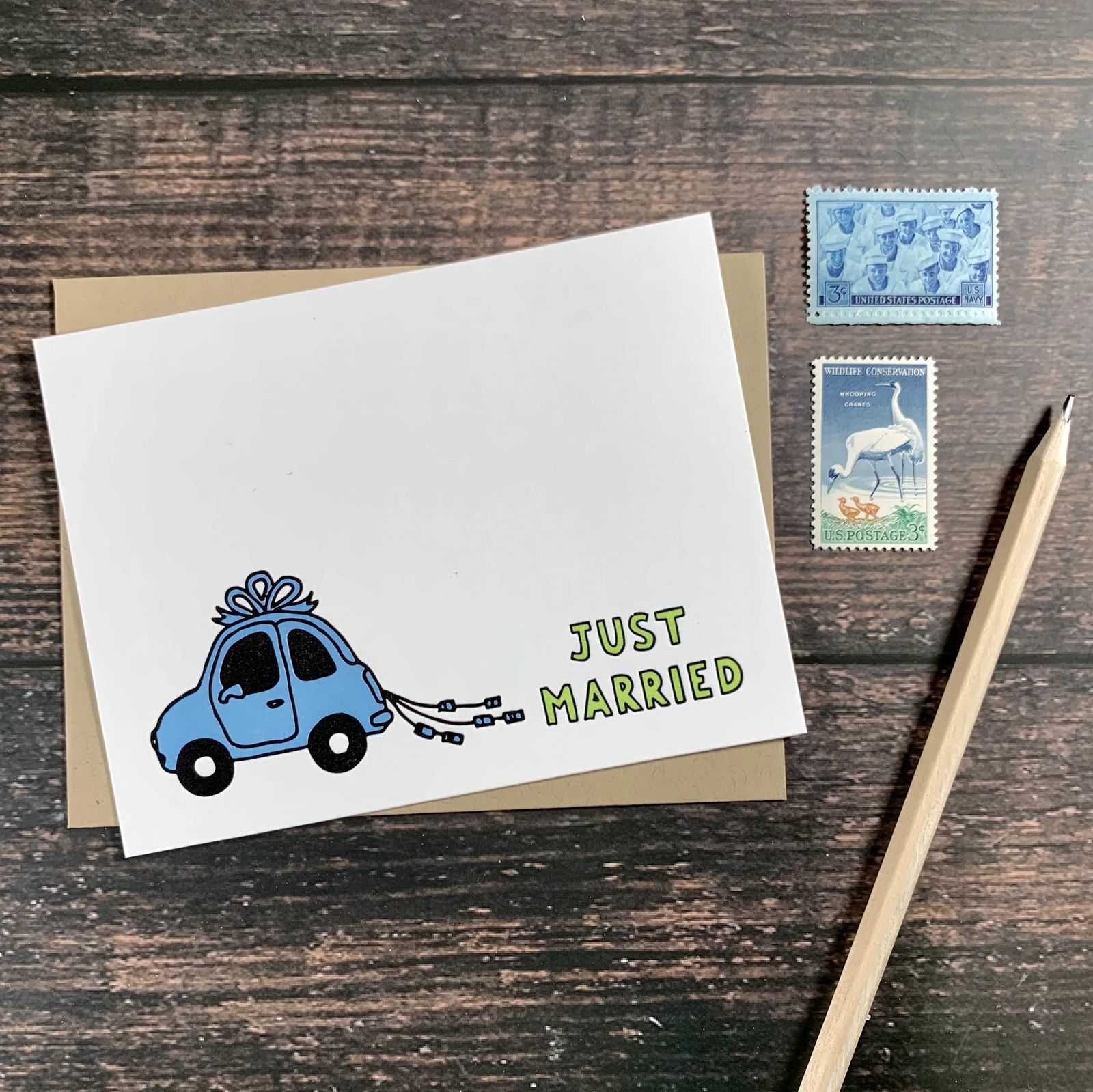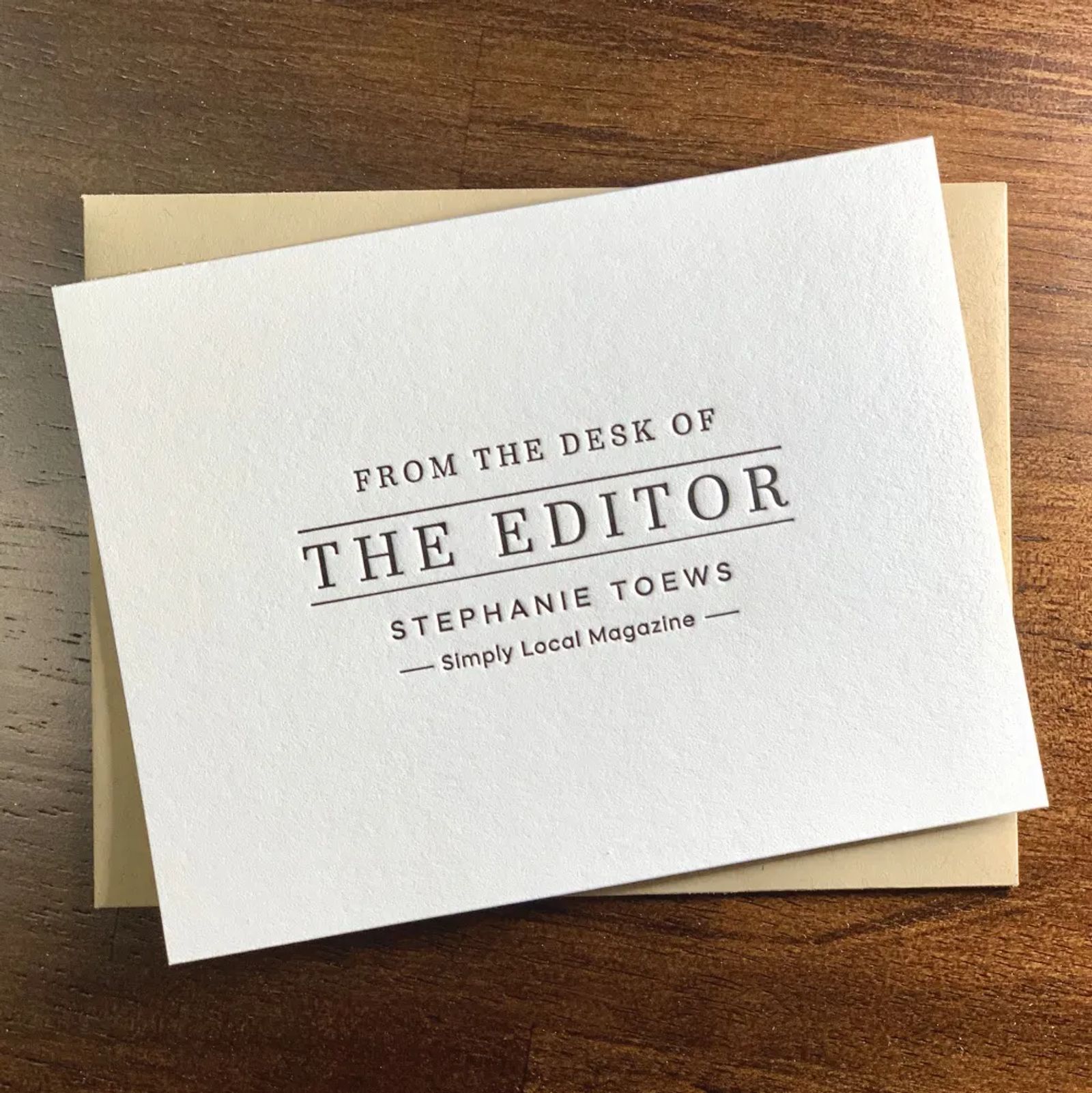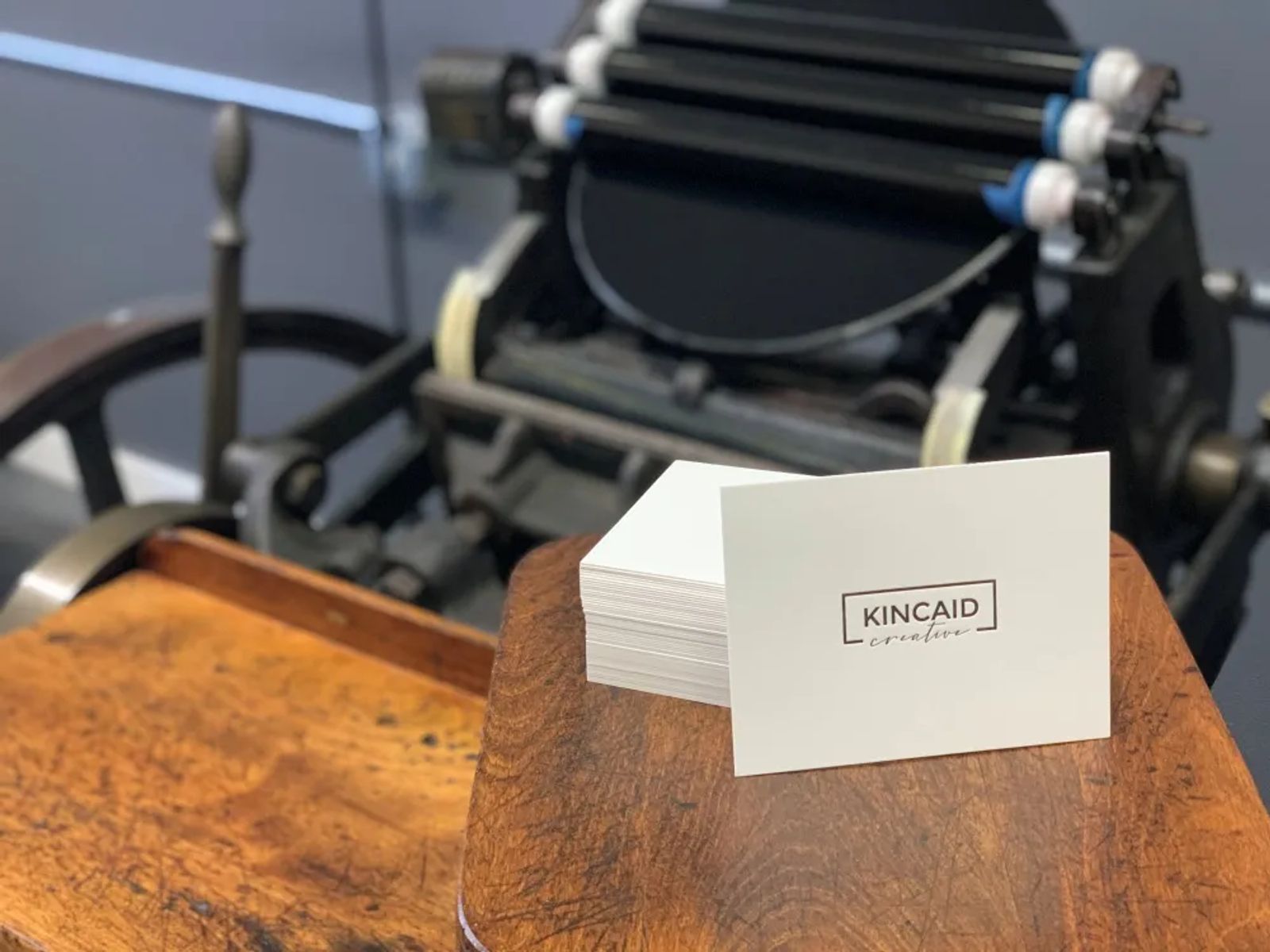 Kincaid encourages her clients to look towards letterpress for first impression or "high-impact" pieces. She acknowledges that while letterpress printing may not always be the most economical option, its impact on a potential customer is priceless. She says, "The production is more of an art form...when it makes sense, it makes sense." Kincaid appreciates how letterpress forces her to keep things basic and put as much emphasis as possible on the quality of the final product. "Letterpress can make the most simple design so elegant." Receiving an item made via letterpress printing is a luxurious experience, from the weight of the paper to the textures of the cotton fibers, with a design that dazzles the fingertips, all combining to leave an impression unmatched by contemporary printing.
Kincaid says that while her most commonly requested items include greeting cards, invitations, and business cards, she enjoys thinking outside of the box with clients to design a product that they are proud to both give and receive.
Originally printed in the September 2020 issue of Simply Local Magazine
Never miss an issue, check out SLM's digital editions here!