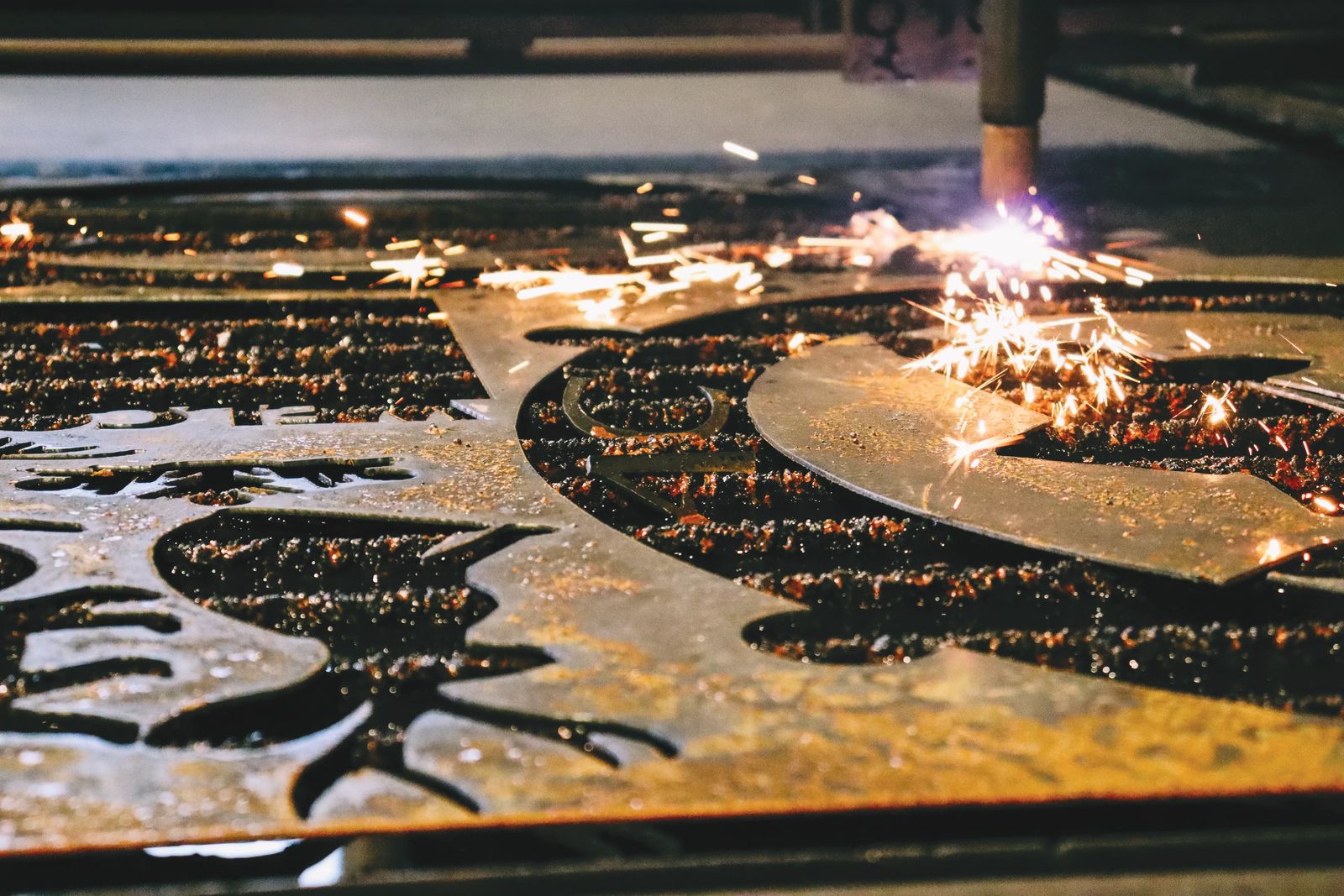 August 2020 | article and photos by holly netz
"We are born makers. We move what we're learning from our heads to our hearts through our hands." -Brenè Brown
Much romanticism surrounds the thoughts of living one's life as a creative. From Virginia Woolf to Jackson Pollock, to Monte Dolack or Jim Harrison of Montana, many of us desire to live a creative life that we can make a living doing. Part of the common thought is that those who make it as artists are creative geniuses or a bit crazy, backed with a trust fund, or all of the above.
My interviews with the artists (both here and extended in our online content) proved none of this true. Not that crazy geniuses don't exist -- but each of the makers/artisans I met with demonstrated that hard work, patience, and the ability to pivot make an artist successful. The capacity to put yourself out there, grow and learn based on critique, become part of a community, and learn from other artists are all part of the process.
I hope that you enjoy hearing the stories of these local makers and the connection that they bring to our community and I hope you take the time to seek them out.
Meet the Makers
MITCHELL MARTISHIUS - MONTANA BLOCK CO.
Soft-spoken and looking no older than a teenager, Mitchell Martishius of Montana Block Co. wouldn't initially strike one as a craftsman. Once he begins to talk, however, it is obvious that he is a knowledgeable professional, well-versed in the craft of woodworking.
Born in Livingston, his family moved many times when he was young. He met his wife in North Carolina and convinced her to move back to Montana, where they settled in Billings. His father is a woodworker by trade, and Mitchell learned the skills and beauty of working with wood at his dad's side. "I've done woodworking with my dad since I was a kid, that's where I learned how to do everything."
A full-time electrician by day, Mitchell works in his woodshop nights and weekends. When asked how he started Montana Block Co., he said that after making his wife a board for their kitchen, all of her friends wanted one; he then began getting requests by word of mouth. Realizing that there was a niche for his product, he put up a simple website using Squarespace and dipped his toe in the water by setting up a booth at Summerfair in Billings. Blown away by the response, he now does several shows a year. Estimating about 60% of his sales from shows, with the rest coming from word of mouth, his website, and just recently, social media.
Mitchell purchases and selects all of his wood locally, rips them to size, planes them, and then assembles the boards' patterns with the eye of an artist. Using various woods, he creates beautiful patterning. A large sander with low grit sandpaper then smooths the boards superior to using a planer. Once cut to the desired shape, a finer sanding is done by hand, and the board is placed in mineral oil for up to 24 hours. After the wood is dry, he finishes it with beeswax. All boards are 100% natural and food safe.
When asked if he plans to make woodworking his full-time profession, he shrugs and says he hasn't thought about that yet. He does see the potential his business has for growth. Once you see the beauty of his work, you are sure to agree.
CASSY CRAFTON - 504 SQUARE FEET
Desmond Tutu once wisely said, "there is only one way to eat an elephant: a bite at a time."
Cassy Crafton of 504 Square Feet Pottery Studio and Gallery, has done the work and eaten her elephant, but still has a grander vision ahead.
After moving many times as a child, Cassy finished high school at Billings Senior and attended college at MSUB, then embarked on a corporate career in Marketing and Public Relations. She credits much of her success to the business experience she gained before launching 504. In 2012, she decided to give up her corporate career and transition to full-time art. Starting first in a greenhouse in her backyard, and then a room in the basement, she eventually renovated her garage as a studio space and an old camper into a traveling gallery.
To succeed, she continued small steps. She trimmed her budget and grew slowly over the years rather than take out a loan that would require her to make more money to keep her dream alive. She participated in summer art shows and Art Walks. It wasn't until 2018 that she signed her first commercial lease.
The studio has a relaxed vibe that mirrors Cassy's personality. Now at 213 11th St. West, the business is about more than just churning out pottery. Her focus on inclusivity to new artists and family classes and events shows a broader vision. She hopes to purchase two more wheels and offer small classes, to open a larger commercial pottery space within five years. Her positive attitude towards new artists is both insightful and refreshing. Rather than worrying about competitors, she feels there is a place for everyone, and artists grow by feeding off one another in a positive way. When working with students new to pottery, she says the biggest hurdle is getting them over feeling as if they have to create something original and perfect. She talks about the artistic process of finding things you like and emulating those works, creating your own interpretation. By repeating that process, you will begin to develop your style. She firmly believes that becoming an artist is 20% talent and 80% diligence. Her hard work has led her to the place where she can say, "I feel like I'm on vacation every day of my life!"
When asked about the effect COVID has had on her business, she paused and replied, "Billings is strong, people here are resilient. I think the community has been even more supportive of local artists."
ANDREA ESTOMO - FORT OMOTSE LEATHER
In a quaint little home by the water in Roberts, MT, Andrea Weigand started Fort Omotse Leather. Now known for creating gorgeous leather handbags, wallets, backpacks, and more, Andrea's first experience in leatherwork was borne of necessity. After moving to Montana for her husband's career, they settled into their home and needed furniture. Using copper pipe and leather, Andrea fashioned chairs that could sit in any high-end showroom. Their realtor stopped by to check on them after they moved in, and was so impressed, she ordered some for her office. From there, Andrea unleashed her creative spirit as she developed the craft of functional leather art and ultimately launched Fort Omotse Leather.
A believer in sustainability, Andrea took the leftover pieces of leather from the chairs and began to explore what else could be made from those smaller bits. Initially doubting the viability of a customer base around purses and wallets, those products have become the core of her business. Indeed, Andrea has discovered that something she loves might not sell well, while other products shine, it's a continual learning process, she noted. When asked about the most stressful part of starting a business, Andrea talked about the vulnerability of putting yourself out there. "You doubt your own product, and wonder if you can withstand critiques…"
Andrea's leather is locally sourced from a Billings supplier, who was integral in her education as she started this venture. In the beginning, Andrea hand-sewed everything and she saved for five years to buy a machine, but hand tools are her preference. She uses every spare scrap for embellishments and amazing wreaths.
When asked about the impact of COVID-19 on her business, she noted that 90 percent of her yearly sales come from booths at summer art shows. With those shows canceled this year, her income is uncertain. There are Montana stores that carry her pieces, the closest being Kinsley Photography in Red Lodge. She is working on boosting her website and social media presence to drive sales. She also does custom work, sending the customer swatches and pictures to create the perfect piece.
As we wrapped up our time together, I asked her what her one takeaway would be regarding her business. She simply said that she had a deep appreciation for being able to live this life, making a living creating with her hands. She concluded with a sentiment shared by so many artists: "I'm just so honored that people are willing to spend money on my products."
ALANNA ANDERSON AND MICK THOMPSON - BACK ALLEY METALS
Some people believe you should commit to doing work you love and go where that takes you; others subscribe to the notion that you should prioritize living in a place you love and find a way to make money there. Alanna and Mick of Back Alley Metals have managed to accomplish both.
Alanna is a Red Lodge native, and Mick hails from Wisconsin. A dental hygienist and math teacher by trade, the two are self-confirmed ski bums who knew they needed to look outside their career paths to stay in Red Lodge.
Mick grew up with a metal fabricator father, started college as a mechanical engineer, and worked in metal and various trades throughout college. While a math teacher in Red Lodge, Mick was working at Red Lodge Mountain and ended up building the metal rails for the ski hill. In 2009, the family opened Back Alley Metal literally in a back-alley garage as a hobby.
When Back Alley Metal was approached to undertake two major projects – completing all the metalwork for Carbon County Steakhouse's opening (from signs to rails and everything in between) and building bear-proof garbage cans for the City of Red Lodge – it was time to decide if they were ready to go all-in. Taking this leap meant quitting their day jobs and trusting they could make a go of this full-time. It was a decision that absolutely paid off.
They laugh as they talk about the early projects and the work they did by hand before they could invest in tools to make the process easier. The work was hard and a little bit crazy at times. They discovered the intensity of the process to be certified bear-proof as they attacked the bear-proof garbage project. The Grizzly and Wolf Discovery Center in West Yellowstone, MT is the only place that certifies something as bear-proof. Companies such as Yeti, Otterbox, and Cabela's test at this same facility. Alanna recalls, "You find yourself getting emotionally tied up in an inanimate object...and you are cheering on a garbage can."
They now create all the garbage cans in Red Lodge, Yellowstone, Glacier, and locations nationwide. The coordinating artwork on the cans to their location is what sets their work apart. They talk about people coming into the shop from Yellowstone, showing them pictures they took of their garbage cans.
Alanna grew tired of doing books and other odd jobs early on and decided to teach herself Computer-Aided Design (CAD). Thus, the artwork in the main shop was born. Everything from the beginning cut to the powder coating is done onsite and fills the shop that draws tourists. However, the consistent business that sustains them is larger work. Repairs on farm equipment, trailers, and large metal fabrication keep them busy year-round. When asked about the one thing that has pushed them to keep growing, they talk about local support. "A person will come in and ask, 'Can you do this?' and I say… I don't know...can we?" she pauses... "Until you push yourself to those skills, you don't know if you can. Allowing yourself to fail and then push on is part of the process."
When self-describing their success with Rock Creek Soaps, Rachel Brower and Jennifer Dillabaugh use the words "scrappy" and "pivot". What started in Rachel's kitchen in 2014 with a simple soapbox has grown to a female-owned Billings success story.
"When we needed soap, my mom made soap" says Rachel. Since then, Rachel always had an affinity for good soap. She found a soap she loved in Ireland and then realized it would be $20 in shipping just to get it to the states. Thus the kitchen soapbox, then a small workroom, then a partner and now a storefront have emerged.
With husbands in the military, Jennifer and Rachel met each other at church after each moving multiple times, ultimately landing in Billings. Rachel worked alone until 2017, making soap out of her kitchen, then a small one room rental in the heights. Now on 4th avenue north, they recently expanded from working out of a room in the alley to a storefront and an event space for parties.
Both women are passionate about staying integrated with Billings. They have always done local art fairs that feature products that are not mass-produced. All of their products are still made in small batches with very basic (yet expensive!) tools. The bulk of their business has become wholesale. Local businesses such as Aspin Wall, Liberty and Vine, and even the National Parks carry their products. When asked how COVID-19 has affected their business, they talk about being at the Made in Montana show the weekend before the official shut down. Only 30% of the wholesalers attended, and the public retail day was cancelled entirely. But since then, they have seen an uptick in local sales. Echoing the comments of other local artists, they believe that Billings supports local.
When asked about the success of their business, the word "scrappy" comes back into play. "When you don't have investors, or family money to fall back on, you have to get in there and do everything yourself to succeed" says Jennifer. They've done everything from find local sources for product ingredients, built their website, managed all of their social media and learned to photograph their product themselves.
The fact that the two are passionate about affecting the Billings community by more than just producing amazing soap and other body products is a whole other story in itself. Bigger and better is on the way. Stay tuned.
Originally printed in the August 2020 issue of Simply Local Magazine
Never miss an issue, check out SLM's digital editions here!