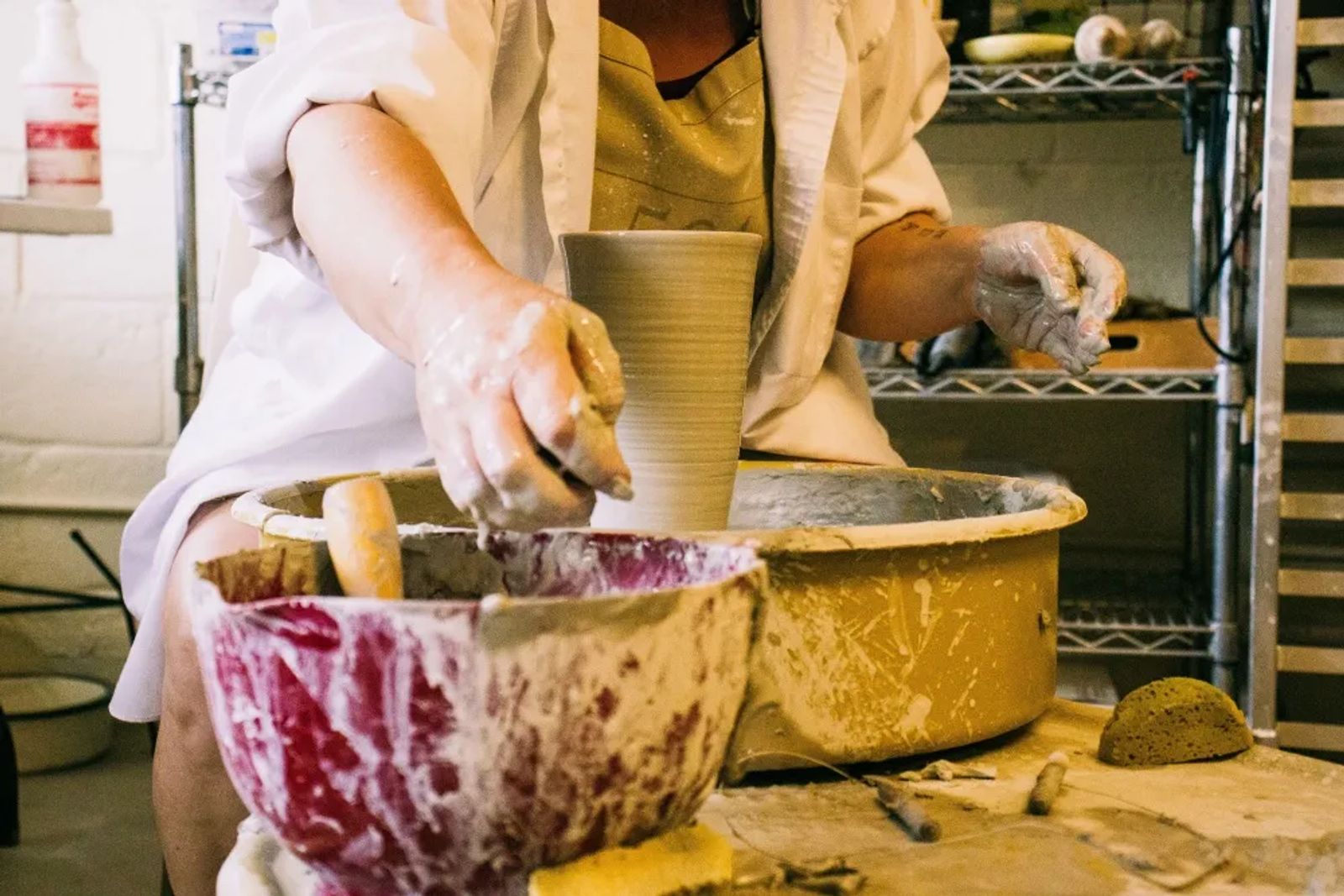 Cassy Crafton of 504 Square Feet Pottery Studio and Gallery creating a masterpiece from clay. | photo by Holly Netz
August 2020 | by stephanie toews, executive editor
"We are all born makers. We move what we're learning from our heads to our hearts through our hands" Brenè Brown
Isn't it amazing the things people can create with their hands? From raw materials such as leather, clay, or canvas, come extraordinary and one-of-a-kind works of art, each finished masterpiece, a beautiful expression of a creator's heart. For many makers, their handiwork is a sort of reprieve and refuge from the world outside. A place where worries take the back burner and minds are at rest. To have others appreciate and recognize the beauty of one's creations is the ultimate of rewards, to make a living creating, a divine gift.
In this issue, we find inspiration in the stories of local makers and artisans. While each of their paths is unique, none of them have been without hard work, risk-taking, and stepping out into unknown and uncharted territory to pursue their dreams. They are exceptional examples of adaptability and perseverance; things we all need in these days we're living. I hope you're encouraged by their stories to pursue your own form of creative expression. I hope you will join us in supporting these, and many other, local makers!
Also, in these pages, back to school takes center stage. Though the future of educating remains disconcertingly unclear, we know that things will look and operate differently in this coming school year. We share a story of one local school that finished the 2020 school year strong amid the pandemic. They're an excellent example of adaptability and creativity, where external circumstances demanded it. Simply Local Magazine is committed to providing you with updated and relevant back to school details as we receive them. As we work closely with local school districts and healthcare workers, please continue referencing our website for the most current information. Many brilliant minds are working together toward creative solutions for teaching students effectively where unprecedented circumstances demand change.
As we venture into more of the unknown, may we remember that each one of us is a beautiful expression of our Creator, the ultimate Maker. Made in His image, we are all uniquely different, each with something to offer to the world around us. We need each other; all with our different roles, working together in the hardest of times and the most challenging of circumstances, to spur one another on to greatness. May we all find the ability to use the working of our hands for good. May we remember many hands make light work, and may we find joy in the journey, no matter the obstacles.
Originally printed in the August 2020 issue of Simply Local Magazine
Never miss an issue, check out SLM's digital editions here!