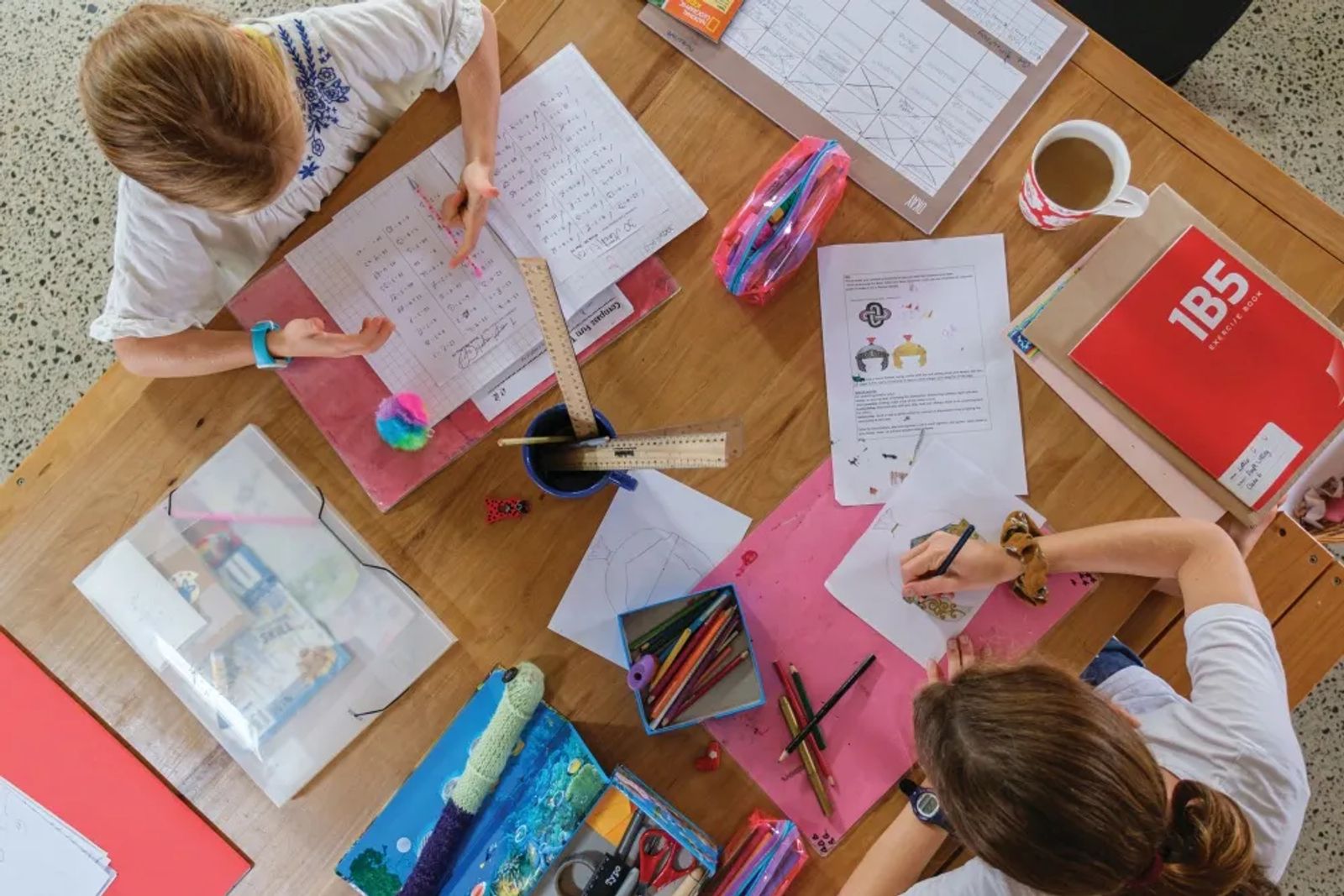 Adapting Education Amid a Pandemic
August 2020 | by rebecca stewart
"Been homeschooling a 6-year-old and 8-year-old for one hour and 11 minutes. Teachers deserve a billion dollars a year. Or a week." -Shonda Rhimes March 16, 2020 Tweet
The last three months of the 2019-'20 school year were like none other that we've experienced before. Administrators and educators had to make adjustments on the fly, while students and parents adapted to the concept of "distance learning" in a virtual classroom. Given the unpredictability and the uniqueness of the situation, schools of every kind were left to determine the best course of action that would fit their school/district/community situation.
While there was no established blueprint guiding our educational institutions, Billings Catholic Schools had been meeting and preparing for the possibility of closure three to four weeks before the governor-mandated school closures were announced, shares president of Billings Catholic Schools, Shaun Harrington. "In fact," he recalls, "on Sunday night when the Governor called school off, our leadership team was in a meeting at St. Francis with a small group of doctors from the community."
In the month preceding the school closures, Mr. Harrington credits Billings Catholic Schools' Education Director Danielle Watson for facilitating the delivery of professional development to the staff on Microsoft Teams and other programs that would aid in instruction, should the closure become a reality. Billings Central Catholic High School has used Moodle for instructional delivery for years, so most teachers were already comfortable with the various platforms, meaning "the delivery model was in place if we had to close."
The other piece of the puzzle that Billings Catholic Schools was fortunate to already have in place was the students' access to technology. Mr. Harrington explains that Billings Catholic Schools is a 1:1 iPad school, meaning all kids in grades K-12 have an iPad. The teachers have Promethean Smartboards, thanks to Mayfair, donors, and parents paying a technology fee. Thus, students and staff were used to and comfortable using technology for instruction and learning. Admittedly, a crucial piece of the puzzle in the landscape of distance learning.
With weeks of planning already underway, Billings Catholic Schools were ready to hit the ground running, almost immediately after the school closures were announced. Mr. Harrington walks us through a timeline of the schools' experience:
Just Before– 40 kids and five St. Francis staff members were in Washington D.C. the week before the closures were mandated. Mr. Harrington notes that it was while they were away that things "really kind of exploded." There were plans for those individuals to quarantine when they returned and still deliver instruction, so when the governor called for school closures, BCS expanded those plans to district-wide.
Sunday, March 15- Governor Bullock announced school closures on Sunday night.
Monday, March 16- BCS staff came in Monday morning to finalize plans and group materials for parents to pick up in common areas. Parents picked up materials Monday afternoon.
Tuesday, March 17- School resumed virtually for Billings Catholic Schools.
Mr. Harrington praises their teachers, saying, "Our teachers did not miss a beat. We asked them to focus instruction on essential standards in their curriculum that students would need to know and be able to do to be successful at the next grade level."
LIFE IN A VIRTUAL CLASSROOM
For Billings Catholic Schools, it was essentially business as usual, with scheduled class times and continued instruction. K-8 teachers used TEAMS, with primary grades also using Seesaw, while the high school used Moodle and Zoom. Billings Central ran all seven periods Monday-Thursday on a block schedule (four periods one day, the other four the next). Attendance continued to be taken, and parents were contacted if their child wasn't attending. Virtual staff meetings, class (grade level) meetings – grade level, and content area teachers worked collaboratively to design lessons – and masses were all held online. "We worked hard to keep our community together and centered on our values," acknowledges Mr. Harrington.
You'll notice the four-day week for instruction, Fridays were used as a "Remote Learning Recovery Day." On Fridays, teachers could plan, collaborate, meet virtually with kids and parents, or conduct small groups for students who needed extra help. Teachers also had "Office Hours" when students could contact them and ask for extra help or pose a question. Counselors and administrators were also keeping in touch with students.
LESSONS LEARNED
Though the transition went according to plan, the reality, Mr. Harrington emphasizes, is that "Classroom management is totally different in a remote environment! It took kids and teachers some time to get used to that."
Looking ahead, should we find ourselves back in a similar learning boat this fall, he shares that they're working on a more authentic remote assessment, so they know where kids are and what needs to be done to help them more effectively.
Additionally, they would shift Remote Learning Day to Wednesdays, as Fridays seemed to invite an extended weekend kind of vibe.
BCS is also looking at ways to streamline the whole remote environment, so it's easier for staff, parents, and students.
After making it through those unsettling last few months of school, Mr. Harrington reflects on what made him most proud, citing the way "the entire community; teachers, staff, parents, and administrators came together to make sure that our students continued to receive a great education." Elementary students were brought in the last week of school and took MAP Skills Assessments, with the average growth for that testing period as if they had been in school. The high school kids took the AP and Honors tests, showing the same results. He commends the teachers, noting that this is a direct reflection of how hard the teachers worked to make sure their students succeeded, despite the challenges.
With plans for the 2020-'21 school year still being finalized (BCS is planning for at least some face-to-face instruction under all three phases of their plans), Mr. Harrington explains that "We would never want to replace the classroom," despite maintaining a sense of community while delivering top-notch instruction in the remote environment, it simply is not the same as being in the classroom. He adds, "Teachers love their kids, and having a positive relationship improves achievement because kids know their teachers care. It is harder to develop that relationship remotely. The staff missed the kids immensely. I hope remote instruction never replaces the classroom."
Indeed, the National Education Association affirms that sentiment, stating that "Despite the momentous efforts of educators during the pandemic, online learning has never been an effective replacement for in-person learning and support," Tim Walker, June 19, 2020, neaToday.
2020 made major demands of our educators and families; perhaps we emerged with an even greater appreciation for our teachers' job each day. As we approach the 2020-'21 school year, may we remember that mindset matters, especially as the adults leading the way for the young eyes watching us and waiting to follow our lead. Keywords: adaptability, grace, patience, and appreciation.
Originally printed in the August 2020 issue of Simply Local Magazine
Never miss an issue, check out SLM's digital editions here!