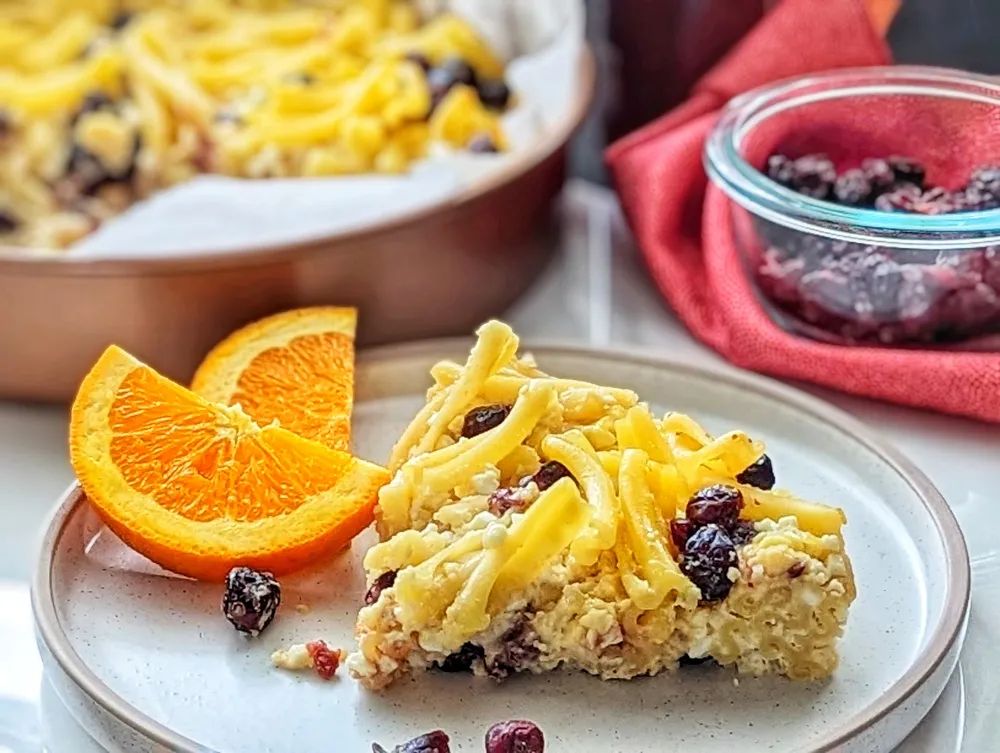 Sweet Mac and Cheese with Wensleydale and Craisins
January 2023
article & photo by renata haidle
I'd venture to guess that everyone has a favorite mac and cheese recipe, passed down lovingly from moms and grandmas, written in the family cookbook. Mine is no different. In this instance, I took mom's basic recipe and made a few substitutions, mainly because I had leftover cheeses nobody seemed to want to eat: a few ounces of mild Wensleydale with cranberries past their prime and some cottage cheese left over from a lasagna. This version of mac and cheese is sweet and fruity and comes together in less than an hour. With a bit of creativity, just about any leftovers can be turned into a brand-new dish. Give it a try; who knows; it might become a new family favorite.
Ingredients:
8 oz short pasta such as elbow, fusilli, penne, gemelli
4 oz Wensleydale cheese with cranberries
8 oz cottage cheese
⅓ Cup Greek yogurt
½ Cup sugar
2 eggs, lightly beaten
¼ teaspoon salt
½ teaspoon vanilla extract
½ teaspoon lemon extract (or 1 tsp lemon zest)
½ Cup craisins
½ Tablespoon butter to grease the pan
Makes 4 servings.
Directions:
Preheat the oven to 350 F.
Boil the pasta according to the manufacturer's directions.
In a large bowl, mix the remaining ingredients (except for the butter) until combined.
Incorporate the cooked pasta.
Pour the mixture into a greased 9-inch round cake pan and bake for 30 minutes or until the top is golden.
Serve either hot or cold.
Originally printed in the January 2023 issue of Simply Local Magazine
Never miss an issue, check out SLM's digital editions here!