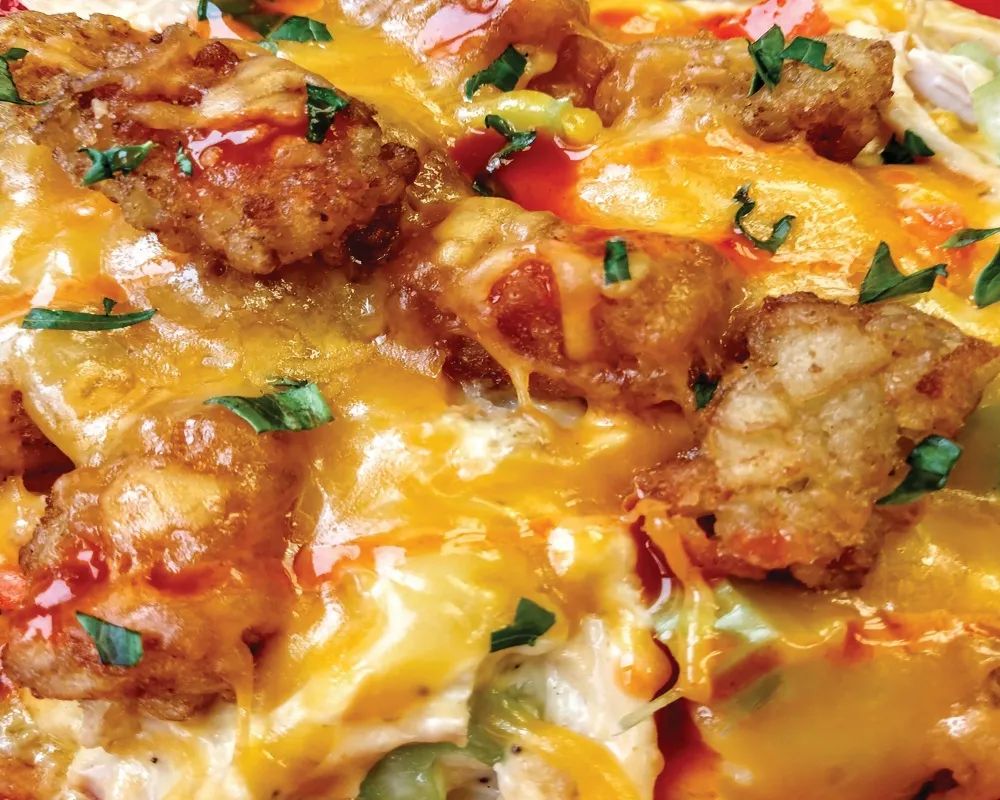 Cook This: Buffalo Chicken Tater Tot Bake
August 2022
by renata haidle | recipe & photo by teri haddick
Get a good start on your week by preparing this hearty and comforting casserole - recipe submitted by Get Baked! owner, Teri Haddick.
This twist on the traditional tater tot casserole adds a little spice to your dinner routine without being too hot to handle! Loaded with buffalo chicken, cheese, some inconspicuous veggies, a creamy sauce, and topped with crispy tots, this dish is a fun and hearty way to end a busy day.
Ingredients:
1 medium size (16 oz) Pulled Buffalo Chicken from Get Baked!
2 Tablespoons butter
3 celery stalks, chopped
3 carrots, chopped
½ onion, finely diced (can be omitted)
½ teaspoon salt
½ teaspoon pepper
3 teaspoons minced garlic
1 packet ranch seasoning
8 oz cream cheese, softened
1 ½ Cups chicken broth
8 oz sour cream
1 bag (10 oz) frozen riced cauliflower
3 Cups shredded Mexican blend cheese
1 bag (2lbs.) frozen tots
Directions:
Preheat the oven to 400°F. Spray a 9 X 13 in. casserole dish with cooking spray.
Set a large pot (at least 5 qt) to medium-high heat. Add the butter, celery, carrots, onion (if using), salt, and pepper. Sauté for about 5 minutes, stirring often (a silicone spatula works best).
Add the garlic and cook for another minute or so.
Turn the heat to medium-low and add the ranch seasoning and cream cheese, using the spatula to break it apart while stirring until it has mostly melted into the veggie mixture.
Pour in the chicken broth, and stir until it is blended into the cream cheese and veggie mixture.
Add in half of the shredded cheese, a handful at a time, while stirring.
Turn the heat off. The ingredients should be mostly melted; it's' ok if the sauce is not entirely smooth.
Stir in the sour cream until it is incorporated.
Add the riced cauliflower and stir to combine.
Add the pulled buffalo chicken into the pot and mix just until everything is blended.
Pour the mixture into the 9 X 13 in. pan and spread evenly. Sprinkle the remaining shredded cheese over the chicken mixture. Place the frozen tater tots all over the top of the shredded cheese and place in the oven (you may not use the entire bag, depending on how you place your tots).
Bake until the tots are browned, about 35-45 minutes.
Let cool for a few minutes before serving. Enjoy!
Originally printed in the August 2022 issue of Simply Local Magazine
Never miss an issue, check out SLM's digital editions here!