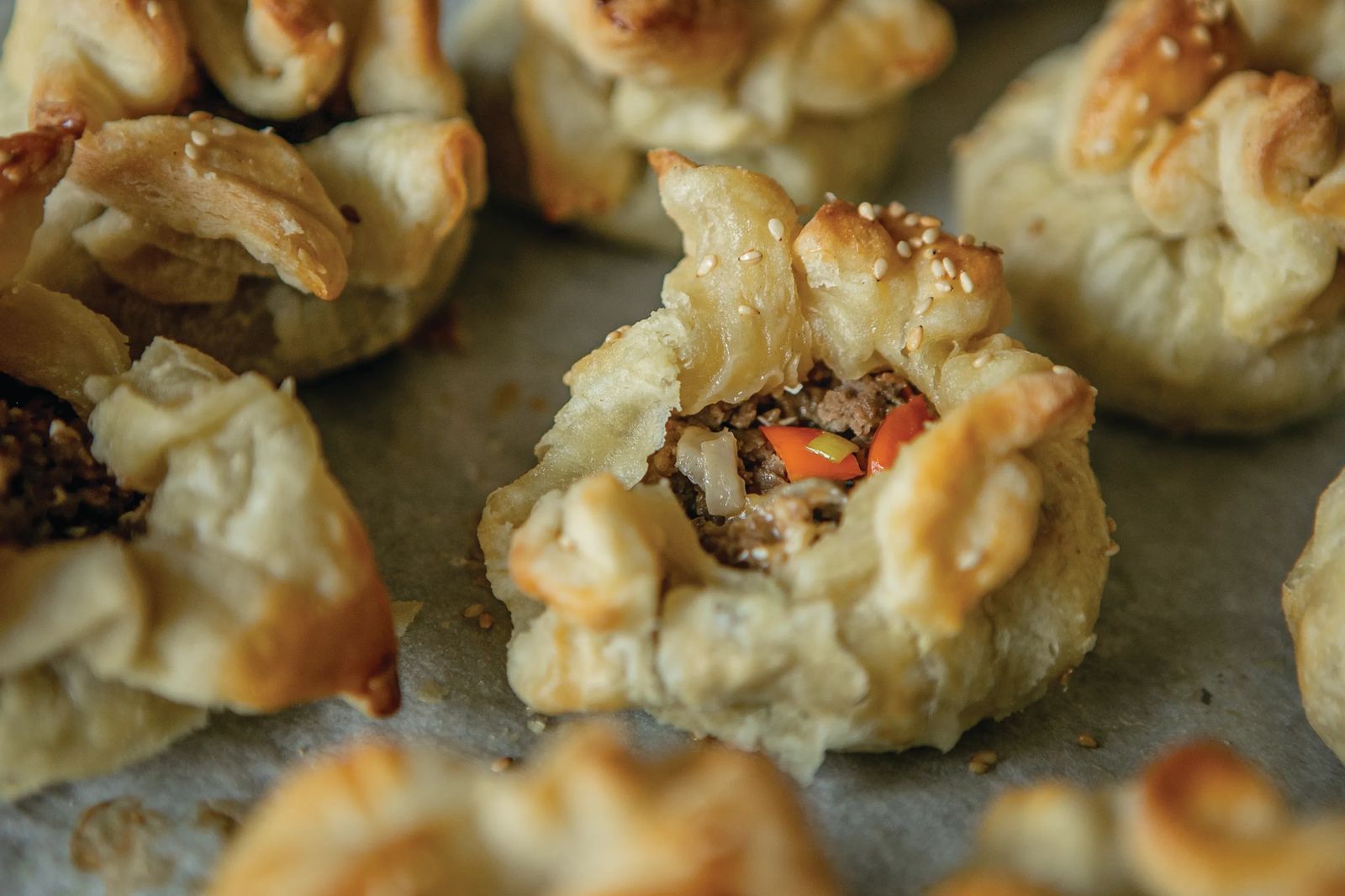 Cook This: Sara's Burger Pastries (Made Easy)
January 1, 2020 | by lovely hickcock
Sara, the California girl-next-door who married Montana's own Cowboy Hank, shared her favorite go-to recipe that makes mealtime a snap.
Ingredients
1 Box Frozen Puff Pastries
2 Pounds Ground Beef
Flour
Shredded Cheese
1 Egg
1 Teaspoon Water
Seasonings of Your Choice
Directions
Prep: Thaw frozen puff pastry overnight in the fridge or at room temperature for 40 minutes.
Brown 2 pounds ground beef and season to taste. (I like to add nearly illegal amounts of cheese to mine.) Set aside to cool.
Sprinkle your work surface with flour. Unfold 1 pastry sheet and place on a floured surface. Cut each sheet into 9 squares. Using a rolling pin, roll each square to make it large enough to hold a spoonful of the group beef mixture.
Place a spoonful of ground beef in the center of each pastry square and top with shredded cheese. Fold the corners of the pastries up over the filling and pinch together to seal at the top.
Beat 1 egg mixed with about 1 teaspoon of water and use it to lightly brush each puff pastry. A sprinkling of sesame seeds or Parmesan cheese can be a nice touch, as well.
Place the pastries onto a parchment paper-lined baking sheet. Bake for 15 to 20 minutes at 400°F. Allow to cool and enjoy!
Tips
*Save time by preparing the uncooked pastries a day early. Cover and keep in the refrigerator until you are ready to bake.
*Parchment paper will prevent the pastry from sticking to the baking sheet and saves cleanup time. Another option is to spray the baking sheet with cooking spray, but this could make the pastries brown too quickly, therefore, you should check them five minutes early.
* Add any of your favorite ingredients to the ground beef. Sometimes, I throw in things like diced potatoes, chopped bell peppers, green onions, bacon, or even taco meat. Quick and customizable, this Burger Pastry is a real meal saver!
printed in the January 2020 issue of Simply Local Magazine
Never miss an issue, check out SLM's digital editions here!