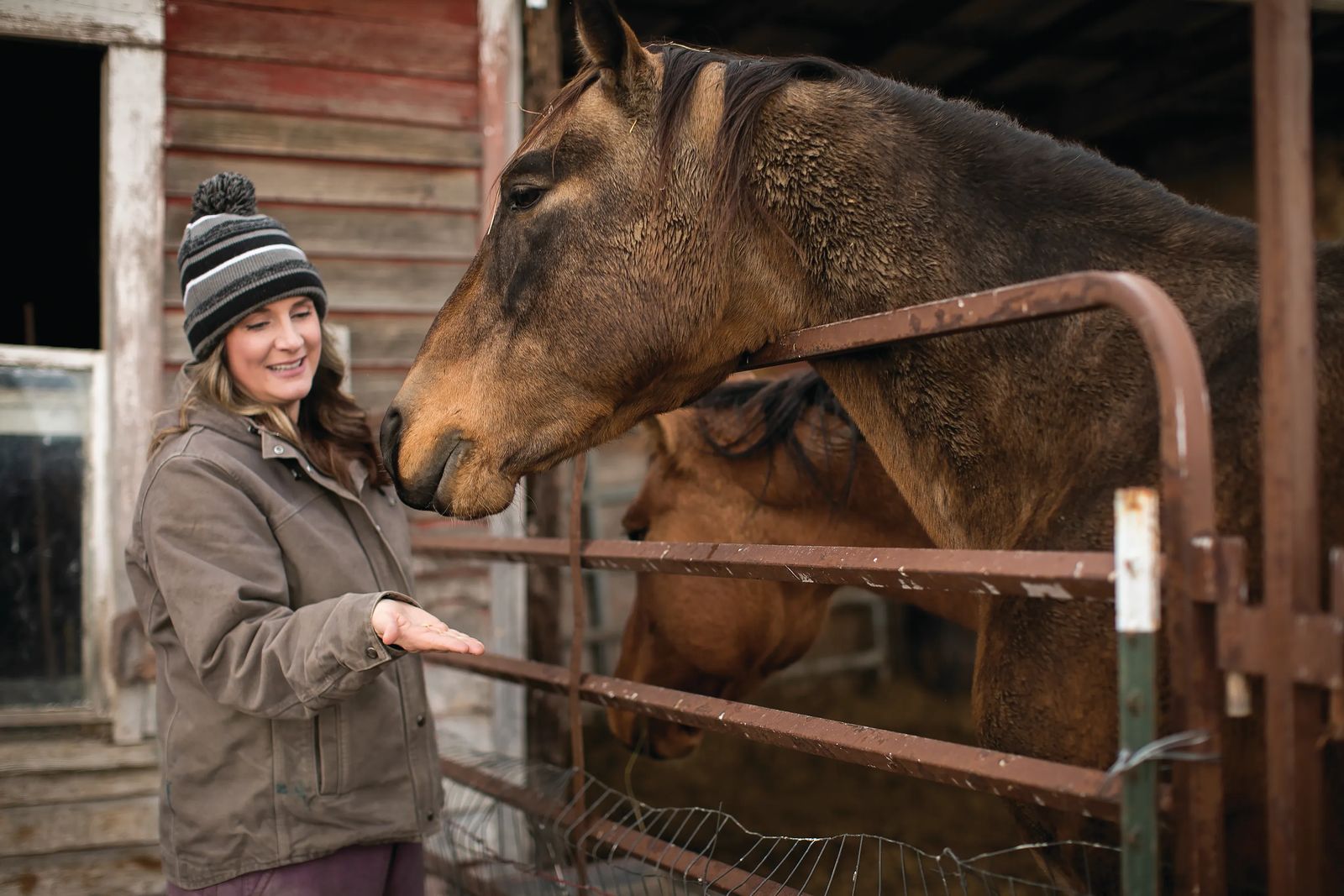 Woman Next Door: Sara Hollenbeck of High Five Meats
January 1, 2020 | by lovely hitchcock
How did a California girl-next-door end up in Big Sky country as the owner and driving force behind Montana's own High Five Meats? The answer lies down a secluded gravel road in Molt, Montana. At the end of that dusty road, resting comfortably beneath the Montana sky, the Hollenbeck Ranch is filled with thousands of sheep as well as cows and horses. Most often, that's where you'll find Sara Hollenbeck, the mind and spirit behind High Five Meats.
Born in Kansas, Sara grew up in California, where she and her family kept around 10 sheep. "It was just like a little hobby farm, nothing like what we have now." Although she liked California, destiny had something better in mind. During a sheep conference in Arizona, her sister, Lesa, sent Sara a fateful text message: "You need to come down here. I found your future husband." A selfie of Lesa and a Montana cowboy with a gleam in his eye soon followed.
Sometime later, after persistent encouragement from Lesa and their mother, Sara visited "Cowboy Hank" (Henry) on his family's ranch in Montana. Once she got to know Henry and his welcoming parents (and proved she could survive a typical Montana winter and lambing season), she knew she had found her home.
The gleam in Cowboy Hank's eye is now complemented by the shimmer of their wedding rings. Today, Sara is the hub of a family of four (Rhett, the little Henry, and Hazel the mini Sara), a full-blown sheep ranch, and a successful meat company.
The Hollenbeck's started their adventure on a humble hobby farm. But, like their family, their farm quickly expanded. "There are no wide-open spaces in California like there are in Montana, so the way they can raise sheep and cattle here is very different [than] California," Sara recounts. They began with sheep and a few cows. Today, they have well over a thousand sheep, a proper herd of cows, ranch horses for sale, and hundreds of goats.
Goats? Fearless fans of diversification, the Hollenbeck's took on an anniversary gift of a single, now legendary goat named Totes who eventually pioneered a platoon of goats that now prance across the ranch. "Totes was a trendsetter, and he was the ranch mascot," recalls Sara. Not only a mascot, but Totes also instigated the "Goat Fashion Face-Off." This highly followed Internet event involves Sara dressing a goat to resemble some iconic Hollywood star. After her first posting, she was instantly overwhelmed by a ton of Instagram followers. Per Cowboy Hank, "It was... California coming out of her, so...here we go."
But Sara didn't start the goat fashion show for followers. She wanted to keep her family and friends up to date on her Montana life. Instagram followers can find these treats at sarasheeplady. Nowadays, Sara is open to fans booking quick tours of the ranch and, if they're lucky, they might get to bottle-feed the bum lambs. Sara's favorite posts involve her children, Rhett and Hazel.
I had the pleasure of spending a lot of time with Sara, including the incredible adventure of sheep shearing. Yes, I even had the chance to bottle feed a few bum lambs, which is quite a welcome break from my suburban lifestyle. Feeding little sheep by bottle fits well with the Hollenbeck's goal of "feeding the world," something they accomplish through ranching and offering their products online for all.
Sara conceived High Five Meats during a women's conference in Billings, which gave her the idea to offer locally raised lamb for sale. She quickly received a regular order of lamb from Ten, the Northern Hotel's premier restaurant. This prompted a brainstorming session wherein Sara and Henry designed the concept of offering pre-built packages of three types of locally raised meat. As for the company name, Sara recounts, "Naming a company is hard. One day I was driving home, and I thought I like high fives...High Five, I like High Five Meats."
In mid-2017, Sara helped start an agricultural cooperative in Billings. The Yellowstone Valley Food Hub consists of 11 producers of meat and vegetables. It offers package pick-ups at the Shrine Auditorium every Thursday. Orders are placed entirely online at www.yvfoodhub.com.
Today, you can buy Sara and Hank's home-grown products directly online at www.highfivemeats.com. In fact, because you are reading this, you can get three pounds of free ground beef by placing an order at www.highfivemeats.com using the exclusive online code "SIMPLY." So, take an online visit to the Hollenbeck Ranch, as well as the Cooperative's web page, and grab yourself some locally produced, Montana meats and veggies. After all, it's what's for dinner, Montana.
Originally printed in the January 2020 issue of Simply Local Magazine
Never miss an issue, check out SLM's digital editions here!