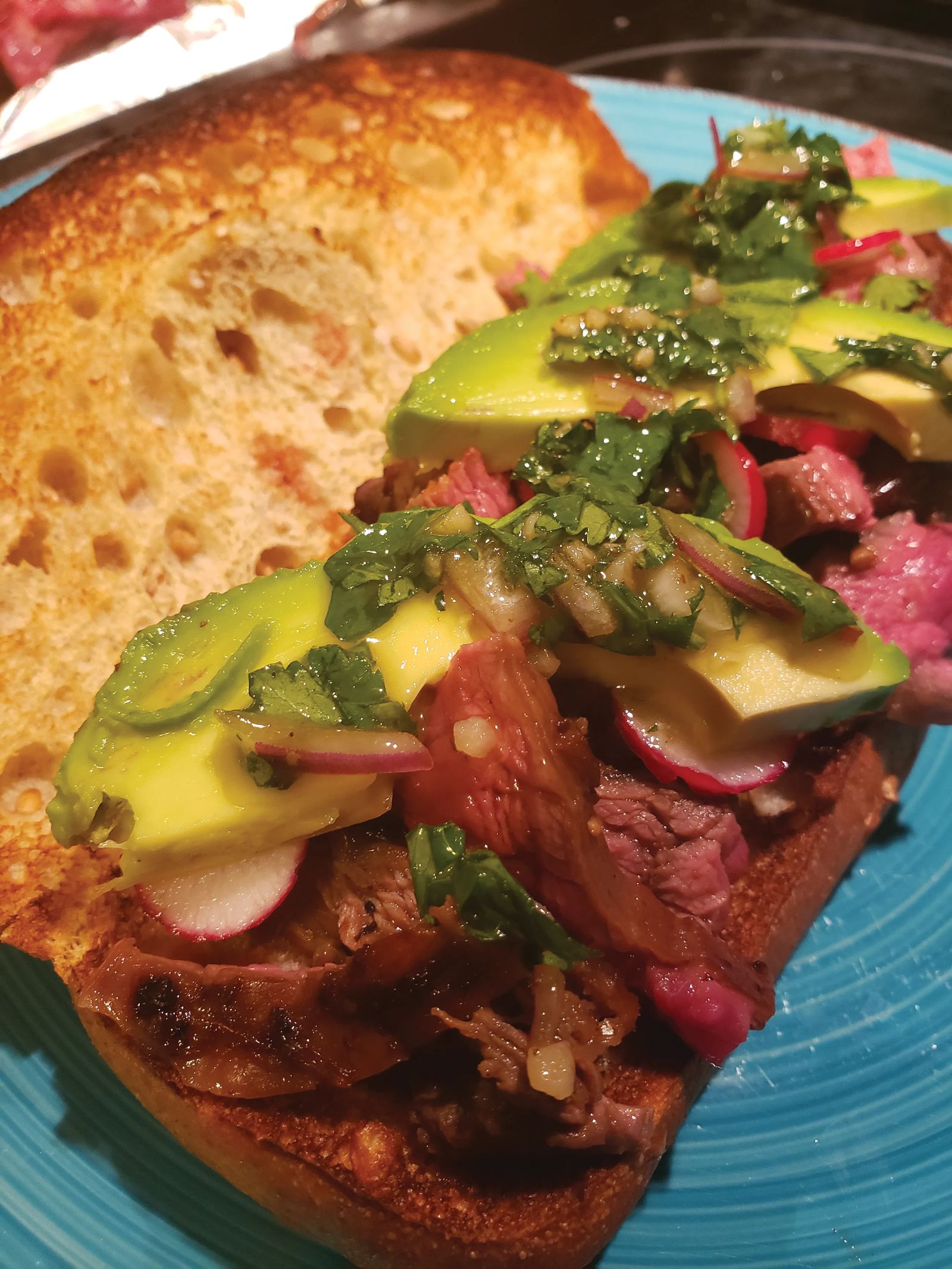 Recipe: Asian/Mexican Fusion Flap Steak Sandwich
January 1, 2020 | photo and recipe courtesy of kevin harrell
Flap steak is coarse-grained meat with a bold flavor. It takes marinade very well and cooks nicely on the grill. If you can't find flap steak, you can substitute with hanger steak, or to a lesser degree skirt or flank steak.
Meat
1.5-2 pounds Flap steak
Marinade for 2- 4 hours in:
2 Tablespoons sesame oil
2 Tablespoons canola oil
2 cloves garlic, crushed and minced
¼ Cup soy sauce
¼ Cup brown sugar
1 Tablespoon lemon juice
3 Tablespoons minced red onion
While that is marinating, make the chimichurri sauce.
Chimichurri
Pulse together in a food processor:
¼ Cup canola oil
1 Cup minced fresh cilantro
1 Cup fresh minced Italian parsley
2 cloves minced garlic
2 Tablespoons lemon juice
1 small can green chilies
Garnish
1 avocado, sliced
A handful of radishes, sliced thin
¼ red onion, sliced thin
Grill the flap steak over hot indirect heat until medium-rare.
Take off the grill and let rest. While the flap steak is resting, toast some bread or buns over your coals.
Slice the flap steak thinly against the grain and layer on your toasted bread. Garnish with a layer of onion, radish, and avocado and top with your chimichurri sauce.
Originally printed in the January 2020 issue of Simply Local Magazine
Never miss an issue, check out SLM's digital editions here!