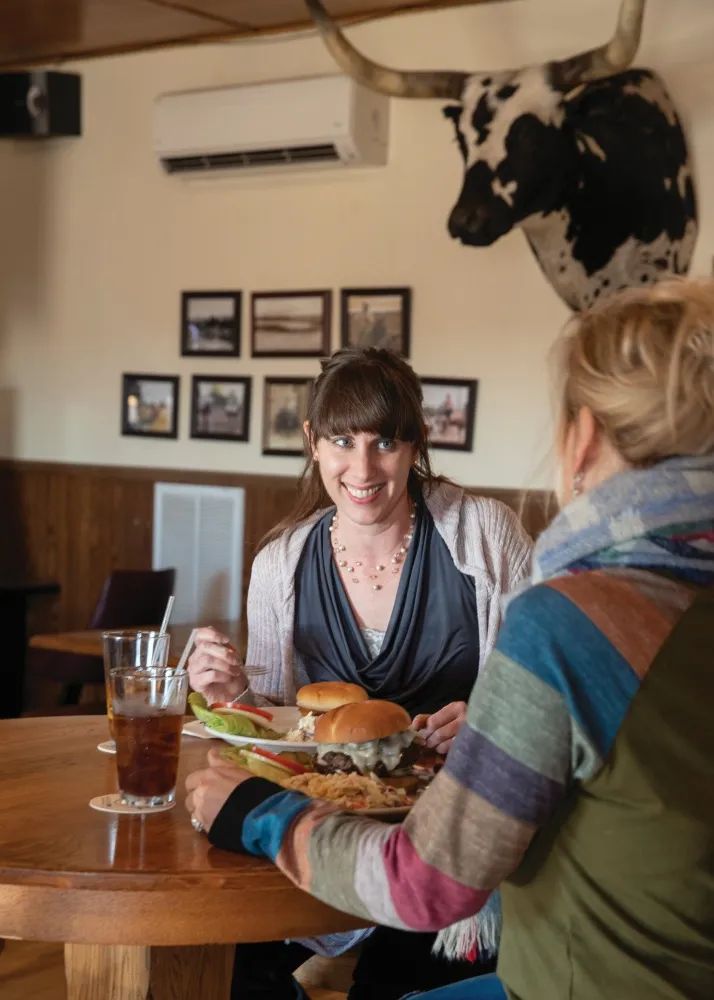 Southeast Montana Burger Trail: A Tasty Road Trip You'll Never Forget
July 2022
article & photos by Cassie Solberg, Visit Southeast Montana
No matter your route, you never have to travel far for a perfect burger in Southeast Montana. The region is home to some of the best burgers you'll ever try, each uniquely crafted with local flavor and authentic culinary ingenuity. In fact, some of the best dishes are served in the most unlikely places, in some of the smallest towns, just waiting to be discovered.
Built upon the recommendations of the locals, the Southeast Montana Burger Trail highlights more than 24 burgers from different eateries across the region, and we're spotlighting just a few of the favorites below. So even if you don't consider yourself a burger connoisseur, the Southeast Montana Burger Trail is a genuine Montana foodie experience everyone can enjoy.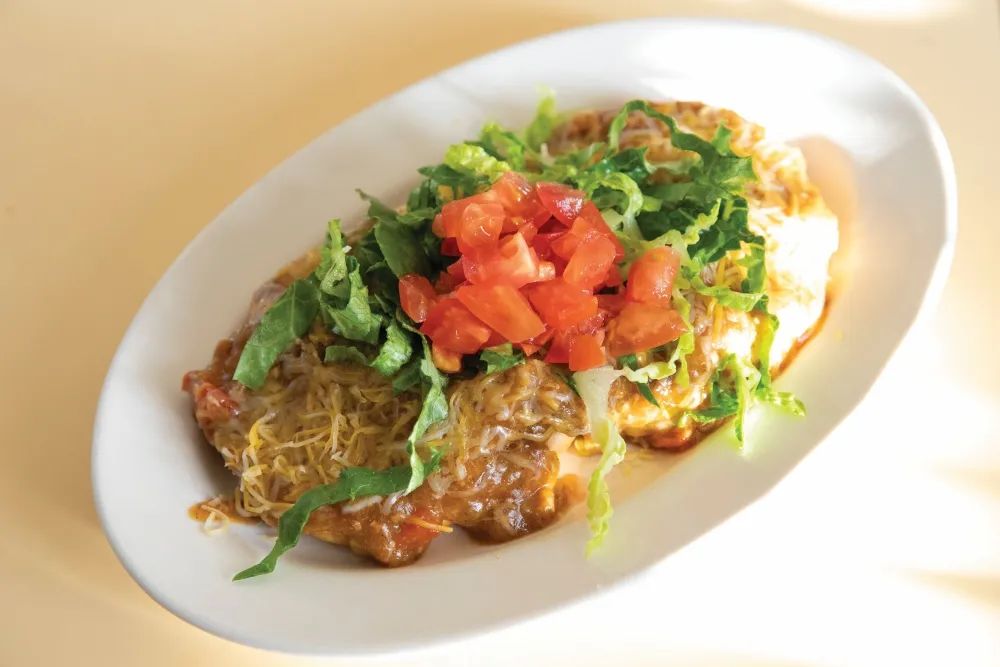 The Mexi Burger (you're gonna need a fork!) | Homestead Inn in Broadview
Looking for creative and unique burgers? Head to Homestead Inn in Broadview for the Mexi Burger. It looks nothing like a burger, but we promise it'll be one of the best things you'll try. It is served on open-faced buns with a ¼ lb. patty, buried in a homemade green chili (the owner's secret recipe), sprinkled with tomato and cheese. This is not finger food, folks!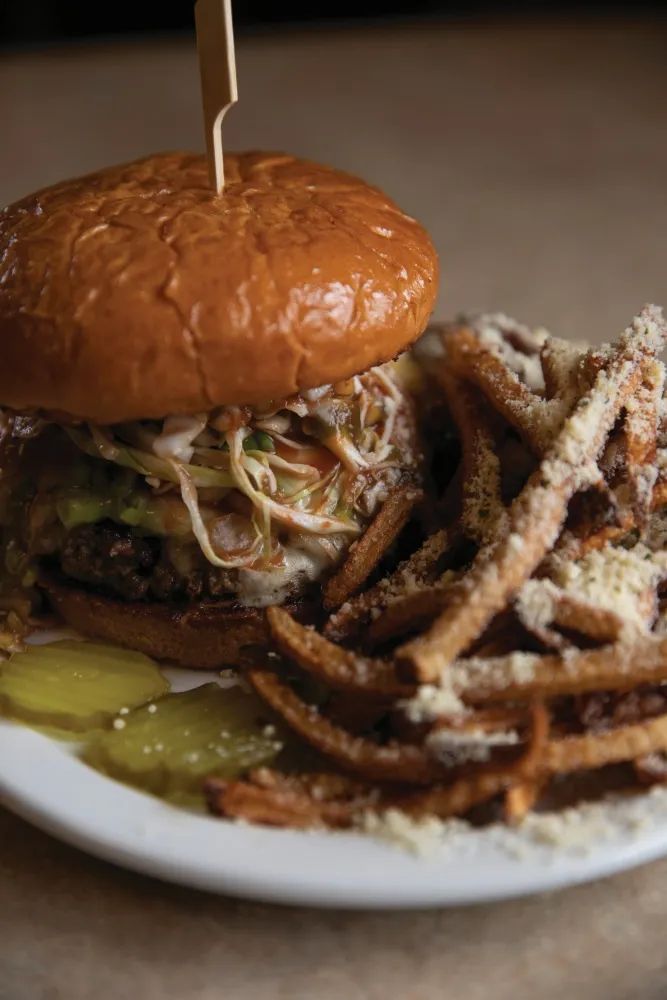 Just down the road in Colstrip is June's Bungalow where you'll find the Mango Burger!
Another unique twist on a burger comes from June's Bungalow in Colstrip, where they've created the Mango Burger. This massive burger has a healthy helping of homemade mango salsa, guacamole, and Havarti cheese. These unique flavors pair together well, though expect juices to ooze out on all sides. While you're there, ask for June's special fizzy tea, it's a hit!
We'd be remiss, not to mention our very own World Food Championship burgers. The ZooM Burger from Stacked in Downtown Billings is sure to leave you with the lingering flavor of perfection. Its patty is smothered with blackberry roasted jalapeño sauce, espresso rub, goat cheese, fried green tomatoes, cheddar cheese, and a drizzle of honey. If this isn't one of the best burgers you will ever eat in your life, the truffle fries may just steal the show. The other championed burger is the I'm Your Huckleberry Burger from The Burger Dive in Billings. It has a tremendous ⅓ lb. patty, covered with a cascading layer of homemade huckleberry-hatch chili barbecue sauce, bacon, creamy goat cheese, roasted red pepper mayo, and fresh arugula. However, The Burger Dive has several scrumptious burgers on the menu, and unmistakably, the best burger here is the one you order.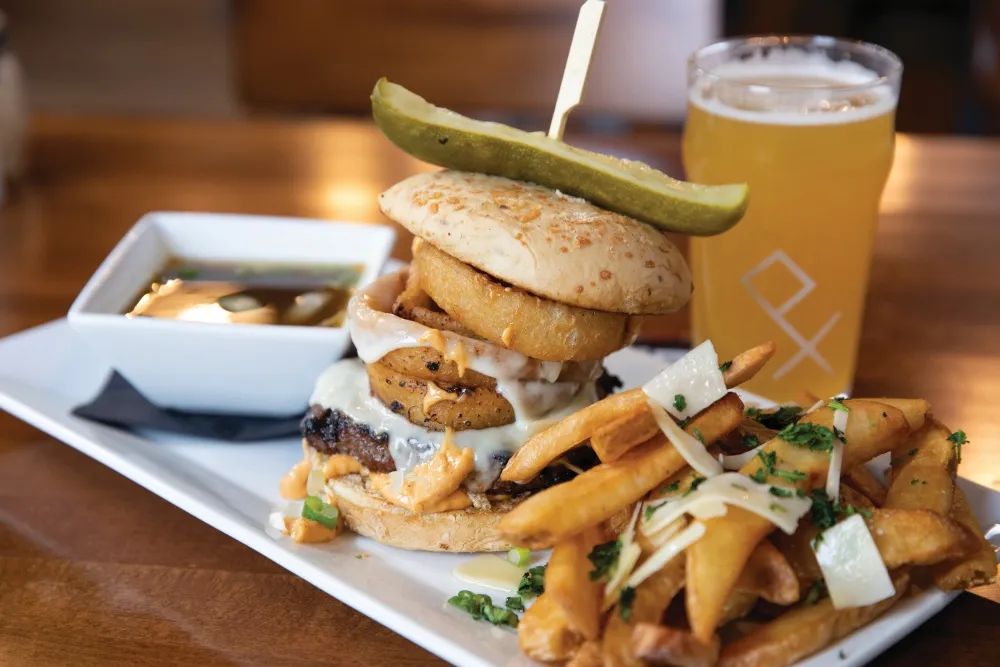 Go big or go home! Bring your appetite for the French Onion Burger | Diamond X Beer Co
We'd recommend the French Onion Burger from Diamond X Beer Co for those who have a large appetite. A ½ lb. Certified Angus Beef patty heaped with onion rings, caramelized onion, garlic aioli, and Swiss and Havarti cheeses. This enormous sandwich is plated with an au jus dipping bowl and thick-cut parmesan fries. We promise you'll leave here with the satisfying feeling of overindulgence.
Whether you are looking for a nearby burger joint to grab dinner for the night or planning the ultimate foodie road trip around Southeast Montana, these friendly establishments will make you fall more in love with Montana, bite after bite. So, what are you waiting for? It's time to hit the road to experience all the tasty adventures Southeast Montana has in store. Come hungry!
Read more about all the burgers along the Southeast Montana Burger Trail at SoutheastMontana.com/BurgerTrail or call 406.869.3722.
Originally printed in the July 2022 issue of Simply Local Magazine
Never miss an issue, check out SLM's digital editions here!