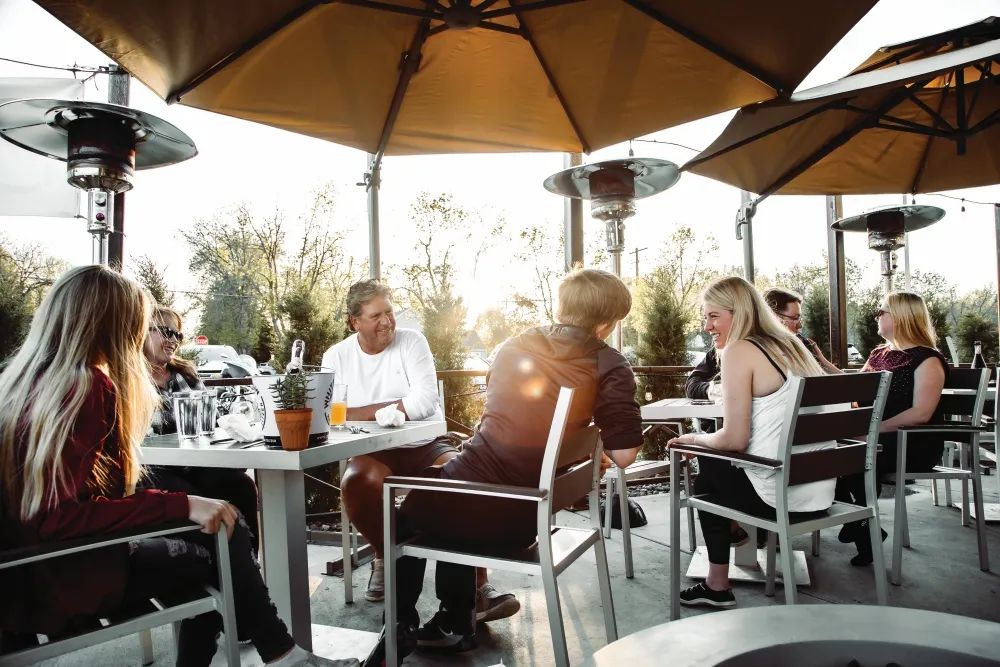 Dining Al Fresco
June 2022
by renata haidle | photos by arianna skoog
One of the greatest joys of the warm summer months is spending time outdoors. Picnics in the park with the kids, dinner with the family in the backyard, or gatherings with friends at any of the restaurant patios around town (of which the possibilities are many, and there is something for everyone to experience in our beautiful Magic City).
We have rounded up some of the most popular suggestions for dining al fresco, from burgers to seafood, or even a simple cup of mid-day coffee and a chat with a friend. The list is by no means exhaustive, as we are lucky to have so many more options to choose from.
Great Burgers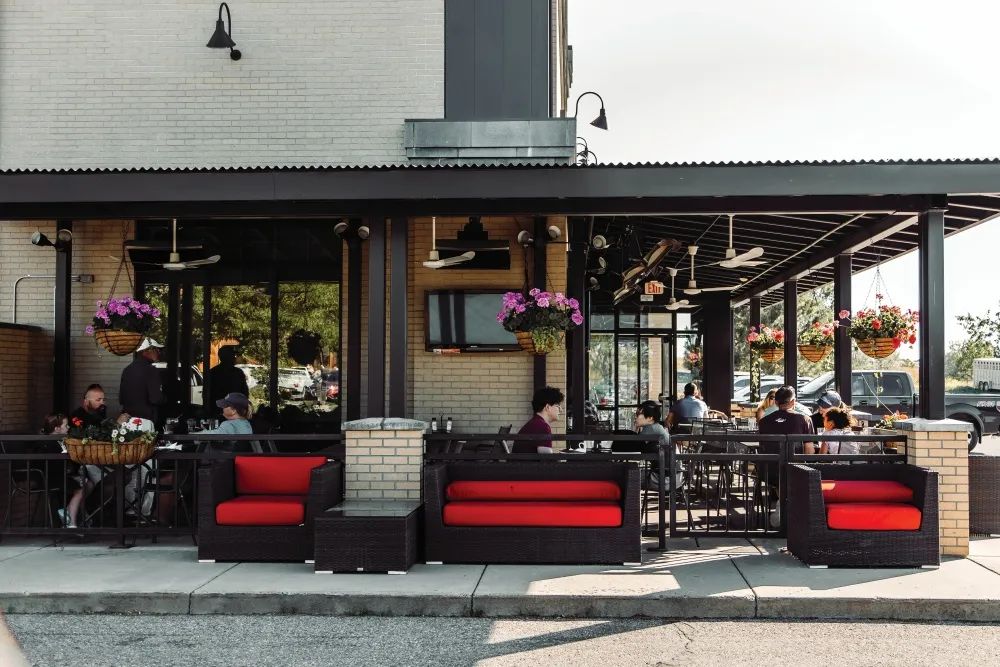 Rib & Chop House is ideal if you just spent a few hours with the kids at the neighboring Reef Indoor Water Park and need to grab a quick dinner. The grabbers (mini burgers with cheddar cheese and a pickle) are always a favorite with the young ones.
The Midway Grill and Brews. They serve The G.O.A.T., The Nasty, and The Snoopdog (this one is a double patty monster). Need we say more?
Local Kitchen and Bar has a secluded patio offering plenty of privacy while you are devouring their delicious Staff Burger - an evolving creation that will keep you guessing. The kitchen staff takes the liberty (all in good fun!) to add surprise toppings while you get to choose the doneness level.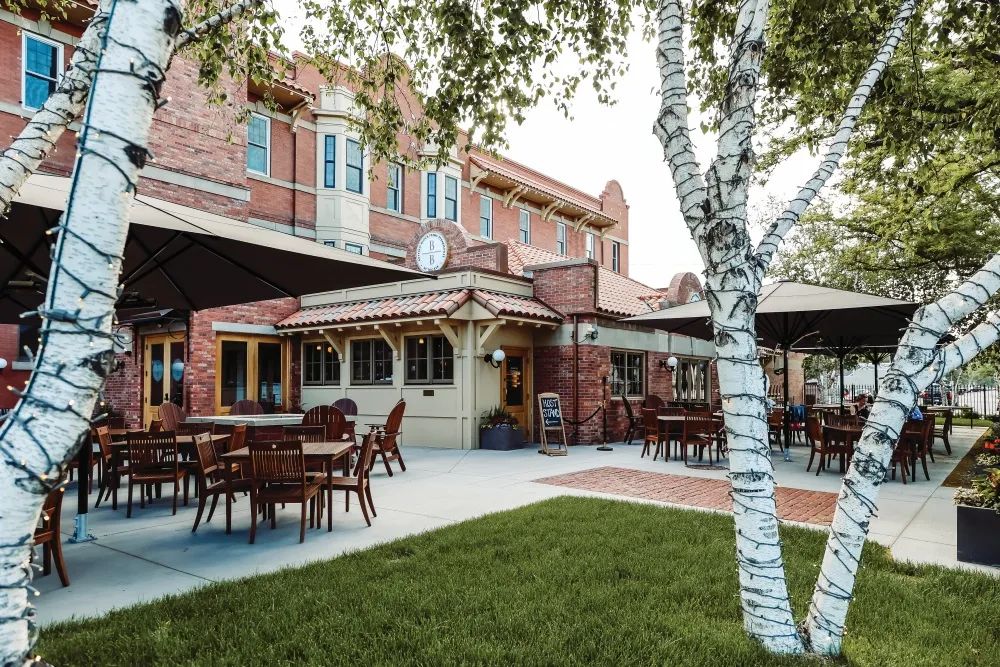 Buffalo Block Prime Steakhouse has a lively patio bordering Montana Avenue, equally suitable for business lunches or romantic dinners. Menu options here vary widely, from French-fancy escargots to a Montana-tough Wild Game Sampler, among many others.
The Fieldhouse put industrial cool on the Billings map many years ago when it opened on Minnesota Avenue. Partner and culinary director Ben Harman is responsible for tasty and creative dishes rooted in a farm-to-table philosophy. Montana beef from local ranchers and greens from The Fieldhouse's garden are on the menu as a testimony to Chef Harman's commitment to sustainability and locally-grown food.
Juliano's is discreetly located downtown in a beautifully preserved Victorian building south of Billings Clinic. Their patio is perfect for whiling away a summer evening, with a small gazebo, fairy lights, and flowers in bloom. Executive Chef, Carl Kurokawa's menu changes monthly and offers scrumptious Montana and Hawaii surf and turf surprises that enchant the palate.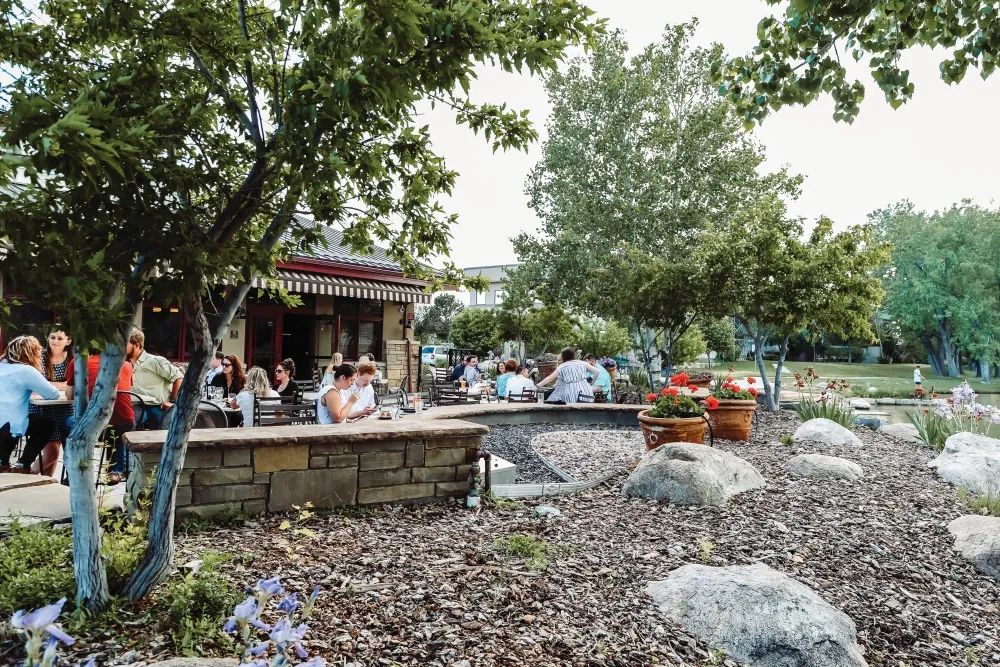 The Windmill & Bar 51 offers a unique patio atmosphere, completely immersed in nature and isolated from the noise of the city, despite being only minutes away from the buzz of King Avenue West. Here you can choose from halibut, prawns, crab-stuffed salmon, or Australian cold-water lobster to soothe your seafood cravings.
Cajun Phatty's has been around long enough for most Billings locals to have become familiar with their enticing menu. Their Seafood Basket comes with fried shrimp, gator (yes, gator!), and catfish, served with their proprietary Phatty and dill sauces, Cajun-spiced kettle chips, and a deep-fried biscuit.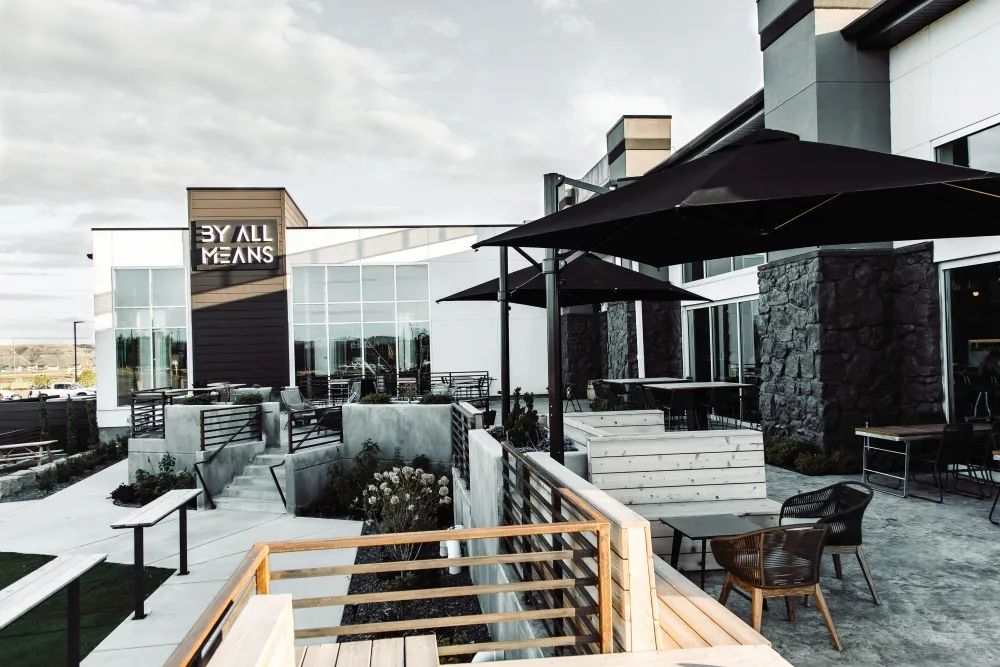 By All Means Brewing. A menu designed with seasonality and sustainability in mind, creative and constantly improving brews, and the presence of an expansive patio is a great recipe for success. From Mark Hastings, Director of Brew: "If you want something original, you've come to the right place."
Diamond X Beer Co, the new(ish) kid on the Far West End block, has a great patio that looks, where else? West. Admire the sunset with a brew in your hand while noticing that Montana is, undisputedly, "The last best place."
Yellowstone Cellars & Winery has a fun and vibrant patio and even greater wines. They are locally made, no less. They also offer small bites to munch on and live music every Friday and Saturday night, from 7-9 PM.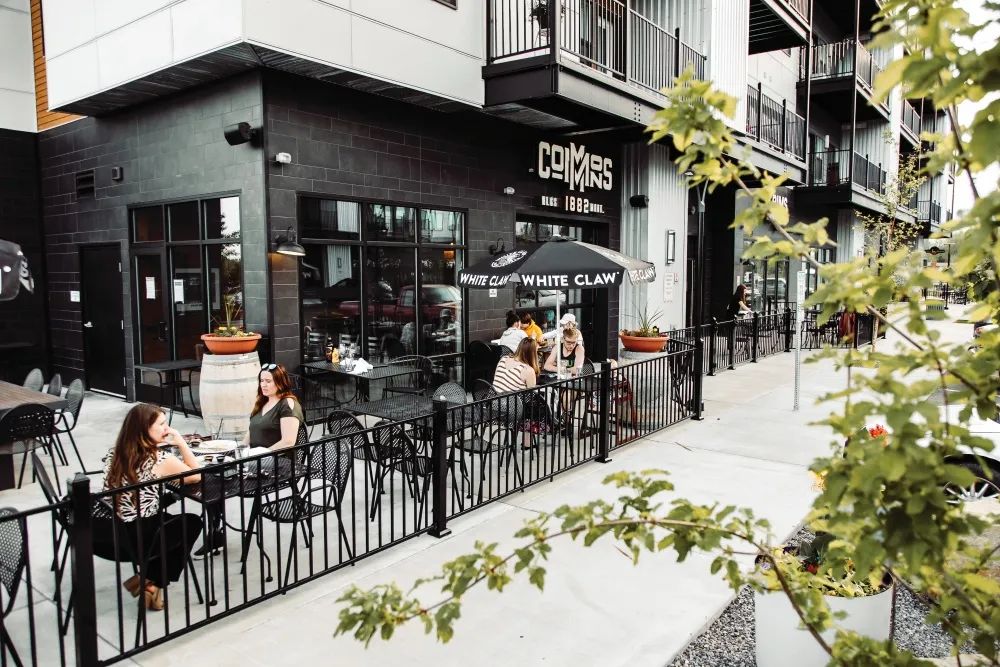 Commons 1882 has been undergoing a menu makeover under the leadership of owner and executive chef Kenny Rakstad. Try their interesting Seared Tuna and Pear, served over mixed greens tossed with cucumber vinaigrette and topped with sliced radish, cucumber, pears, and mango.
Red Door Lounge is a familiar hangout place that hardly needs an introduction. Its patio, always adorned with cheerful flower boxes, is as fresh and inviting as always. Try it for good drinks, light pub fare, and karaoke.
406 Kitchen and Tap Room's outdoor space overlooks 27th Street and a sizable part of downtown from the upper floors of a modern industrial building. An extensive menu and delicious cocktails make this place perfect for a girls' night out or a lively party with friends.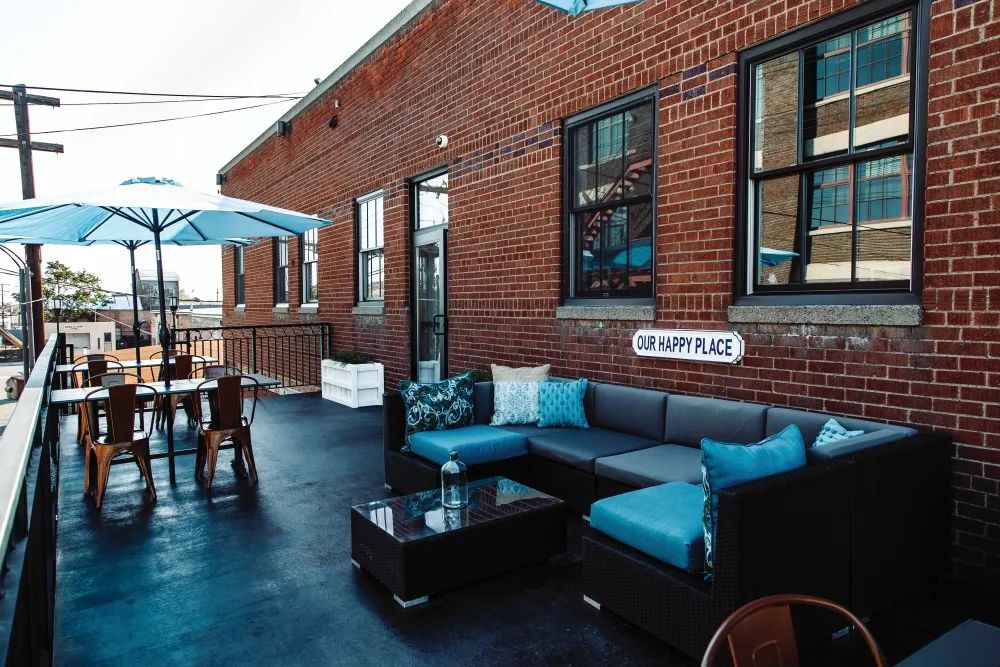 Ohana Poke offers two locations, one in West Park Plaza and the other on Montana Avenue. Owner Tyrell Crowell brings island fare to the prairies with build-it-yourself poke (pronounced poh-keh) bowls that are "healthy, delicious, and fast."
Well Pared also has two locations for your wellness needs, one downtown right next to the Northern Hotel and another at Broadwater and 24th St West. Grab a smoothie, a salad, or a healthy wrap and watch the busy world go by.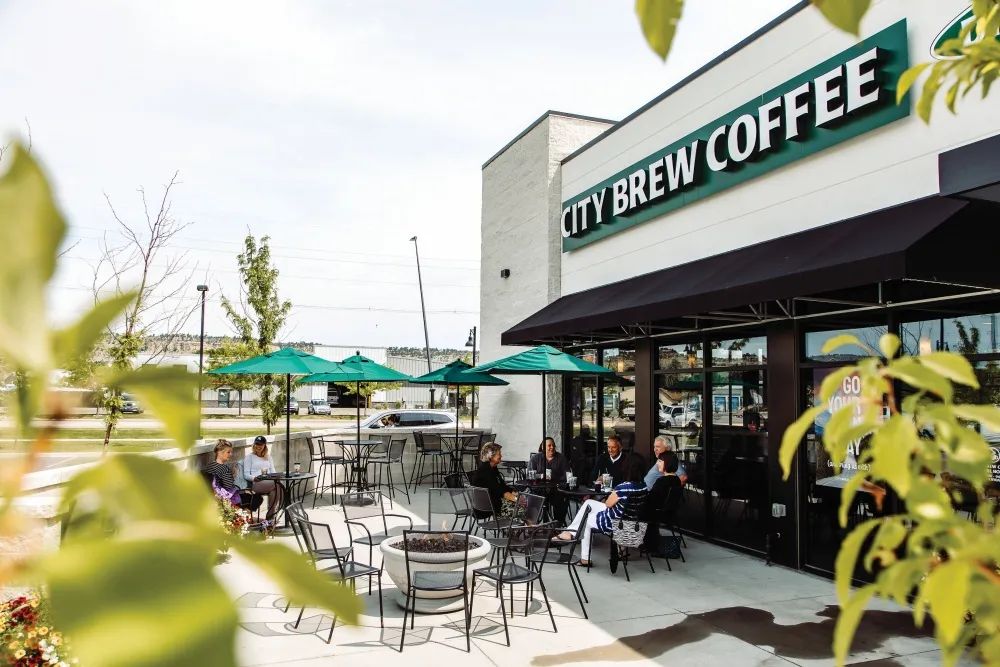 City Brew, with its numerous locations around town (and elsewhere in Montana, Wyoming, and North Dakota), has been a well-known gathering spot for decades since the first coffee shop opened in 1998. They are easy to recognize with their signature green umbrellas, green logo, and modern-looking buildings. You won't have to drive far to find one, given the many locations.
Mazevo, another popular Billings-born coffee shop, keeps expanding and adding new locations, most of them with patios big and small. Their philosophy sets them apart: "Mazevo Coffee exists to Love One Another one cup at a time."
Black Dog Coffee House brews some of the best coffee in town and has no trouble staying hip and relevant year after year. It's the place to be if you need to work alone or with a small group or if you simply want to hang out with your bestie for a few hours. Their newest addition is Black Dog at Harper and Madison, where you can bring your pooch along to socialize with other furry friends and their owners.
Originally printed in the June 2022 issue of Simply Local Magazine
Never miss an issue, check out SLM's digital editions here!