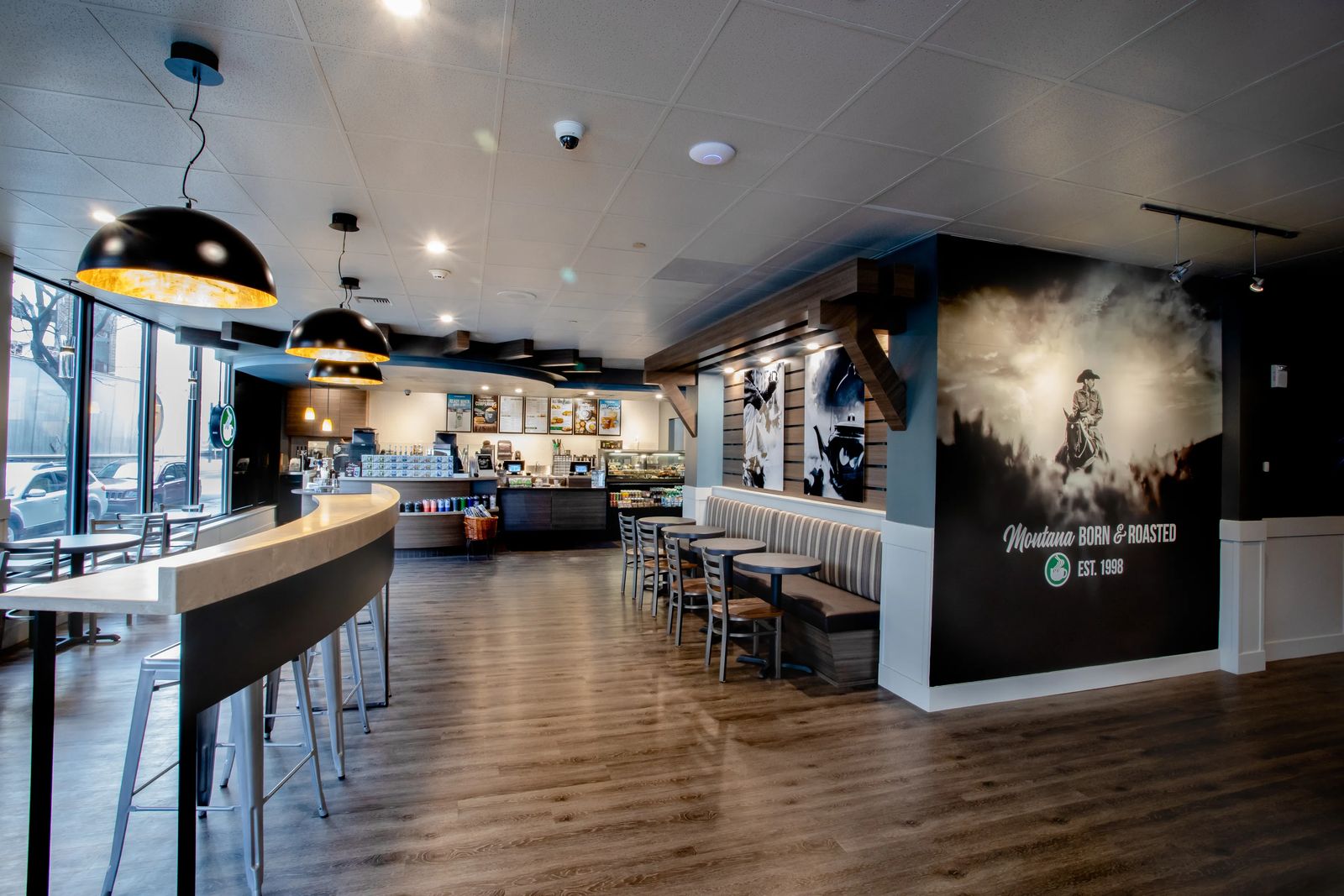 City Brew: Giving Back to Our Community
April 1, 2020 | by kaylee vandjelovic, photo by lovely hitchcock
"To me, the smell of fresh-made coffee is one of the greatest inventions." - Hugh Jackman
At the surface level, City Brew appears to follow the proven recipe for a coffee shop, but a caffeine fix may not be the most compelling reason to support their new storefront in the heart of Downtown Billings - or any of their locations for that matter. Opening in the DoubleTree by Hilton (formerly Crowne Plaza) on March 11, they're striving to give back to Billings by occupying a vacant space and filling a need for local coffee downtown.
When approached with the idea of opening another shop in this location, marketing director Brittanny Reule said they jumped on it. Proud of their roots in Montana and Billings, Brittanny shares they are "excited about the opportunity to offer a local option inside such a significant downtown building." She hopes that people traveling through will now be able to experience a Montana-roasted cup of coffee. City Brew believes 'the perfect cup begins with the perfect bean,' and they aim to produce a consistently flawless cup, every time.
When City Brew first opened in Billings in 1998, they purchased their beans from a prominent supplier of pre-roasted beans. Brittanny shares that while "it was good coffee, we wanted to deliver an even better coffee experience to our customers, because our customers deserve the best." That's why they now take only the top 2% of beans from the finest coffee regions in the world. They roast over 20 varieties of arabica beans, which are sourced from micro-lots on small farms, and the beans are shade-grown and hand-picked. They started out roasting in a 1,000 square foot building and have since grown to a 6,000 square foot, state of the art roasting facility.
What sets City Brew apart?
If you were to ask around, many people would say City Brew is their go-to coffee shop, and "there are many reasons why City Brew customers are so loyal and make us a part of their daily routine," Brittanny states. Most importantly, they pride themselves on providing each customer with an experiential - not a transactional – experience. With the belief that connection between team members and their customers is key, City Brew employees strive to show up to work with an enthusiastic attitude about serving their communities. If you've ever visited a City Brew, I'm sure you've experienced this through an authentic, welcoming "hello," and a "thank you" for visiting. With more coffee shops than ever to choose from, Brittanny says they "believe that experience is a big part of why someone chooses one coffee shop over another - that, and really great coffee, which we definitely have covered."
Giving Back
Wanting to offer a creative way to give back to their communities, City Brew initiated Coffee for a Cause, which began as a partnership to help promote local non-profits across the region. Since the inception of this program in 2018, they have promoted over 20 organizations, which has allowed various non-profits the ability to reach out to the community and gain awareness for their cause.
While that piece is still in place, the program has evolved to recognize the communities' first responders. Many of the locations are near hospitals, and many customers work there, so they began offering a first responders discount to all law enforcement, doctors, EMTs, firefighters, and nurses. They have also provided coffee and pastry deliveries for local emergency rooms and varying hospital units. "In doing so, we are showing our gratitude for the important work they do," Brittanny explains.
Always looking for new sponsorship opportunities, in 2019, they were a sponsor for Nurses Week, and plan to be again in 2020. They were also volunteer sponsors for several local runs across the state - Montana Women's Run, Heart & Sole Run, Sweet Pea Run, Missoula Marathon - putting funds directly back into the community, which supports local programs. Additionally, they donate annually to over 100 organizations, such as K-12 schools, local non-profits, and fundraisers.
So, the next time you're strolling downtown and need a caffeine fix, check out the newest City Brew location, and you can be confident that your purchase will help to support our local Billings community!
Originally printed in the April 2020 issue of Simply Local Magazine
Never miss an issue, check out SLM's digital editions here!