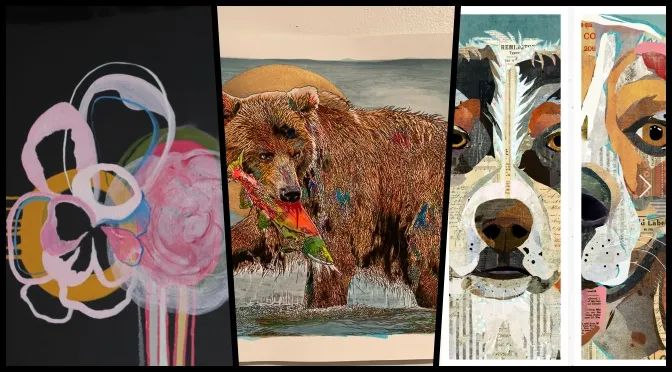 In Love with Local Artists, Part 2
February 7, 2020 | by lauren zent
Billings, Montana may not be the first place that comes to mind when you imagine galleries and storefronts filled with creative offerings from local artists. Certainly, metropolitan giants such as Denver, Salt Lake, or Seattle might seem to have bolder brushstrokes on the artistic scene. But a closer look reveals that, just like the finer details of an intricate painting, things aren't always as they seem. Billings is home to many artists whose craft rivals those of the big city. Let's meet a few of them. -In Love with Local Artists, SLM Feb 2020
A Life Filled with Color
Karyn Mehus has always been an artist. She won her first art contest when she was in second grade, and the awards have followed her into her adult life where her passion for art continues to grow.
Now a wife and mother, Mehus says that she has always had "a need" for art in her life. "I get so moved by color and lines and how they bring balance into the world," Mehus states.
Mehus grew up in an art loving family, which served her love of art well. Her family would travel frequently and go to art museums while on trips. As a second grader, she collected art and children's books. She loved author, Molly Brett, because Brett would draw little animals and creatures. "She could create an entire world out of drawings," Mehus laughed.
At 13, Mehus spent time as an apprentice for a greeting card illustrator. Following her ten-year apprenticeship, she went to the Art Institute of California and earned her BFA from Chapman University.
Now, Mehus still loves to paint and draw, but her prominent medium is acrylic paint on canvas. Her style is filled with color. "I am hyper-visual," Mehus says, "there is incredible beauty in nature, light, home décor, a glass with flowers, architecture, fashion. [In my art], I get to mesh everything together and it manifests itself into that visual intake."
Mehus believes that art is important in our community and within school curriculums. "Art is about personal expression," Mehus says. "If you put an apple on a table, everyone will draw the apple differently. Art is an opportunity for individual expression."
"The best compliment someone can give me is that my art made them want to paint," Mehus added.
Mehus has work on display in Yellowstone Art Museum's Art Auction 52 in March. She also displays her work at the Montana Art Gallery in downtown Billings. She loves to donate her work as well. One of her biggest community projects was painting the entryway at Family Promise of Yellowstone Valley.
Doing it Digital
Traci Anderson does not have the typical cluttered table with paints, various papers, and sketchbooks thrown about. She doesn't shop for the perfect pencil width or even the right canvas. For Anderson, her art is all completed digitally.
Anderson specializes in mixed media and collage art. "If you ask me to sit down and draw, I can't," Anderson laughed.
Anderson was born in Avon, Minnesota, met her husband at Concordia University and together moved to Billings, where she has now called home for over twenty years. She has a 15-year-old and a 16-year-old that keep her busy as well.
Anderson started her career as a social worker. "Art was the release," Anderson said. When her daughter was born, she switched to a direct sales career and had to create her own website which led to more digital artistic opportunities.
Anderson says her style is bright and whimsical - almost childish. In fact, as a child, her favorite artist was Eric Carle. Most of us probably know him as the author and illustrator of A Very Hungry Caterpillar. "It was just so positive and bright," Anderson said.
With two teenagers, Anderson is an advocate for continuing to have the opportunity to participate in any liberal art club or activity in schools and the community. "Sports are for kids that are athletic—kids that are creative need a release as well."
Anderson currently sells her artwork at iCanvas, Amazon and Etsy. Readers can also see her art on her website at www.traciwithani.com.
Montana Passion
When Kelsey Dwyer was just 5 years old, she stared outside her window in the suburbs of Kansas City, watching a great horned owl stare at her. The owl nested in a giant oak tree in her backyard and, eventually, "three fluffy owlets hatched to [her] delight."
Dwyer was used to regular varieties of rabbits and squirrels, but watching the lives of this owl family unfold in front of her eyes sparked her to go to college in Montana, specifically Rocky Mountain College in Billings, to attain a degree in Art with a minor in writing. For Dwyer, Montana was an exotic location where she could experience nature.
Dwyer attended RMC and earned the prestigious honor of "Artist of the Year"; she then moved back to Kansas City for a short time, but quickly returned. "Montana has a way of seeping into the bones of people who live there, no matter how long they've stayed," Dwyer commented.
Dwyer is not known to the artist world as Kelsey, but under the pseudonym, Peregrine Lee. "[The name] comes from the combination of Peregrine from the Peregrine Falcon and my middle name, Lee," Dwyer explains. Dwyer uses watercolor, acrylic and ink techniques to create her unique style. "Nature is my church; gazing at my work is like looking at a stained-glass window lit by candlelight," Dwyer describes.
Dwyer's "Animal Saints" series is an important part of her portfolio because it not only professes her love for nature but also takes a political stance. "My 'Animal Saints' art series came about not only because I love animals but as a political and personal statement. Animals are sacred. Nature is sacred. It is our moral duty to take measures to protect these creatures through the preservation of their habitats," Dwyer explains. "All species are interconnected, including us. What a sad world it would be if there were no wolves, no grizzlies, monarch butterflies, or Big Horn Sheep."
"When I was little, if I was asked what I wanted to be, I would say an artist, a veterinarian, and Indiana Jones in that order," Dwyer laughs. "Today, I'm an artist whose main subjects are animals and I live in a place where adventure is everywhere, so my childhood musings were, in a way, fairly accurate."
Dwyer's original work can be purchased at www.peregrineleefineart.com. She also participates in various art shows—which can be found on that website.