Editor's Note: Fresh Vision
January 1, 2020 | by stephanie toews
"Life is about change, sometimes it's painful, sometimes it's beautiful, but most of the time it's both." – Kristin Kreuk
At the beginning of a New Year, a blank slate with endless potential and possibility is staring at us. I don't focus on resolutions; instead, I choose a word for the year. This is something I started doing two years ago, and it has proved to put me on a perspective-filled path for the year ahead. 2019's word was Be Still (yes, I'm aware that it's actually two words). I wore a Be Still necklace, posted a verse on my desk, and paused to ponder or pray every time those words came to mind.
Last year brought abundant opportunities to quiet the voices in my head, heart, and world, and to practice the discipline of stillness. When facing decisions without apparent answers, when the sass from my kids was extra strong and the dog became my favorite child. When trying to balance marriage, parenting, work, friendships, and, most importantly, my relationship with my Creator. When circumstances beyond my control left me reaching for something more, stillness came into play.
Last summer, Jenny called me with a crazy, awesome idea, and this month we get to see it's fruition. After years of dreaming and trying to decide how to expand on 12 years of Simply Family Magazine, the light bulb moment happened… Local, Family, Food, and Home wrapped up into one beautiful, monthly publication.
It is with so much excitement that we bring you Simply Local Magazine, a fresh (20/20) vision just in time for the New Year. Read on in our Local feature for more background into this decision, as our vision remains the same for the community we love so much.
Change is inevitable, and even when it's good, it's often difficult. I love our feature article Resiliency in the Face of Change because it provides us with practical ways to embrace change and impart resiliency.
Whether you are a resolutions person or not, there's no better time than right now to ponder what you want to work on this year. What's working well for you, and where could you do better? What things do you need to throw off, and what should you cling to: less social media, more personal connections, less gossip and grumbling, more smiling and laughter? Maybe it's clearing the clutter in your mind and home or practicing gratitude. No matter what, now is the time to make 2020 your year!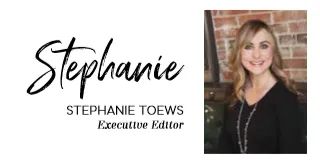 Originally printed in the January 2020 issue of Simply Local Magazine
Never miss an issue, check out SLM's digital editions here!