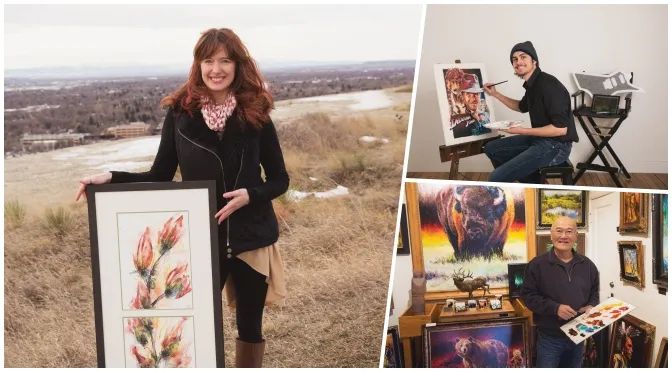 In Love with Local Artists
February 1, 2020 | by brooke wagner | photos by jana graham
"Art washes away from the soul the dust of everyday life." Pablo Picasso
Billings, Montana may not be the first place that comes to mind when you imagine galleries and storefronts filled with creative offerings from local artists. Certainly, metropolitan giants such as Denver, Salt Lake, or Seattle might seem to have bolder brushstrokes on the artistic scene. But a closer look reveals that, just like the finer details of an intricate painting, things aren't always as they seem. Billings is home to many artists whose craft rivals those of the big city. Let's meet a few of them.
New in Town
Janelle DeBray is not a native Montanan, but her roots can still be traced to the Big Sky state. Her grandparents raised a family in Huntley, and DeBray recalls many childhood trips back to Montana from her home in California. Even as a young girl, DeBray found inspiration in the scenery around her, and felt an urge to create something that reflected its energy. Her father was an avid Bob Ross fan and would often retreat to the porch to paint along with the popular TV icon. DeBray would trail behind and admire her father's creations with a childhood curiosity that would ultimately blossom to combine passion with occupation.
DeBray recently moved back to Montana and is setting up shop in her home studio. Her artwork has found popularity across the state and has been featured in Downtown Billings ArtWalks, as well as separate events with Well Pared Eatery and Juice Bar. Unlike many artists, DeBray did not initially pursue a degree in art. She went to school for marketing and advertising and worked in this field for over ten years. During this time, DeBray experienced an array of health challenges but found herself continually returning to her art to find solace and healing. Watercolor became her favorite medium, as the ability to release control over the outcome became an integral tool not only on paper but in her life as well. She says, "Painting became a therapeutic release – the water is flowing, and you just have to learn to move with it."
Ironically, one of DeBray's biggest influences on her artistic style is a high school art teacher whose class she almost failed. She laughs as she recalls, "I wanted to do so much – I could never follow through or finish anything!" DeBray says that this critique showed her the importance of structure and the delicate balance between freedom and order in creating any form of art. It's well-earned advice that she passes along to young, hopeful artists. She encourages, "I want any young person to do what they are passionate about. If you really want to pursue art, go to school and get a good foundation."
Up and Coming
Another notable Billings artist is fresh out of an unexpected venue…high school. Carter Song, a 2019 graduate of Central High School, has come a long way from his childhood scribblings of dinosaurs and monsters. He remembers, "Children's book illustrations were my first exposure to professional art, and I would just stare at the pictures for hours because each page was so unique, creative, and fun. Even though those artists were drawing pictures for children, they put so much heart and passion into every little detail." That mindset has influenced Song's art and his work ethic. It encourages him to strive for excellence every time he picks up a paintbrush. Song looks for inspiration in unorthodox places and says that artwork from album covers, old movie posters, and animated films and comic books speak creativity to him. "It's the sort of stuff you'd never see on display in an art museum, so maybe people don't see it as a legitimate form of expression. But incredible amounts of talent go into these works that don't usually get recognized by traditionalist painters."
Song admires the efforts of local artists who have paved the way for up and comers like himself. "Billings has amazing artists, and a culture that is alive and thriving, which makes me happy I could grow up around that kind of mentality towards the arts." He notes that nature and wildlife-centered art, while unique and popular to Montana, shouldn't be a "one size fits all" canvas. Song challenges his fellow artisans to be brave and bold in their expression and would love to see a wider variety of subject matter in local galleries. Like DeBray, Song encourages anyone interested in creating art to paint what they are passionate about and find subject matter that is meaningful to them on a personal level.
Song did just that when he created an original mural for MasterLube with his friend and artistic rival, Joe LaVe. He says, "The hours of work that we put into it and the feeling of completion when we finally finished was something I'll always remember. We got to represent our school and put a trophy on the shelf without throwing a single football." As for what the future holds for this talented young artist, the only sure thing is that he will meet the challenges with the same creative determination that has gotten him this far. Song reflects, "Now is a strange time for young artists. On the one hand, it's never been easier to share your art with people using platforms like Instagram, but that also makes it harder to stand out from the crowd with unique style and originality. No matter where I end up, I'll apply my artistic abilities and desire to create in all aspects of my life."
Seasoned Artist
Harry Koyama is a seasoned veteran of the Montana art scene. Raised in Hardin, Koyama's childhood need to create drove him to make sculptures out of the mud when more sophisticated materials were scarce. Among Koyama's parents and seven brothers and sisters, the focus was on coaxing a living out of the earth, not painting it. Art was always there, however, and no matter what Koyoma found himself doing, it had a way of weaving itself into the fabric of the life he was creating. He graduated from what was then Eastern Montana College in 1972 after taking every art course that was offered. A professor named Ben Steele noticed the young Koyama, although for more than his quickly evident artistic talent. Teaching at the college was one of Steele's first employments after surviving the Bataan Death March following World War II. Encounters with Koyama, a young Japanese American, were an integral part of Steele's recovery from his experiences in the war. Koyama recalls, "As far as I can tell, there was never any animosity. I was just another student." Inasmuch as Koyama was able to help Steele, the act was returned sevenfold to the young and impressionable artist. Koyama says, "Ben was an influence not only on my art but on myself as a human being. He was a one of a kind person, so forgiving and warm. Most people will go through life and never meet anyone even close to the type of person that Ben was. Life is kind of funny that way."
Koyama returned from college and began to work on the family farm, a common storyline in rural Montana communities. It is poetic to note that one of Koyama's first artistic creations was a welded sculpture, borne of a common farming technique. He admired the work of another rural Montanan sculptor named Lyndon Pomeroy and was inspired to create his own welded steel piece. Koyama didn't start painting until 2003, yet those fortunate enough to see a brilliantly colored work of his might assume he has been wielding a paintbrush forever. Koyama draws inspiration from the wildlife and the people around him, capturing their energy and movement through vivid colors that practically leap off the canvas. Extracting inspiration from his childhood home, which bordered the Crow Indian reservation, one of his favorite subjects is a Native American dancer shown in full powwow dress. He says of his art, "It's an extension of my feelings…I think [art] is something that those of us who have the urge to do will do it without even really knowing it."
Koyama's art might be local to Montana, but its impact has stretched across the globe. One of his paintings, a bison of glowing red and gold, hangs in the US Ambassador's residence in Beijing. A demand for his work has allowed Koyoma to paint full time and exchange his well-worn ranch gloves for a paintbrush. Two young grandchildren have added fresh inspiration to his life, and he says, "I'm just enjoying what I'm doing now!" Indeed, Koyama dreams of a world where we can all dabble in the things that bring us joy and fulfillment. "The arts in general – we couldn't live without them. The world is a much better place, and we need it all. We need that human intuition that a computer can't provide. Until the day when he has been painting longer than he has been farming, Koyoma will continue to fill the galleries, window scapes, and homes of Billings and beyond with art that truly reflects the vibrancy of our Montana landscape.
Originally printed in the February 2020 issue of Simply Family Magazine
Never miss an issue, check out SFM's digital editions here!