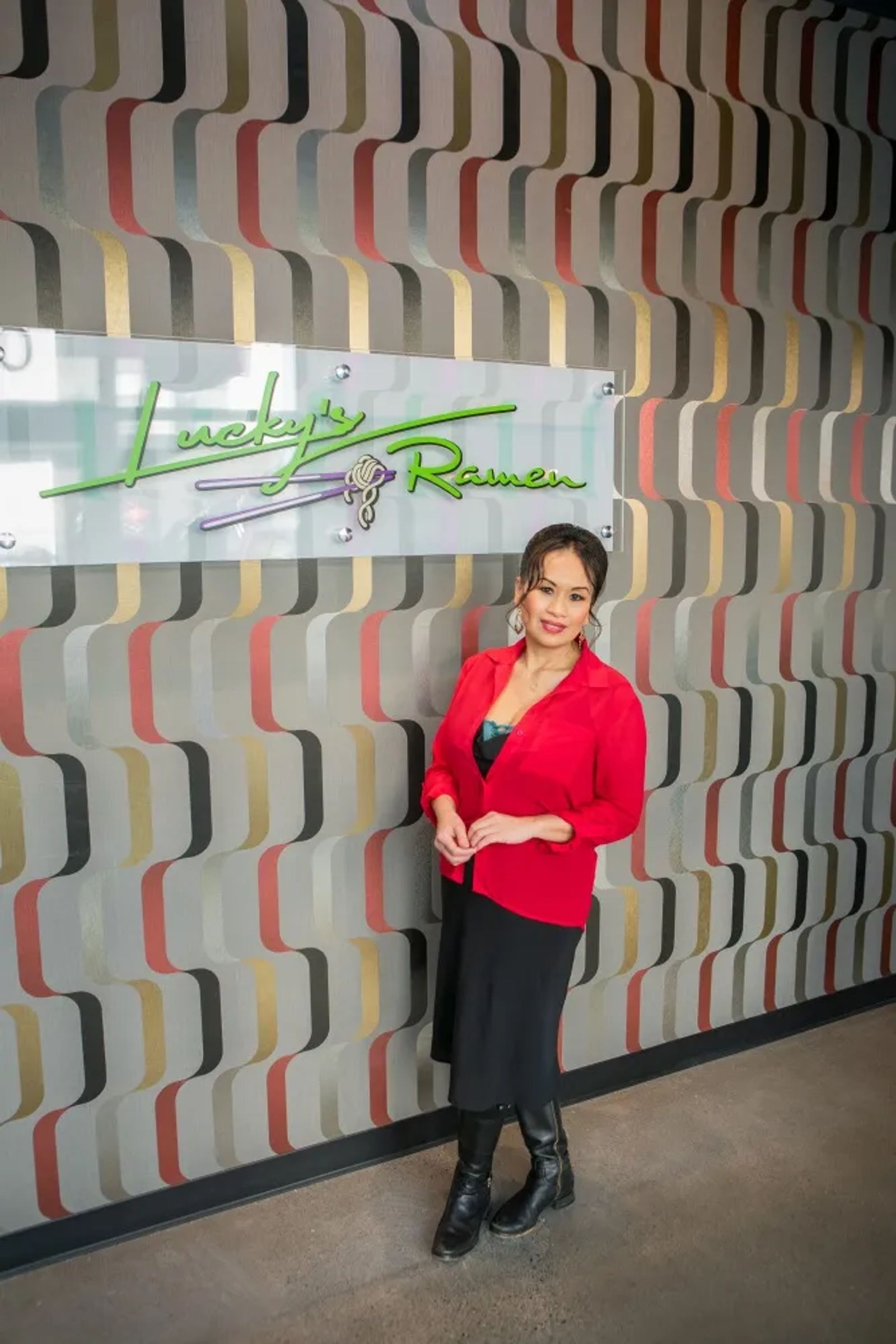 Soup's On at Lucky's Ramen Noodles
January 2021 | by michael j. hitchcock, photos by lovely hitchcock
Eight years of living in Asia taught me that our Western minds often miss the point of Ramen soup.
This incredibly versatile meal isn't meant to be a brick of chemically infused, tasteless noodles dusted with artificial flavoring. Ramen was meant to be a savory, gratifying feast of the senses that leaves one completely content yet planning the next Ramen restaurant visit.
America; I love you, and you know it, but you've struggled when it comes to Ramen soup. Lucky for us, real Ramen has come to Montana, and it is good.
Enter Lucky's Ramen Noodles in Shiloh Commons. On September 3, 2020, Lucky and Shawn opened their doors to the public, inviting Montana to discover the glory of Ramen as it was meant to be served. While Ramen is in the name, the restaurant serves many different types of noodle dishes, including vermicelli, rice noodles, and a Japanese udon pork noodle soup (my personal favorite). They've also captured the Asian flavor with their tasty selection of appetizers, including incredible egg rolls and crispy tofu (a treat for texturephiles like myself). They even serve an incredibly authentic gyoza dish, a fried Japanese dumpling that's always a crowd-pleaser.
This isn't Lucky and Shawn's first venture into the restaurant business. They've been working with food for over 20 years. This lifetime journey began for both of them with their respective parents who worked in their own food businesses. In our November 2020 issue, I reported on the amazing tale of Lucky's parents, Khanthaly and Sisavath, who narrowly escaped the Laotian Communist regime in the early 1980s and came to Billings, where they opened their own restaurants, which continue to serve our community today. Lucky and Shawn carry on the business-building tradition in their own, unparalleled style.
As a young couple, they aided their parents' catering businesses to help pay the bills but later realized they had an opportunity to start their own business. This seemed more enticing than working for someone else, so they began their entrepreneurial efforts with a food truck. Eventually, they opened a hibachi steak and sushi house, making them the first to bring sushi to Billings. They've even served us hamburgers and gyros on their way to the Ramen restaurant.
Before opening their latest endeavor, Lucky and Shawn traveled to other cities to see what other culinary artists were doing with their Ramen dishes. Although the Ramen noodle has ancient origins, it has been adopted and altered by many Asian countries. Introduced to the United States in 1958 as a prepackaged, virtually tasteless broth dish, some American restaurants recently revived the art of serving Ramen in its intended form. This has resulted in a variety of flavors, ingredients, and aesthetics that have finally reached Big Sky country, where Lucky and Shawn continually create their own, unique variations for Montanans.
They don't mind the long days and hard work as they've received extraordinary support from family and friends. They truly love working for themselves while leading a bang-up team in the kitchen. The dedicated couple even enjoys jumping in to chop, cook, clean, or serve at a moment's notice. Their parents set a powerful example, and this couple carries on the tradition of hard work and determination to make their dreams come alive.
The 2020 pandemic hasn't seemed to impact Lucky's Ramen Noodles too much. Business is good as hungry families and individuals continually walk through the door sporting masks and maintaining a six-foot personal distance (that's the length of about 5 1⁄2 noodles). They see many new faces come in the door as well as many repeat customers, some returning to try every single dish at least once. Lucky, Shawn, and their entire staff take every precaution to protect their patrons so that they go home feeling full, gratified, and safe.
Grab your coat and favorite mask, and enjoy the revelation of real Ramen at Lucky's Ramen Noodle restaurant. Forget the dry, chemical brick college-chow, and stop in to savor a fantastic bowl of hot and delectable soup on a cold, wintry Montana day.
America, you got it right with Ramen. Soup's on!
Originally printed in the January 2021 issue of Simply Local Magazine
Never miss an issue, check out SLM's digital editions here!