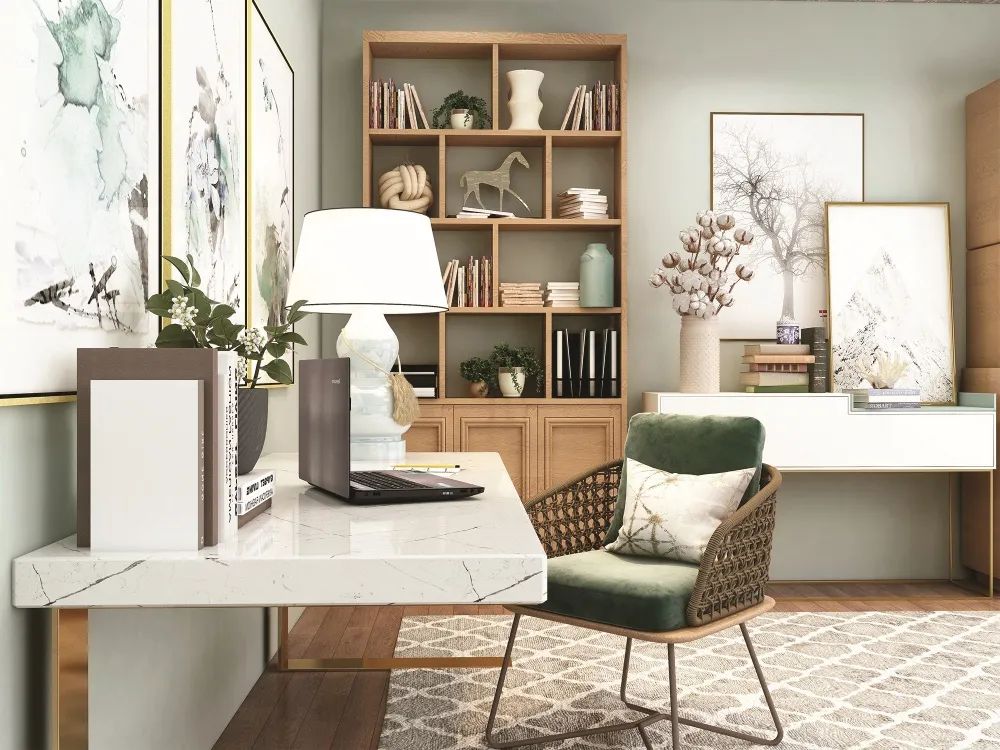 Computer rendering of a home office by Revision Custom Home Design - photo courtesy of Rebecca Langman
Setting Up a Home Office
March 2022
article & photos by renata haidle
Could working from home officially be the new normal? The past two years have shown us that not only can many jobs be done from the comfort of home, but other positives have emerged. We've seen a positive impact on productivity, overall employee wellbeing, gender and geographic equality, and emissions, according to a study from the Organization for Economic Co-operation and Development (OECD). While the long-term effects and feasibility of remote work in many fields are still unknown, the reality is that many of us have been forced to find ways to make telework a reality.
With many a Zoom call affected by the impromptu presence of a young child busting into the room or a rambunctious pet jumping on our knees during an important meeting, most of us have realized the importance of carving out space in our homes for a proper office, no matter how small. A place where we can close the door and safely work, uninterrupted, for several hours, and take that Zoom call without the dread of being inconvenienced by an untimely family crisis. Alternatively, if a separate room is not an option or privacy is not essential, we need at least a specified personal zone to sit down and get things done during work hours.
To get some guidance about setting up a functional, comfortable, and aesthetically pleasing home office, we turned to Rebecca Langman, interior designer, and owner of Revision Custom Home Design.
"First, consider how you work and what you need," Langman advises. "For some people, a laptop and a comfy chair are enough. But for many of us we need a little more (especially if we're getting older, sitting cross-legged in an armchair is probably doing a number on our posture). You most likely need a desk of some sort. This can be a small table, or a large traditional desk with file drawers. Also, do you need a bookshelf for reference materials or storage for paper, pens, stationary, etc.? Once you know how much space you need, figure out where you can set it up. Some people can work fine in the middle of everything, so a corner of the living room or a table in the kitchen might work. Others need a space free from distractions, or a place where they can shut the door to keep noise out."
This "anywhere office" can be easily set up in a corner of the living room: all you need is a chair and a small table or desk in a well-lit space. An added benefit is using an adjustable standing desk that can be moved to the desired height at the push of a button.
If you have the luxury of a spare room that can be converted into an office, you need to decide where the best placement for the desk will be. "You might want a pretty view," Langman says, "but if your computer screen is back-lit it may cause eye strain. You might be inclined to decorate the wall above your desk, but if you do a lot of video calls you may want to move your desk to the middle of the room and hang your art behind you for a nice backdrop. Make sure you have enough lighting and from multiple sources. A good overhead light should be supplemented with a task light, and possibly even a ring light for those video calls so you don't look shadowed."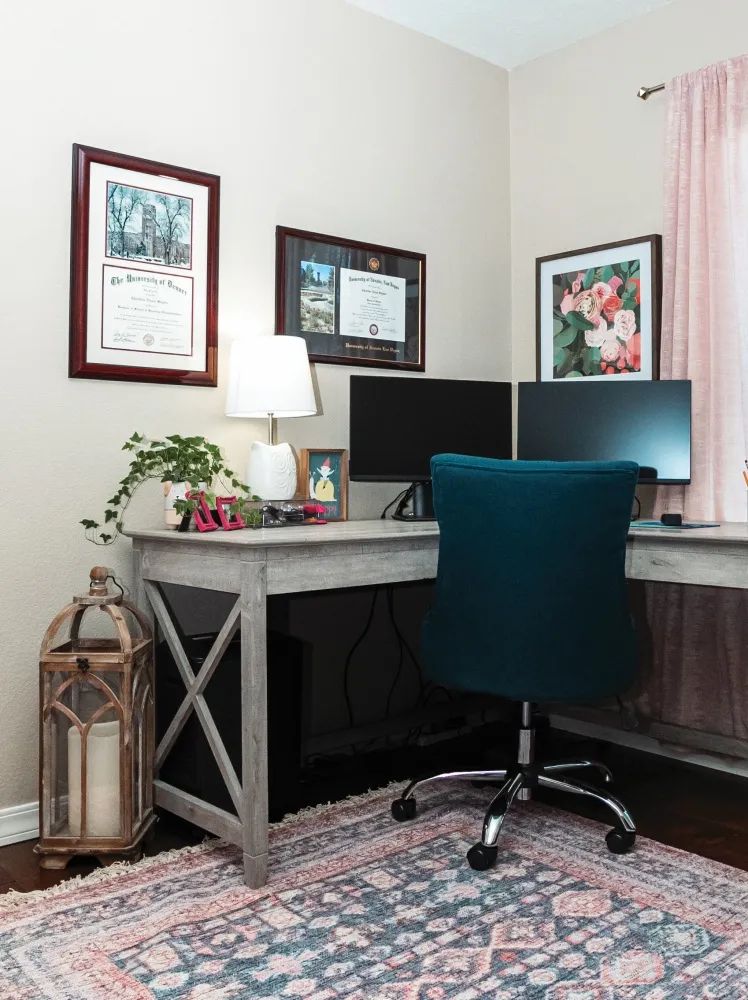 In this home office, the desk is placed close to a large window but not directly in front of it. This allows natural light to enter the room while avoiding computer glare or backlighting, eliminating strain on the eyes.
"Finally, make it pretty," Langman recommends. "Choose artwork that makes you smile without being distracting. Splurge and buy yourself a few pretty pens and notebooks. Keep decorative objects to a minimum, but a low-maintenance plant is always a good idea. Snake plants or Pothos vines often do well in low-light and often don't need to be watered more than once a month."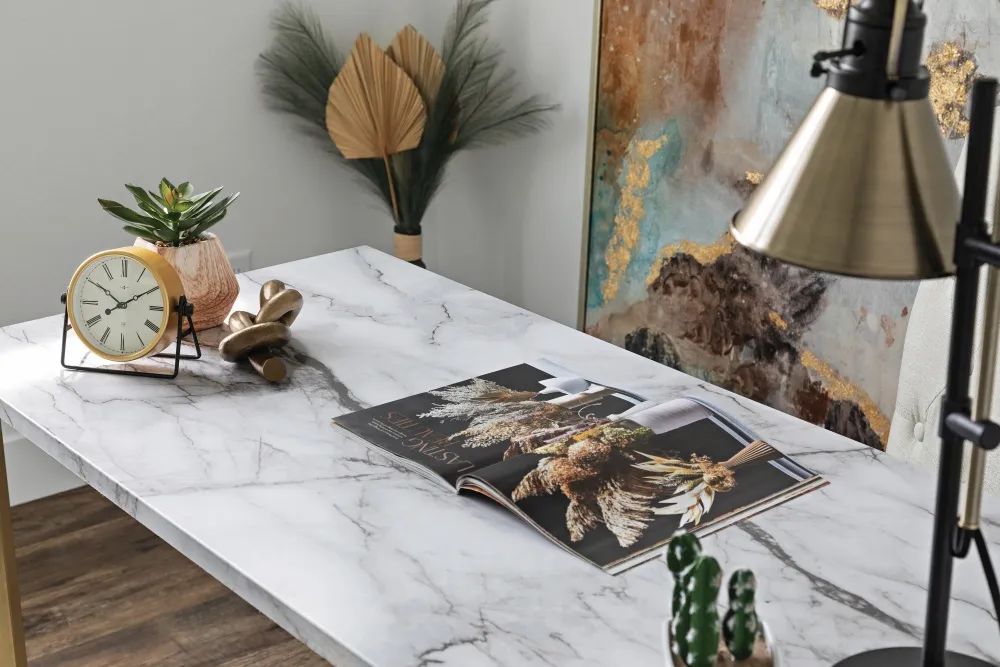 photo by Nathan Satran
This home office features texture and softness. Artwork completes this space and the greenery is introduced as artificial plants requiring no light or maintenance yet brighten the space softly.
Rebecca Langman is Head Interior Designer and owner of Revision Custom Home Design. She has a BFA from Harrington Institute of Interior Design in Chicago. Her work includes design and furnishing of Billings Parade of Homes properties, floor plan design for several neighborhood developments, commercial store layout designs, and major residential remodeling projects.
Originally printed in the March 2022 issue of Simply Local Magazine
Never miss an issue, check out SLM's digital editions here!