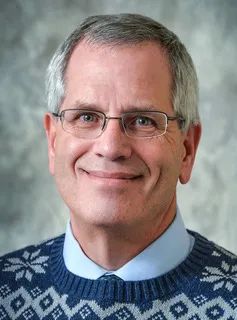 RiverStone Health CEO Awarded Dr. Alan Strange Legacy Award
November 1, 2020 | RiverStone Health Media Release
The man with the unenviable task of guiding our community through the COVID-19 Pandemic has been recognized for his dedicated service to RiverStone Health and the Community Health Center Program. John Felton, President and CEO of RiverStone Health was recently awarded the Dr. Alan Strange Legacy Award by the Montana Primary Care Association.
Nominated in September by the staff of RiverStone Health, the Dr. Alan Strange Legacy Award honors a leader or emerging leader who has been committed to improving access to care in the community health field in Montana. RiverStone Health, through its community health center program, provides integrated, comprehensive primary care. Its medical and dental clinics care for approximately 20,000 patients each year - more than 20% of whom are uninsured. In addition to its main campus in Billings, satellite clinics are located in Bridger, Joliet, and Worden, as well as school-based health centers at Orchard Elementary and Medicine Crow Middle schools. Felton first contributed his talents to RiverStone Health as a board member, where he served for several years before taking on the role of Chief Operating Officer in 2005, then beginning his tenure as President and CEO in 2011.
In addition to guiding the more than 450 employees of RiverStone Health with his "unique brand of Servant Leadership," Felton's steady leadership has been called to serve the community at large, making exceedingly difficult decisions with respect to best practices in balancing the spread of COVID-19 with the impacts of isolation and restrictions on the community. Felton is praised for his thoughtful, consistent perseverance as "an example of how to adhere to values and principles through tumultuous times."
Dr. Alan Strange, PhD, was a founding member of the national movement that brought Community Health Centers to Montana. Dr. Strange was a significant contributor to national and state efforts to build a health care system to serve rural areas and to provide care to those most vulnerable.
The Montana Primary Care Association is a non-profit organization dedicated to improving access to high-quality, community-based, affordable primary health care in Montana. MPCA is the professional association for Montana's 14 community health centers and 3 Urban Indian Centers, providing comprehensive primary care in over 80 locations to over 118,000 Montanans. MPCA works to support and increase Montanans' access to excellent, patient-centered health care.