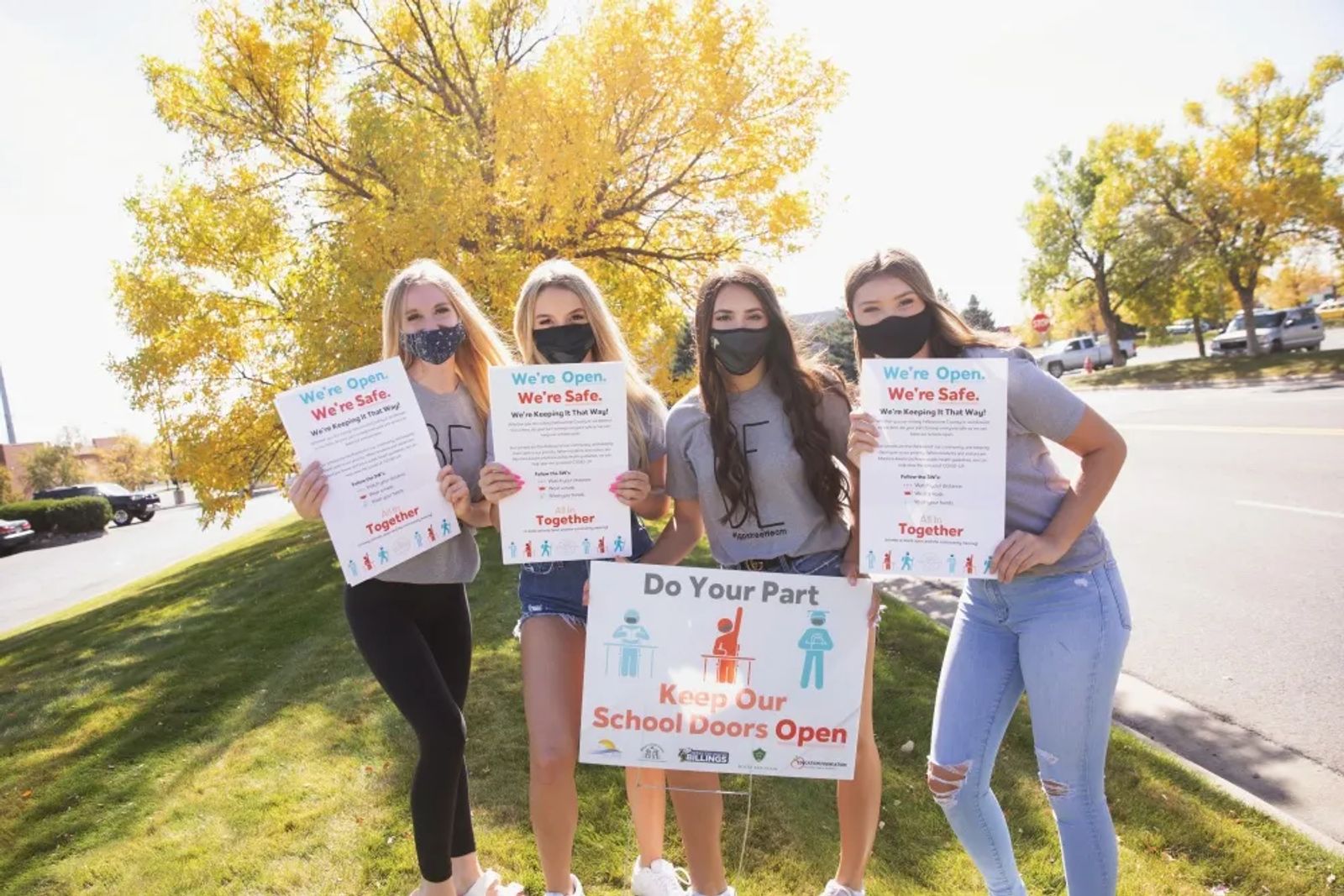 November 2020 | by lauren zent | photos by jana graham
After surviving several unexpected months of remote learning, parents, teachers, and students are thrilled to have some semblance of normalcy within classroom walls once again. To keep schools safe and open, a group of community members have formed a grassroots campaign to give students the ability to attend school.
Schools are not just a place for academics, as most found out last spring. Schools provide students a place that also supports mental, physical, and emotional health; the campaign promotes. This research prompted community members to form a group and do their part to help teachers, administrators, and school officials keep schools open this fall.
"Do Your Part--Keep Our School Doors Open," is the primary message of the campaign, and the focus revolves around the 3 W's-- "Watch your distance, Wear a mask, and Wash your hands," organizers say.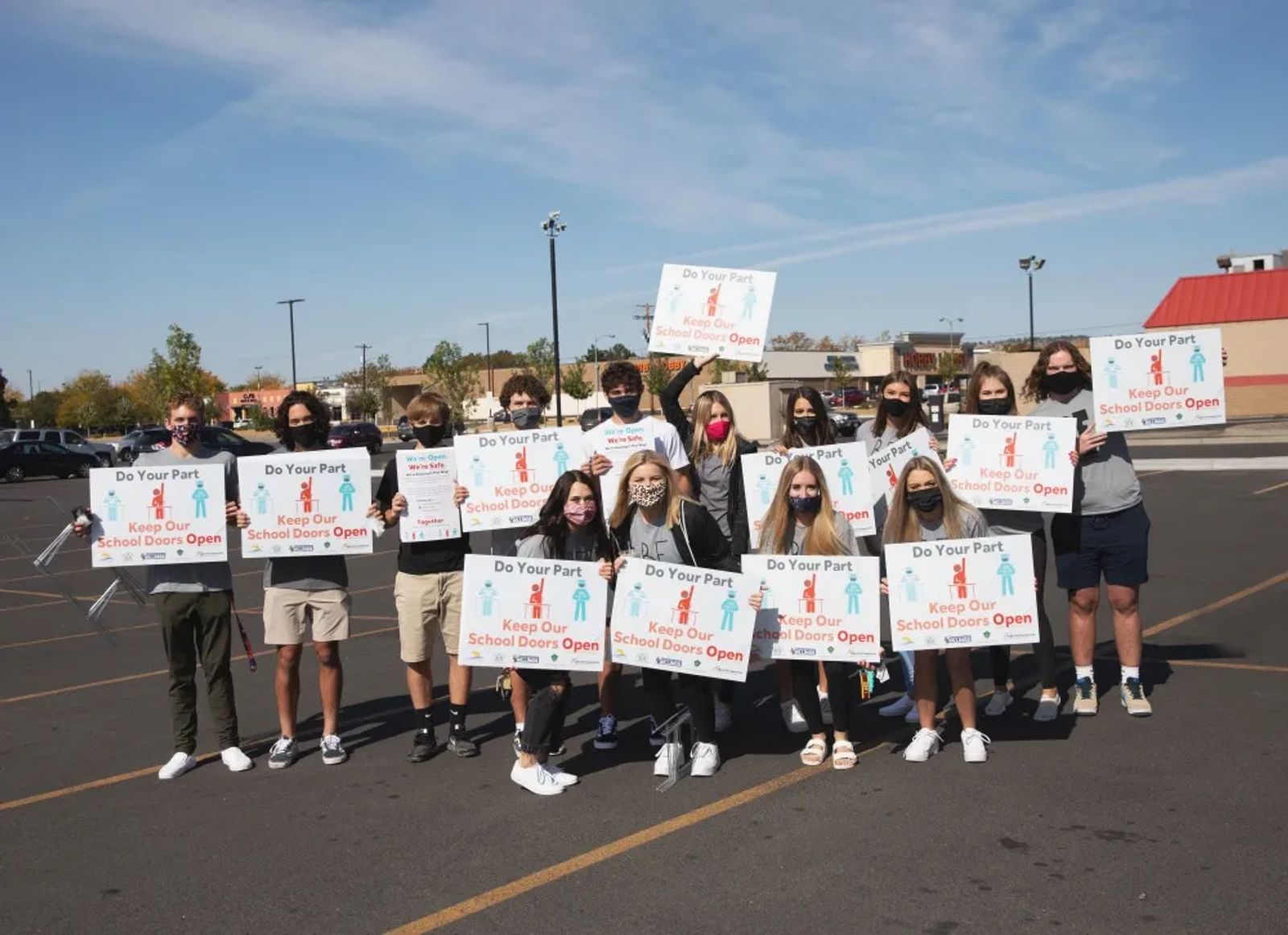 The group is a coalition between all school district #2 schools, Billings Catholic schools, MSU-Billings, and Rocky Mountain College. The schools have partnered with health organizations including: SCL-Health-St. Vincent's Healthcare, Billings Clinic, RiverStone Health, Big Sky EDA, Billings community sponsors, the Billings Chamber, and Visit Billings. Together, this coalition (through donations and volunteer work) has completed a 12-week program that uses banners, posters, yard signs, and a social media presence to create awareness for their mission. They also promote the message to out of town guests to keep Billings safe.
Kelly Edwards, one of the group's organizers, adds, "The coronavirus is obviously a catalyst for change. We're going to struggle, but we need to continue to do our part and follow the 3 W's. We need to slow the spread to keep our school doors open, to minimize the scarring of a generation of young people, to keep our parents/guardians working, and to keep our community moving."
This effort can already be seen in students' classrooms and community areas like gyms, stadiums, and auditoriums. According to the Billings Education Foundation director, Krista Hertz, one elementary school principal is very excited about this group, as they saw many of their younger students suffering from closed schools last spring.
"This campaign is important to remind our community why we need to do our part to keep our school doors open and our students, educators, and staff healthy and safe. School doors being open affects all of us in some shape or form in the short term and long term," Hertz says. "It impacts working parents, the senior wanting to take the ACT and prepare for life after graduation, the 1st grade student who is reading up a storm and ready to do more or the 1st-grade student who is unable to read key site words yet. Schools are a safe place for so many students from across our community. Schools provide social, emotional, mental, and basic safety needs for kids."
Hertz also serves in the position as a mom and wants schools to stay open forever. "I want my college freshmen to stay in college in his dorm room with in-person classes. I want my 8th grader to be able to have the experiences of middle school. In-person learning is so important for him and many other students."
The group urges Billings and all communities to take a stance and follow their lead. Everyone must do their part in being safe and fighting against this pandemic--if not for themselves, for the students and young people in this community.
Originally printed in the November 2020 issue of Simply Local Magazine
Never miss an issue, check out SLM's digital editions here!