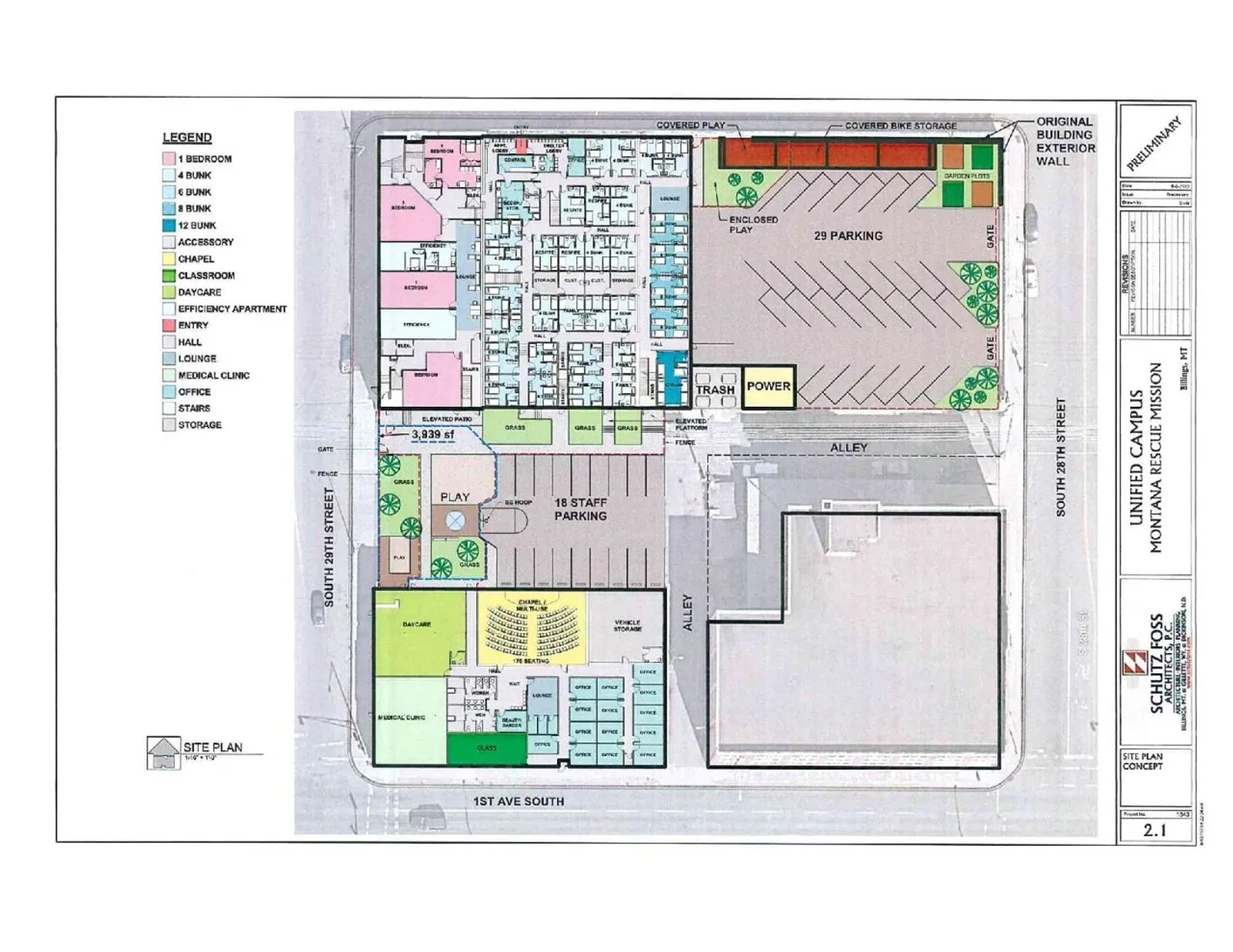 MRM Unified Campus site plan/"block footprint" | courtesy of Montana Rescue Mission
Montana Rescue Mission Announces Unified Shelter Campus Plans
On October 21, 2020, Montana Rescue Mission announced the launching of a capital campaign that will fund a Unified Shelter Campus. The new campus will house the Men's Shelter, along with the Women and Family Shelter, adopting a holistic approach that will address homelessness and hunger through temporary supportive, and permanent housing.
In order to accomplish this incredible task, the Montana Board of Housing awarded $6.4 million to fund the apartments, while the remaining $6 million will be raised via private donors, churches, civic groups, foundations, and the community at large.
The Plan
Once completed, the extensively renovated facility on the corner of Minnesota Avenue and 29th Street South in Billings will provide:
New, separate living quarters for homeless men, women, and families.
Transitional supportive housing units will offer opportunities for guests to move towards independence.
Mission Apartments – affordable rental units – will be built for guests and low-income individuals independent living on the second floor.
It's believed that this thoughtful approach will be instrumental in helping to break the cycle of homelessness in the Billings community.
The campus will also include a separate building that will undergo significant updates in order to provide modern classrooms for job and life-skills training, a 200-person chapel, private offices for mental and behavioral health counseling, a walk-in healthcare clinic, and childcare space with a secure outdoor playground.
The Unified Shelter Campus footprint was developed by local architectural firm, Schutz Foss Architects, P.C.
The Why
According to Executive Director Matthew Lundgren,
Montana Rescue Mission serves hundreds of homeless men, women, and families monthly. Our current shelter facilities are almost 100 years old and no longer suit our 21st century housing needs. During the last year, our Board of Directors discerned the gravity of the work needed for our buildings, the real need for handicap accessibility, and our reoccurring space constraints. The Board unanimously voted to do a major remodel to our facility to accommodate the needs of our hungry and homeless neighbors. This campus with its modern facilities will be equipped to offer services and programs to reduce homelessness by sheltering then transitioning guests to supportive housing, then onto independent living. We are pleased to offer this best practice approach in helping transform lives and mitigate homelessness. Our plan calls for extensive renovations to our buildings on Montana Avenue. As funds are secured, work on the Montana Rescue Mission Unified Campus will occur in purposeful phases to limit disruption to guests. Our target completion is early 2023.
Remember, if you'd like to be involved with this life-changing mission, you can send donations online or via mail: Montana Rescue Mission c/o Capital Campaign, PO Box 3232, Billings, MT 59103 | www.montanarescuemission.org.
Source | MRM Media Release, October 21, 2020