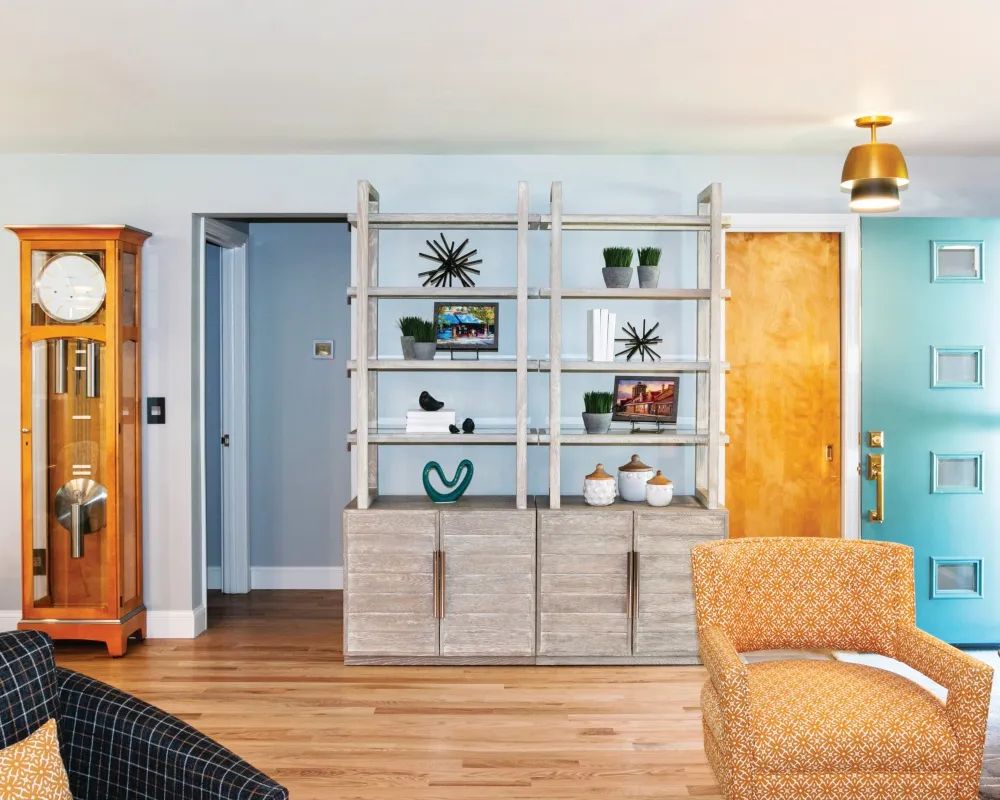 article & photos by renata haidle
Kara Gainan-Dahlberg has been a designer with Davidson Home Furnishings & Design since 2014. She offers a warm and personable approach to every project with many years of experience in retail and interior décor.
"I love working with our clients and getting to know who they are and their unique personalities," she says. "It allows us to deliver everything we do with a personal touch that people appreciate - and I think that's why so many of our clients come back to us again and again."
One of Kara's recent projects is the stylish revival of a mid-century home. "My clients chose the direction of the remodel given the year that it was built, 1954, and their fondness for the style of mid-century modern. Color, linear shapes, sleek curves, and clean lines all worked together to create a whimsical and inviting space.
Vintage Vibes- Modern Magnificence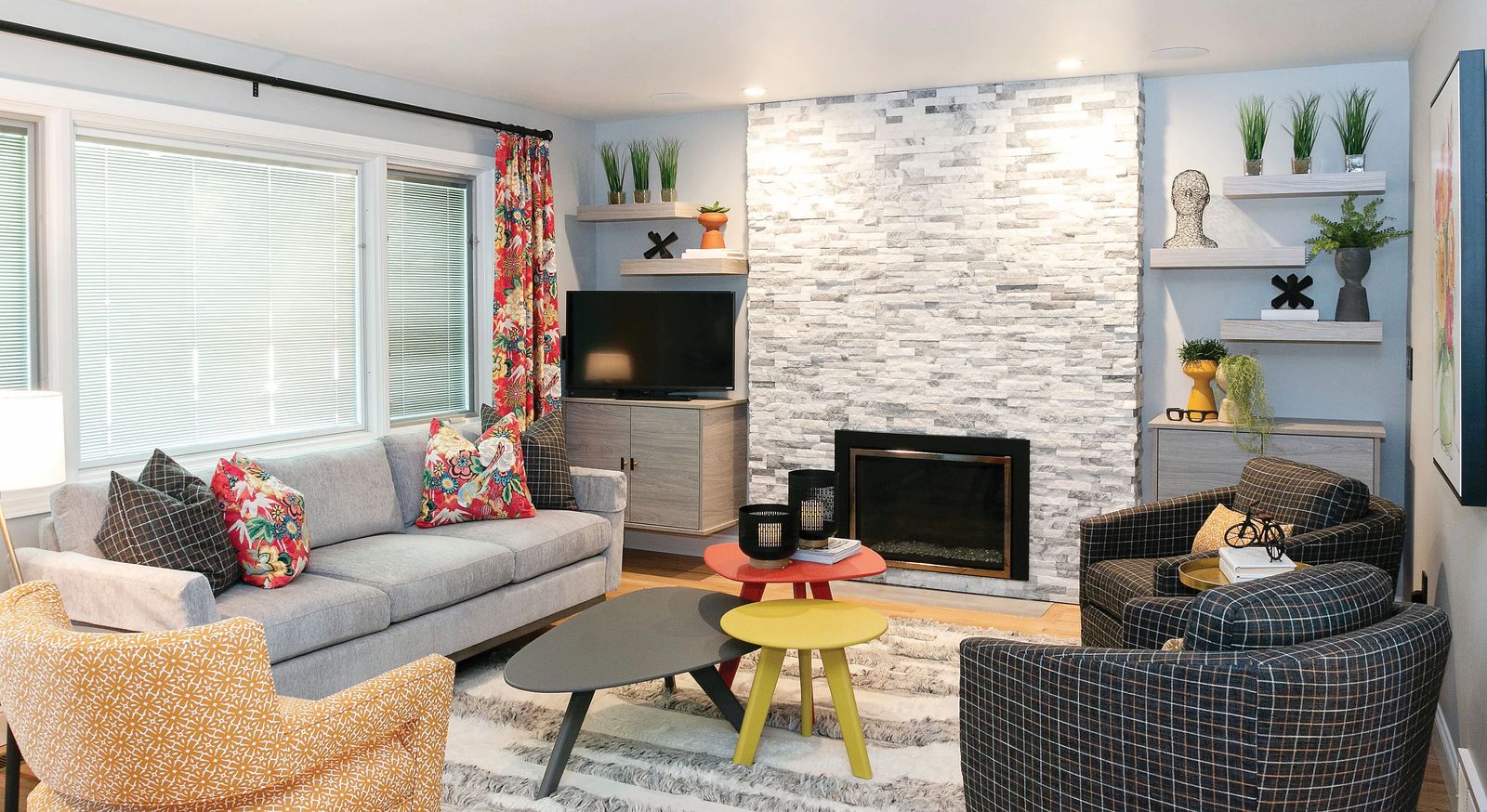 The living room and dining room were our main focus, so from there, we determined the different elements that define the mid-century modern, retro style.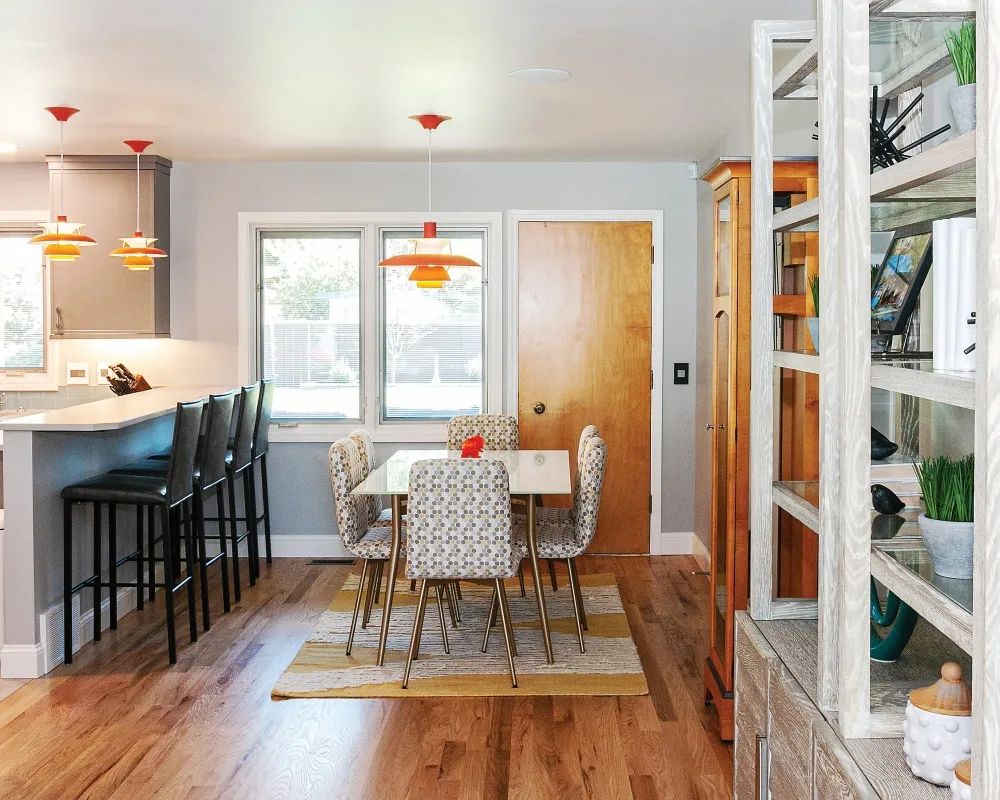 Taking it Back
The process involved demolishing walls down to the studs and reconfiguring the space to create an open floor plan that allows the light to travel freely through the main living areas. "Because this was a major remodel," Kara explains, "I started with a space plan for the areas I was involved in and worked with my clients to interpret their wants and determined how I could help create the look that would convey their personality.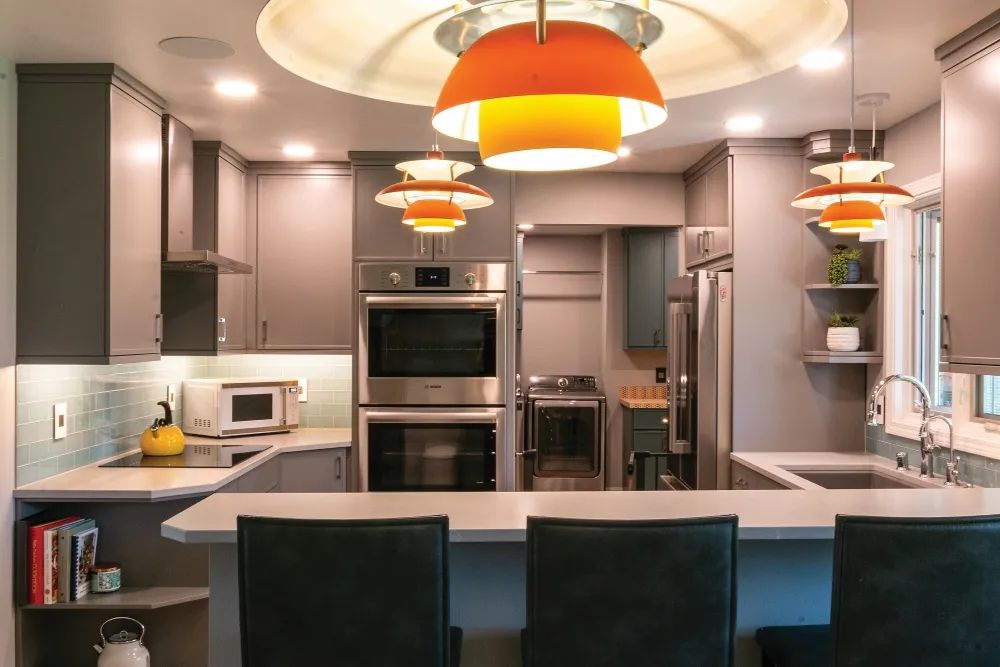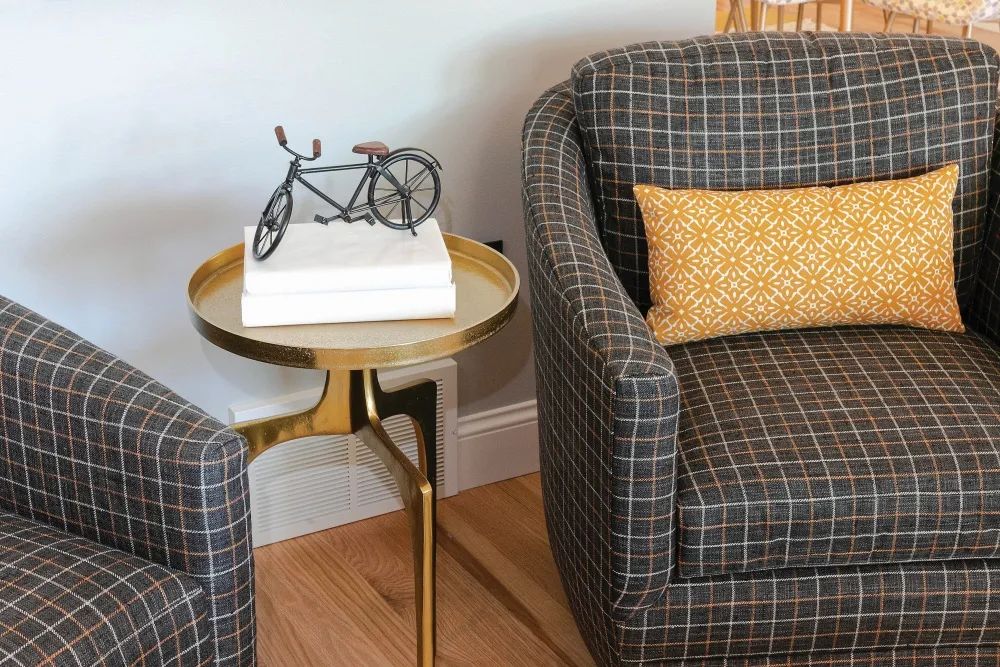 Brass accents, unique lighting, touches of metal, period furniture pieces, and fabrics helped create the look.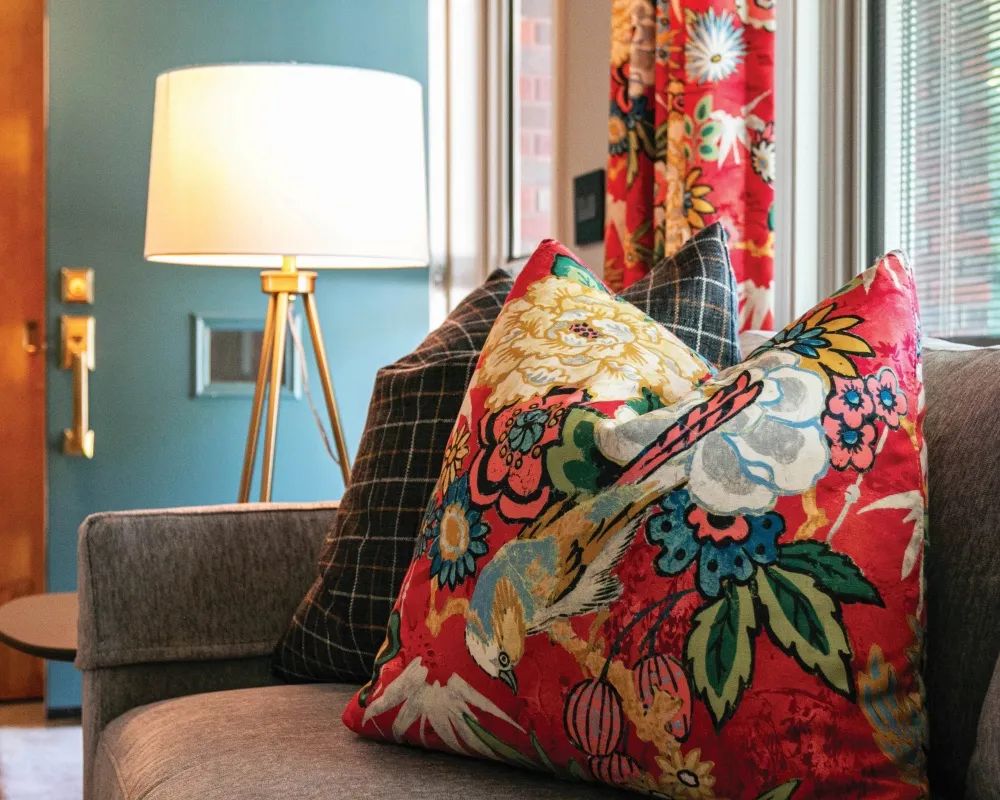 Kara was instrumental in helping the homeowners choose all the furniture, rugs, and upholstery for the living room, dining room, and laundry room. She guided them with the selection and placement of decorative objects, draperies, and lamps, making sure they all worked seamlessly to create the best possible look. "We trusted her judgment when picking out accessories," the clients say. "She has a great eye for putting it all together. Kara has helped us decorate two other homes, and we love working with her."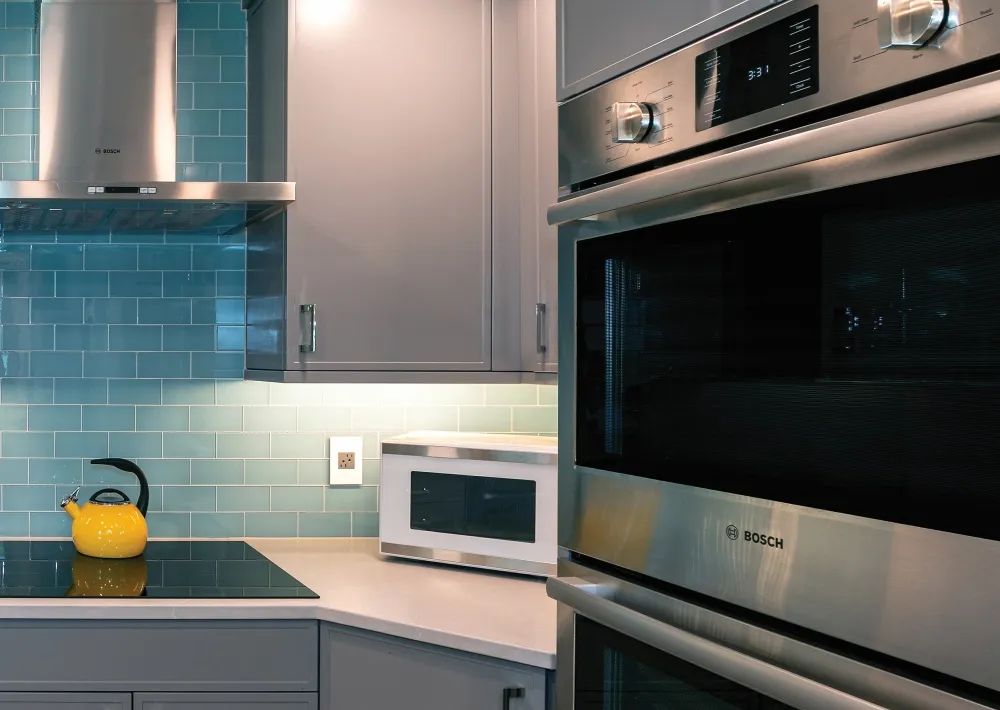 The entire process was not without struggles, with materials, products, and furniture taking a long time to arrive. "Being patient really paid off for us," the homeowners reveal. "This was a fun project, updating this mid-century house to become a great modern home! We couldn't have done all that we did without the great help from our designer, general contractor, and everyone else involved in the remodel. We would highly recommend Davidson Designs to anyone looking for unique, beautiful, quality furniture and accessories. The owner and all of the staff are very knowledgeable, helpful, and fun to work with!"
Special thanks to the following individuals and businesses for making this remodel a reality:
Step Ahead Builders (Mike Gregorich) from Big Timber, MT - general contractor 406-932-5187
Eaton Electrical (Dexter Eaton) – Electrician 406-652-4733
Xcel Plumbing (Jason) – Plumbing 406-690-5839
Montana Hardwood Floor (Jeff) – Flooring 406-248-2542
Kitchen's Plus (Sheri) - Cabinets, Countertops 406-652-5772
EBC Trusses (Pete) – Billings 406-259-1814
Ullman Lumber- Materials, Doors, etc. 406-932-5332
Rimrock Lighting (Sharon) - Electrical fixtures 406-652-3574
Keller Supply (Kim) - Plumbing fixtures 406-245-3191
S.O.S. Solutions (Marisa) - Master Closet Organization design 406-969-1423
Remodel pro tips from designer Kara Gainan-Dahlberg:
Interview your contractor (possibly several) before hiring; ask for references.
A designer and a contractor working together with the homeowners closely as a team will ensure the project goes smoothly.
Be sure you have a budget for the project, keeping in mind that there are always "unknowns" in remodel projects.
Keep the communication lines open, so there are no surprises at the end of the project.
Plan, plan, plan!
Originally printed in the August 2022 issue of Simply Local Magazine
Never miss an issue, check out SLM's digital editions here!