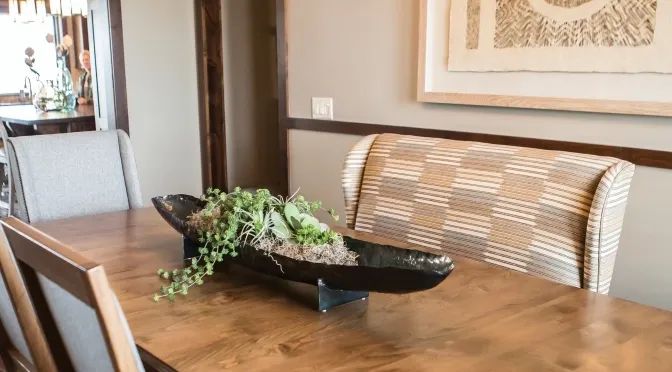 May 1, 2019 | by stephanie toews
photos by Kristin Hartzler
Designing a Space to Love
Perfect Mix: His & Hers
Tiff says it is not uncommon for couples to have different tastes. "This couple definitely fit that description!" Working together, and their willingness to trust and compromise, has yielded stunning results.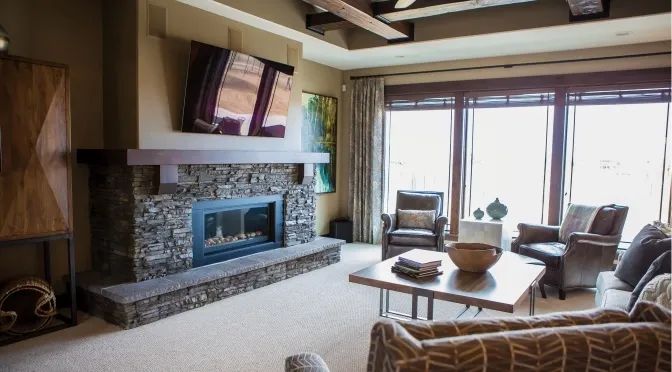 How do you design an entire home? Tiff suggests this seemingly overwhelming task is possible when you "narrow the focus and find building blocks on the project." Choose one thing such as a fabric, rug, or piece of furniture and build the design from there.
The living room fabrics were the building block for this home. "I found a mix of fabrics that worked with the home itself (fireplace, wall color, etc.) and thankfully, the couple loved them."
Rest AND Recharge
The master suite is a tranquil space with beautiful layers throughout.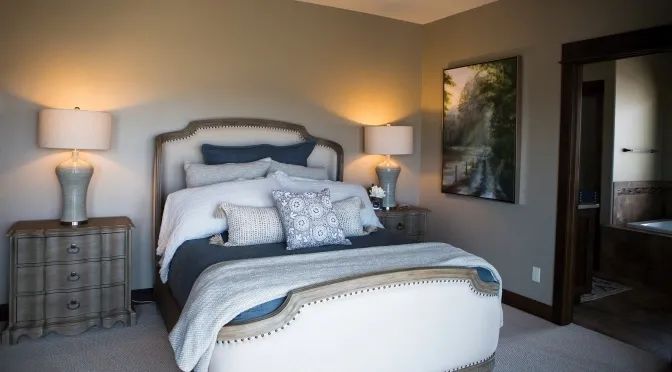 To keep a coherent feel Tiff says, "We use similar colors throughout the home with the exception of the bedrooms, which are private." While still keeping things within the same look, the bedrooms are a great place to have a bit more fun with styles and colors.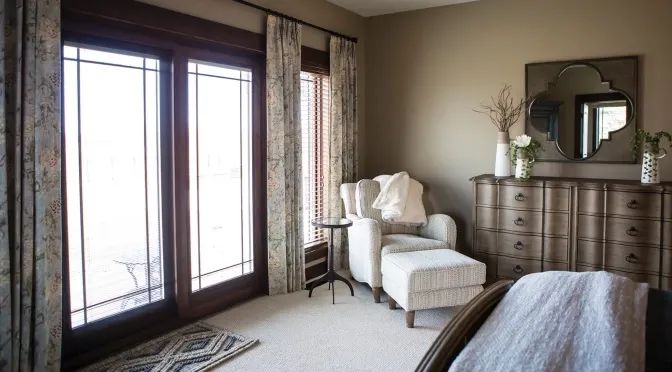 Color
Touches of fun color can be implemented in many ways besides paint colors such as pillows, artwork, throws, and accessories.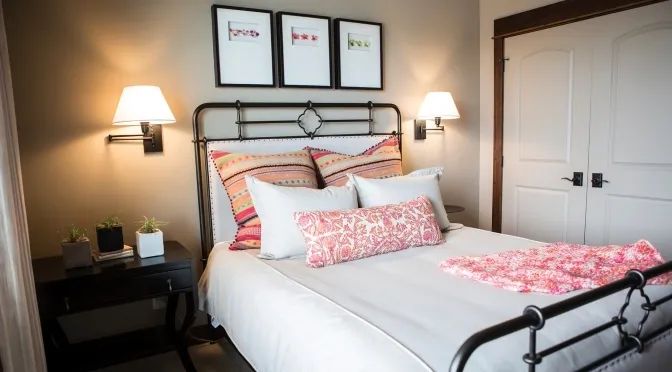 "Watching it all come together was very fun! We started in September, and the last rug was delivered under the table in April." The homeowner describes the process of waiting for the pieces to come in as Christmas every week!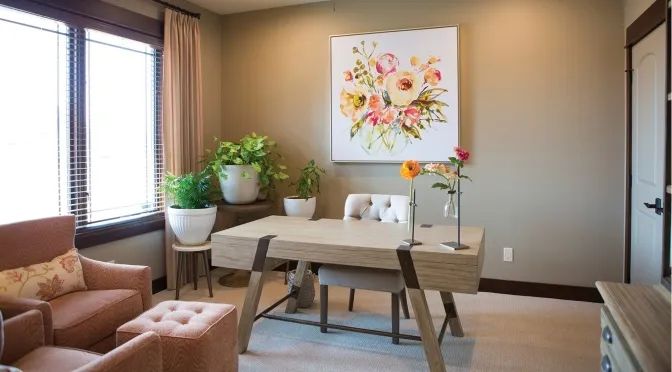 Entertain
The couple loves entertaining and their home is now designed to accommodate guests in a warm and inviting environment ideal for fun and relaxation.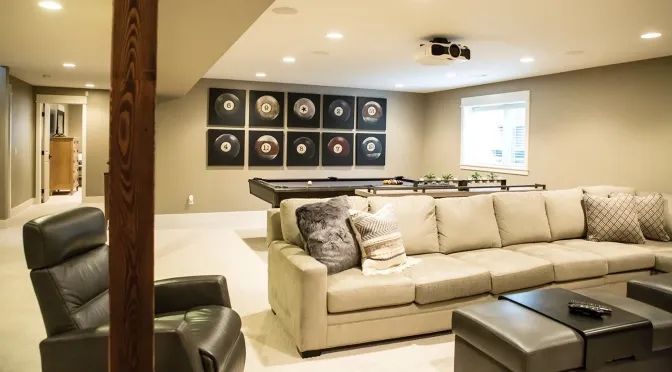 This clever cabinet closes up to completely conceal the bar and serve as a beautiful piece of furniture when not in use.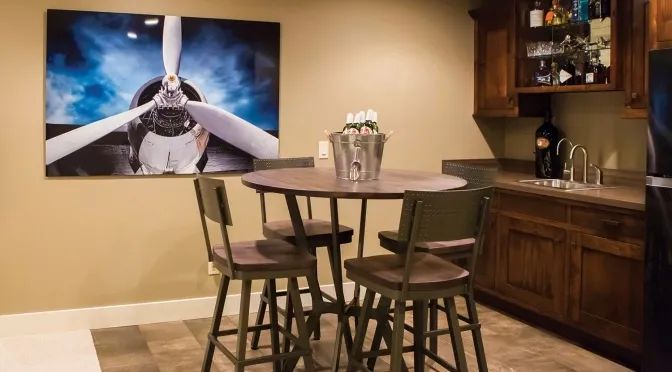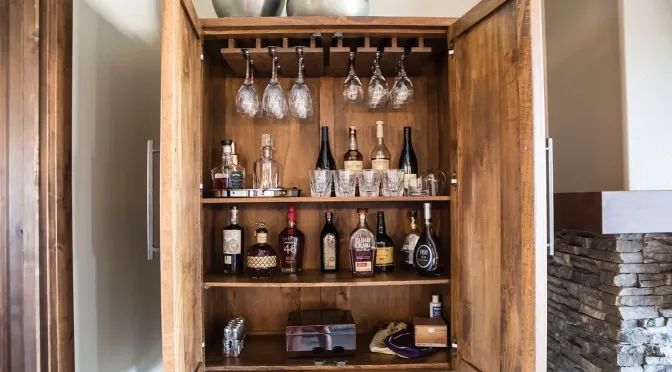 A Closer Look
Texture- A very important element in the design world referred to as "layering."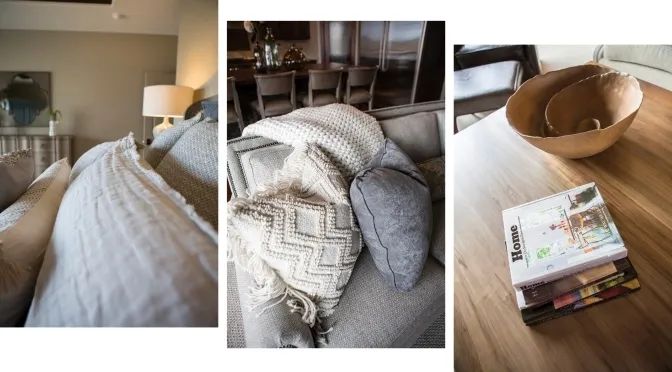 "Texture adds interest whether in pillows, fabrics on individual layering pieces, area rugs, art…different textures add the personality to a room."
Designer Tip:
"Don't despair if you and your spouse have different tastes! One of the benefits of using a designer is that we can work with you to find a perfect mix that will satisfy both parties and create a beautiful environment!" Tiff Davidson-Blades
For the Love of Barre
This space was designed specifically for the days the homeowner isn't able to make it to the gym or yoga studio. She says it was an ideal choice for the space because, "with Pure Barre, you really use your own body weight in the workout, so there is not the need for all the big extra weight sets etc."
Love Pure Barre but don't have the space at home for your own? Join the movement and try out our local Pure Barre at West Park Promenade.
Sources~
Big Sky Gutterworks- 406.652.1872
Becker's Glass Shop (mirrors in Pure Barre room)- 406.259.2255
Pella Windows and Doors- 406.656.1516
Wilson Cabinetry- 406.652.4671
MJH Construction (paint)- 406.860.7505
Bob Pentecost Construction- 406.656.8658
The Floor Trader- 406.552.0337
Allen Daigneau (flooring install)- 406.245.5156
Bailey Garage Doors- 406.656.2905
CK Tech & Security (security system, theatre, smart home)- 406.670.4858
McCabe Electric- 406.259.8275
Elkhorn Concrete- 406.254.8440
Originally printed in the May 2019 issue of Simply Family Magazine
Never miss an issue, check out SFM's digital editions here!