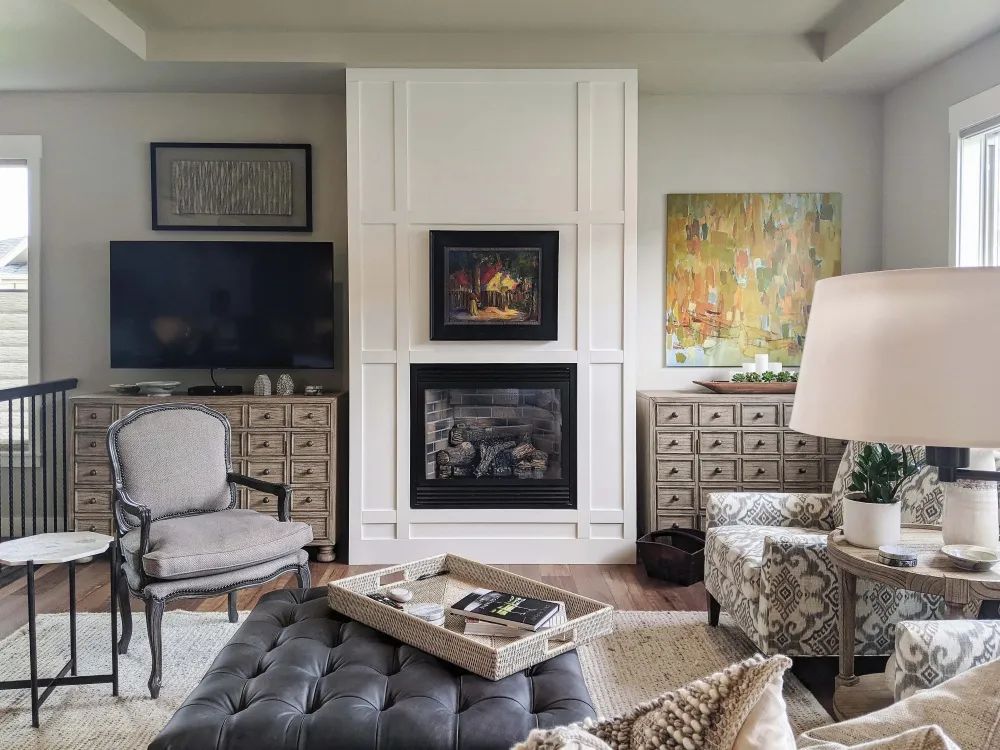 Downsizing, Designer-Style
September 2021
article & photos by renata haidle
Moving is a stressful process. We've all been there. Moving away to college, moving in with a spouse, or moving to a different city or state all requires careful planning and a certain amount of letting go. Add to that the stress of downsizing, and you've got a perfect recipe for sleepless nights and endless worries.
If it sounds all too familiar, do not fret! The antidote to that is simple: hire a professional to guide you through the process. An interior designer is a trusted, resourceful advisor in one of the greatest uprooting events we all face sooner or later.
This is what a local resident did, and the results speak for themselves. After spending many years living in a different state, when this homeowner decided to return to Billings, she also considered downsizing to a smaller home. She enlisted the help of Tiffany Davidson-Blades, of Davidson Home Furnishings & Design - a Billings interior design business that has been making Montana homes beautiful for the last 33 years.
About Davidson Home Furnishings & Design
Founded by Patricia Davidson, Tiffany's mother and eventual business partner, Davidson Home Furnishings & Design serves both the commercial and the residential market. The firm's specialists take the time to get to know their clients, understand their lifestyles, and create the best possible environment for them.
Patricia started the business during Tiffany's high school senior year. She would go on to work there during breaks from school, joining the business full-time after college, and later becoming Patricia's business partner.
We have always focused on creating interiors that are a reflection of our clients, getting to know them and their families' needs. We work with them to produce the desired result. Our relationships span over generations and all stages of life, working with parents on one or more homes and now working with their children. We offer interior design services, home furnishings, home décor, area rugs, wall coverings, window treatments, and more!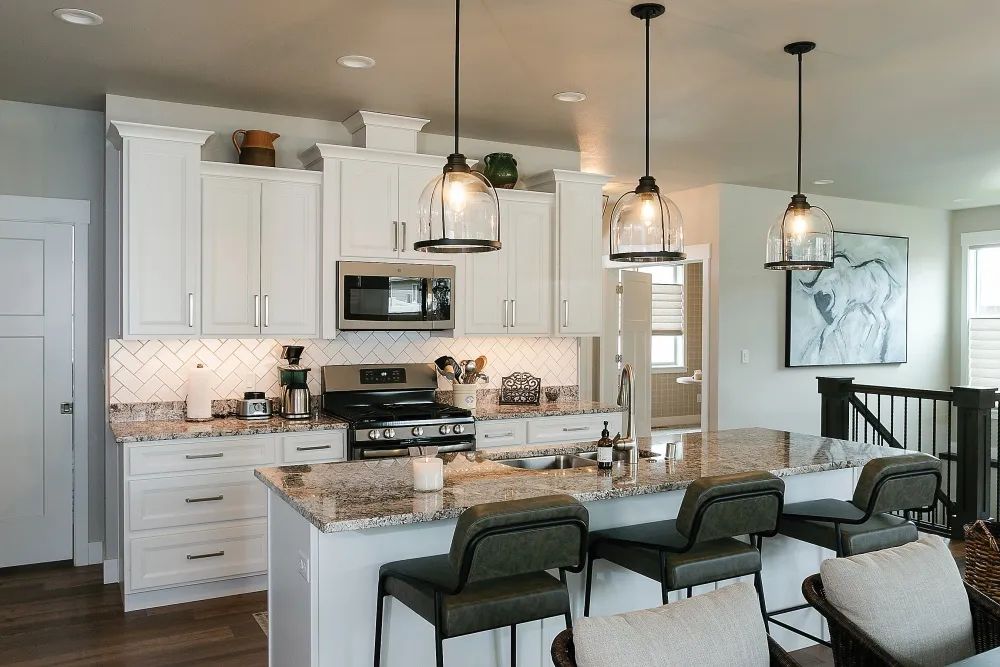 During the downsizing process, the homeowner saw the opportunity to change the number of her possessions and the decorating style of her home. With Tiffany's help, she transitioned from a French-Country style to a modern traditional design.
"When downsizing, the first thing I try to determine is if the client is wanting to stay with their current style or if they are wanting a change," Tiffany explains. "I always encourage a 'fresh start' while respecting those things that the client values and wants to move to the new space. Embracing the 'new' is important when downsizing, editing your furnishings, art, décor, and keeping those key items that you love, but making room for exciting new items to be combined with them creating a whole new look."
In this case, Tiffany's client wanted to modernize her look but keep things within the traditional realm. She had art pieces that were special to her, so the new furnishings were kept fairly neutral to incorporate her colorful pieces. "We also found ways to re-upholster, hence reinvent various existing chairs, and added new pillows to other pieces to incorporate the new color scheme," says Tiffany.
Neutral Palette, Pops of Color
The neutral color palette makes the house appear spacious, despite its smaller footprint. Pops of color added through artwork speak of the owner's personality and spark conversation. Every piece tells a story and has its well-thought place. The old and the new have married seamlessly. A stylish and welcoming home has been created, a new space for new beginnings, and its owner couldn't be more pleased.m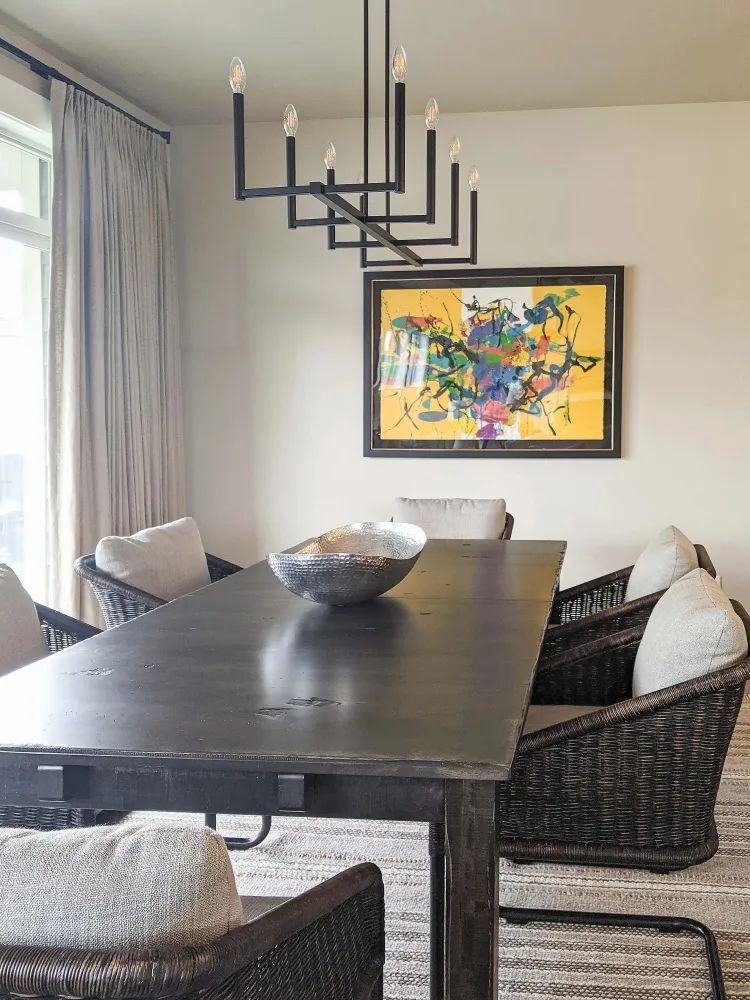 Downsizing tips from interior designer Tiffany Davidson-Blades: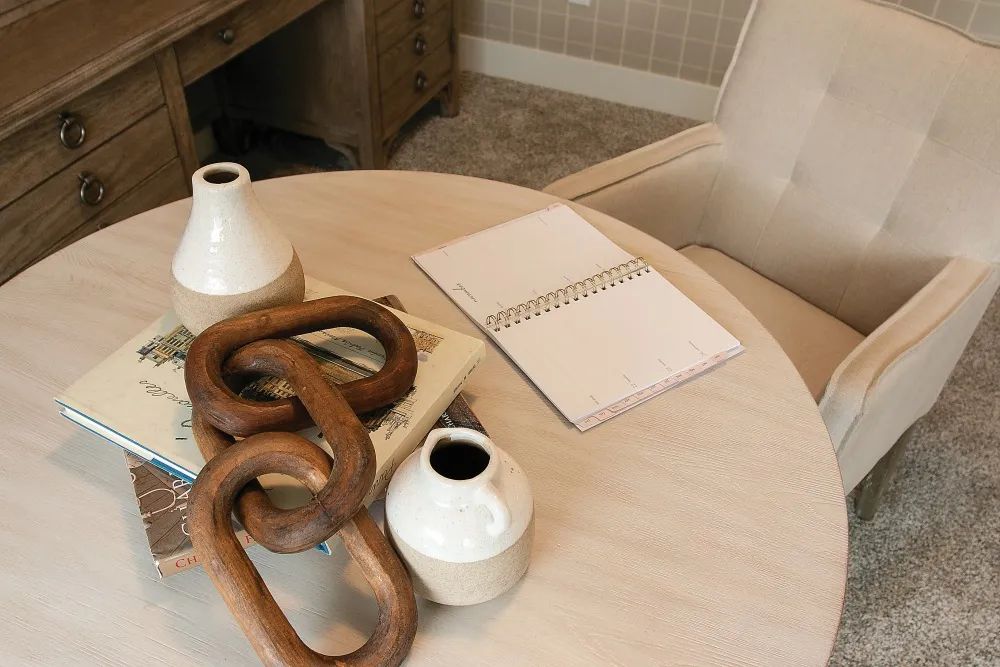 When downsizing, look for a space with "good bones," meaning a good neutral palette on the walls, countertops, and flooring that will be easy to work with. Since the space will be smaller, keeping the walls and flooring the same throughout the main living space will make it appear larger
Evaluate the lighting; if dated, change it out as soon as possible
Be willing to part with the old and be open to change
Remember that, especially in a small space, less is more. Avoid clutter. Purposefully place accessories and keep it simple.
Do it once and do it well. Downsizing is a time to make sure you have good-quality pieces that you won't need to replace anytime soon. If you already have them, re-upholstering and changing the look is a perfect plan.
How to dispose of unwanted old items:
Classify items into three categories: to sell, to donate, to dispose of.
Reach out to family and friends; getting the word out in your small network can produce quick results.
Utilizing social media or calling your local furniture store are good options. Just keep in mind that you will most likely get a much lower price for the items than you expect.
Always remember local organizations such as Habitat for Humanity, Women's Shelter, safe houses in the area - they are always grateful for donations.
Originally printed in the September 2021 issue of Simply Local Magazine
Never miss an issue, check out SLM's digital editions here!