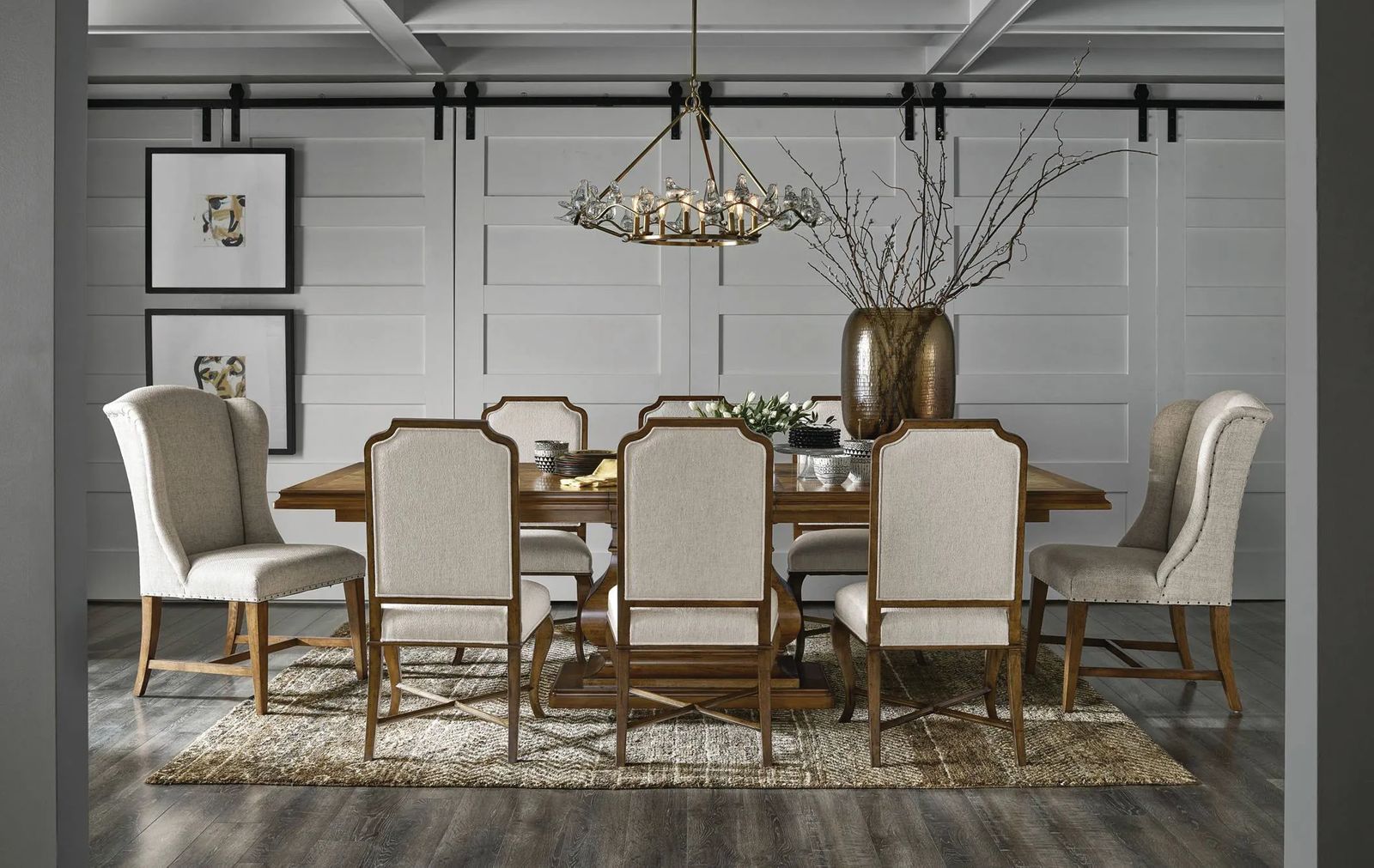 January 1, 2020 | by stephanie toews with tiff davidson-blades
After a recent visit to International Home Furnishings Market in High Point, North Carolina, designer Tiff Davidson-Blades of Davidson Home Furnishings & Designs, weighs in on the 2020 home décor design trends we can expect to see. Read on to check out eight of the hottest design trends that you can purchase locally at Davidson Home Furnishings & Designs.
1. Traditional
"Traditional is making a comeback, we are seeing more rich wood tones from all of the major lines- it will be a bit more refined in general, however some carving detail and curvy lines were coming on the scene during this market."
2. Texture
"Mixing of textures: wood, and metal with stone, cement, glass, and marble continues to be popular."
3. Color
"On the upholstery scene, green was everywhere- from shades of emerald to bright spring greens. Color palettes from jewel tones to desert colors were seen on everything from wall colors to fabrics."
"Pinks, purples, and more feminine touches were also the buzz. We were seeing a lot of neutrals still being used on the major pieces in the room with pillows, wall color, area rugs, and accent chairs bringing in the strong accent colors. Warmer color tones will keep gaining popularity."
4. Comfort is Key
"Sectional seating and motion seating are the strongest categories in upholstery. Every manufacturer seems to be throwing their hat into the ring creating motorized and non-motorized recliners, swivels, swivel gliders, articulating head rests, as well as modular designs."
"Comfort is key as denoted by the extremely deep seats being shown and the vast offerings in cushion styles available in custom upholstery."
5. Indoor/Outdoor
"Indoor /outdoor designs are very strong. Many manufacturers are starting to do their own outdoor collections in furnishings/accessories/lamps, even artwork. While this trend is something we do see here, it is unfortunately not as strong in Montana in particular due to our short "enjoyable" outdoor season!"
6. Wallpaper
"Wallpaper is coming on very strong! Hand crafted designs, murals, florals, geometric designs, and more!"
7. Brass
"Brass is going to stick around. Copper accents in accessories, lighting, and hardware, as well as more decorative hardware embellishments on furniture pieces."
8. Artwork
"Textile artwork is a new avenue in art; for example, patches of beautiful vintage rugs simply framed go from the floor to the wall to be enjoyed!"
Originally printed in the January 2020 issue of Simply Local Magazine
Never miss an issue, check out SLM's digital editions here!