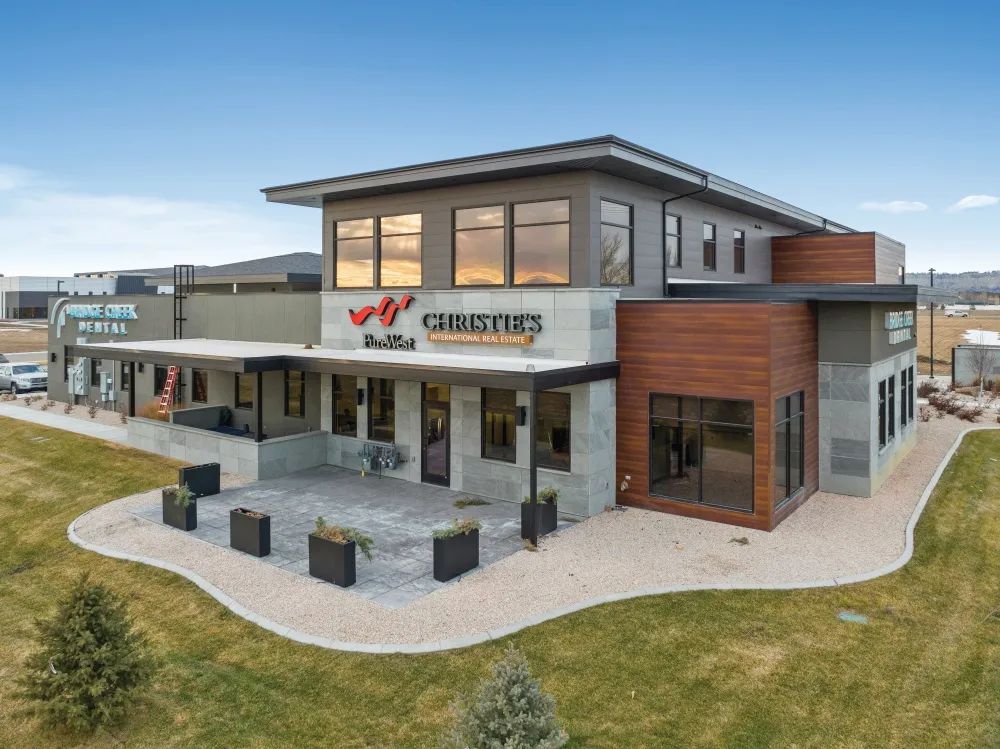 Real Estate with Relationship: Doing Business the Montana Way
February 2023
by brooke wagner | photos by nathan satran
Home is where the heart is, or so the saying goes. Montanans recently added another avenue to their road home in PureWest, an exclusive affiliate of Christie's International Real Estate. With a brand-new office building on Billings' growing West End, PureWest is poised to leave its mark on the real estate industry, both now and in the days to come. Comprised of 18 locations with over 240 associates, PureWest offers "tailored concierge services with a dedicated commitment to building lasting relationships." Doing business like Montanans do, combined with the expansive network offered through a partnership like Christie's, sets PureWest apart and marries Western values with global reach and expertise.
The company was established in the summer of 2015, resulting from an ambitious three-company merger. One of the founding companies dates back over 50 years in Montana. At the time, the goal was to create a statewide brokerage with connections to every corner of the state. PureWest's recent expansion into Billings and Red Lodge was a natural progression of that strategic plan. 
 It may seem that this world-class level of service and know-how would only be reserved for top-of-the-line listings. But, not true at PureWest - agents consistently bring passion and drive to every transaction, regardless of price point. Although most of their business is in residential real estate, ranch and commercial divisions have seen much growth and success in recent years.
"Our clients come from all walks of life, from native Montanans looking to buy or sell property to folks from across the country moving to our fair state to experience its unique lifestyle."
-Ryon Brewer, PureWest supervising broker
PureWest offers big service with small-town care and is proud that the sales associates are local market experts who are thriving members of their communities. Far from simply dreaming of the idyllic Montana lifestyle, living it themselves gives PureWest agents and brokers a deeply-abiding passion for Montana's beautiful lands and communities. 
Affiliation with Christie's International Real Estate flings wide the doors of potential for clients and customers alike. As the world's leading luxury real estate brand, Christie's has an impressive resume of success that often translates to its affiliates. Admittance to the network is by invitation only to real estate brokerages that consistently demonstrate accomplishment in luxury property sales. Brewer says, "Christie's is synonymous with tailored, trusted service going back over 250 years. Through our affiliation, we have access to world-class marketing, the finest quality of client care, and connections to top agents and high-net-worth buyers around the globe." Christie's is already well known for their industry-leading sales of art and luxury goods, and the real estate specialists employ the same values of passionate expertise and exceptional client service in their work with buyers and sellers of fine homes.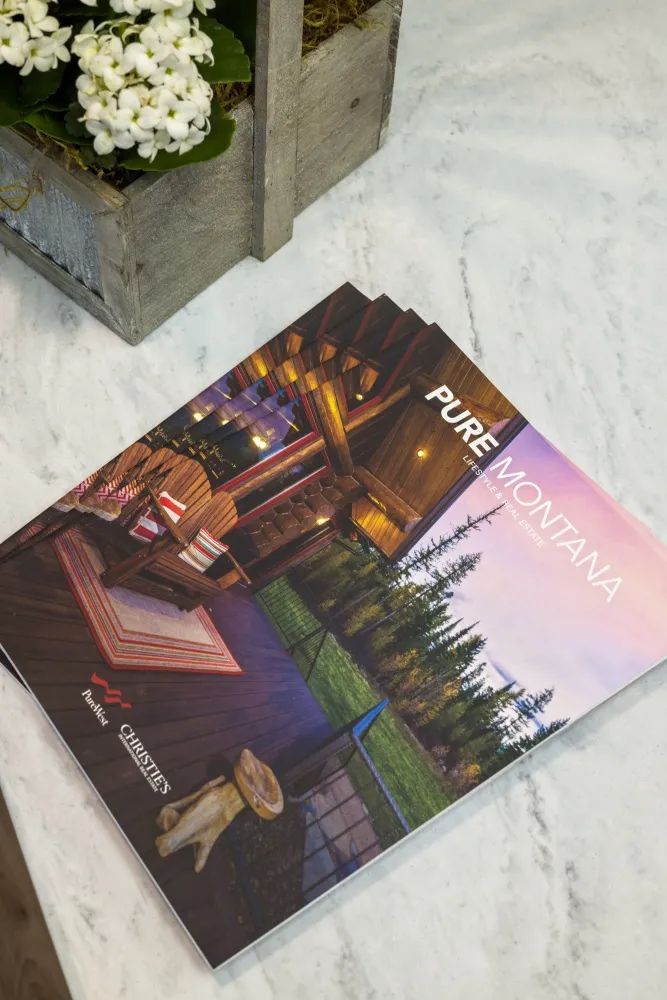 Brewer can list many when asked about specific benefits clients have when choosing to work with PureWest. He says, "I think one of our prime benefits is that you're doing business with a Montana company that has considerable reach across the state, the nation, and the world, so we have experience with buyers and sellers from far and wide. Our clients value our outstanding marketing and the approach we take, exemplified by our motto, 'Relationships for Life.' We really do believe that real estate is about people and serving their needs by having strong relationships built on trust." This people-first approach is evident in the design of both the new Billings and Red Lodge facilities. The beautiful, state-of-the-art buildings keep agent and client comfort at the forefront and will provide a comfortable space to work and collaborate in.
This new expansion could not come at a better time. With a stressful and volatile housing market, buyers and sellers need to know that their broker is up to date on the latest information as they search for their dream property. PureWest offers that confidence and is equipped to serve the growing number of out-of-state transplants and native Montanans looking for a property for their next season of life. Brewer says, "Buyers are looking for value: well-priced homes in good condition and a great deal on interest rates. Luxury home buyers continue to be motivated by finding a wonderful property with outdoor amenities: fishing, hunting, skiing, waterfront, etc., to experience their Montana dream. On the other hand, most sellers are first concerned with finding an ideal replacement property, then with maximizing the price they can receive for their current home. The market overall, while still leaning towards sellers, is swinging back toward a balance."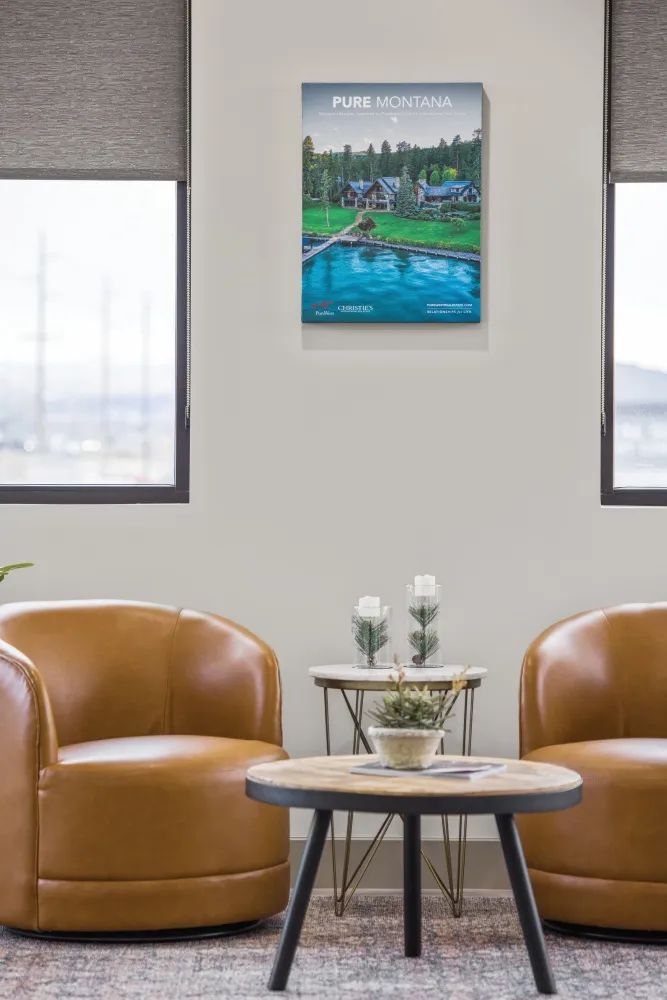 Just as in the unpredictable real estate market, that delicate balance of professional service and personalized care gets the job done with PureWest. PureWest is dedicated to being the leading luxury real estate brand in the state and wants everything from the quality of their properties to the integrity of their interactions to reflect that goal. Paired with the unrivaled exposure and access to qualified buyers offered through their affiliation with Christie's, PureWest brings the Montana dream to life for today's residents and generations to come. 
Originally printed in the February 2023 issue of Simply Local Magazine
Never miss an issue, check out SLM's digital editions here!