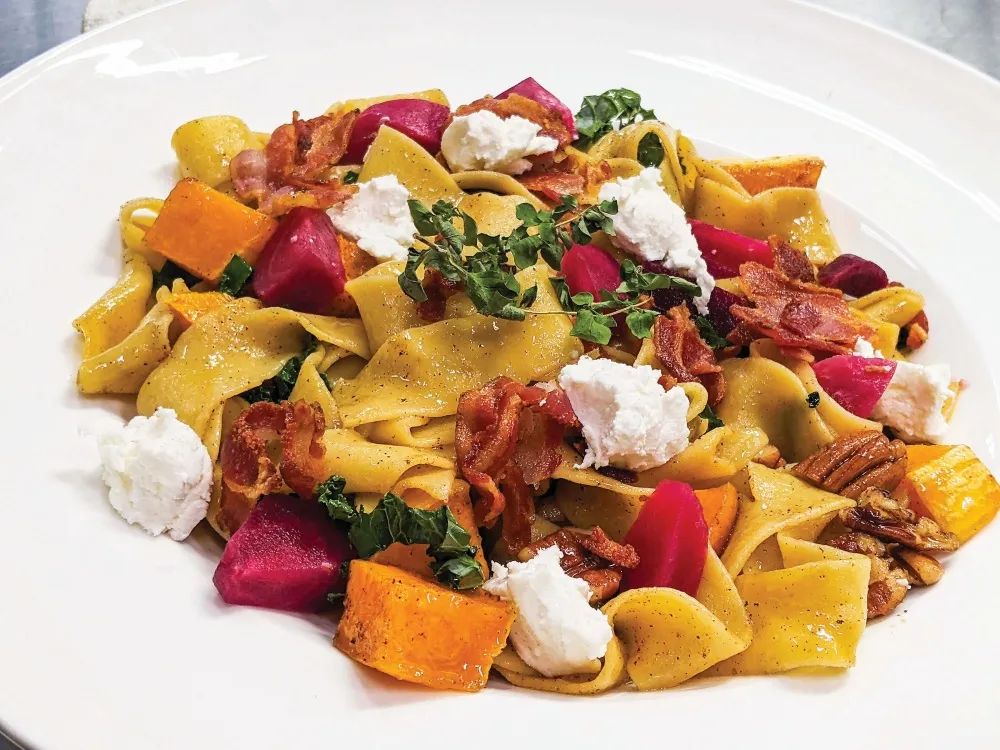 Pumpkin Pappardelle with Brown Butter, Prosciutto, Goat Cheese, and Pecans
November 2022
by renata haidle | recipe courtesy of Chef Lisa Rembold
Made with fresh pasta (crafted locally by Chef Lisa Rembold), sweet roasted vegetables, creamy goat cheese, and a healthy dose of greens, this colorful dish is sure to impress visually, provide balanced nutrition, and please the pickiest palates.
Ingredients:
1 Pound Seconde Fresh Pumpkin Pappardelle
4 strips prosciutto
1 Tablespoon fresh oregano
3/4 Cup butter
1 Cup fresh pumpkin or squash, diced
2 small beets
1/2 Cup chopped pecans
2 oz goat cheese
1 Cup fresh kale chiffonade or baby arugula
Salt and pepper, to taste.
Directions:
Toss diced pumpkin and beets in olive oil. Season with salt and pepper. Roast in the oven at 400F for about 20 minutes until cooked through but not soft. Set aside.
Crisp prosciutto in a small skillet and set aside.
Brown the butter in a medium sauté pan. Remove from heat and add fresh oregano, pecans, pumpkin, and beets. Set aside.
In a saucepan, bring salted water to boil, add pasta and cook for about 3 minutes, until al dente (firm to the bite).
Begin to reheat the brown butter with pecans and oregano, pumpkin, and beets; add the pasta directly from hot water into the butter mixture using tongs.
Season with salt and pepper, toss, then add the kale or arugula. Arrange on a large plate, then top with prosciutto and goat cheese.
Yield: 2 Servings
Originally printed in the November 2022 issue of Simply Local Magazine
Never miss an issue, check out SLM's digital editions here!