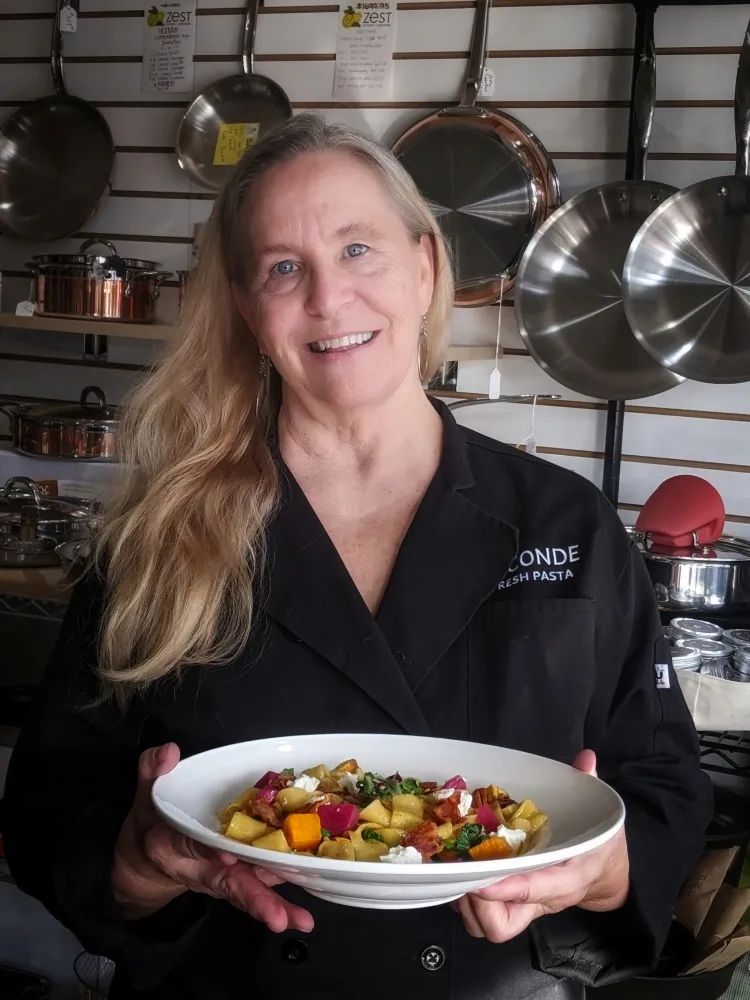 Chef Lisa Rembold of Seconde Pasta
Meet the Chef: Lisa Rembold of Seconde Pasta
November 2022
article & photos by renata haidle
In the back room of Zest, the downtown kitchen supply store, I watch Chef Lisa Rembold cook an autumnal dish. She tosses pumpkin cubes and walnuts in a bubbling puddle of brown butter. Her moves are graceful yet precise, like a tennis player practicing shots, knowing where every ball will land. She adds tender ribbons of pasta she just scooped out of hot water, and the sizzling pan quiets down to a whisper. The ribbons and cubes intertwine as she lays them down on a plate and covers them in melting crumbles of creamy goat cheese. The comforting smell of roasted vegetables is wafting around the room, suggestive of a cozy kitchen waiting for hungry people to gather around the table.
As she cooks, we talk about the places she's been and the things she's done. Chef Lisa has been living most of her life in kitchens around the country and beyond. From her native Wyoming to Pennsylvania, where her grandfather owned an Italian restaurant. She worked for him, and she also worked for her sister, who owned a restaurant. By the time she was out of high school, her career path was taking a definite shape. She moved to New York and attended culinary school. Then came her introduction to Europe, which would leave an indelible impression on her life. She cooked in France, then Italy. Immersed in Italy's gourmet culture, her affection for the country and its food grew stronger. She fondly recalls cities with melodious names, where she worked as a chef. Sperlonga, by the sea. Vicenza, near Venice. And Firenze, or Florence, as we English speakers like to call it, where she worked in an American cooking school. Countless hours of mastery earned by the stove, crafting and cooking yards upon yards of pappardelle, fettuccine, and spaghetti. Plump ravioli. Doughy, pillowy gnocchi. Fluted rigatoni and manicotti.
From her grandfather's Pennsylvania kitchen to restaurants around Italy, pasta kept following her around. "My entire life, we ate pasta. I've made pasta for 20 years," she says. "Pasta is just so cool. There are so many different styles and so many different shapes. You can do anything with it. It can be sweet; it can be savory, cold, hot, spicy, mild. I just really love it."- Lisa Rembold.
Her passion and skills found new avenues in the US as a chef and a restaurant owner of not one but two restaurants in Yakima, Washington. After many busy years spent cooking Italian food there, Chef Lisa and her husband retired and moved to Billings to be closer to family. Retirement was short-lived, however. She helped open Stacked, working as a chef for the restaurant's first two years. Then she went to TEN, at the Northern Hotel, where the baking skills she acquired in France allowed her to work as a pastry chef. Later, she transitioned into the executive chef and banquet manager role.
When Marguerite Jodry opened Zest and asked her if she was interested in teaching occasional cooking classes there, Chef Lisa saw an opportunity to step back from the frantic restaurant world again. Embracing the slower pace of life with more time on her hands, she thought of making pasta again. And that's how Seconde Fresh, her latest business venture, was born. She now sells her freshly made pasta at several Billings locations and occasionally to local restaurants. "This week, I made the pumpkin pappardelle I'm cooking right now," she says, "and I made plain tagliatelle, ramen noodles, gluten-free linguine, and red wine fettuccine." Gourmet, fresh, natural. This is no ordinary pasta. But then again, Chef Lisa herself is no ordinary woman. With her zest for life and passion for cooking, I cannot wait to see what is next in store for her.
Seconde Fresh pasta is available at Zest, Frae Everyday Goods, and Yellowstone Valley Food Hub.
Originally printed in the November 2022 issue of Simply Local Magazine
Never miss an issue, check out SLM's digital editions here!