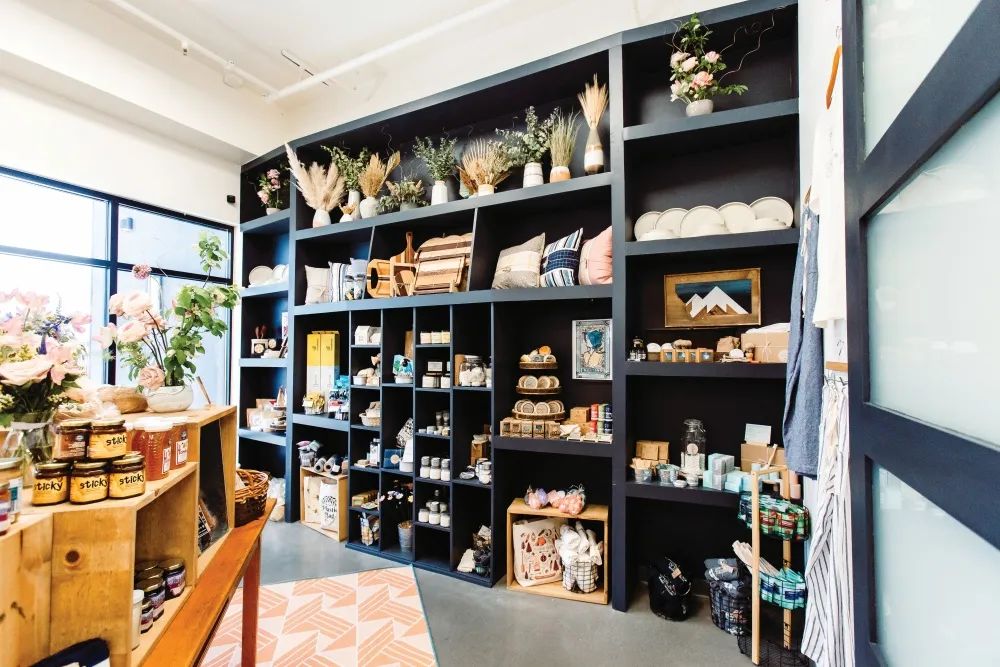 Meet the Founder: A Mercantile for Change
July 2022
by anna rogers | photos by arianna skoog
Imagine if sustainable household choices were accessible – vetted for their origins, quality, and production processes, tested for ease of use and practicality, and curated with care for you. It sure would ease the burden of tackling small changes in our everyday lives that can have a big collective impact.
Now, Billings has just that – a space that makes shopping simple and eases the burden on shoppers overwhelmed by the process of sourcing and acquiring sustainable products for daily living. It's a thoughtfully sourced corner store that is approachable and beautiful – Frae Everyday Goods in Shiloh Commons.
Origin Matters
Frae means from in Scottish dialect, and it's the mantra of Billings' new modern mercantile for sustainable, everyday shopping. This unique shop focuses on the origin – screening quality, mindful products, and making them accessible to everyone.
"Our inventory is intentionally curated to pay mindful attention to production methods and overall carbon footprint," says Tiffany Miller, owner and founder of Frae. Tiffany's vision is to connect our community with "quality products that have a positive social, environmental, and economic impact." Miller's elegant and unique shop is stocked with everyday sustainable items like toothpaste tablets in plastic-free packaging, locally made bar shampoo and conditioner, and a sewing supply kit put together by Miller herself.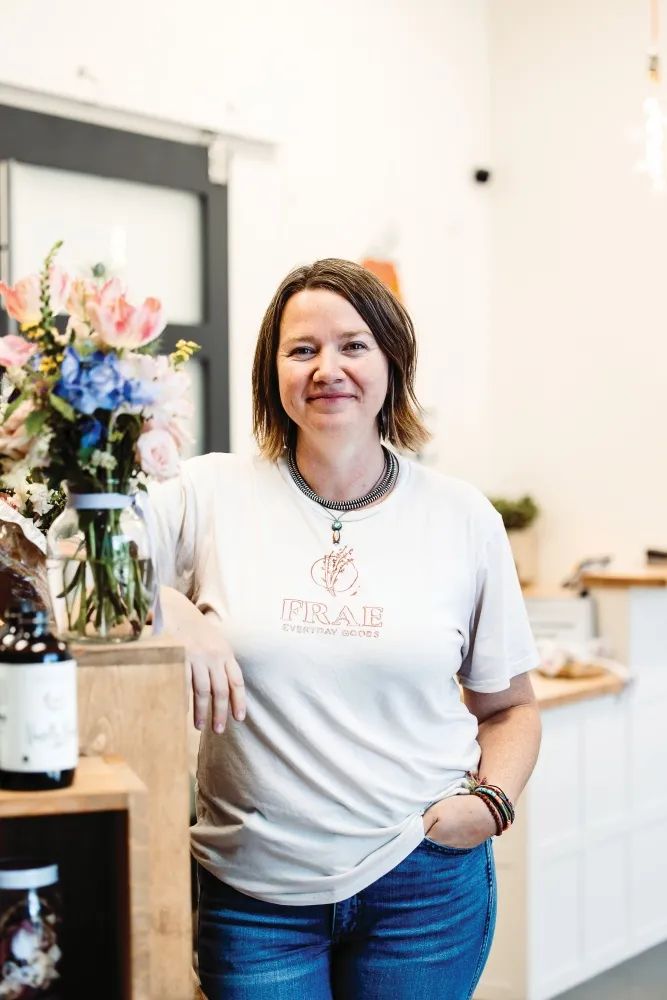 "Our inventory is intentionally curated to pay mindful attention to production methods and overall carbon footprint." -Tiffany Miller, owner and founder of Frae.
With a background in fashion design, Miller adds a unique offering to the Frae shop that includes her hand-sewn pillows, cloth napkins, totes, aprons, linen clothing, and more. She even offers alterations out of Frae's retail space, intending to increase sustainability and longevity of clothing by maintaining items longer instead of replacing them with something brand new.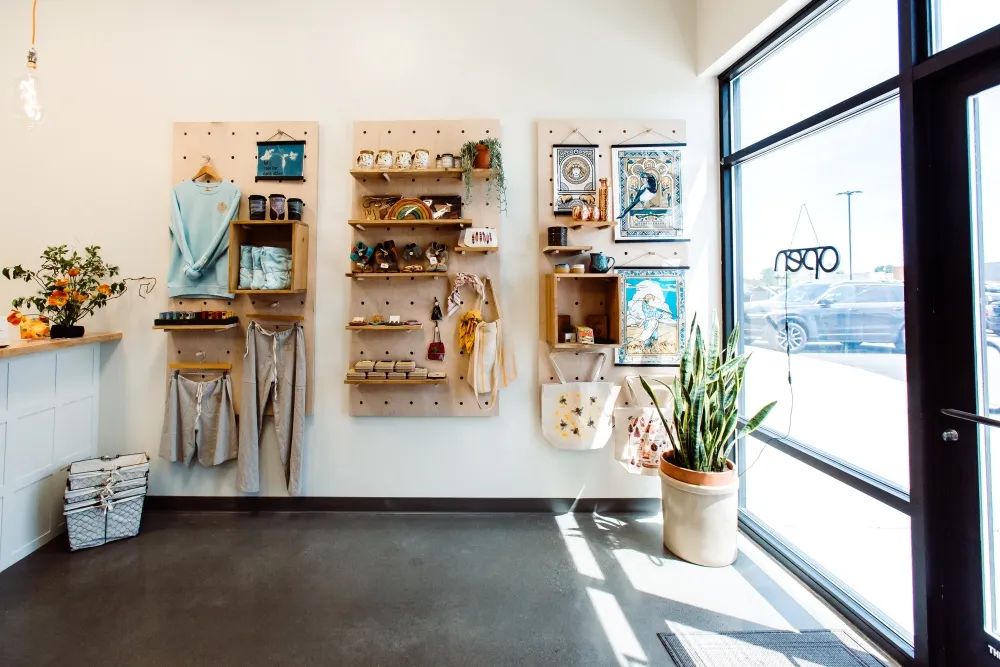 The shop's inventory also gives a tip of the hat to local Montana makers. Shelves are stocked with Montana grains and legumes, jam and pickles, prints and artwork, skincare and pottery – even fresh, local produce, pasta, beef, dairy, and flowers.
Embrace the Process
Miller knows that the process of making sustainable household choices can be a challenging one. So it's the goal of Frae to ease the burden on shoppers by providing a convenient and inviting space.
"Our message is that it's not the perfect process," Miller says. There's no absolutely right way to implement sustainable living; it's just about "conscious choices and small changes."
The goal of Frae is to provide those seeking these small changes a shopping environment that is low-stress and judgment-free, leaving room for questions and curiosity. "We want your feedback and requests," Miller says, understanding that Frae doesn't always get everything right. The goal is to constantly improve and evolve in their offerings to the community. Frae creates an inviting atmosphere where shoppers can share ideas and inspiration to compound their collective, positive impact.
"In the words of the great Maya Angelou, 'Do the best you can until you know better. Then when you know better, do better.' And that's our goal."
The Heart Behind the Shop
Frae isn't just providing items to stock the pantry or improve your hygiene – visiting the retail location is an experience. In addition to a shopping experience unlike any other in Billings, Frae offers classes for things like sewing and craft printing. Miller plans to invite other local makers to host workshops in the Frae space. The location will also be a pick-up for the Yellowstone Valley Food Hub. In every way, Miller and her team are creating a community-centric space that is dynamic and creative. She believes that collectively, small changes and a little collaboration can have a big, beautiful impact.
The origin of the Frae vision traces back through decades. Miller says she's dreamed of having a store of her own since she was a little girl. Now, with two daughters of her own, she's seeing her dreams and visions come to life. FRAE means from, but it's also an acronym: For Remie And Ellie.
"My daughters are the biggest 'why' behind starting this little business.⁠ It's my hope to show them that anything is possible if you follow your heart, take all the chances, and work hard!"
Shop Frae's retail location in Shiloh Commons at 115 Shiloh Road #1 or visit their website at shopfrae.com.
If you are a local maker who would like to connect on hosting events and workshops, please get in touch with tiffany@shopfrae.com.
Originally printed in the July 2022 issue of Simply Local Magazine
Never miss an issue, check out SLM's digital editions here!