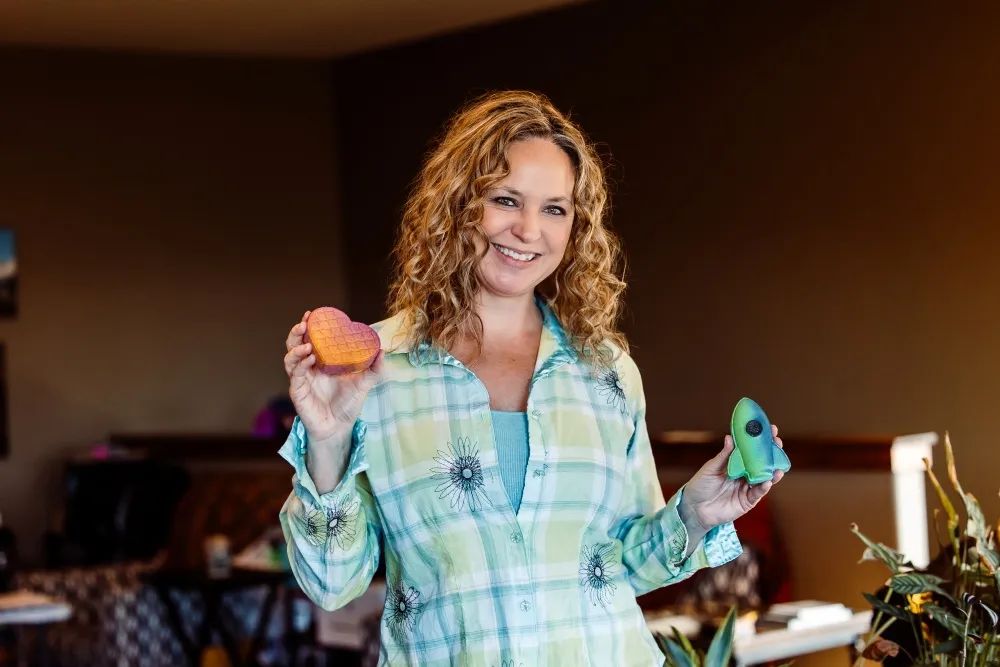 Meet the Maker: Mariah by Design
March 2022
by brooke wagner | photos by arianna skoog
A well-known proverb reads, "Necessity is the mother of invention." For Mariah Eggart, what was once a have-to-do is now a get-to-do. Mariah is the owner and creator of Mariah by Design, a bath and body products company using high-quality ingredients to help customers create an at-home spa experience.
Her journey into the self-care industry began when Mariah found herself the sole provider for her family as a, then, single mother to five young children. The determined entrepreneur created a cleaning company that focused primarily on new construction and served what her daughter called, "people houses." Mariah would leave personal touches, like homemade bathroom tablets to keep the area smelling naturally fresh and clean. When Mariah's son began using the tablets as tiny bath bombs, his sisters teased him mercilessly, inspiring Mariah to tweak her recipe until she found the perfect homemade bath bomb replacement – complete with a skin-enhancing formula and enticing smell. When friends visited and discovered Mariah's homemade concoctions, they begged for some. She found a huge demand for her products, and Mariah by Design was born.
In addition to bath bombs, Mariah offers:
Shampoo and Conditioner Bars
Body Butter
Hand Felted Soaps,
Shower Steamers
Botanical Salt Bath Soaks
Her creativity shines in the vibrant colors and enticing combinations of scents in every product she makes. She says, "I have always loved to create…my mind is usually busy dreaming up new projects and ideas."
Mariah's standard for safety on all her products is summed up in her motto, "Not tested on animals, only my children, and close friends." If she doesn't feel good about her kids using it, she goes back to the drawing board until satisfied. Although her kids are often critics, they are also her biggest fans. Mariah says, "My daughter loves my shampoo and conditioner bars - she won't use anything else on her hair!"
Mariah creates collections of products to make the transition from store-bought products to hand-crafted ones a little easier on her clients. She brainstorms about the perfect combination of products to group into a seasonal collection reflective of its sights and scents. Every January ushers in Mariah's personal favorite, a "Love Box" filled with heart-shaped soaps, bath bombs, and mini-sized shampoo and conditioner bars. Instead of the traditional Valentine's feel, this box focuses on loving yourself enough to take care of yourself.
What really sets Mariah by Design apart from so many other companies is… well… Mariah. She says, "When I get an order for an anniversary or a special birthday, I like to overstuff the product a little. Taking the time to handwrite a note or wrap a bar of soap in a special way really brings that personal touch that makes people feel good." Mariah is as genuine as the ingredients that make up her products. She loves her family and her clients, and community actively.
Mariah also finds joy in encouraging others to chase their dreams and mentors her oldest daughter as she is beginning a personal training business. Mariah says, "I learned through experience how to create a business that I'm passionate about from the ground up. I have a heart for anyone who wants to think outside the box and put themselves out there. I've had a lot of kindness given to me in my life, and one of my greatest joys is to pay it forward."
Originally printed in the March 2022 issue of Simply Local Magazine
Never miss an issue, check out SLM's digital editions here!