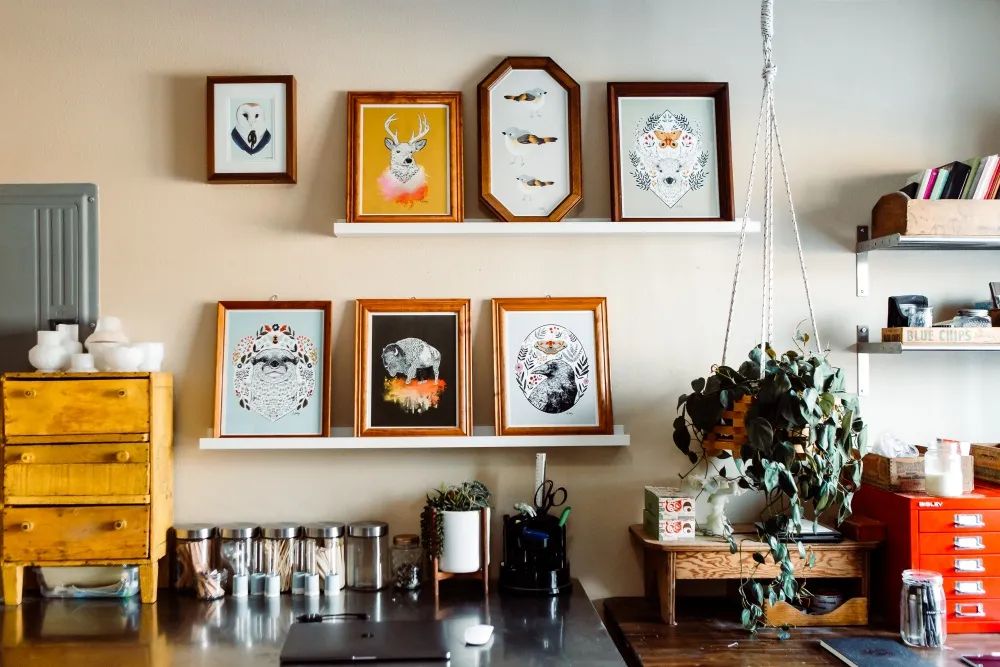 Maker's Space: Annie Bailey Art
February 2022
by brooke wagner | photos by arianna skoog
Good things come in small…well…places. That may not be exactly how the saying goes, but it's certainly true for the town of White Sulphur Springs, Montana. This map dot of around a thousand residents is the homestead of Annie Bailey, a nationally recognized artist who now lives in Billings. Annie says, "I grew up on my family's ranch, learning a deep love for nature from a very young age. I draw my inspiration from the color, shapes, and forms that can be found in the woods, mountains, and plains of Montana - my home."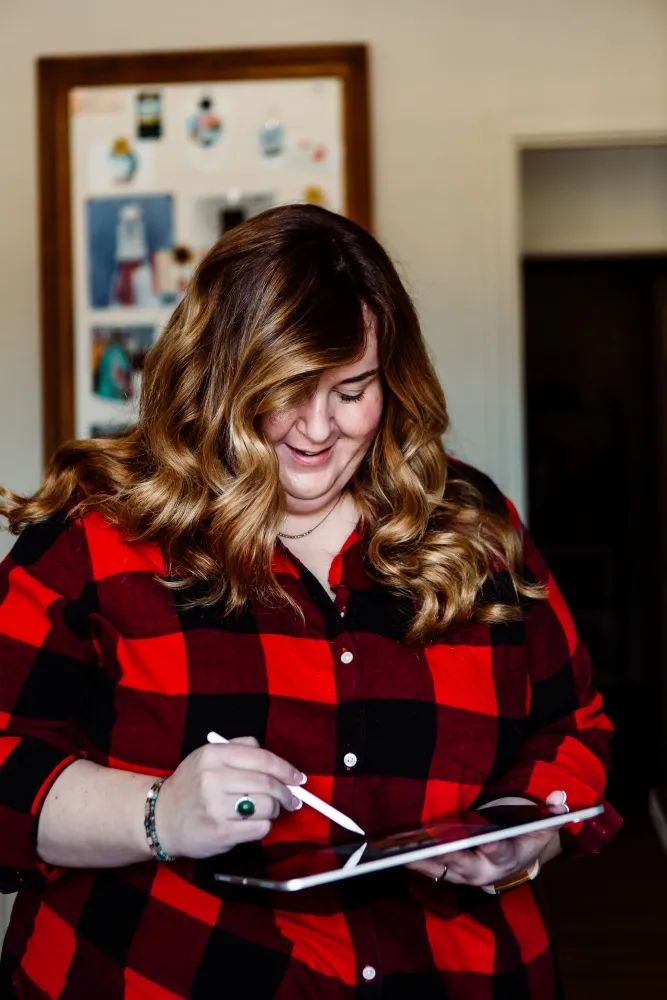 Annie Bailey
Somehow, despite her rural upbringing, Annie found a love of modern design. It may seem to be a unique combination, but many aspects of rural life give a nod towards contemporary style. For example, the sleek lines of a well-built barn or metal and wood on a fence line combine natural and industrial elements, blending the rustic with the modern. Annie recalls, "We used design and construction a lot growing up to help us work efficiently. Building a barn, fences, corrals, and such allowed me to understand that good design made working much easier and more enjoyable. A well-designed environment is such a joy."
After attending the Art Institute of Colorado and graduating with a BA in Interior Design, Annie worked in that field for the next six years. As it often does, however, Montana began calling her home. Annie returned in 2014 to start her own art company, creating prints, posters, greeting cards, wood block art, and calendars with unique and frameable prints for every month. She takes pride in her work's DIY attitude and she hand-inspects each order that leaves her studio. Customers can view her products from anywhere in the world via the convenience of Etsy. Although she has many standard studio items (check out her special section of Scandinavian Prints!) Annie says she has a special place in her heart for custom orders. "I love the process of communicating with customers to make something they'll love!"
Finding art inspiration isn't difficult in the beauty and splendor of Montana. Annie goes back to her roots for new projects and designs ideas. She says, "I find inspiration by walking in the woods or driving through the rural countryside of Montana. I gather fallen tree bark, moss, abandoned beehives, and little odds and ends I find when hiking. I love the colors of nature, and study tiny details allowing their qualities to be noticed. I try to absorb what it is about something that caught my eye and understand why I like looking at it. Then I apply those qualities to my designs." Although she does employ typical art mediums like pen and paper, this modern artist has (not surprisingly) incorporated modern techniques into her studio and her art. Annie explains, "I particularly love illustration and have moved into digital illustration, as it is very much like having any art supply you could ever want at your fingertips. I can bring my entire art studio with me on the road, and often do!"
And travel, she does! Annie is from a close-knit family and they often gather in her hometown of White Sulphur Springs. She says, "I have friends from my small town that I've known since I was a toddler, and we are all still great friends. I'm lucky to have a strong inner circle."
Although the perks of being self-employed and untethered from a more traditional work schedule are many, there are also challenges to this way of living. Annie says it can be challenging to stay on track, so she keeps "a pretty organized list of projects and proposed deadlines front and center at my desk. Each day I touch base with upcoming due dates and projects. I also have a massive online library of visual mood boards that I refer to regularly." To lend some structure to her days, she follows a similar routine to a 9 to 5 job but also finds herself creating and finishing up orders on the weekends during busy seasons.
Annie shares, "Art and the process of design are very calming to me. Sitting down to a completely blank sheet of paper is daunting, but I think my favorite part is loosely putting ideas down. They aren't perfect and a little shaky, but you see what could be, and that is exciting! That part is where your mind has to really try to visualize, and with practice, it becomes a really rewarding part of the work."
This self-described country bumpkin with a love for the modern is truly living out her life's passion, creating beautiful keepsakes from the images and experiences all around her. Her work has been featured in Better Homes and Gardens and HGTV magazine as she shares a creative spin on the rustic Montana landscape with her customers and followers. To order, visit her website at www.abaileyart.com or check out the selection of cards and artwork available locally at Simply Local Marketplace. 
Originally printed in the February 2022 issue of Simply Local Magazine
Never miss an issue, check out SLM's digital editions here!