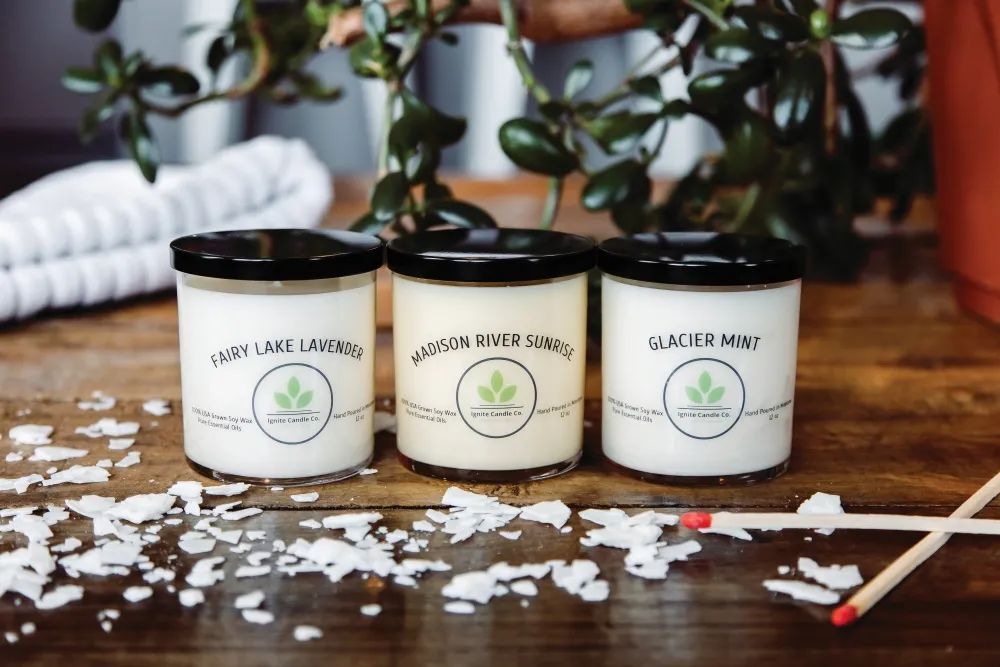 Meet the Makers: Ignite Candle Co.
November 2021
by robyn fogle | photos by arianna skoog
"How can we ignite a passion for environmental conservation in future generations?" 
That was the question that spurred Ashley Gullings and Jessica Riley to start their company, Ignite Candle Co., in 2019.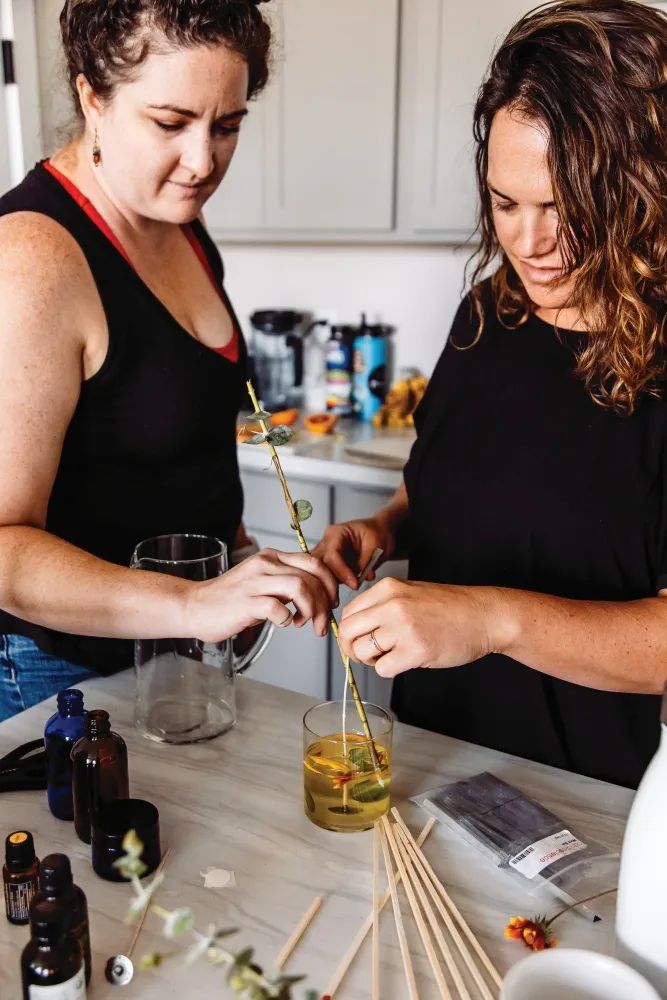 Ashley Gullings and Jessica Riley started their company, Ignite Candle Co., in 2019.
But you're probably wondering, what do candles and conservation have to do with each other? Keep reading.
A Company Sparked
As passionate environmentalists, Jessica and Ashley worried that if children don't grow up exploring and experiencing nature, they will have no passion for protecting and preserving it. Their shared desire was to find a way to help foster a love of nature in, not just their kids, but all kids; that kindled an idea. "We kept seeing this image of a literal flicker of hope every time a child has a quality experience with the natural world," they said. That image kindled an idea. An idea to create candles. But not just candles, "Candles for a Cause." 
But there was one rather obvious obstacle standing in their way. Neither of them knew how to make candles. As massage therapists, they were used to working with their hands. Still, the scientific process of creating, melting, and pouring wax, plus mixing in exact quantities of oils at just the right time, were not processes with which they were familiar.
Not to be deterred, they set up a workshop in Jessica's basement (affectionately dubbed the "Candle Clubhouse") and started experimenting. After many long nights and failed batches, they eventually created a product they were truly proud of, and Ignite Candle Co. was sparked.
A Candle Glowing
From the very beginning, it was important to them to consider the environment in both their materials and the finished product. They use clean-burning, natural materials such as 100% US-grown soy wax and pure essential oils. "It's a product that can be made with limited environmental impact, it's easy to store and ship, and is universally enjoyed," they said.
Names for their scents come from places or items throughout Montana such as Madison River Sunrise, Glacier Mint, and Fairy Lake Lavender, with seasonal scents like Autumn Leaves and Harvest Spice rounding out their current offerings.
A Spreading Flame
While the candle-making process is one of their favorite parts - especially when they can convince their kids to help - their ultimate goal with the venture was always bigger than the candles themselves. Their donation program, "Candles for a Cause," is the core of not only who they are but why they do what they do. 
"We donate a dollar for every product we sell to nature-based programs for kids," they explained, "Our vision for helping the environment is that our kids are going to grow up to be smarter than we are. They will have resources and technologies available that we could only dream of in our time. We want every kid to have an opportunity to fall in love with Montana as much as we have," they said. To accomplish that goal, they are currently partnering with the Montana Audubon Center and ZooMontana to support nature-based programs for kids. 
A Blazing Vision
"If we can raise (kids) to be passionate about our natural world, the hope is that they'll use these incredible gifts to help preserve it, and grow to teach their kids the same. It's getting the world set up to be able to support our mission long after we're gone," the duo explained.
Eventually, they hope to grow nationwide and help kids in other states explore and discover what makes their own landscape beautiful and set up and fund scholarships for young adults pursuing degrees in environmental engineering or law.
And you can help ignite that passion for conservation, too, by something as simple as buying a candle for a cause.
Originally printed in the November 2021 issue of Simply Local Magazine
Never miss an issue, check out SLM's digital editions here!