Local Makers Making a Difference: Rock Creek Soaps
November 2020 | article and photos by holly netz
In August, I had the joy of meeting and learning the stories of various makers and artisans in the Billings area. Rachael Brower and Jennifer Dillabaugh of Rock Creek Soaps were part of that group. Simply Local Magazine told their story (as makers) on our website. Below, I have the honor of sharing something even bigger they are doing to help our community.
Started in Rachael's kitchen in 2014 with a simple soapbox, Rock Creek Soaps has grown into a female-owned, Billings success story. Rachael's original operation grew from her kitchen to a small workroom, and then a larger workroom in the alley of what is now a beautiful storefront on 4th Avenue North.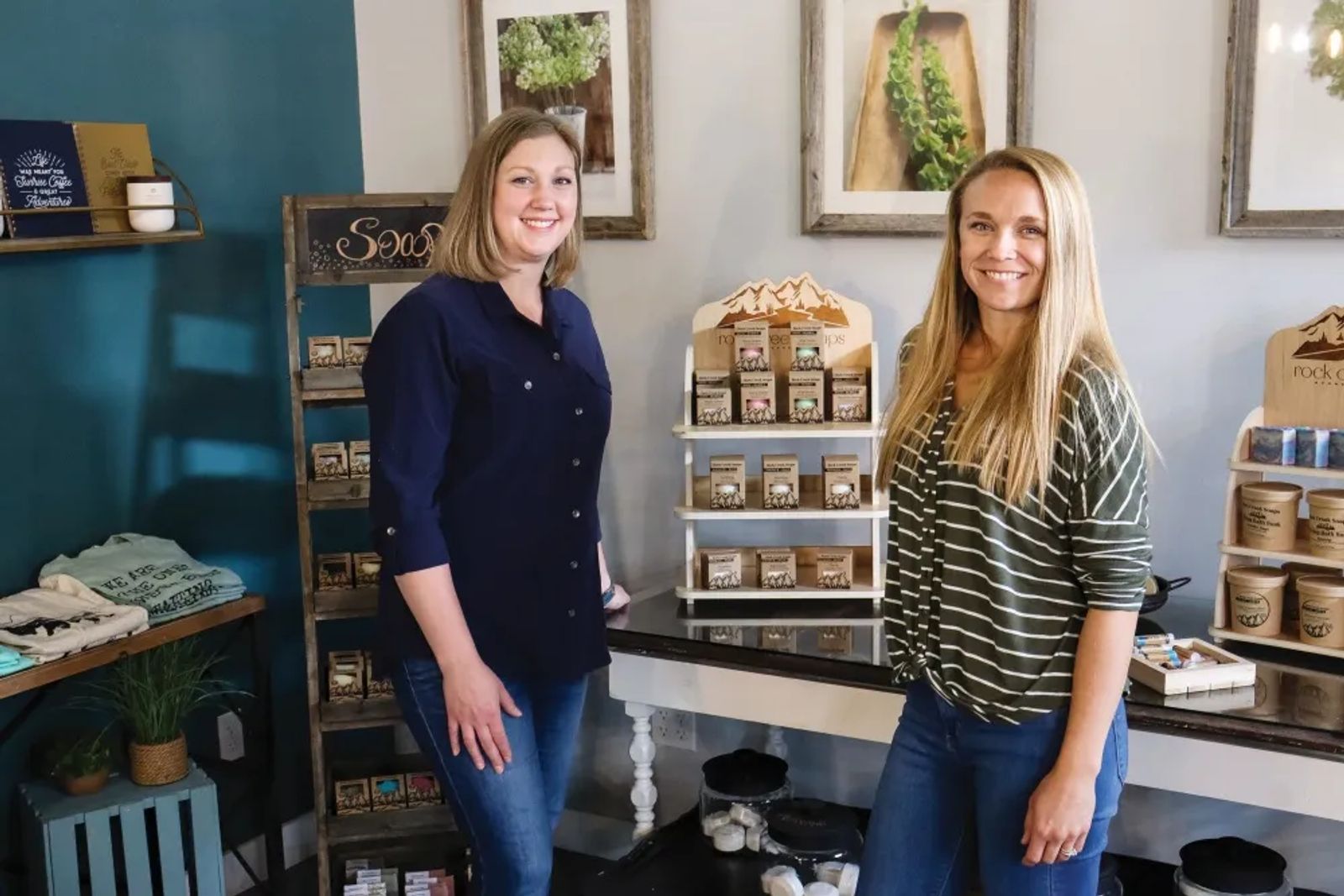 Rachael and Jennifer met at church, and Jennifer ultimately became a partner in the business in 2017. When asked about their business's success, they use the words "scrappy" and "being able to pivot." "When you don't have investors or family money to fall back on, you have to get in there and do everything yourself to succeed," says Jennifer. They've done everything from finding local sources for product ingredients, building their website, managing all of their social media, and learning to photograph their product themselves.
Passionate about affecting the Billings community by more than just producing amazing soap and other body products, Rachael and Jennifer lit up when they talked to me about the highlight of their journey: their partnership with Billings' HER Campaign.
After learning about the project, they knew immediately they needed to be involved. During the second phase of the HER Campaign program, the women in the program start exploring interests and gaining skills and independence through different therapy options. Rock Creek Soaps is one of the local partners that provides a work-therapy opportunity. I met with one of the women, K.R., to find out a little about her experience working with Rachael and Jennifer.
K.R. was shy, yet bubbly and had I met her outside of this context, I would have had no idea that she had been a victim of sexual exploitation. K.R. talked about her work at Rock Creek Soaps. She started initially doing boxing and maintenance, recalling that she always doubted her capability. She shares that Jennifer and Rachael constantly encouraged her until she learned and conquered each task. Now trained in almost every aspect of the business, what struck me most deeply was her answer when I asked what the work experience had meant to her. "All I knew was a life of sex-trafficking, and when I got the opportunity to come here and work here with them, I was able to appreciate my surroundings and the woman I am becoming. I don't have to do certain things to survive. I learned self-worth. I learned about my triggers and how to overcome things rather than running. I broke down many times here with them, and there was no judgment, they helped me move forward." A palpable energy and emotion are felt in the room as if these women have formed a sort of sisterhood through the experience.
Rock Creek has done more than provide support for the women in the program. They have created "Our Soap for HER," which is an extension of their partnership with the HER Campaign. Rachel says, "We have crafted a collection of soaps stamped with the HER Campaign leaf logo to bring awareness to our joint mission of hope and healing to survivors of trafficking. When you buy any soap from Rock Creek Soaps or you select a "leaf logo" soap that we donate to HER Campaign, you too are helping further this mission."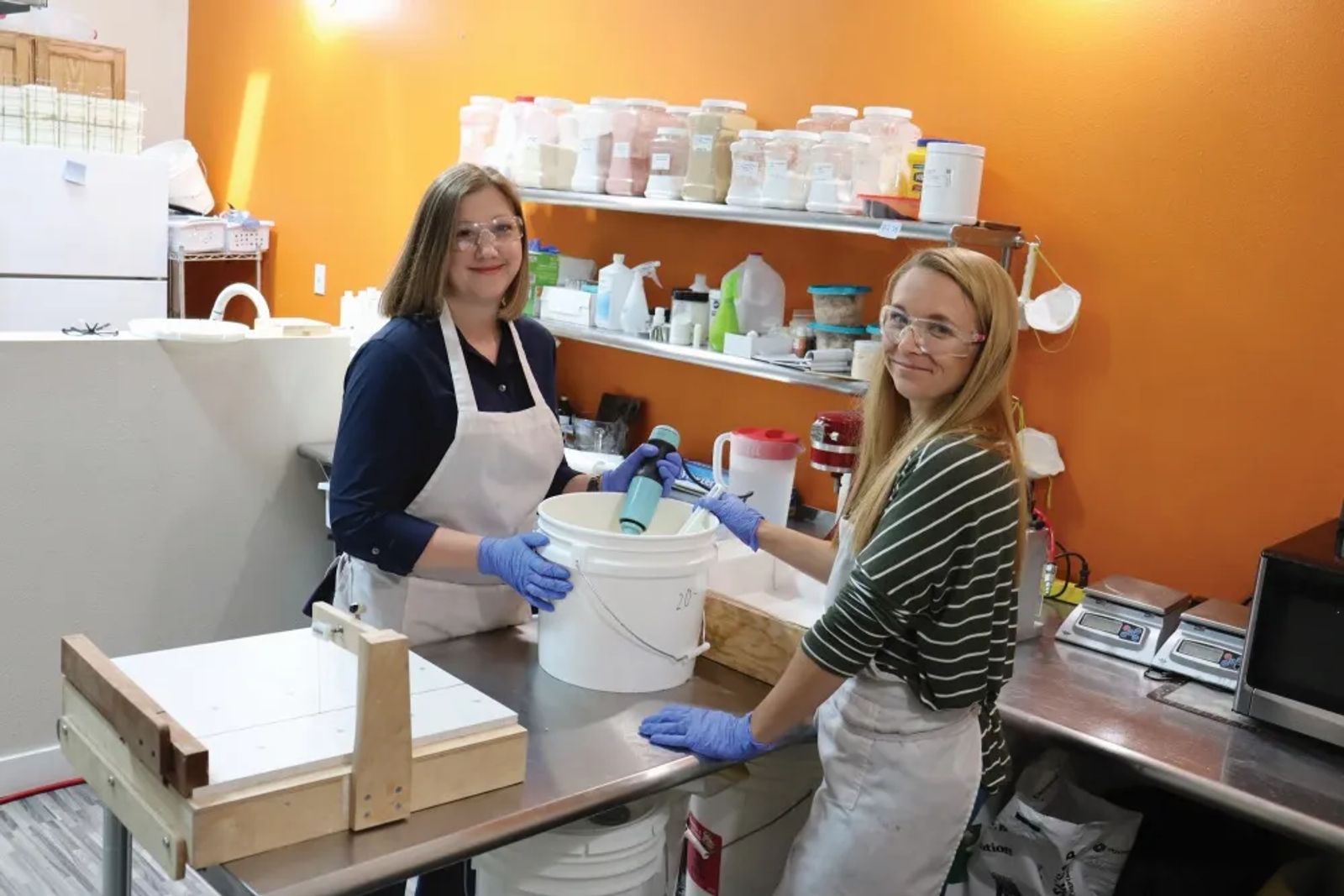 More than just the "Our Soap for HER" soaps, when people buy Rock Creek products, they help keep the business running, which, in turn, keeps these important programs functioning. The soap's distinct branding also brings more awareness about the program to people that may not be exposed to it in other ways. "Ultimately, the support of our customers for this product and all of our products, we will able to fulfill our missions," says Rachael.
Originally printed in the November 2020 issue of Simply Local Magazine
Never miss an issue, check out SLM's digital editions here!