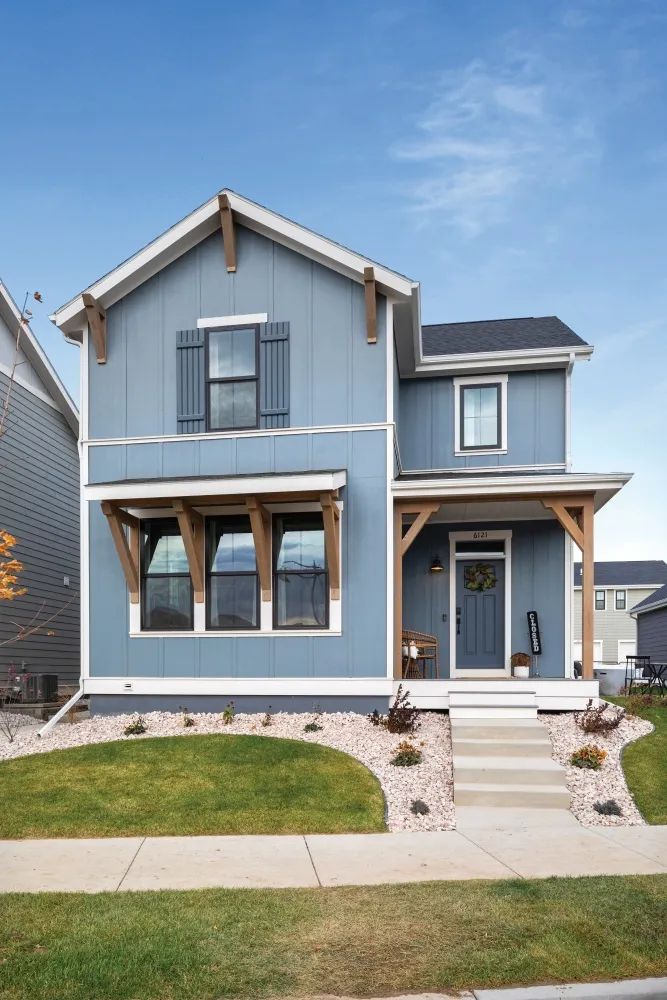 Pulling Off a Parade Home in a Pinch
December 2021
by Carolee McCall Smith | photos by Nathan Satran
I have this recurring dream. I'm back in college, and it's finals week. There is one class that I had forgotten I'd signed up for, and I've just realized that today is the final exam. I'm frantically running through campus trying to figure out where the class is located, even though I have no hope of passing the test at this point. It's late in the week, and campus feels mostly deserted. I run from building to building, out of breath and exhausted. 
I always wake up before I ever find the class. 
Staging a home for the Parade of Homes this fall felt eerily similar. It wasn't that I'd forgotten to do it. It was simply that we (McCall Homes) hadn't planned on entering a home into the Parade this year. Yet when the Home Builders Association called and said some homes had fallen through and they needed to fill the spaces, we agreed to enter the last spec home we had. 
Typically, when we build a Parade Home, I get to start planning it out from the beginning. What kind of floor plan do we want to showcase? What types of finishes should we do? Should we try out some fun, new trends? I have time to think through what types of furniture to use - and order - and what colors to incorporate. 
But as the storage unit door rolled up in front of me this September, I didn't have that kind of time. I needed to get it figured out fast. But it would be fine. This is why there's a storage unit full of furniture I can work from. Oh, wait…I sold a bunch of it, didn't I? Shoot. It's fine; it's fiiiiiiiiiine. There's still quite a bit. Except it looks like some mice got to that bedding over there and made themselves a nice little home out of it. I'll check the other side. Well, those shelves tipped and crushed all the lamps over here. 
And so there I sat on a hot day late in the summer, cross-legged on the dusty concrete floor of a storage unit, scrolling through every app on my phone to see what could be delivered the fastest. During the next week, I scoured the town for cute, affordable furniture and décor. 
I stole things from my own house and moved them into the Parade Home. Each evening my husband would walk through our house, laughing and shaking his head as he took a mental inventory of what was missing. At one point, I stole the curtains off a single window from a room with four windows. I wheeled overflowing carts through stores while other shoppers stared wide-eyed as pillows tumbled to the floor. I enlisted friends and family to pick up miscellaneous items whenever I knew they were passing a store. And eventually, it came together, just in time.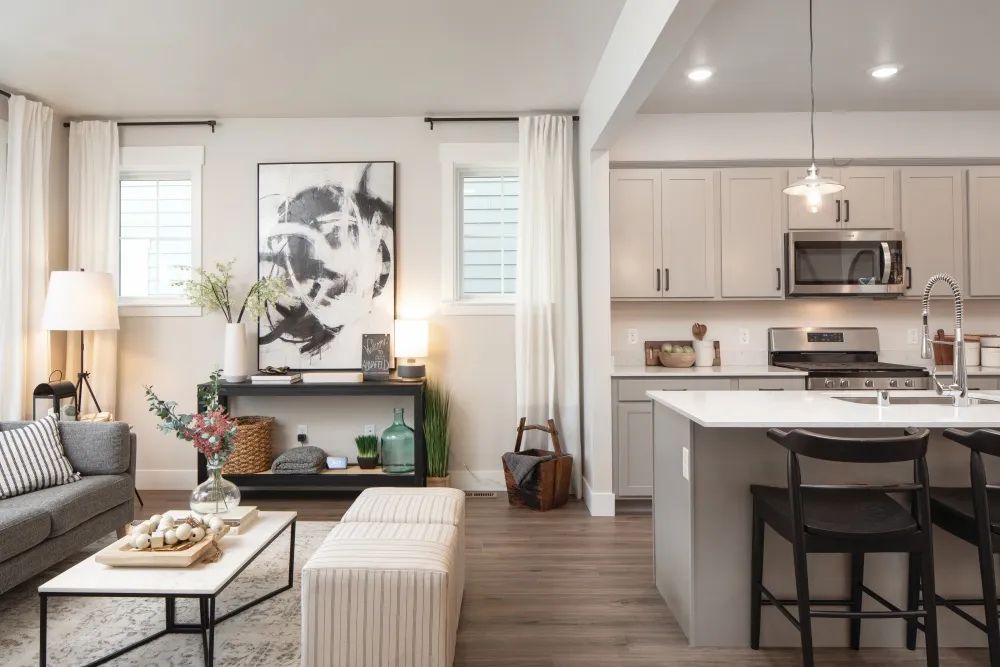 The living room and kitchen adjoin making entertaining a breeze, while a walk-in pantry makes it easy to hide your junk from the guests.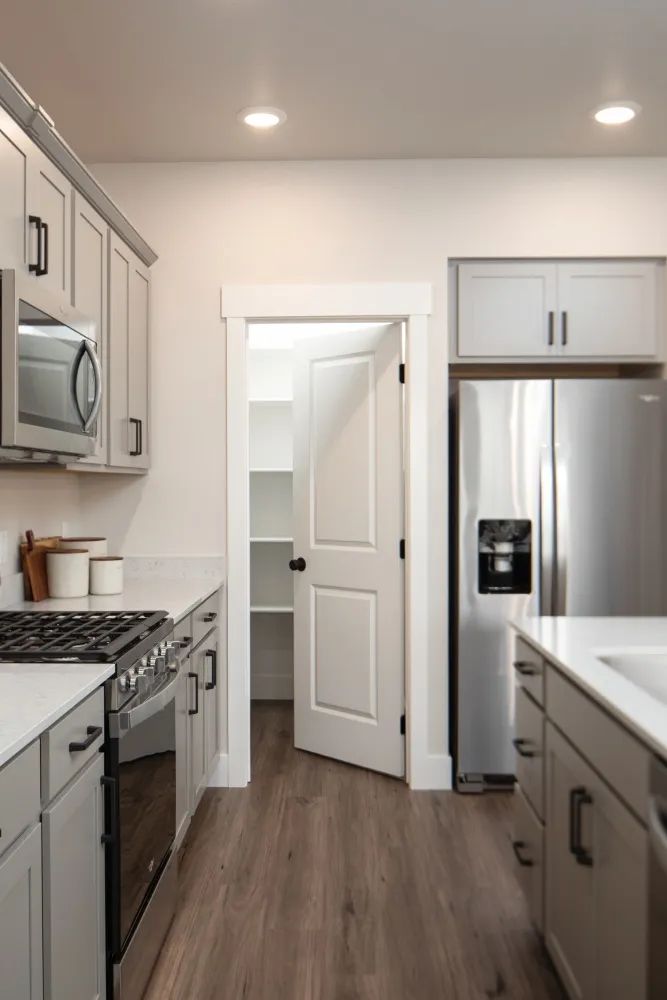 Our 2021 Parade Home features our Bridger floor plan with an optional family room separating the primary bedroom from the kids' rooms, as well as an attached 2-car garage. It's a wonderful plan for a young family with small children. All three bedrooms are upstairs, easing the burden on parents with kids who wake up in the night. (I feel your pain. Hang in there, parents. You're doing great.)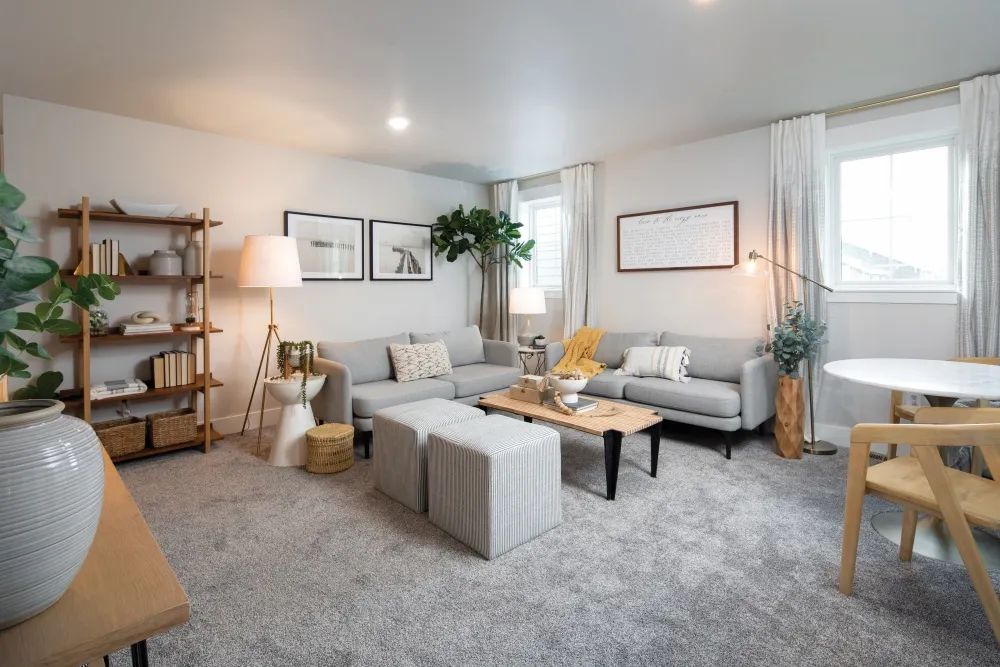 Speaking of entertaining, send the kids upstairs to the family room where they can play in peace, away from all that boring grown-up talk. It's like a basement rec room without the creepy vibes that make kids refuse to go down there.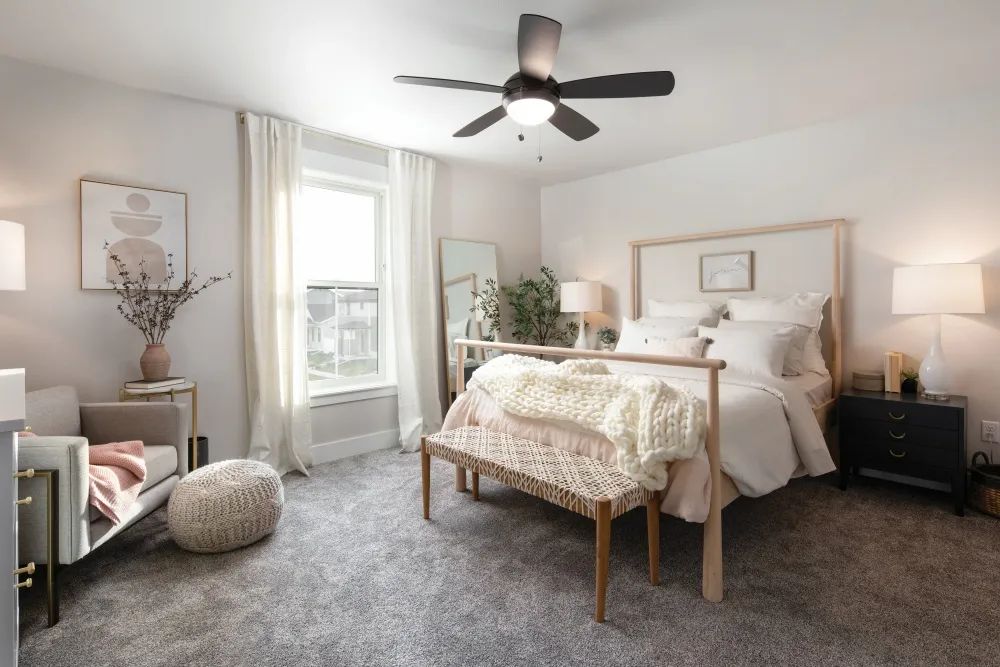 The primary suite is light and airy with lots of creams, blues, and pinks to create a calming feel because Mom and Dad need a nap.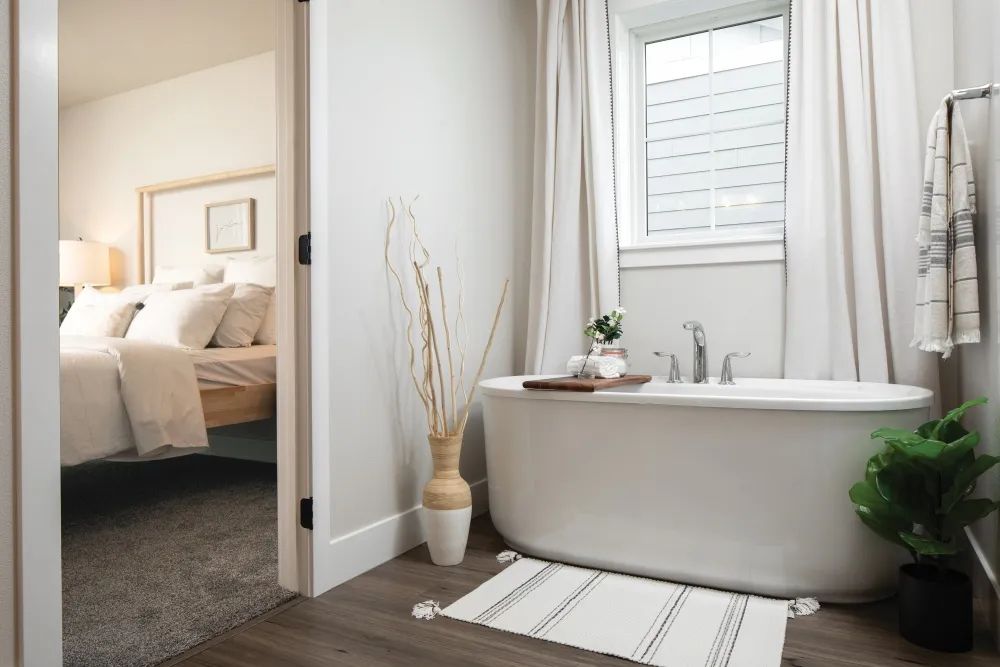 Did I mention the bathtub? Bring on the bubbles!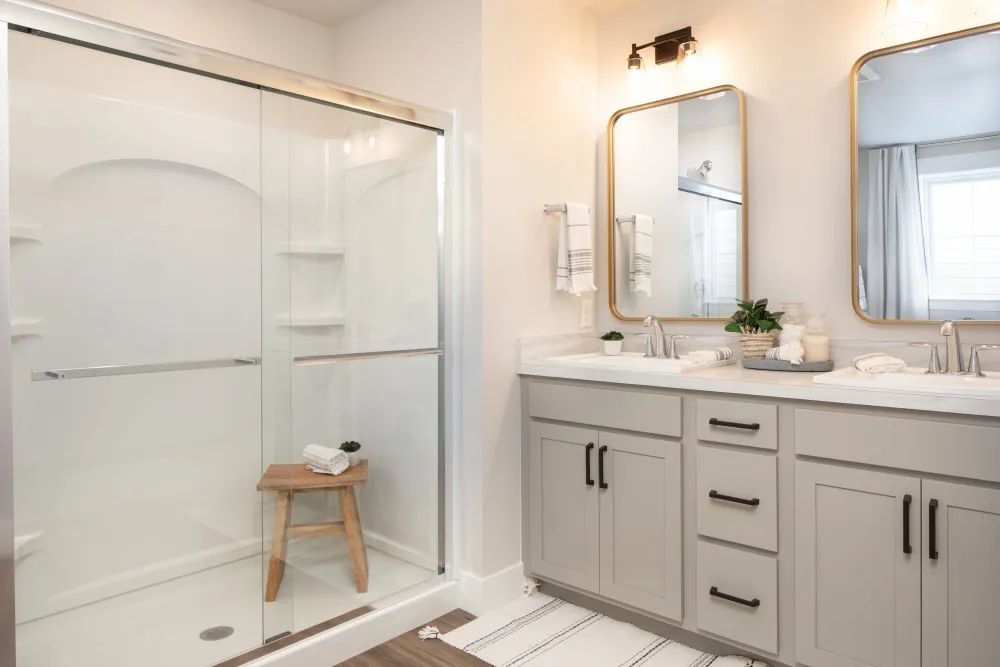 A double vanity means an end to that debate over who is getting toothpaste all over the mirror.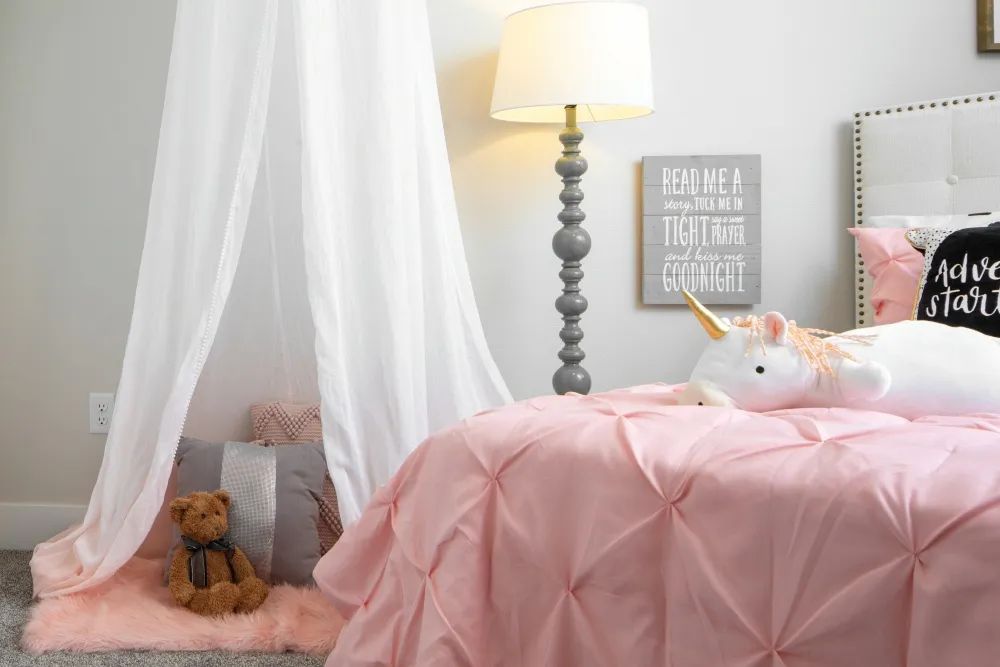 My daughter declared this room her own when she came to see what I was working on one day. Luckily I'd hidden the unicorn before she got there because I have not one doubt she would have stolen it.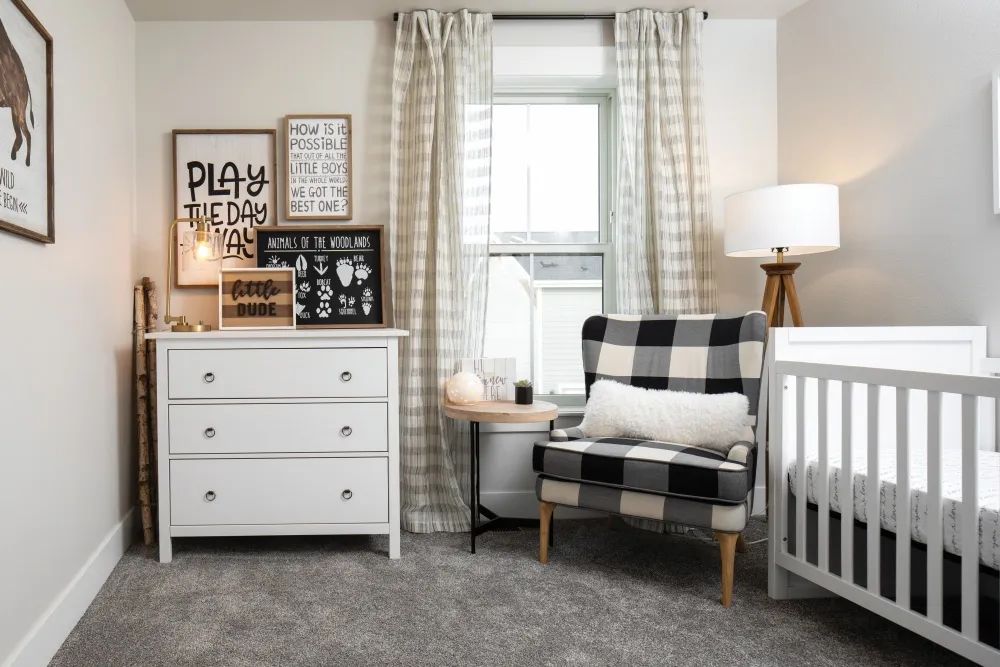 No nursery is complete without a comfy chair for Mom or Dad to fall asleep in near the crib that the baby refuses to sleep in. 
If you missed our Parade Home this year, fear not. McCall Homes has decided to keep this home as a Model Home for now. So come to Annafeld and check it out for yourself sometime at 6121 Farmstead Avenue. And don't worry, I replaced those curtains I stole out of my house. 
Originally printed in the December 2021 issue of Simply Local Magazine
Never miss an issue, check out SLM's digital editions here!