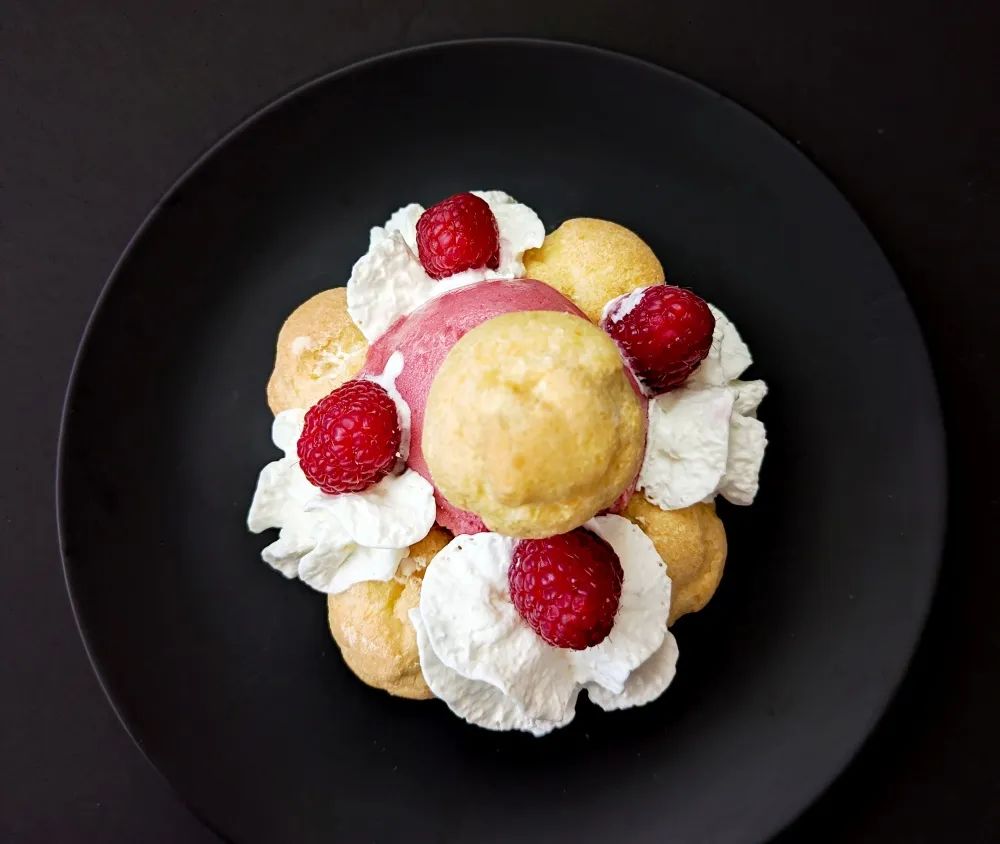 Bake This: Profiteroles with Raspberry Sorbet
February 2023
article & photos by renata haidle
Profiteroles are a classic in the dessert world. They bring together cream puffs and ice cream in a tiny tower meant to impress the eye and delight the palate. This recipe comes in two versions: the elaborate one for the experienced cook and the very simple one for the novice who wants to surprise their beloved with a less-than-ordinary dessert.
Therefore, if your skill level is solid, follow the recipe below. However, if you've never boiled an egg, go to the store and purchase already-made cream puffs, raspberry sorbet, whipped cream, and raspberries and follow the assembling directions at the end of this recipe.
Ingredients:
1/2 Cup water
1/2 stick unsalted butter, cut into small pieces
1/4 teaspoon salt
1/2 Cup all-purpose flour
2 large eggs (at room temperature)
3 Cups whipped cream
1 Pint raspberry sorbet
1 Cup raspberries
Makes 4 servings.
Directions:
Preheat the oven to 375 ̊F—line two baking trays with parchment paper.
In a medium saucepan, bring the water, butter, and salt to a boil. Reduce the heat to medium-low and add the flour. Stir the dough vigorously with a wooden spoon - it will come together quickly; keep stirring over low heat until it forms a smooth, shiny dough ball. The process should take about 2 minutes. There will be a slight crust on the bottom of the pan - do not worry; you did not ruin the dough.
Place the dough in a clean stainless-steel bowl and use a wooden spoon to break up the mixture so the steam can escape. Keep doing this for a couple of minutes until the dough releases some of its heat.
Once again using a wooden spoon, add one egg and stir vigorously. The dough will separate - continue to stir until it comes together again into a smooth, shiny ball. Add the second egg and repeat the process.
Using two small spoons or a small cookie scoop (1 Tablespoon) to form the puffs, place them on the baking trays, leaving an inch of space between the puffs.
The pastry puffs will have peaks on top - use a finger dipped in water to smooth them over.
Bake for 25 minutes. Halfway through the baking time, turn the trays 180 degrees to ensure even baking.
Remove from the oven and transfer the puffs to a cooling rack. When cooled, slice the top gently and fill the puffs with whipped cream. Replace the tops.
To assemble the profiteroles, place 4-5 puffs on a plate, add a generous scoop of raspberry sorbet, and decorate with whipped cream and raspberries.
Originally printed in the February 2023 issue of Simply Local Magazine
Never miss an issue, check out SLM's digital editions here!