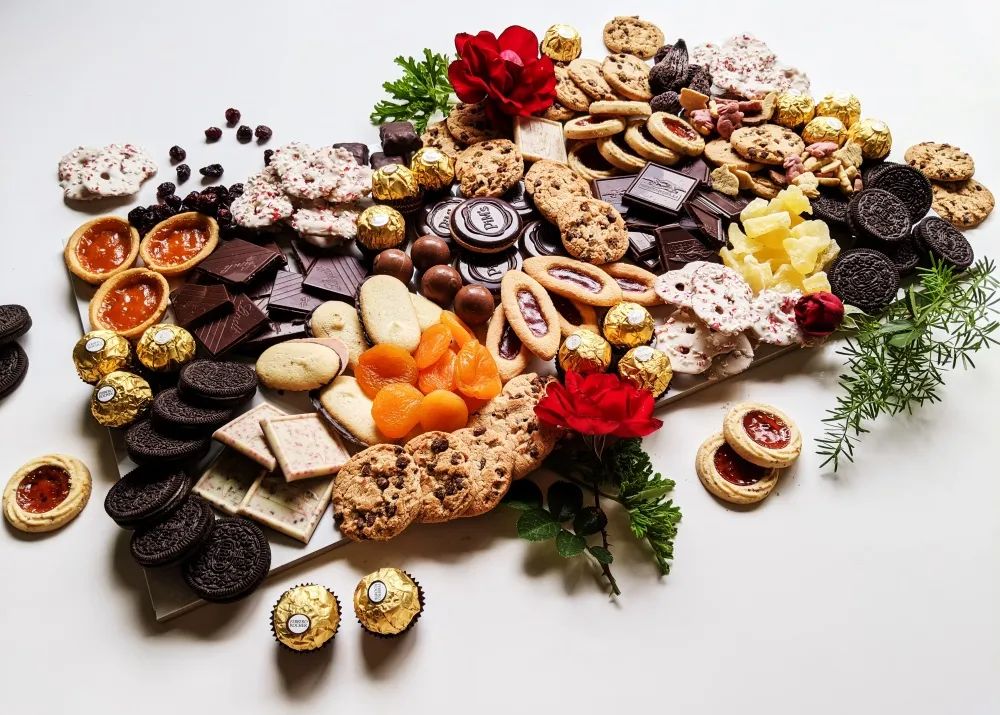 Easy Entertaining: Dessert Charcuterie Boards
December 2021
article & photos by renata haidle
I have a confession: I am not a natural-born entertainer. Coming up with an adequate menu even for the smallest parties and get-togethers has a way of bringing out the stress. So I am constantly on the lookout for easy solutions that take minimal prep and cooking time. Enter cheese and charcuterie boards - they are the ideal party snack platters, requiring very little time and skill in the kitchen. I have been a raving fan of charcuterie boards for as long as I can remember. Only recently, though, inspired by social media posts and forced by the inevitability of kids' parties, Thanksgiving family gatherings, and, soon, Christmas, have I thought of taking it to a new level and assembling dessert boards.
I started pretty humbly with a platter containing a small variety of cookies for my daughter's recent birthday party. Kids and cookies. You can easily imagine how that went. Encouraged by the success, I ventured further into this rather wonderful world of the artfully arranged, playing with a variety of desserts, and the results have been, well, pretty sweet (if you'll pardon the way too easy pun).
Starting with a blank canvas has a certain appeal, and there is no limit to where imagination can take you. You can play by the rules, or you can go ahead and make your own. Unlike many other things created in the kitchen, this isn't a science. It is one hundred percent art, letting your inner artist create delicious landscapes inspired by the event, the season, or the people you are sharing it with. It's a dessert board; feel free to improvise and have fun. However, if you need a few ideas and guidance, I will gladly share what I've learned.
Start by choosing your background. If you have a beautiful wood cutting board, by all means, go with that. Don't let the absence of it deter you, though. You can substitute a large China platter, a cake stand, or, simpler yet, a marble slab or a large ceramic tile - just make sure you properly sanitize the latter ahead of time. In this particular case, larger is better, so go with the biggest background you can find.
Pick a theme. Is it a holiday board? Will it be part of a color-coordinated setup, like a wedding reception, maybe? Are you serving kids, adults, or a mix of both? Planning your theme ahead of time will help with the cookie and dessert selection and ensure you create a cohesive and appealing look.
Think of various props to add more aesthetic elements to your board. Bring nature to the table with the addition of flowers (fresh or dried), twigs, leaves, pine cones, etc. Go outside and get inspired, and choose items that will complement the food. We eat with our eyes first!
Shop for cookies, chocolate, and miniature desserts. Now that you have both a theme and a color scheme in mind, you can browse the grocery store's/bakery's cookie selections and choose a variety of items.
Now that you have collected everything you need, it is time to assemble your board. Remember that cookies and desserts might leave stains on your board due to the fat content. You can prevent that from happening by placing a sheet of cellophane or inconspicuous plastic wrap on it before you start layering the food items.
If you are using fresh fruit, make sure you dry it well before adding it to the board, as water droplets will make your cookies soggy. Alternatively, you can place the fresh fruit in small bowls to isolate them from the cookies.
Small dishes and bowls are also perfect for containing tiny pieces that roll easily or if you wish to separate certain items due to food allergy concerns.
Vary the size and height of your cookies for a more visually appealing display.
Think of other items you can add to the board besides cookies. These might include bite-size cake pieces (store-bought or homemade), dried fruit, macarons, mini cupcakes, chocolate bars broken into small pieces, rolled wafers, small meringues, and even candy.
If you wish to add a bowl of chocolate fondue, caramel sauce, and/or a variety of small jam jars, do not forget to provide fresh fruit and some decorative party toothpicks for easy dipping.
Feel free to mix in a few savory items like gourmet crackers, chips, nuts, or small cubes of hard cheese such as Comté, Manchego, or mild cheddar for a more adventurous board. However, do not choose anything too pungent that interferes with the dessert flavors and aromas.
Aside from their potential of being the life of the party, dessert charcuterie boards make an excellent gift, as well. Think of using a large pastry box instead of a charcuterie board and assemble your goodies in such a way that they won't become crushed in transport, and they will retain their visual appeal upon delivery.
Originally printed in the December 2021 issue of Simply Local Magazine
Never miss an issue, check out SLM's digital editions here!