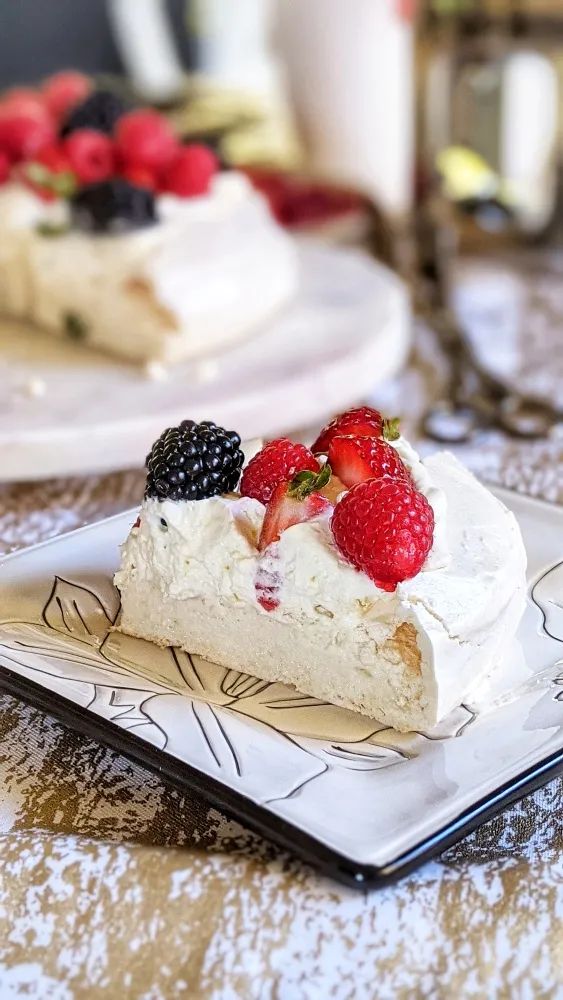 Bake This: Mixed Berry Pavlova
December 2021
article & photos by renata haidle
Dazzle your guests with this festive dessert named in honor of illustrious Russian ballerina Anna Pavlova. Crunchy on the outside and filled with a mix of airy, marshmallowy meringue and whipped cream, it is the showstopper that will elevate your holiday table to expert level.
Ingredients:
3 large eggs, at room temperature
1 Cup sugar
1 teaspoon lemon juice
1 teaspoon vanilla
1 Tablespoon cornstarch
2 Cups whipped cream
2 Cups mixed berries of your choice, rinsed and dried
Servings: 6-8
Directions:
Preheat the oven to 300F.
Line a baking sheet with parchment paper and set aside.
Carefully separate the eggs and place the egg (whites only) into a large mixing bowl. Make sure the bowl is very clean, free of lint, dust, or water droplets. Save the egg yolks in your refrigerator for a different project.
Beat the egg whites at high speed until soft peaks form.
Add the sugar one tablespoon at a time, whisking for a few seconds in between until the mixture looks glossy and airy. Then, with the mixer still on, add the lemon juice and the vanilla extract.
Lastly, add the cornstarch and keep mixing until completely incorporated.
Using a spatula, spread the meringue in an 8-inch diameter circle, making a slight indentation in the center.
Place in the preheated oven and immediately reduce the temperature to 225F. Bake for one hour, turn off the oven, and let the meringue sit inside for another hour. Then, remove it from the oven and let it cool completely on a wire rack.
Now that the meringue has cooled, carefully remove it from the parchment paper and place it on a serving plate. Fill the center with whipped cream and a mix of berries of your choice.
Serve the same day. Refrigerating the Pavlova is not recommended, but if you have leftovers, you can keep them in an airtight container for another day in the fridge.
The meringue itself can be kept in an airtight container at room temperature for 2-3 days.
Originally printed in the December 2021 issue of Simply Local Magazine
Never miss an issue, check out SLM's digital editions here!