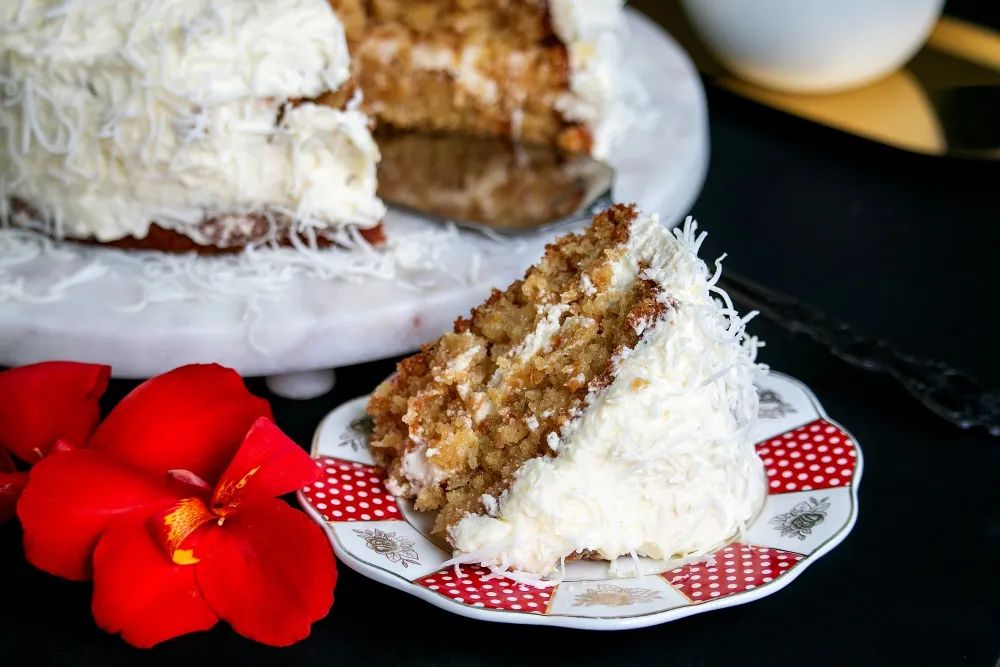 Pineapple & Coconut Cake with Chantilly Cream
October 2023
recipe & photo by renata haidle
Enjoy a taste of the tropics with this light and zesty pineapple and coconut cake, which is sure to please even the most discerning palates. Adding crushed pineapple to the cake batter confers a unique texture and a distinct flavor reminiscent of a cold and refreshing piña colada.
Ingredients:
For the cake
1 Cup plain kefir
1 Cup milk
1 teaspoon apple cider vinegar
⅔ Cups melted coconut oil
1 1/2 Cup sugar
1 egg
1 teaspoon vanilla extract
2 Cups flour
1 1/2 teaspoons baking soda
1 teaspoon baking powder
1/2 teaspoon salt
1 can (8oz) crushed pineapple, drained (reserve the juice)
1 can (8 oz) pineapple rings
3 strawberries
2 Cups plus 1 Tablespoon shredded coconut
1 Tablespoon butter to grease the pans
1 oz Malibu coconut rum
For the Chantilly cream
1 pint heavy whipping cream
1 Cup powdered sugar
1 teaspoon lemon extract
Directions:
Preheat the oven to 350 F. Line two 9-in. round cake pans with parchment paper, grease lightly with butter, and set aside.
In a large bowl, combine the wet ingredients: kefir, milk, apple cider vinegar, melted coconut oil, egg, and vanilla extract. Add the sugar and mix well.
In a separate bowl, sift together the flour, baking soda, baking powder, and salt. Add this to the wet ingredients. Stir well, but do not overmix.
Incorporate the crushed pineapple and 1 Tablespoon shredded coconut. Divide the batter equally between the two pans. Bake for 30 minutes.
While the cake is cooling, mix 1 oz pineapple juice with 1 oz Malibu rum. Set aside. (You will use this mixture to pour over the cooled cake before assembling.)
To make the Chantilly cream:
Whip the cream to soft peaks. Add the lemon extract and the sugar and continue whipping for a couple more minutes until the sugar has melted. Do not overmix, as your cream will start turning into butter.
When the cakes have cooled, pour the pineapple juice and rum mixture over their entire surface, with emphasis on the edges. Use one-third of the Chantilly cream as a filling and the other two-thirds to cover the entire cake. Sprinkle shredded coconut all over. Decorate with pineapple rings and strawberry slices. Refrigerate for 1-2 hours before slicing.
Originally printed in the October 2023 issue of Simply Local Magazine
Never miss an issue, check out SLM's digital editions here!