A Sweet Escape: Montana-Made Nostalgia
September 1, 2020 | by brooke wagner | photos by holly netz
Life is sweet, or at least it is at Candy Town USA. From the moment your foot crosses the threshold, your senses sizzle with the smell of freshly popped popcorn, cotton candy, and chocolaty, sugary treats. A wave of nostalgia carries the sights and sounds of an old-fashioned soda fountain, complete with wooden barstools and "soda jerks." More than just a candy store, Candy Town is a destination; the perfect gathering spot for children of all ages to satisfy their sweet tooth and spend time with family and friends.
This atmosphere is exactly what owner Maria Purcell envisioned when she purchased the business over four years ago. Living in southern Nevada at the time, Maria was ready for a change of pace and was eager to get back "home" to Montana. She recruited her cousin, Melanie Bryant, during a vacation to the Billings area. With over 30 years of experience in the retail industry, Melanie was a natural fit for Maria's business model. It didn't take too much convincing for her to leave Las Vegas for Big Sky country. Melanie says, "I came for a visit, and I was sold."
Maria and Melanie find pride in offering as many Montana-made products as they can keep in stock. With one entire area dedicated to local offerings such as caramel cookie waffles, chocolates, and huckleberry jellies and candies, Candy Town is the go-to source for homegrown treats. The soda fountain features Wilcoxson's ice cream, made in Livingston for the past one hundred years. Many of their candy products are even made right in the store, keeping the Montana-made theme a central part of what makes Candy Town so unique.
Several years ago, Maria decided to take their homemade goodness to the next level. She reached out to the daughter of a former neighbor who was completing training at the Art Institute of Seattle. Taylor Moore was thrilled to get Maria's phone call and quickly brought her new skills as a chocolatier to the Candy Town experience. Taylor is responsible for nearly all of the chocolate treats that come out of Candy Town's kitchen, as well as caramel apples and flavored popcorns.
Maria has made several changes to the shop over the last few years, including a large-scale renovation that moved the bulk candy bins to open up a bit more floor space. She also realized that the tiny kitchen where the homemade items are created was going to need expanding, thus her idea for an interactive kitchen was born. The bulky metal equipment, previously hidden away, was moved out to the main floor. When visitors enter through the front doors, they are greeted by the sights and smells of Taylor hard at work, creating customized candies through clear plexiglass walls. Being able to watch the chocolates and candy being made in-house gives a unique feel to a visit and comes with the added benefit of being able to sample treats as created.
This new layout is also more efficient, as Taylor can work on cotton candy, popcorn, chocolate truffles, and caramel apples simultaneously. Maria says, "Before when everything was back in the kitchen, we could only make one thing at a time." Taylor also notes that sometimes watching her work will inspire a customer to make a special request, changing a few ingredients, or adding special touches to fully customize their order. Maria and Melanie both nod and smile as they say, "We are always up for a challenge, and nothing is too big of an ask!"
Maria says one of her favorite features in the store is the stack of board games in the soda fountain's spacious seating area. With large windows letting in the late afternoon light, it's the perfect spot for teens and families to spend time together. The store also offers birthday parties, complete with Gilbert the Gummy Bear as a mascot.
Candy Town is a welcome escape from the hectic pace of the outside world. Here, older adults delight in finding candies they remember from their childhood, often exclaiming, "I haven't had one of these in years!" The attention to detail and quality is evident throughout the store, with little touches here and there that are reminiscent of days gone by. Like the well-oiled bar stools that line the soda fountain counter where families sip handmade sodas in every flavor imaginable and servers scoop ice cream into cones and floats, eliciting shrieks of delight from waiting customers. A must-order during the summer and fall is the huckleberry lemonade, prepared with fresh huckleberries and a slice of real lemon. No matter the season, Candy Town USA is sure to serve up an experience that will make any day a little bit sweeter.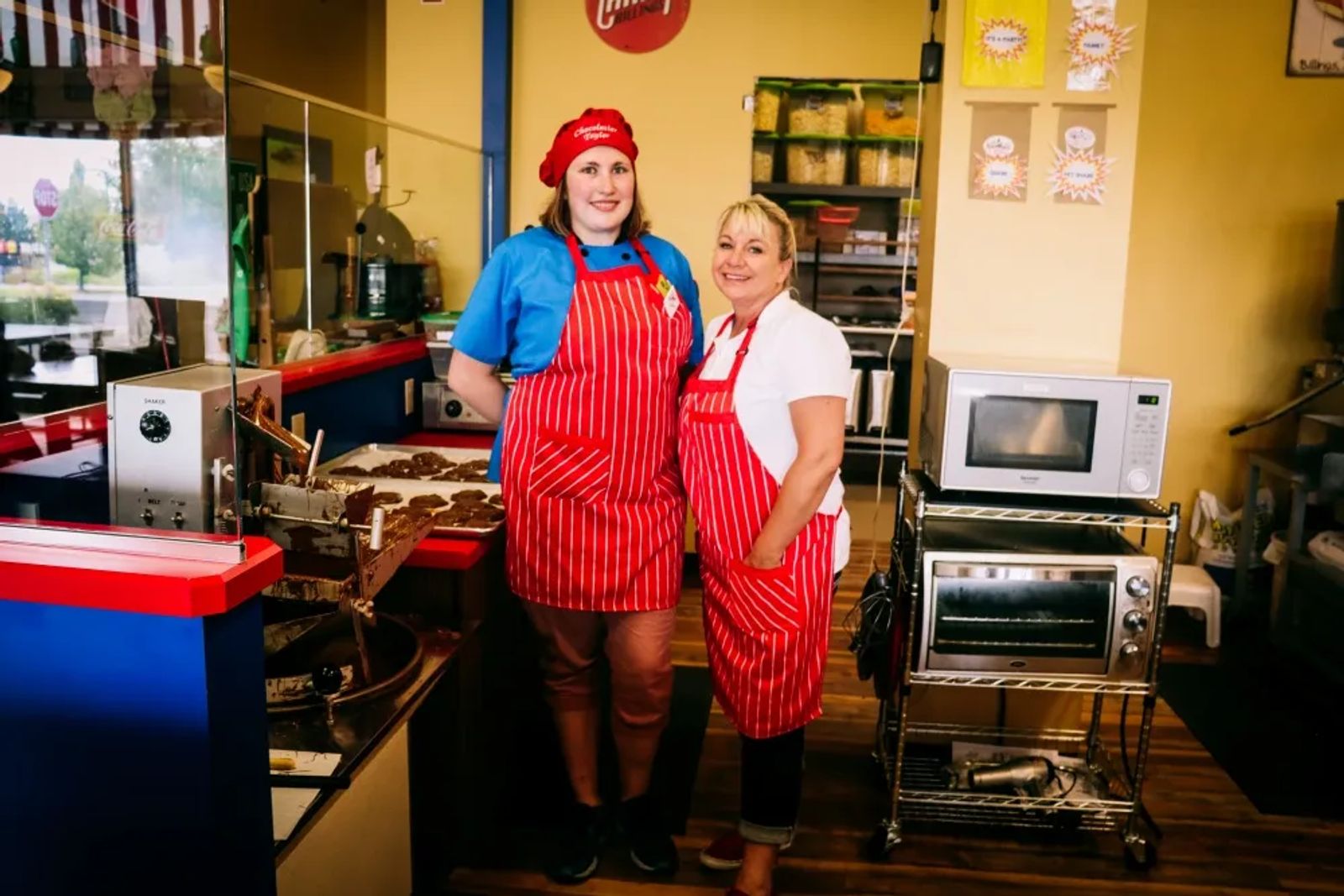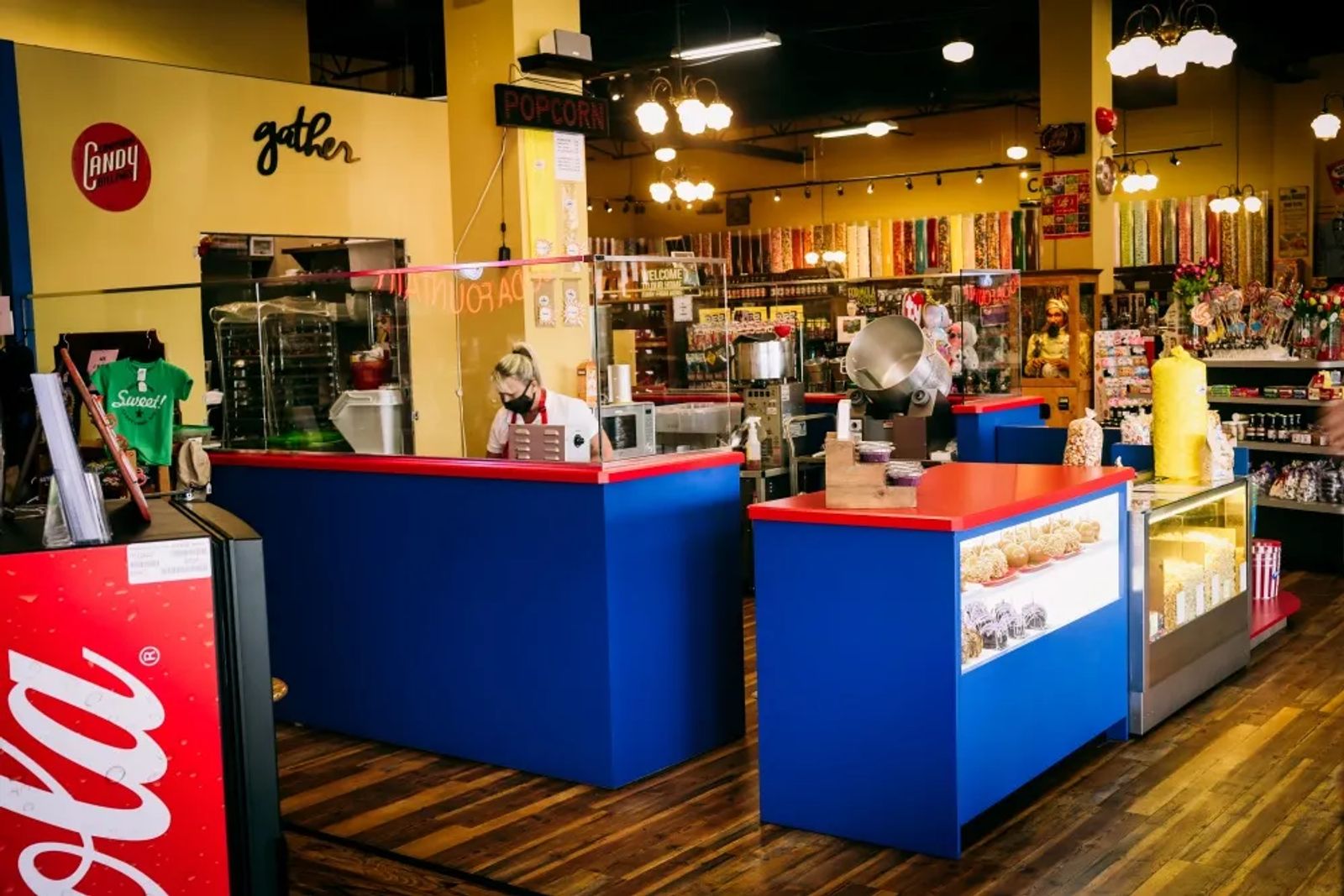 Originally printed in the September 2020 issue of Simply Local Magazine
Never miss an issue, check out SLM's digital editions here!