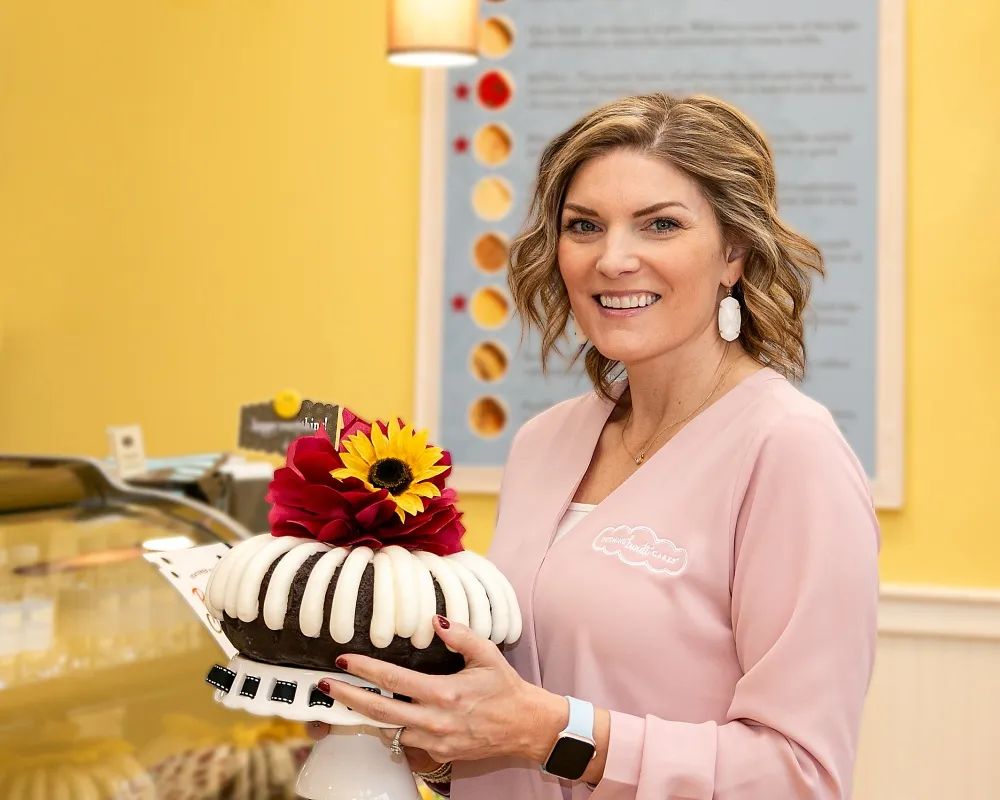 Meet the Baker: Nothing Bundt Cakes
February 2022
article & photos by renata haidle
"Every cake has a destination." -Emily Cook
Emily Cook is in the business of kindness. The moment she greets me in her bright and cheery bakery, Nothing Bundt Cakes, it is apparent that she is one of those people whose existence is meant to brighten up the lives of others. Yes, she might be a baker now, as well as a successful businesswoman, but underneath it all, she is a giver who spreads kindness wherever she goes.
Her bakery, a thriving Nothing Bundt Cakes franchise, is a recent addition to the Shiloh Crossing neighborhood. Founded in Las Vegas, Nevada, in 1997, Nothing Bundt Cakes now has more than 400 stores nationwide. Its core principles are community service and strong family values, as well as offering the best customer experience possible.
Emily's first encounter with the franchise occurred seven years ago while living in Katy, Texas, with her husband and four children. Her oldest daughter, Jaidyn, 16 at the time, applied for a job there and needed mom to give her a ride. Emily remembers falling in love with the cakes as well as the joyful atmosphere and the small "mom and pop" feel of the store." It was so cute, bright, happy, and cheery," she says. " And the cake was amazing!" Jaidyn got the job and worked there for three and a half years.
Upon relocating back to Montana, Emily kept thinking of the possibility of opening a similar bakery here in Billings. Despite having a medical background (she holds a radiology degree) and a career she loved, the thought of bringing the first Nothing Bundt Cakes to Montana was something she could not shake. Opportunity knocked when her husband made a surprise call into the franchise. The timing could not have been better, as Nothing Bundt Cakes' expansion team had just finished a case study on Montana and deemed Billings a suitable territory for opening a new franchise. Emily got an invitation for an interview, and things were set in motion.
After a year-long process, which included thorough interviews and a five-week intensive training on all aspects of the business, Emily opened her bakery in September 2021. It was an intense time of working and bonding with her closest family members, who all came to help in every capacity they could. Their four children, son-in-law (oldest daughter Jaidyn's husband), and parents helped Emily, and her husband Brett, set up and decorate the store, as well as bake the first cakes before opening day. An intense time and a happy time, solidifying the strong family ties that bond them. "It is definitely a family business, one hundred percent," she says.
Family has been an inspiration and a source of strength for Emily her entire life. When I ask who inspires her, she says: "It has to be my Grandma Mary; she had 4 boys, my dad being one of them, and she cooked and baked all the time. She lived in Arkansas, and we'd go see her quite a bit. She always had cake, and she always had a smile on her face. Whenever I think of my grandma, I think of cake and baking." She also credits the other influential women in her life, mentioning her mother and mother-in-law, equally great bakers.
Nothing Bundt Cakes offers 10 different flavors of cake. The most popular is white chocolate raspberry (also a nationwide bestseller)) followed by red velvet, chocolate chip, and lemon. There is also a gluten-free version available. They also have a seasonal flavor that changes a few times a year, like pumpkin spice for the fall months and peppermint chocolate chip for the winter holidays. The cakes come in various sizes. You can order a large tiered cake that serves 26 people, or a tiny one, called a bundtini, slightly more than one bite, and many more sizes in between. The cakes can be personalized according to the occasion, and party supplies are available to pick up in-store. The bakery also offers full-service party solutions.
If you want to go:
Nothing Bundt Cakes is located at 1027 Shiloh Crossing Boulevard, Suite 6, across from Scheels.
Originally printed in the February 2022 issue of Simply Local Magazine
Never miss an issue, check out SLM's digital editions here!