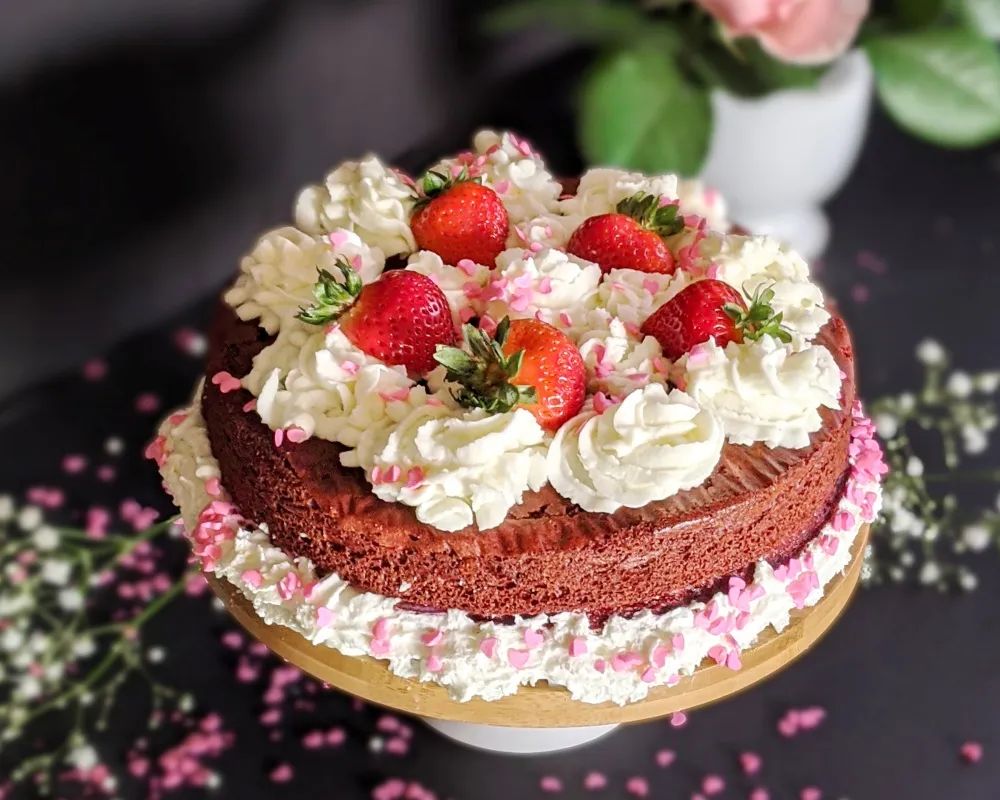 Strawberry Red Velvet Cake Recipe
February 2022
article & photos by renata haidle
Combining the discreet taste of chocolate with the freshness of ripe strawberries and just a hint of orange, this version of red velvet cake is sure to be a crowd-pleaser. This is a foolproof recipe that you can easily adapt for many other types of cake and cupcakes.
recipe: STRAWBERRY RED VELVET CAKE
Ingredients:
2 Cups coconut milk (you can substitute any plant-based milk you prefer)
1 teaspoon apple cider vinegar (or regular white vinegar)
¾ Cup granulated sugar
¾ Cup brown sugar
⅔ Cup canola oil
2 teaspoons vanilla extract
1 Tablespoon red food coloring
2 Cups all-purpose flour
2 Tablespoons cocoa powder
1 ½ teaspoons baking soda
1 teaspoon baking powder
½ teaspoon salt
1 pound strawberries, washed
8 oz cream cheese, at room temperature
½ teaspoon orange extract
1 Cup powdered sugar
8 oz whipped cream
Servings: 8-10
Directions:
Preheat the oven to 350°F
Line two 8-inch round cake pans with parchment paper and grease them lightly with canola oil.
Whisk together the coconut milk and vinegar in a large bowl, and set aside for a few minutes to curdle. Don't worry if after 5-10 minutes you see no curdles - it will turn out just fine.
Add the sugar, oil, and vanilla extract to the milk and oil mixture. Beat until foamy.
In a separate bowl, sift together the flour, cocoa powder, baking soda, baking powder, and salt. Add in two batches to the wet ingredients and beat until no large lumps remain. Do not overwork the mixture. Add the red food coloring and mix until incorporated completely.
Divide equally between the cake pans. Bake for 28 minutes or until a toothpick inserted into the center comes out clean. Transfer to a cooling rack and let cool completely before frosting.
Beat the cream cheese with the powdered sugar until creamy and smooth. Add the orange extract and mix it in. After the cake has cooled to room temperature, spread the frosting on the bottom layer of the cake. Cover the entire surface with sliced strawberries. Place the second cake layer on top, and decorate with whipped cream and more strawberries.
Originally printed in the February 2022 issue of Simply Local Magazine
Never miss an issue, check out SLM's digital editions here!