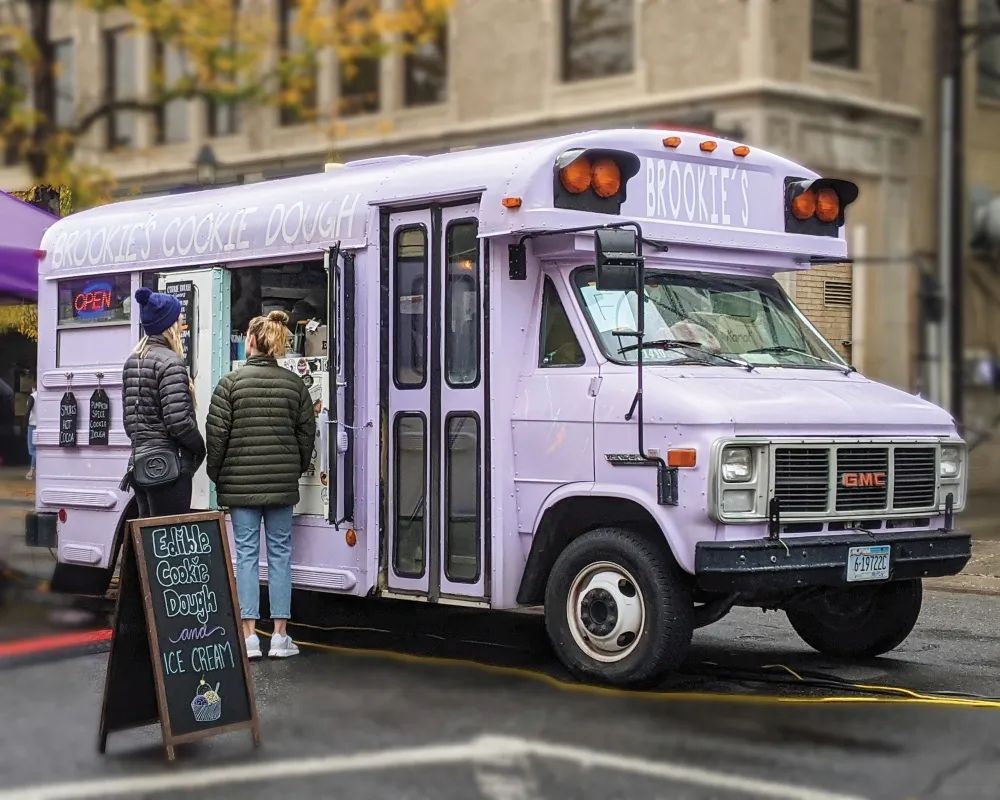 Meet the Baker: Brookie's Cookie Dough
December 2021
article & photos by renata haidle
How do you reconnect with your inner child? There are many ways psychologists would recommend. Jump around. Dance. Scribble. Act silly. Or, if you know your way around the kitchen, put on an apron and bake some cookies. Better yet, make it even more fun (and much quicker!) by getting in the car and driving to the latest location Brooke Alderman has parked her food truck. Playfully named Brookie's Cookie Dough, her business aims to do just that: reawaken the child within and put a smile on people's faces, no matter their age.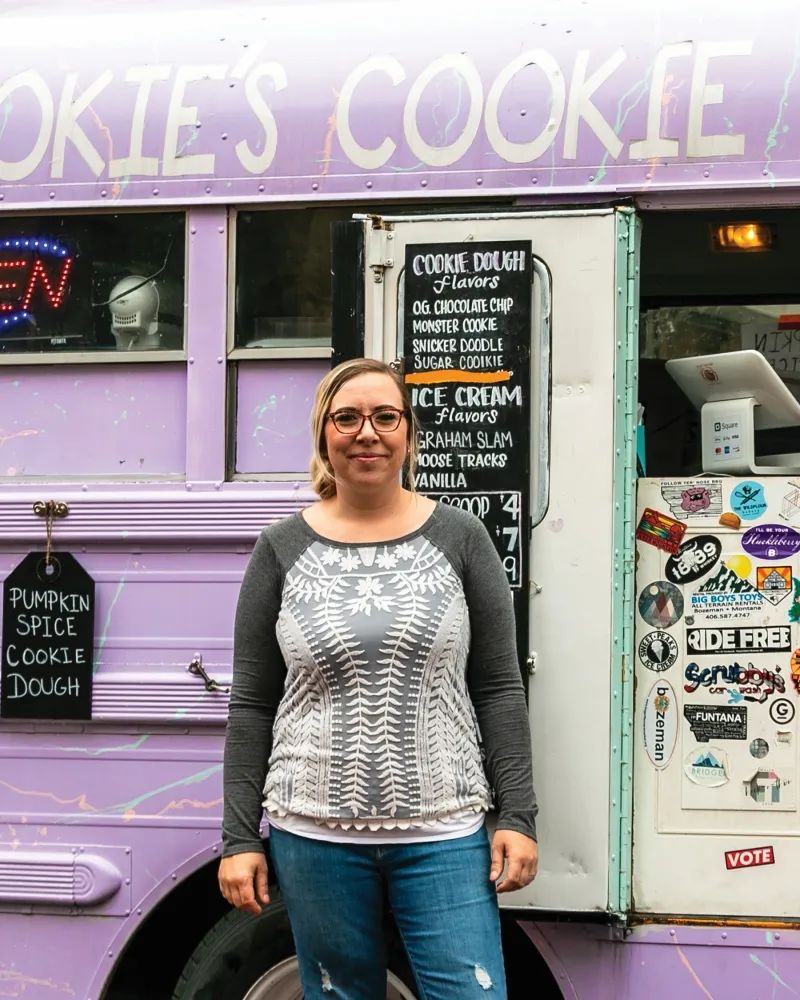 Brooke Alderman
Brooke's motivation for starting her own business is something most moms can relate to, a desire for more time with her three children and significant other. After working in the restaurant business for several years, she got to a point where juggling her job and family life became too stressful. Purchasing a food truck and becoming self-employed seemed to be the answer Brooke had been looking for, and her natural skills in the kitchen were exactly what she needed to succeed. "My passion for baking started very young," she recalls. "My grandma was always letting my brother, sister, and me help her cook and bake. Watching how food came together and knowing that you created it made food more enjoyable. So I went to culinary school after high school. I had a blast there!"
Days are still busy, with hectic early morning school runs (hello, parents everywhere!) followed by trips to get baking supplies, truck maintenance tasks, and, naturally, mixing batches of cookie dough. But now there is balance, and a sense of accomplishment and joy, thanks to customers coming back time and again. "I've had so many people tell me personal stories after they try my cookie dough," Brooke says. "Stories like this one, for example. 'I remember when my aunt would gift me a container of cookie dough for my birthday every year, and I still want cookie dough for my birthday every year!' When people tell me their stories of how my cookie dough awakens fond memories from their childhood, I know they understand my passion, and why I'm doing this. Plus, it's just such a fun and unique experience."
Driven by a desire to make her children proud and encouraged by the positive feedback she receives from customers, Brooke intends to take her business further and make her products available to more and more people around the state. With requests to bring her food truck as far as Helena, Great Falls, or Kalispell, she hopes to "spread the love of Brookie's Cookie Dough throughout the state." A brick-and-mortar store is also an option, where customers can come in and see all the flavors on offer, purchase dough and baked cookies, make their own cookie sandwiches with ice cream in the middle, and more. In addition, she is thinking of adding unusual flavors she loves, like maple bacon pecan, or pistachio. "I've been asked a few times for pistachio-flavored cookie dough. It isn't your typical cookie dough flavor but I'm determined to figure it out."
Brooke's tempting creations range from cookie dough cups topped with teddy bear cookies and mini waffles to the Sassy Monster option that comes with a scoop of Wilcoxson's Moose Tracks ice cream, peanut butter drizzle, and Oreo cookie topping. The flavors change with the seasons, and she adds new ones periodically. You can find Brookie's Cookie Dough purple truck by following Brooke on social media, where she posts a schedule of weekly locations.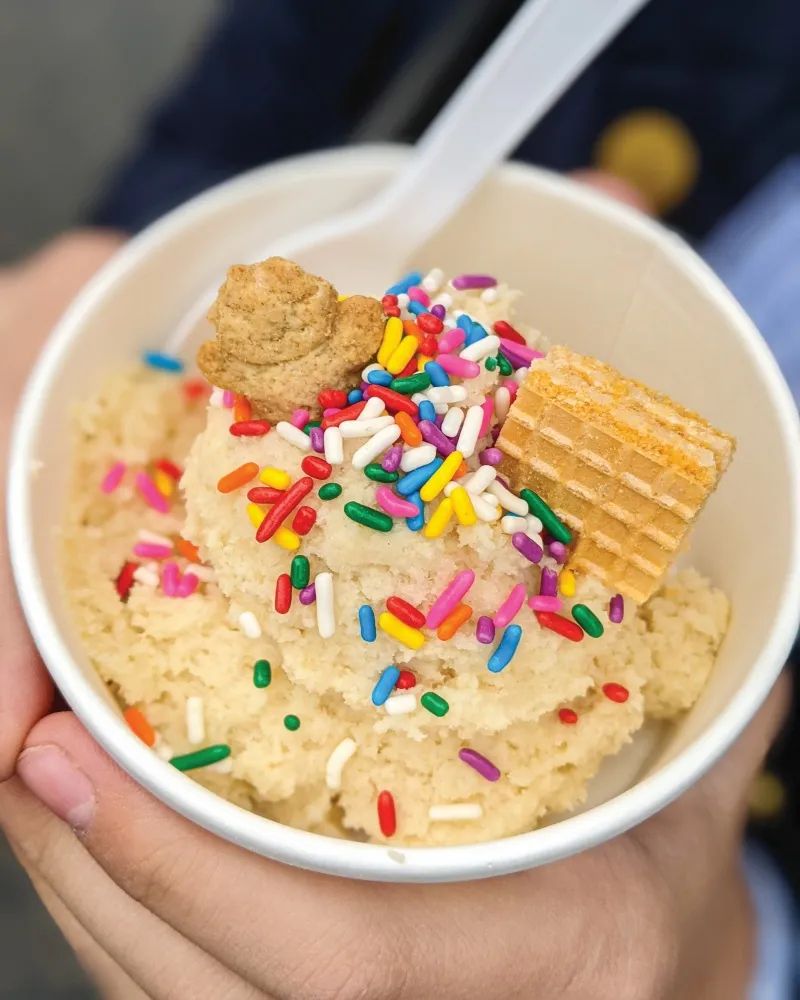 Brookie's cookie dough creations
If you have concerns about eating raw cookie dough, there is nothing to worry about. The flour is heat-treated, and the eggs are pasteurized, so there is no risk for bacterial contamination.
Originally printed in the December 2021 issue of Simply Local Magazine
Never miss an issue, check out SLM's digital editions here!