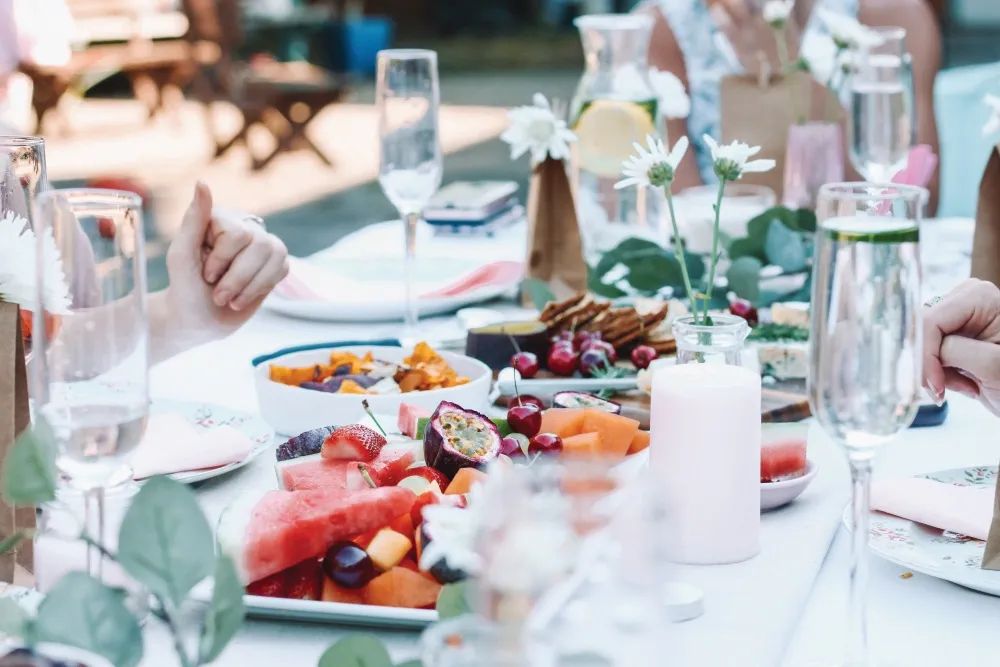 photo by Maddie Bazzocco via Unsplash
Perfect Platters: Party Food Planning Tips
March 2022
There are milestones at every stage in life. A wedding. Graduating high school or college. A new job. Having a baby. That first birthday party. The list goes on and on. And what can be more fun than celebrating with family and friends? Accomplishments feel greater when shared with loved ones, and a party is the perfect way to make long-lasting memories. 
Throwing a memorable party might seem daunting at first, but with a bit of careful planning and organization, even the most fearful of us can achieve it. We put together a few helpful ideas to guide you in the kitchen - the decorating is up to you!
Lists are your friend. Write down every step and break it down further into small tasks you need to accomplish. Thus, instead of looking at one big insurmountable problem, you are tackling things one small step at a time. 
Determine what kind of party you want. Here are some things to consider.
First, how many guests will you have? Is there a theme? Will people be sitting down around the table? Is it buffet-style? Will the food be catered, or will you make it yourself? If you are in charge of cooking, will you be making the food ahead of time, or will you have some last-minute items to prepare?
Quantity is as important as quality. No matter how good the food is, it also has to be sufficient for your party to succeed. These tried-and-true guidelines will help you calculate how much food you need.
One pound of food per adult, half a pound per child
If serving appetizers only, calculate 5-8 pieces per person, per hour
When serving food buffet-style, estimate slightly under a pound per person, as people tend to eat a bit less at this type of gathering
For leafy green salads, allow 1 cup per person
If serving pasta/potato/rice salads, one gallon should feed 20-25 people
For dessert, allocate one slice of cake or pie per person. For reference, a 9-inch round cake will feed 10-12, and a pie, 6-8 guests.
Do not forget the drinks. Three bottles of wine should be enough for every 4 guests. If it is a cocktail party, allow 2-3 cocktails per person every 2 hours. 
When estimating quantities, always round up, not down.
What's on the menu?
This will vary depending on the theme and size of the party and your food preferences. Charcuterie boards are always a popular option. Haley White, owner of Better Together Charcuterie, offers a few expert tips for assembling a board: "I like to account for at least five slices each of meats, cheeses, and crackers per person and then fill in the space with other goodies - fruits, veggies, nuts, pretzels, dips, and sweets," White says. "For larger crowds, like an office party or graduation celebration, having an exact headcount (if possible) and prepping foods ahead of time is a must. Fold the salami and sliced cheeses. Wash and dry all your fruits and vegetables; cut and store them until it is time to set up. Give yourself 60-90 minutes to set up before guests arrive. That way, the food is as fresh as possible before the party begins." 

photo by Megan White
Food Safety
A critical component of a successful party, this should not be overlooked. Ensure that you have proper storage space for perishable foods. Keep hot items hot and cold food, well, cold. If you serve dishes made the day before, make sure you reheat items properly. Keep a list of what goes on the stove, oven, microwave, or refrigerator. Supply enough serving utensils to prevent food cross-contamination. If any of your guests have food allergies or intolerances, a label with ingredients for each dish will remove the stress out of figuring out what they can safely eat. 
Final thoughts
The more people you entertain, the simpler the food should be. Plan all your steps in advance and keep track of accomplishing them. If there is work you can delegate, do that. Enlist the help of family and friends for various tasks. If you are brand new at throwing a party, start small with a few people you know well. Do not attempt to cook new dishes right before the party. And remember one last but very important thing: you are supposed to enjoy the party, as well.
Originally printed in the March 2022 issue of Simply Local Magazine
Never miss an issue, check out SLM's digital editions here!