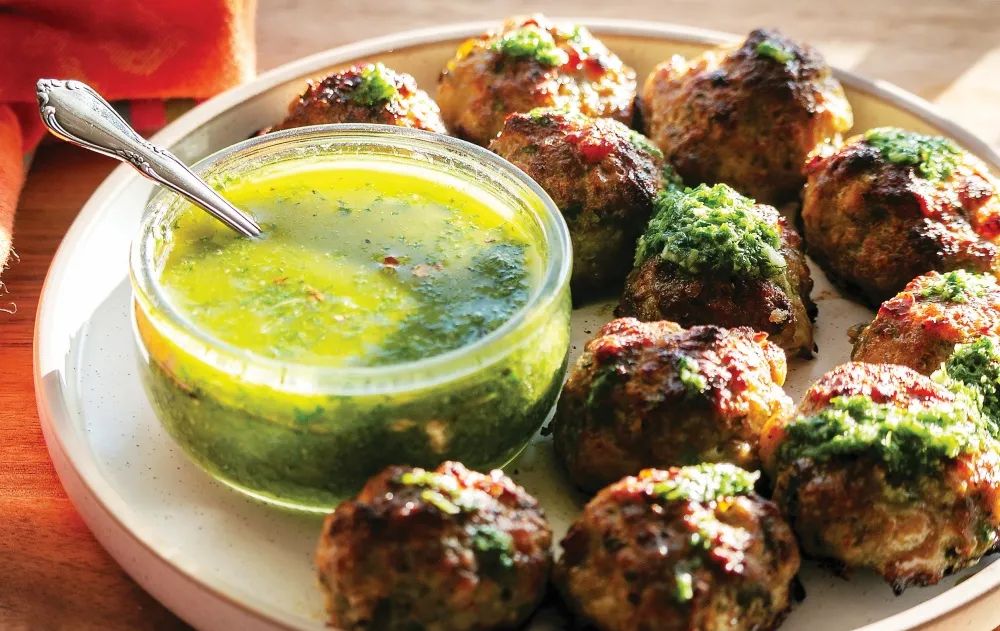 Mini Meatballs with Chimichurri Sauce
March 2022
article & photos by renata haidle
These mini meatballs make an excellent party appetizer: simple, quick, and delicious. They are equally delicious added to lunch or dinner - think topping salads, pasta, rice, or mashed potatoes with a few of them for a satisfying meal. They can be made one or two days ahead of time and kept in the refrigerator until needed. Chimichurri originates from South America, widely used as a condiment. It is a parsley-based sauce with bright and tangy notes, making it a perfect companion to steak and other grilled meats.
Ingredients
For the meatballs:
1.5 lb ground pork
½ large sweet onion, chopped fine
1 small bunch parsley, chopped fine
1 large egg
2 slices bread
1 Cup milk
1 teaspoon salt
½ teaspoon black pepper
Makes 35-40 meatballs.
For the chimichurri sauce:
1 bunch parsley, leaves only
¾ Cup olive oil
¼ Cup white vinegar
2 cloves garlic, roughly chopped
½ teaspoon salt
¼ teaspoon black pepper
⅛ teaspoon red pepper flakes
Directions
Preheat the oven to 400F and line a baking tray with aluminum foil.
In a large bowl, mix the ground pork with the onion and parsley. Lightly beat the egg with salt and pepper, and add to the meat mixture. Briefly soak the slices of bread in milk, squeeze out the excess moisture, and add the bread to the meat. Mix everything well.
Form small balls (about 1-inch diameter) and place on the baking tray.
Bake at 400F for 30-40 minutes, or until brown and crispy outside. The internal temperature measured with a meat thermometer should read at least 160F.
Let cool for 5-10 minutes before removing them from the tray.
To make the sauce, place all the ingredients in a food processor and blend until homogenized, about 30-45 seconds. The sauce will keep for about a week if refrigerated in an airtight container.
Originally printed in the March 2022 issue of Simply Local Magazine
Never miss an issue, check out SLM's digital editions here!