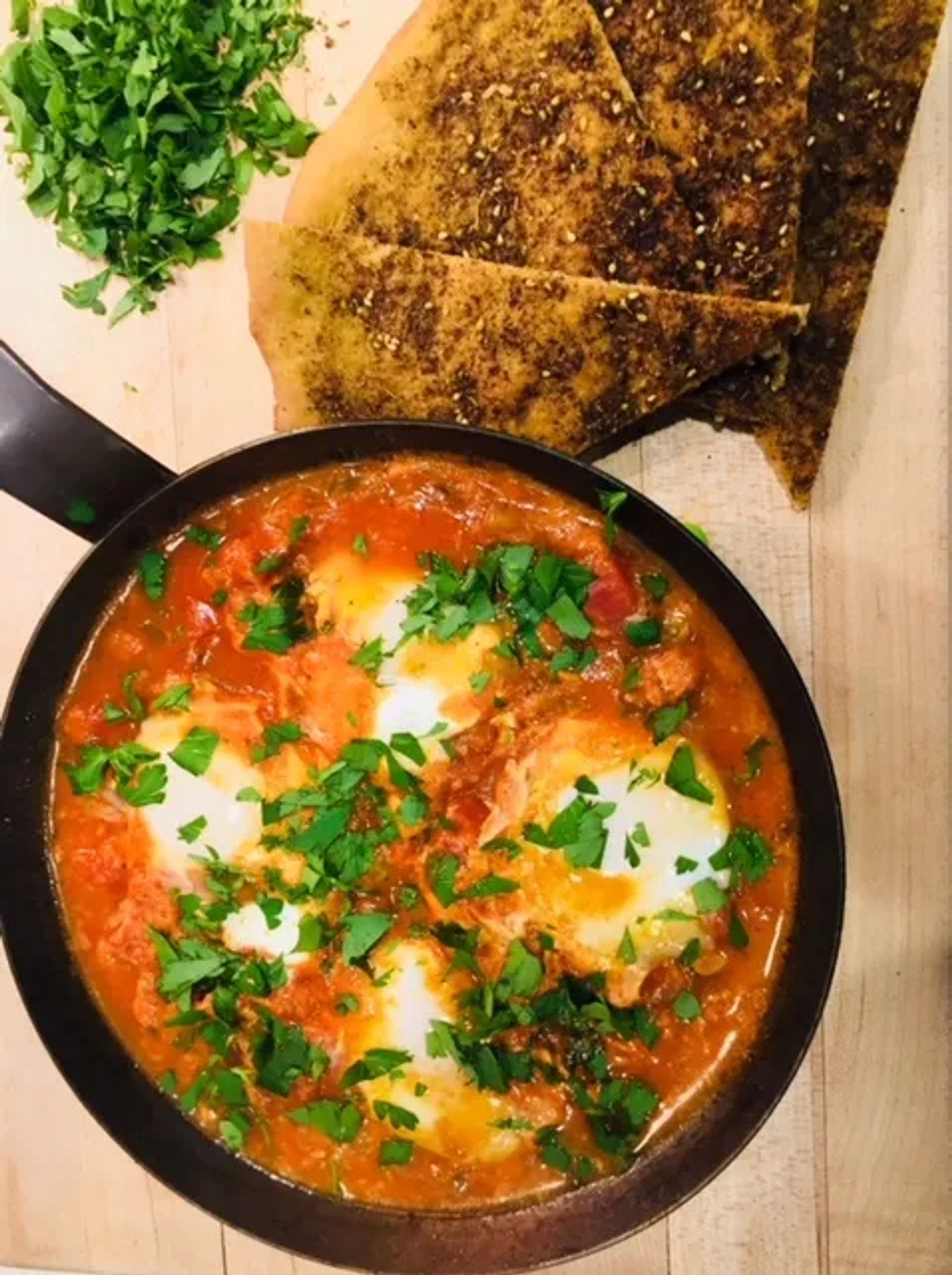 Heart Healthy Recipe: Shakshuka
February 1, 2020 | by chef bill jensen
Shakshuka, (shack-SHOO-kah) the coolest sounding (hip and healthy) breakfast you should be making this weekend!
Since the Mediterranean Diet covers so many different regions and cultures, it's hard to define what a Mediterranean breakfast is or looks like. If it's a workday, then it's usually a quick savory meal that's vegetarian, like whole-grain toast or leftover cooked grains with fruit, yogurt with a drizzle of honey, or hummus, and maybe a few nuts.
On the weekends, when there is more time and more people home, the meal may take on more variety, including proteins like eggs or small servings of cheeses along with flatbreads, pita, fruits, and vegetables; yes, vegetables for breakfast!
Here is a way to take a few eggs and some pantry staples and turn them into a hearty, healthy breakfast that is nutritious and satisfying, not to mention cool sounding and easy to make.
Shakshuka
From the kitchen of chef Bill Jensen (Adapted from https://www.themediterraneandish.com/shakshuka-recipe/)
This dish has North African roots then made its way through the Middle East and is now showing up on menus across the US! Perfect for a laidback Sunday Brunch.
Ingredients:
Serves 4
½ Red onion, chopped
1 Green bell pepper, chopped
1 Clove garlic, smashed and chopped
1 Teaspoon ground coriander
1 Teaspoon paprika
½ Teaspoon cumin
Salt and pepper
1 15 Ounce can diced tomatoes and their juice
¼ Cup tomato sauce
½ Teaspoon sugar
4 Large eggs
¼ Cup chopped Italian parsley
¼ Cup fresh mint leaves, torn
Directions:
In a large skillet heat 2-3 TBS olive oil, add the onions, garlic, peppers, spices, salt, and pepper and cook until vegetables soften (about 8 minutes).
Add the tomatoes, tomato sauce, and sugar, simmer 10-12 minutes. Make 4 small "wells" in the pan sauce, crack each egg into a smaller bowl, then gently set into the wells, lower the heat, cover the pan and cook just until the whites set, 4-6 minutes.
Uncover the pan and top with the fresh chopped parsley and mint. Serve hot with crusty bread and fresh-cut fruit, and enjoy!