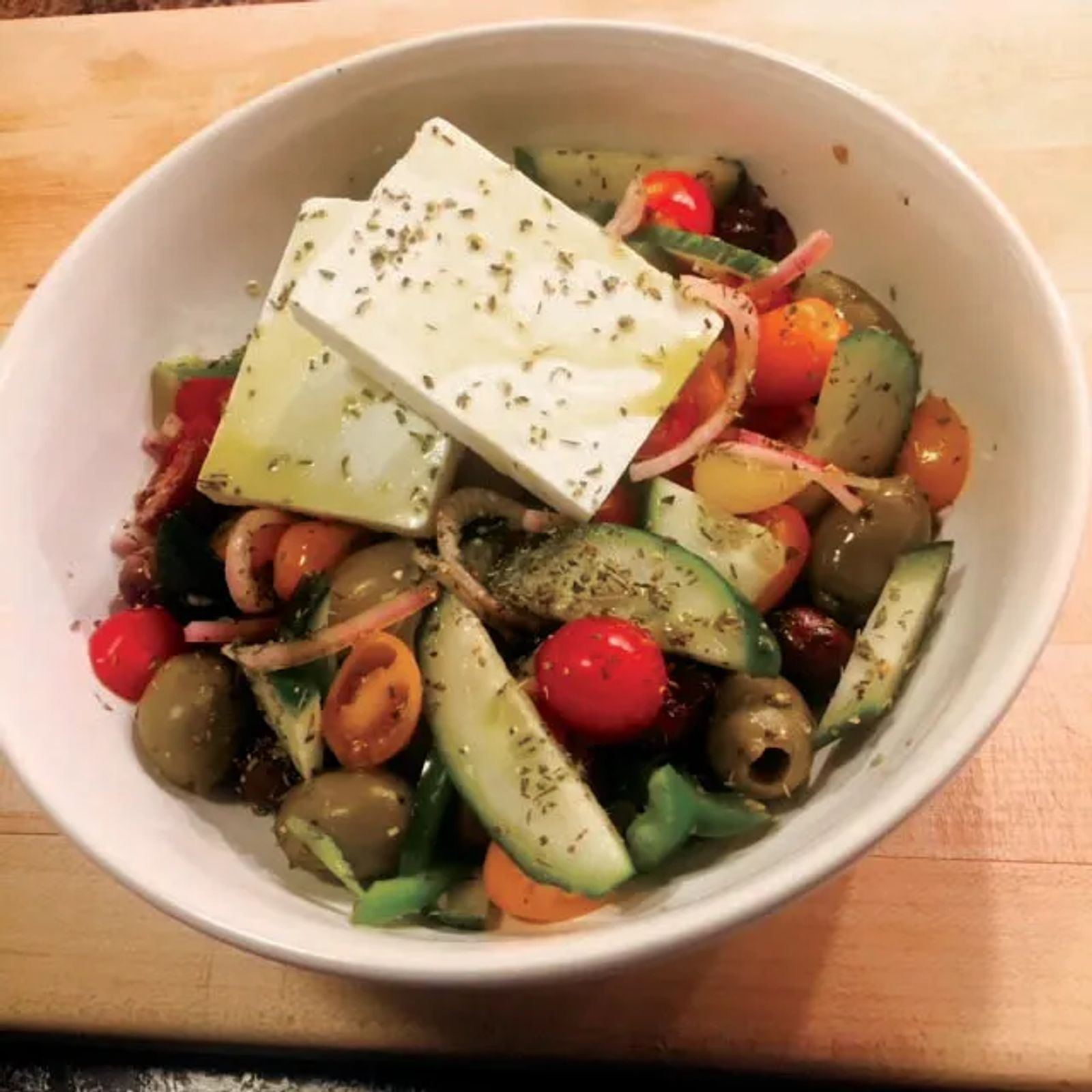 Authentic Greek Salad Recipe
February 1, 2020 | from the kitchen of Chef Bill Jensen
Adapted from the author Elena Paravantes, award-winning Registered Dietitian Nutritionist and Writer and THE Mediterranean Diet Expert. https://www.olivetomato.com/
An authentic recipe for the famous Greek Salad: good quality tomatoes, crisp cucumber, sharp onion, green peppers, Kalamata olives, olive oil, and of course, feta make up this famous summer salad.
This authentic recipe from Elena Paravantes shows the simplicity and nutritional power of the Mediterranean Diet. This salad has 'rules' that make some clarifications and corrects some misconceptions:
There is no lettuce or any other leafy greens in the salad, no croutons or 'Greek Dressing'... it is not mixed before it is served, the feta is not diced but left in a large slice on top of the salad, the tomato and cucumber should be cut in larger pieces, olives are added whole, not sliced, the salad is served with bread, not pita, in a shallow bowl, not a deep bowl, and uses the best ingredients available that are cut fresh.
2-3 tomatoes
1 medium cucumber
5-6 Greek Kalamata black olives
1/2 small red onion
1/2 small green bell pepper
1 chunk of feta about 2 to 3 ounces
Extra virgin olive oil
Oregano
Red wine vinegar
Salt
Instructions:
Cut the tomato in wedges-do not cut in cubes. If the tomato is large, cut wedges in half.
Peel the cucumber and cut in slices that are about ½ inch thick, you may cut the rounds in half.
Slice onion and green bell pepper in thin slices.
Put tomatoes and cucumbers in a shallow bowl and combine them. Place the thinly sliced onion and pepper on top. Add the olives. Sprinkle with oregano.
Drizzle with some olive oil and a splash of vinegar. Add some salt to taste.
Place a piece of feta on top and sprinkle the feta with oregano and another drizzle of olive oil.
Serve with a wedge of crusty whole-grain bread.
Notes
You can also add capers.
I do not usually measure out the oil, but if you are, just use the ratio 2:1 for the olive oil and vinegar. Don't skimp on the olive oil, you don't want it to be drowning in it, but the salad should be coated in the oil.
Originally printed in the February 2020 issue of Simply Local Magazine
Never miss an issue, check out SLM's digital editions here!