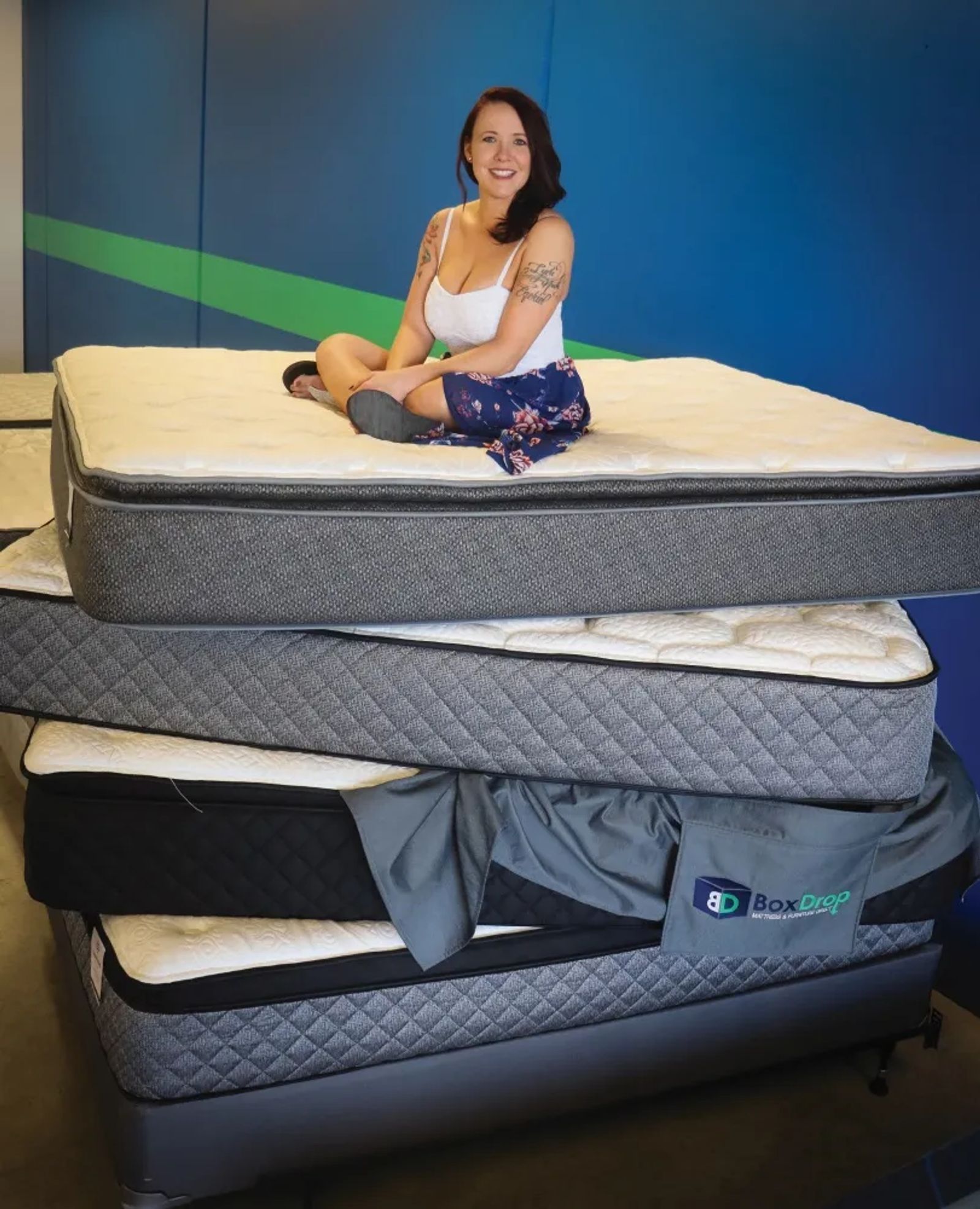 Once Upon a Dream: Boxdrop Billings
November 2020 | by brooke wagner | photos by holly netz
"Once upon a time…" or so begins the 19th-century fairy tale by Hans Christian Anderson. He goes on to weave a story about a princess who appears one stormy night, requesting shelter and a place to sleep. The castle's queen isn't convinced her new guest is a princess, so she decides to put her to the test. At the bottom of a stack of 20 mattresses and 20 down comforters, the clever queen places a tiny pea. After a fitful night's sleep, the princess declares she slept horribly and was troubled by a lumpy bed. The queen declares that no one except a real princess would be so sensitive. Naturally, her son (the prince) and his new bride live happily ever after.
Carly Sease is living out her version of this fairy tale, complete with a warehouse full of mattresses and comfy bedding. As the owner of Boxdrop Billings, she delights in helping customers find the right mattress for their budget and health. Sease says, "Ideally, we spend 1/3 of our lives in our bed. A good night's sleep can be hard to find! It reduces stress levels, joint pain, inflammation, sleep apnea, snoring, and back pain. It will also improve your mood, lower your risk of diabetes and heart disease, and impact your overall day to day performance." Most people underestimate the impact a quality mattress can have until they get a chance to see what Sease has to offer. 
Sease didn't originally intend to make a career in mattress sales. As a full-time RN in the Billings Clinic NICU, the busy mom of three accepted an offer from the previous owner of Boxdrop Billings to help out with marketing. She found the industry to be more lucrative than she imagined and purchased the business for herself in 2016. Although a bit low on capital to get the company off the ground, Sease combined ingenuity with determination and rented a 500 square foot storage unit on the west end to store the mattresses. Following a 12 hour night shift, Sease would sleep and wake up a few hours before her next shift began to sell between 3-4 mattresses a day. She remembers, "I loved meeting new people, and I decided to quit my [nursing] job and focus primarily on the mattress business." The freedom of being able to make her own schedule and spend more time with her family was a huge selling point for Sease, who says, "Boxdrop has allowed me to provide for my family more efficiently, and my relationship with my children has improved as I am a more present parent in their lives."
Boxdrop Billings isn't your average "big-box" mattress store. Family owned and operated; they work solely out of a warehouse. Keeping the overhead low means more savings passed on to the customer, and with 16 different name-brand models, the only thing sacrificed is the cost. Most mattresses sell for 50-70% off the retail price. Sease meets people by appointment, allowing for social distancing and a more intimate shopping experience. "When customers come in, I spend time learning about their needs. This way, I can guide them rather than sell them. My goal is to make people feel at home, so I simply ask them a few questions and then walk away, letting them lay on all of the beds. This way, they can pick out what's best for them." Her model must be working, as she estimates that 30-40% of her business is based upon referrals and repeat business. People come back not only because of the great prices, but also the personalized buying process.
Although she left her nursing career behind, helping people remains one of Sease's passions. Throughout the year, she supports her local community, donating mattresses to families in need through various non-profit organizations. She says, "One of my favorite groups is the Youth Empowerment Program (YEP), which I donate to every Christmas for their annual fundraiser. They help disadvantaged youth with funding for extracurricular school activities such as soccer, football, softball, music endeavors, tutoring services, and many others. Another local business owner facilitates this program, and every year they go above and beyond to organize family friendly parties at The Spot Event Center." She also gives out referral gift cards, rotating between different local businesses to support the Billings community as a whole.
Boxdrop is truly a family affair. Sease's daughter helps with inventory when new shipments come in and the general organization of the warehouse. Her son pitches in with unloading the trucks, and her boyfriend handles the deliveries throughout the Billings area. When she needs some well-deserved time off, her cousin takes over appointments and keeps things running smoothly. From its humble beginnings in a 500 square foot storage unit to occupying an entire warehouse in the Pierce flooring building, Boxdrop mattress is more than just a place to buy a comfy bed. Royalty and commoners alike are sure to find something to send them off to dreamland - no sandman required!
Originally printed in the November 2020 issue of Simply Local Magazine
Never miss an issue, check out SLM's digital editions here!