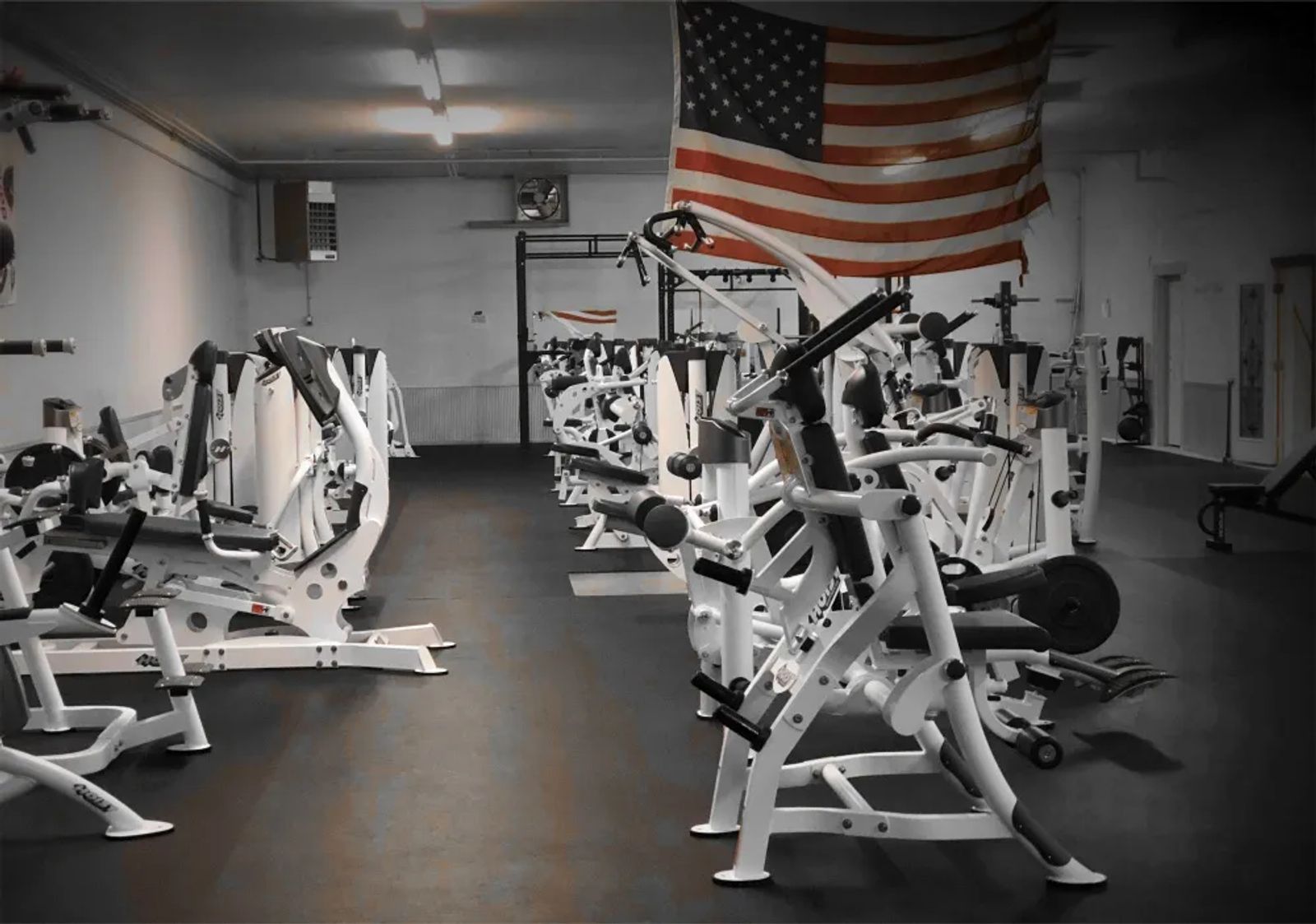 Care, Concern, and Camaraderie for Veterans
November 2020 | by ashlynn reynolds-dyk
Upon entering the doors with their patriot-colored photo graphics, you will be immediately greeted by two friendly white retrievers and smiling trainers and staff who are excited to welcome you to their unique gym. Adaptive Performance Center (APC), located at 1420 Broadwater Avenue, is a gym and organization whose mission includes serving disabled veterans to help them improve and maintain as much independent, active living as possible.
Experiencing and realizing first-hand the benefits of physical activity for chronic pain, depression, and more, co-founders Karen Pearson, MS, LCPC, CPT, and Mitch Crouse, BS, CPT, created a fitness environment that allows veterans to feel a sense of normalcy and strength, as they work to improve their bodies and minds. Among the many things that set this gym apart from others is that it is only for military members - past and present. This provides a sense of belonging among a group who "gets it" (Pearson) - it creates an atmosphere of care, concern, and camaraderie.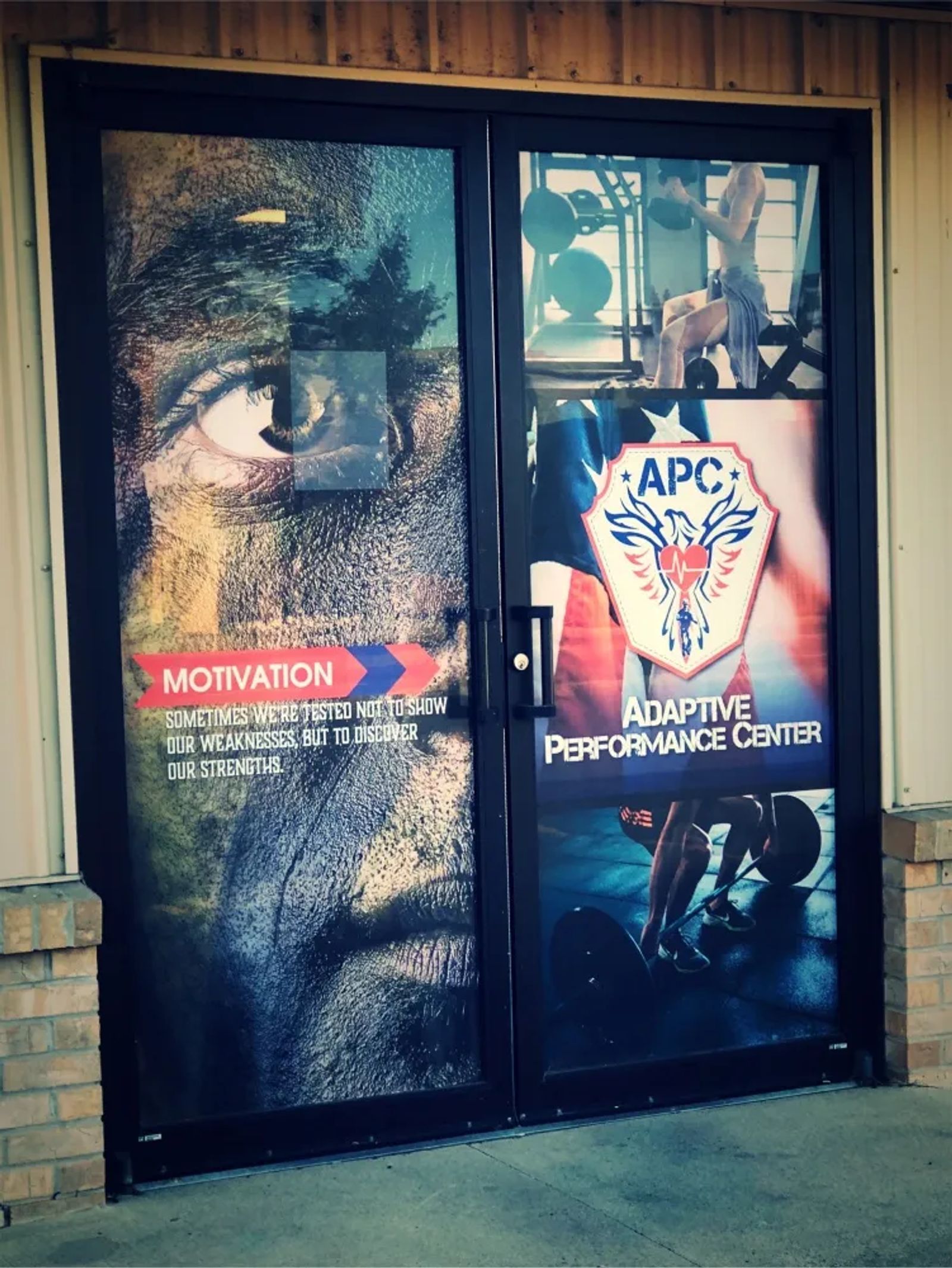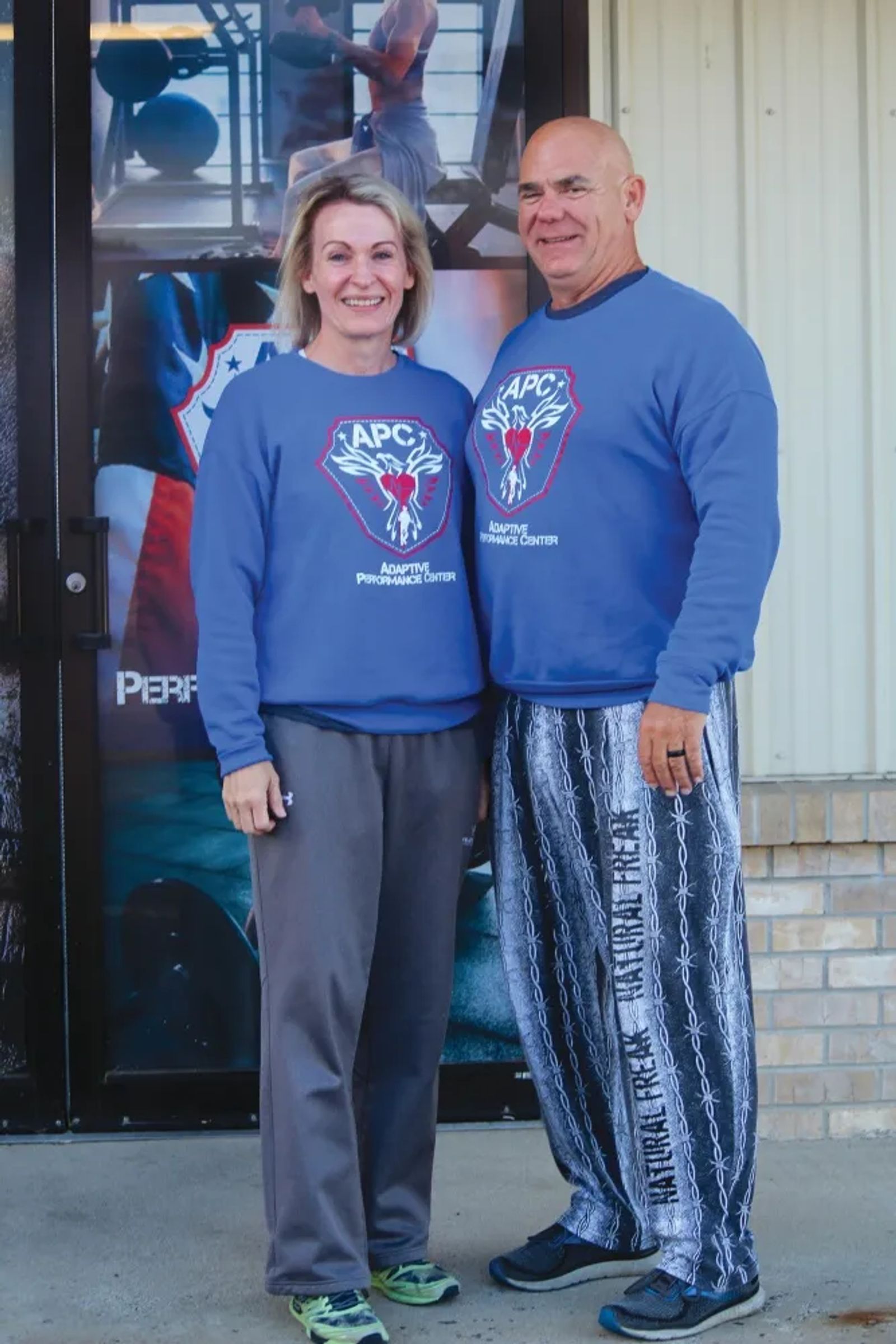 APC is packed with various free weights, weight machines- including Hoist Roc-It equipment (which is a type of equipment that "adapts" to the people who use it), a yoga studio, and more. Members can take classes, join boot camp, do high-intensity interval training, receive personal training, or simply work out independently. This physical activity, combined with the supportive atmosphere, helps to relieve chronic pain, anxiety, depression, symptoms related to PTSD, and so much more. Given the atrocious and rising number of veteran suicide rates (veterans make up only 9% of the U.S. population yet make up 20% of the total number of suicides in the U.S. each year), this is unacceptable. Helping improve our veterans' physical and mental health equates to individuals who can return to a specialized workforce and normal social activity, including civilian life and partnerships. This, of course, contributes to bettering the overall health of our community and society.
Information for Veterans and Military Members:
Monthly membership is $19.95, but if you need help with this, there are scholarships and sponsorships available—nobody is turned away for inability to pay
Open only to military (all service branches)
Take classes, receive one-on-one training, or work out on your own
Information for the Public and How you Can Help:
Get the word out: If you know of a veteran or active military member, let them know about APC. Let others who have connections to veterans and members of the military know about APC. Follow APC on Facebook and other social media; share their posts.
Make a Vet Sweat- sponsor a membership through a monthly or annual donation.
Become a Donor or Investor: Participate in fundraisers, add to your Amazon Smile account, purchase merchandise including locally-produced supplements and athletic apparel, donate or help purchase equipment, or donate to help with continuous improvements to the facility.
Adaptive Performance Center is a 501c(3) organization. You can learn more about APC or donate to the organization by visiting their website, https://adaptiveperformancecenter.org/.
Pearson notes that there are 13,000 veterans in Yellowstone County alone. This means that 10% of the population in Yellowstone County are veterans, which is higher than in other parts of the country.
Follow APC's weekly member stories posted on Facebook. Here is Tom's Story:
Since joining APC a few months ago at the strong urging of his daughters, U.S. Marine Corps veteran Tom Angel has made gains "by leaps and bounds" at the Billings gym.
"The man lifts four days a week, without fail," said Mitch Crouse, APC's co-founder. "He's gone from an 80-lb. leg press to 380. He went from not riding a stationary bike to riding every day. "He has outdone all expectations we had of him." Seventy-one years young, Tom lifts weights, bikes, and takes yoga classes at the center. On Wednesdays – the only weekday he's not at APC – he rides a horse as part of equestrian therapy at Horses, Spirits, Healing, Inc.
"I want to stay healthy and maximize what my body is capable of doing," he explained.
Tom served in the Corps' infantry and heavy weapons from 1967 – 1970, including two Vietnam tours. Since then, he has lived in Billings and ran his own trucking business until he retired in 2008. Tom says working out at APC has benefits far beyond improved physical health. "If a person is depressed, this is a great outlet," he noted. "It's a great place to have fun." However, he'd like to find a veteran or two with the mettle to make it through a workout with him. "Nobody wants to exercise with me because they think I do too much weight for my age," he laughed. "I can push 380 pounds on the leg press – the full stack."~Adaptive Performance Center
Originally printed in the November 2020 issue of Simply Local Magazine
Never miss an issue, check out SLM's digital editions here!