On Parade: The Nines: Custom Homes Done to Perfection
October 2023
by maria weidich | photos by nathan satran
While most homes featured in the Billings Parade of Homes charm prospective homeowners with their colossal size and extravagant features, their corresponding price tag can be just as astounding.
General Contractor Conner Bokma agreed, "They're fun to look at, but they're often unrealistic for many buyers." That's why CB Built, co-founded in 2022 by Conner, Jim and Kelly Coleman, wanted their first Parade Home to be attainable to many homeowners. "We want to give them a sense of who we are and highlight what we can do on a small footprint," Conner said.
Located in The Nines subdivision in West Billings, the home's desirable neighborhood, well-designed floor plan, and notable finishes showcase CB Built's ability to deliver a home that appeals to many. "The goal was to build a home in The Nines with a one-level floor plan that's easy, efficient, and enjoyable to live in," Conner said. The modest 2,600-square-foot luxurious and low-maintenance home is perfect for any homeowner looking to downsize but not downgrade.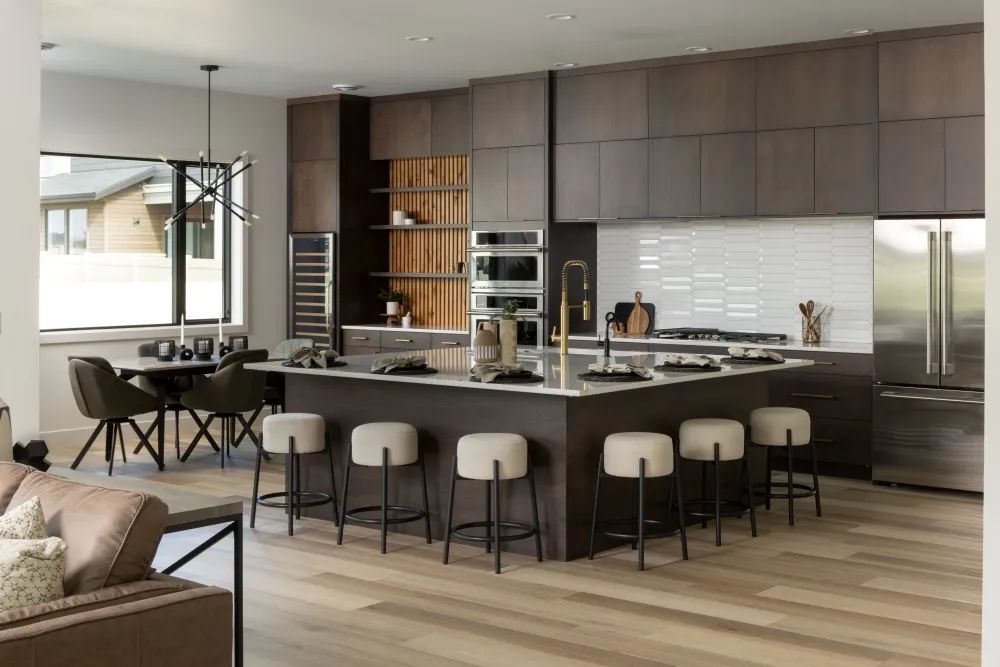 "There's a lot of wow factor right when you walk in the door," Conner said of the home's entrance. The 8-foot by 8-foot island comfortably seats 10 people and is easily the kitchen's focal point. "It really feels like a dining table," Conner noted of its massive size, "and it's a showpiece of the home."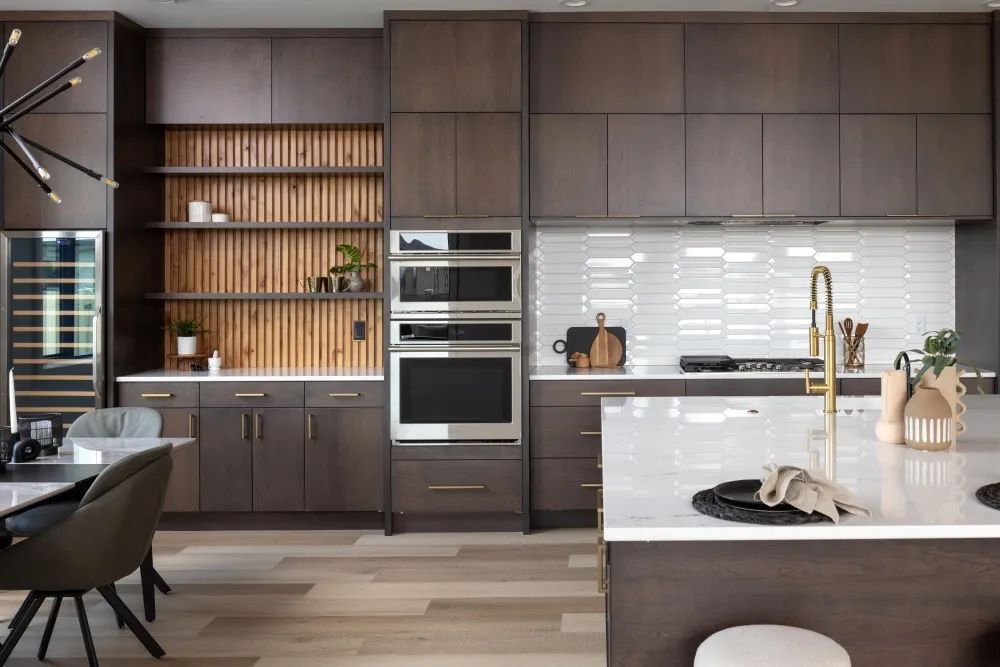 The luxe design of the kitchen gives the illusion it's a larger space than it is. Furnished with a 25-foot wall of cabinetry, Parade-goers may notice the unique approach to the one-wall kitchen. "It's certainly something different," Conner said of placing all the cabinets and appliances on a single wall. "We're not getting rid of any cabinet space, just laying it out differently. This provides use of the appliances a little more efficiently, as it's easy to go from the fridge to the island, to the cooktop, etc."
Rivaling the spacious kitchen is the home's cold rolled steel gas fireplace. "It's the heart of the home, and we put a lot of time into our fireplace," Conner said of the floor-to-ceiling unit. "It has an industrial and modern look, with no mantle and a very clean case," Conner added. With a floating and illuminated hearth, the passive heat exits near the ceiling, allowing the fireplace itself to remain cool and safe to the touch.
Entertain with Ease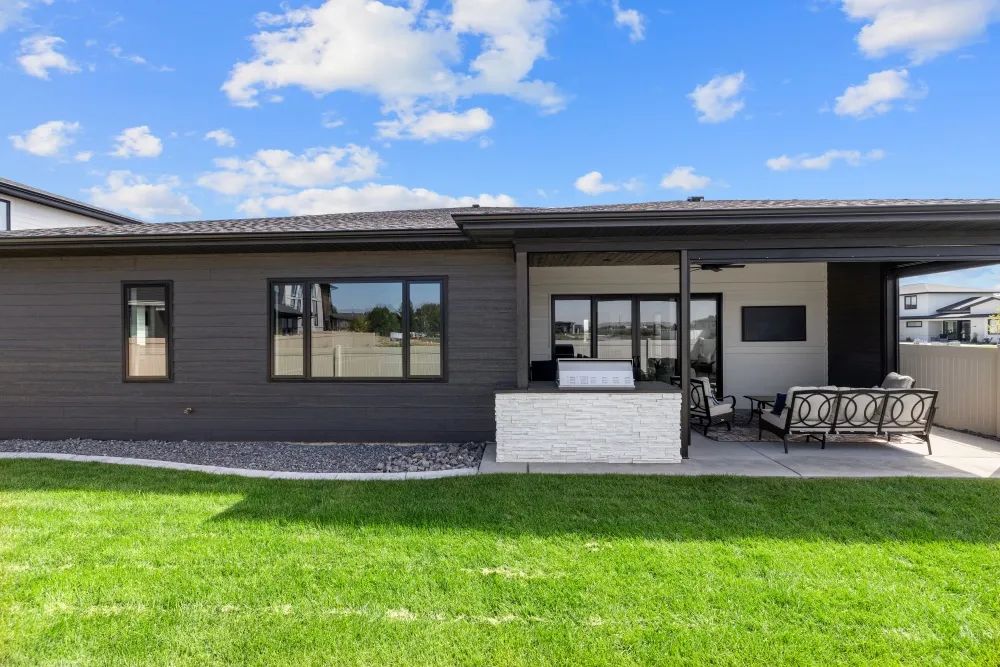 With the help of the home's extra-large 12-foot-wide slider door, homeowners can easily blur the lines between inside and outside and expand their living space to the outdoors. "It's just a wonderful space," Conner said. "You really can flow from the kitchen to the patio effortlessly for entertaining."
The patio is equipped with motorized blinds that can be adjusted with the touch of a button to provide solitude and shade. "They provide extreme privacy from inside but allow you to still see out," Conner added.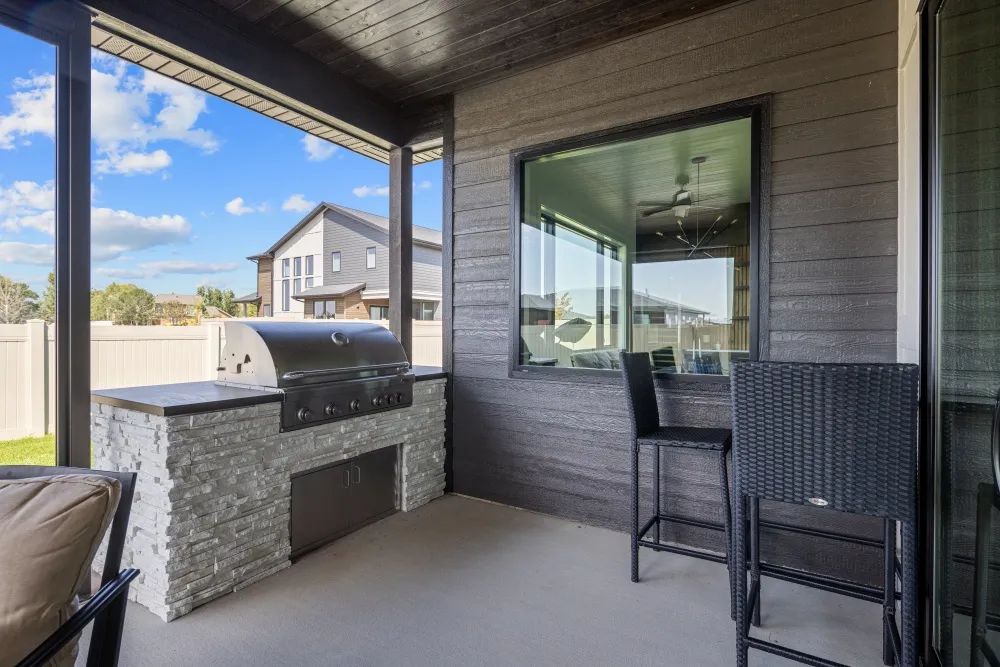 Combined with the built-in BBQ grill, outdoor patio fan, and a space wired for an outdoor TV, the outdoor living area is functional, flexible, and an extension of the home.
Walls that Wow
Many rooms throughout the home greet you with visual interest through unique accent trim work and wall molding, proof that small details make a significant impact.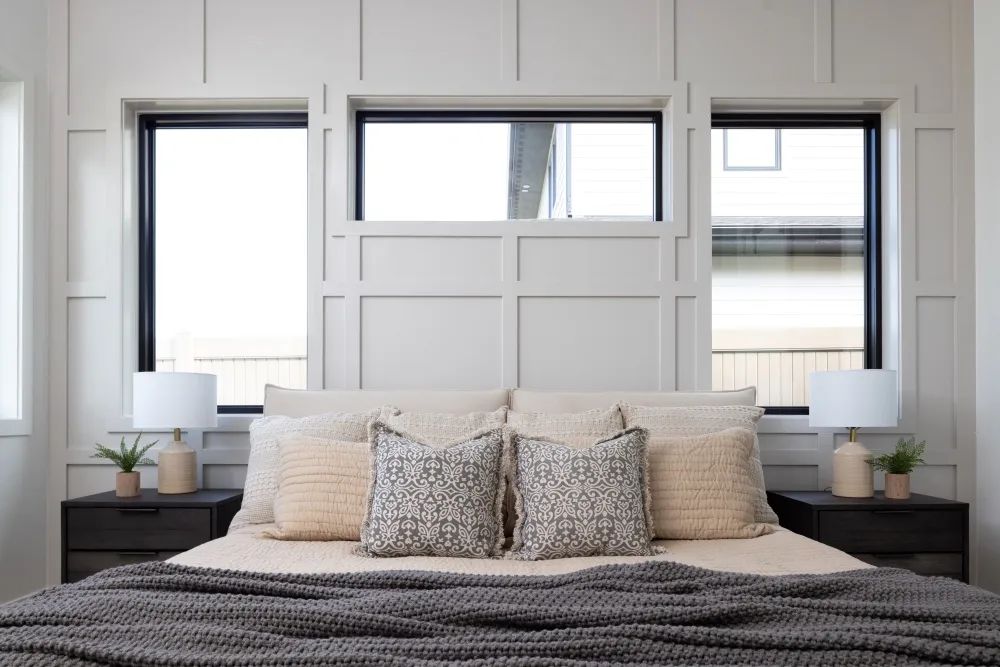 Wall trim in the primary bedroom creates a unique, statement-making focal wall.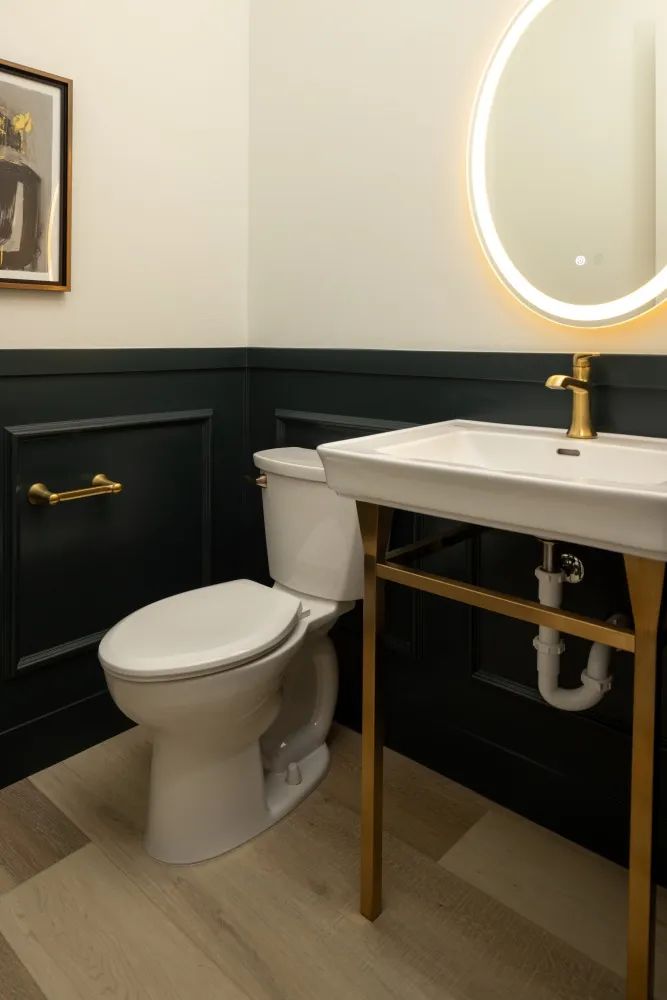 The powder bath is a showstopper with brass accents and picture frame molding on the lower half of the walls.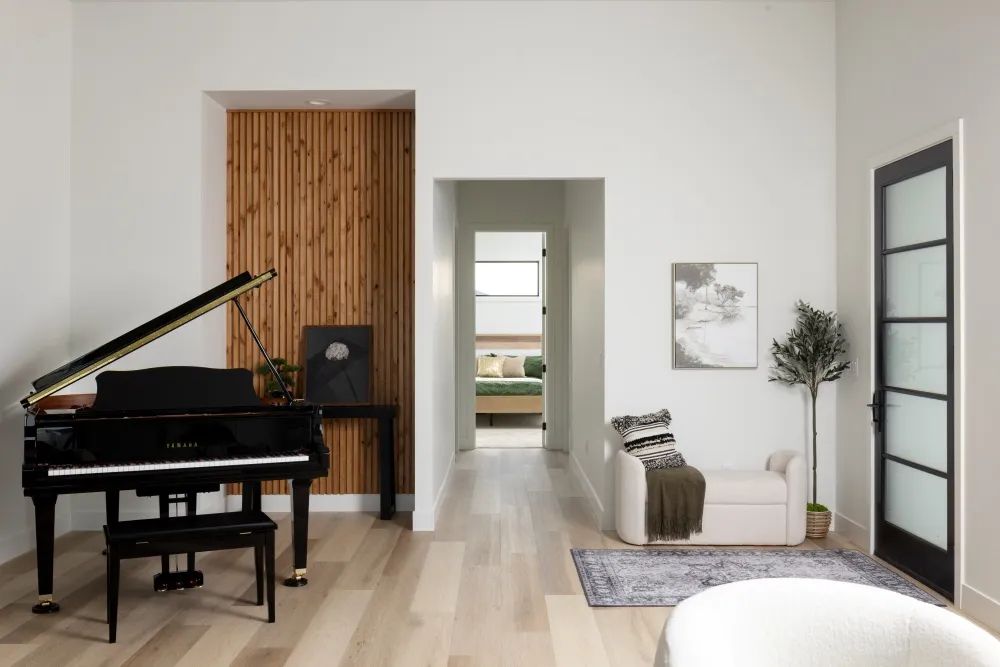 The open-concept kitchen and living area also showcase CB Built's beautiful accent trim work. Made of stained alder, the detail will surely catch the eye of guests.
A Vibrant Neighborhood Rooted in Community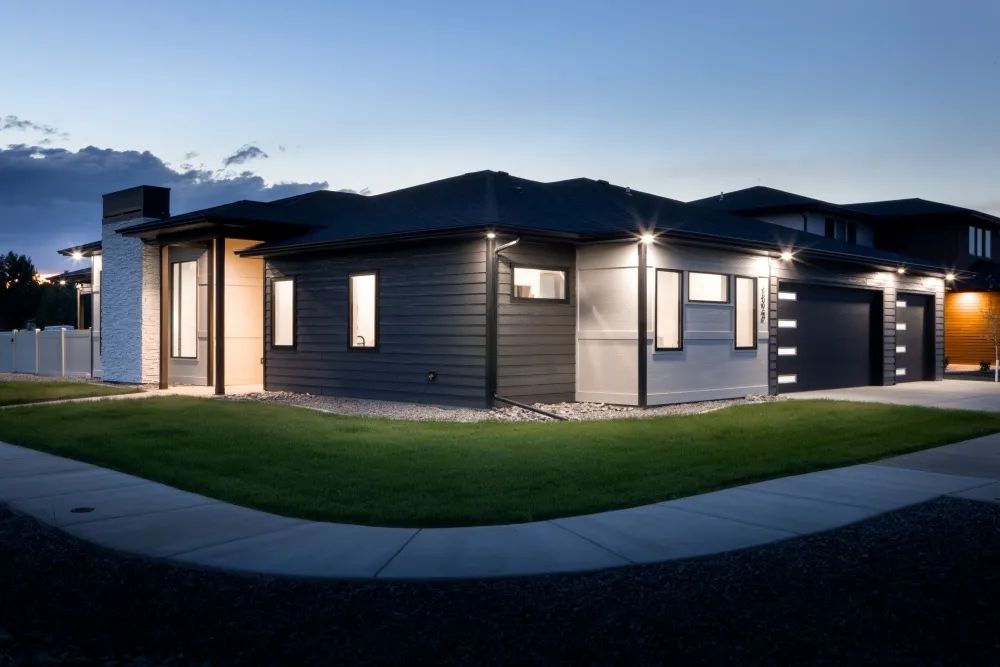 CB Built isn't just showcasing a home in the Parade of Homes, they also intend to highlight The Nines as a unique and diverse community full of opportunity. The subdivision offers big lots with large homes and smaller, luxurious villas requiring less maintenance.
As a homeowner in The Nines, Conner looks forward to representing The Nines in the Parade this year. With three community parks, a pickleball court, swimming pool, and fitness center, the neighborhood is extremely desirable. CB Built's Parade entry is conveniently located in close proximity to these amenities, and its corner lot is easily accessed by both entrances.
"When you buy from CB Built, you get a lot more than just a house," Conner said of The Nines. "This is our community too, and our reputation and standard of quality is very important to us. We can make a lot of budgets work to accomplish the homeowner's goals to be a part of this community," he said.
"I think it will represent us well," he said of the Parade Home. "It will give the community an idea of our design goals and what we're capable of. Even though it's considered a spec home on the market, every house we do in The Nines is a custom design. We want you to buy a home that will never be built twice again and you're not going to find two of the same in Billings."
Originally printed in the October 2023 issue of Simply Local Magazine
Never miss an issue, check out SLM's digital editions here!