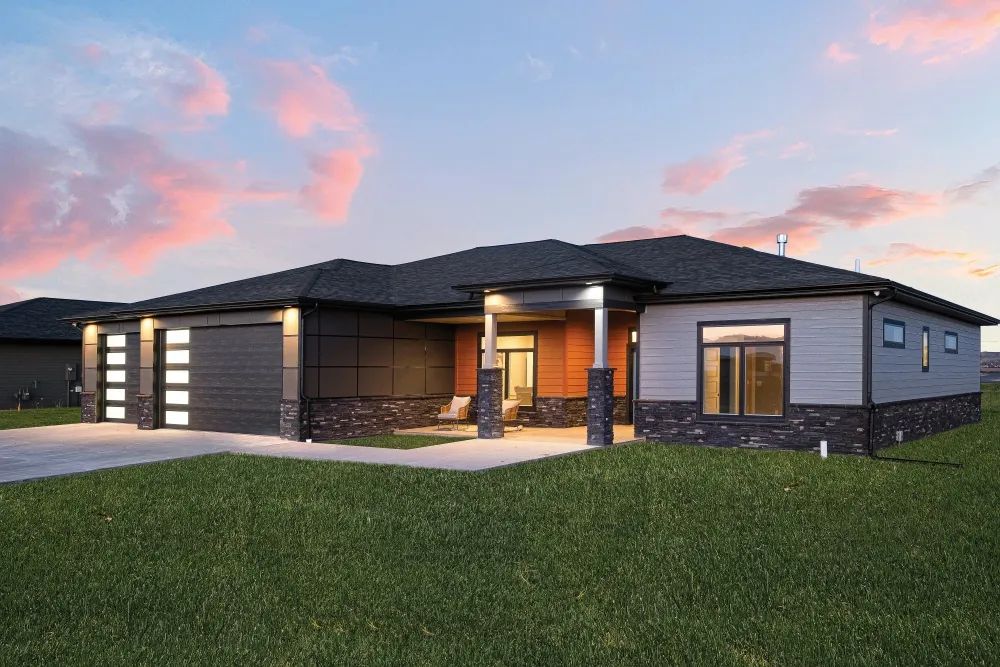 New in The Nines
July 2022
by anna rogers | photos courtesy of Visionary Custom Homes
Nestled into The Nines subdivision on Billings' West End is this stunner of a spec home build, recently completed by the Visionary Custom Homes team. Owned and operated by two couples – Scot and Toni Bonenberger and Mike and Patty Ninichuck – Visionary Custom Homes has assembled a dream team that brings lots of land to life with equal parts quality, beauty, and functionality.
The four partners of Visionary Custom Homes are in sync with each other, their contractors, and the pulse of the local market. Their deep understanding of what buyers want is rivaled only by their uncompromising devotion to quality in every build.
This spec home is Visionary Custom Homes' first build in The Nines – a beautiful zero-entry, one level home with a modern, open concept. The dark colors, sleek lines, and stamped patios on the exterior of the home give an irresistible invitation to step inside.
The home boasts four bedrooms, two and a half baths, a beautiful office studio, and a complete Smart Home system.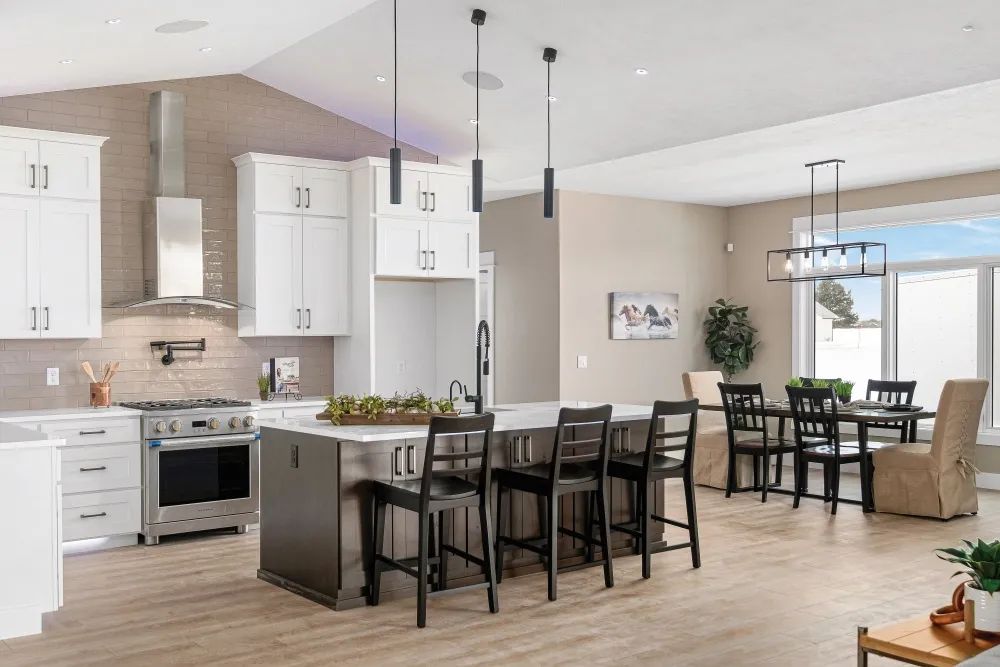 An open concept kitchen, dining, and living room make this area the heart of the home, emphasizing togetherness and brightened by plenty of natural light.
For Visionary Custom Homes, quality is paramount. "We do our own exterior and interior finishes – we don't sub that out," Scot says. The team also hangs their own cabinets, and flies in a family member to hang drywall. Quality control is a huge priority, and the team chooses a narrower profit margin over shortcuts in the process.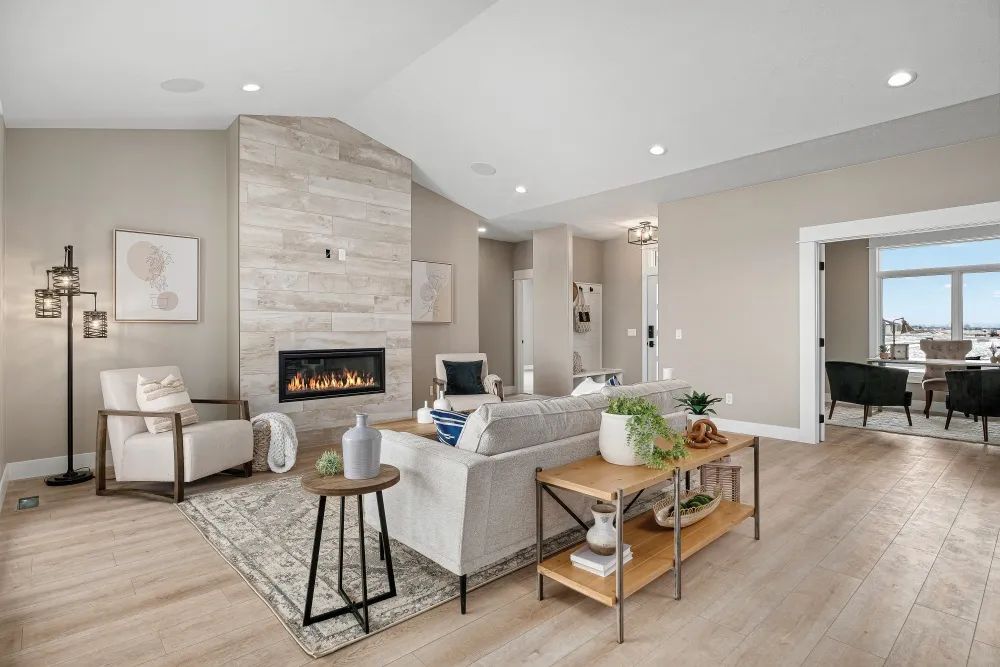 Natural elements like soft beige walls, light wood floors, and metal and wood furniture bring the calm of nature into the home.
Incorporating more natural elements into home design is a post-pandemic priority. Patty, of the Visionary Custom Homes team, is no stranger to the latest design trends. She travels to Utah frequently for modern design inspiration and incorporates what she's learned into the team's Billings builds. "Patty has the vision," say Mike and Scot. She describes her style as rustic combined with modern, with the goal of creating a trendy but functional space for homeowners.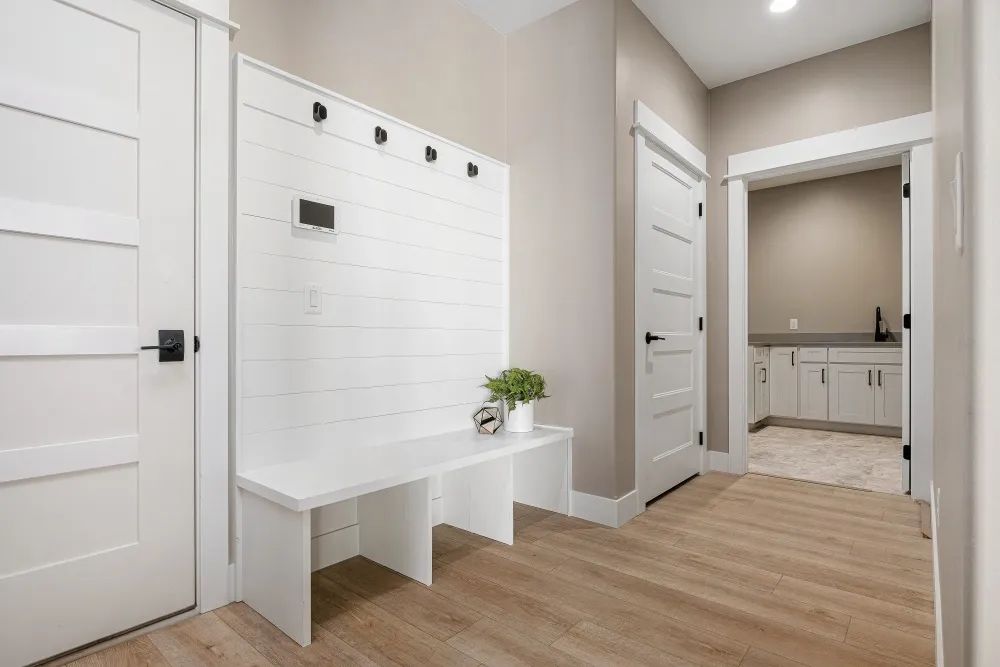 Simple build-ins like these entry-way benches yield a bright, sleek design that doubles as highly functional space for organization.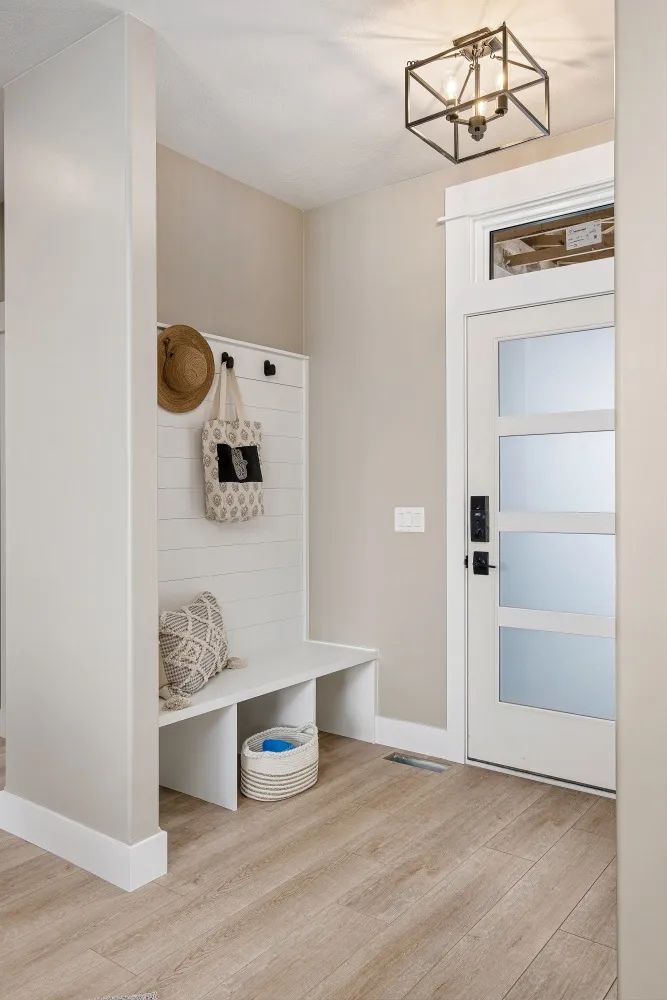 The Visionary Custom Homes team puts a premium on the livability of every home they build. "We're always asking ourselves – 'What would we want if we lived there?'" Patty says. This question guides every decision, from foundation and contractor choices to finishes and design. Spaces like this entryway and laundry room show the team's commitment to building a home where people can live life – coming in from the sun or the snow to enjoy a spacious, well-thought-out home.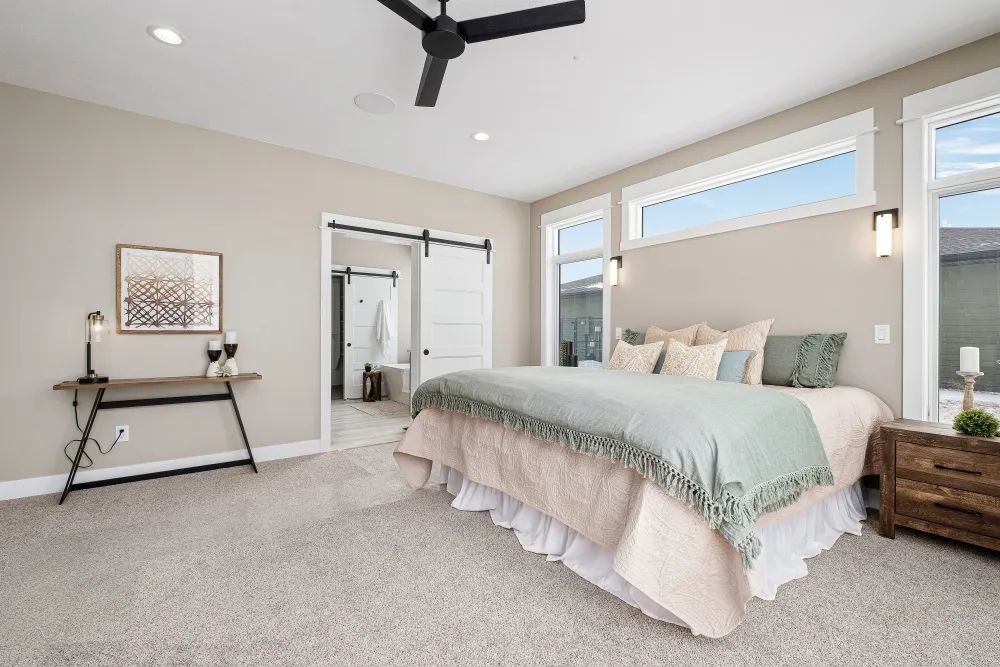 The primary bedroom, bath, and closet of this home are nothing short of luxurious.
The continuance of natural colors from the common areas to the bedrooms and bathrooms creates a peaceful vibe, and enormous windows on either side of the bed allow beautiful, natural light to flow freely into the room.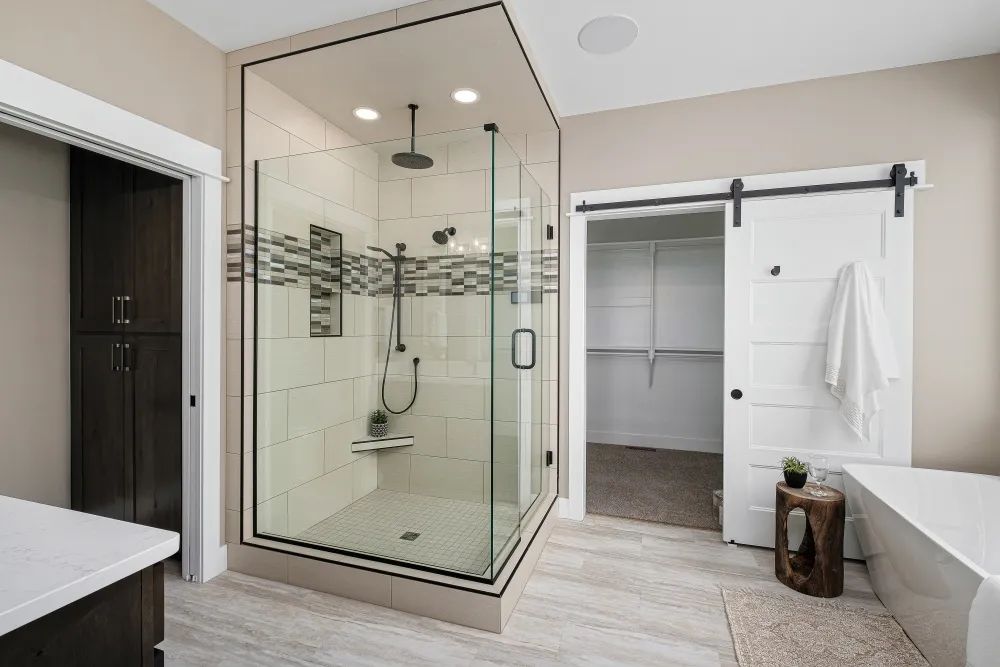 An elegant bath and spacious shower give an at-home spa feel that makes for a relaxing start and end to each day.
There's plenty of space to move freely between the primary bedroom and bathroom, both marked by upgraded features that are sleek and simple, yet indulgent. The closet is no different, filled with floor to ceiling custom built-ins that could make anyone excited about organizing.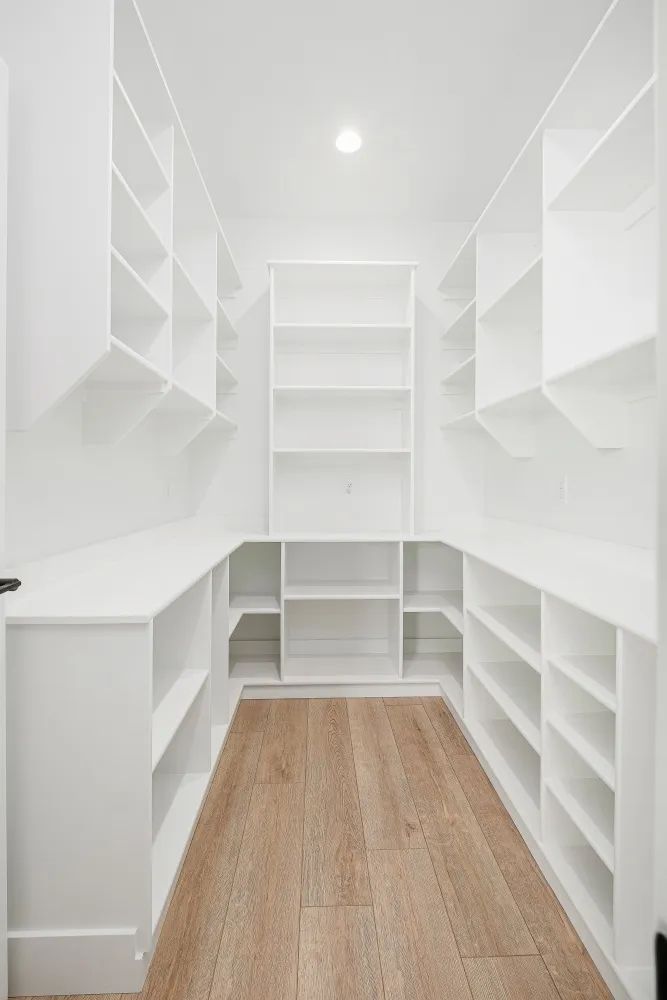 These built-ins will make you swoon and start to dream about color coordinating your sweaters.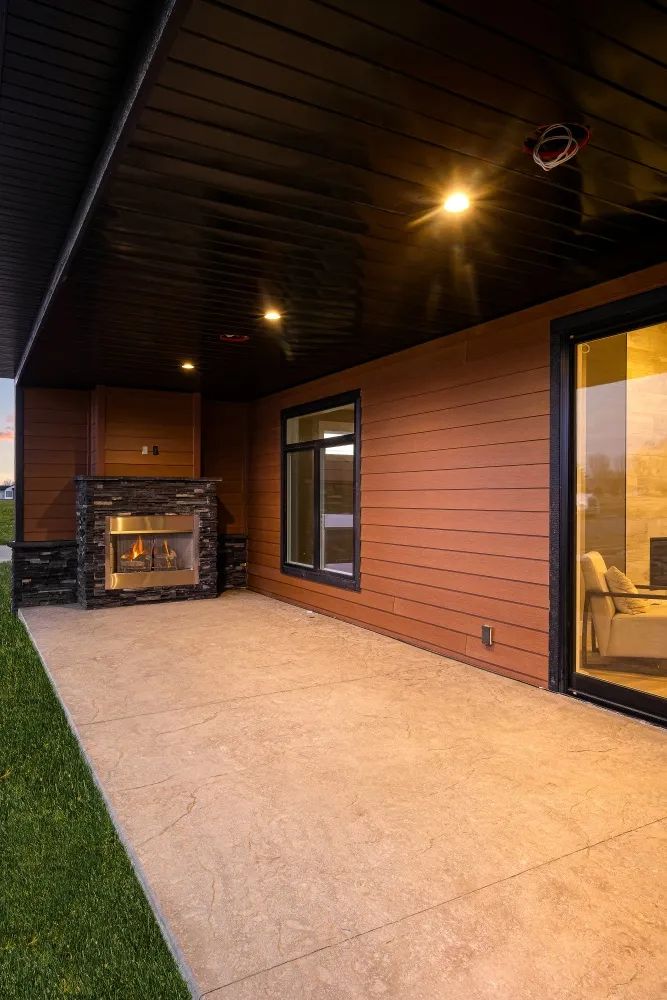 A beautiful fireplace tucked into this zero-entry back patio makes it a perfect place to relax.
The home sits on a small lot that backs up to one of the subdivision's private park common areas, offering the best of both worlds – low lawn maintenance and spacious views of natural areas. It's the perfect space to enjoy the cool of a Montana evening next to a cozy fire.
Be on the lookout for Visionary Custom Homes' 2022 Parade Home, another spec home coming this Fall to The Nines. vch-mt.com
A special thanks to the amazing team that made this build possible:
Drawings: Peak Custom Home Designs
Dirtwork: Overtime Enterprises
Foundation Piers: GeoStructures
Foundation: The Wall Guy
Trusses: Pride Industries
Lumber Yard: Zentz Lumber
Framing: Cain Construction
Garage Doors: Parks Garage Doors
Windows: Reynolds Windows
Appliances: Fred's Appliances
Lender: Bravera Bank
Smart Home LED Lighting: CK Tech
HVAC: Comfort Heating & Air Conditioning
Electrical: The Wire Nut
Plumbing: LaSalle Plumbing
Cabinets: Rimrock Cabinets
Lighting: One Source Lighting
Insulation: Billings Insulation
Painting: Guardian Coat
Gutters: Gutter Done
Flooring: Rich's Modern Flooring
Stone Work: Harper Masonry
Landscaping: Thuesen Landscape LLC
Realtor: Nikki Zimmer
Originally printed in the July 2022 issue of Simply Local Magazine
Never miss an issue, check out SLM's digital editions here!